Over two decades of competitive shooting, I have several 1911s in the safe and several that have come and gone over the years. My first foray into competitive shooting was in 2000 in the Custom Defense Pistol Division of IDPA, which is essentially a .45 ACP 1911 handgun-only division. Next, I shot my first USPSA match in L10 with a 1911. In 2004 there was no Single Stack division in USPSA, so I ran 10-round Wilson magazines in L10 until 2006. I did shoot some Production, but mostly from then on it was Single Stack until about 2008, where I mostly fired Single Stack and Limited divisions. I grew up shooting 1911s and I really like them, but haven't spent too much time shooting them lately as I have been bouncing around in Carry Optics, Open, Production and PCC, as well as testing out guns and parts. I was looking forward to testing out a new 1911, and the Ruger Custom Shop SR1911 Koenig was ideal for me to dive back in and shoot some Single Stack.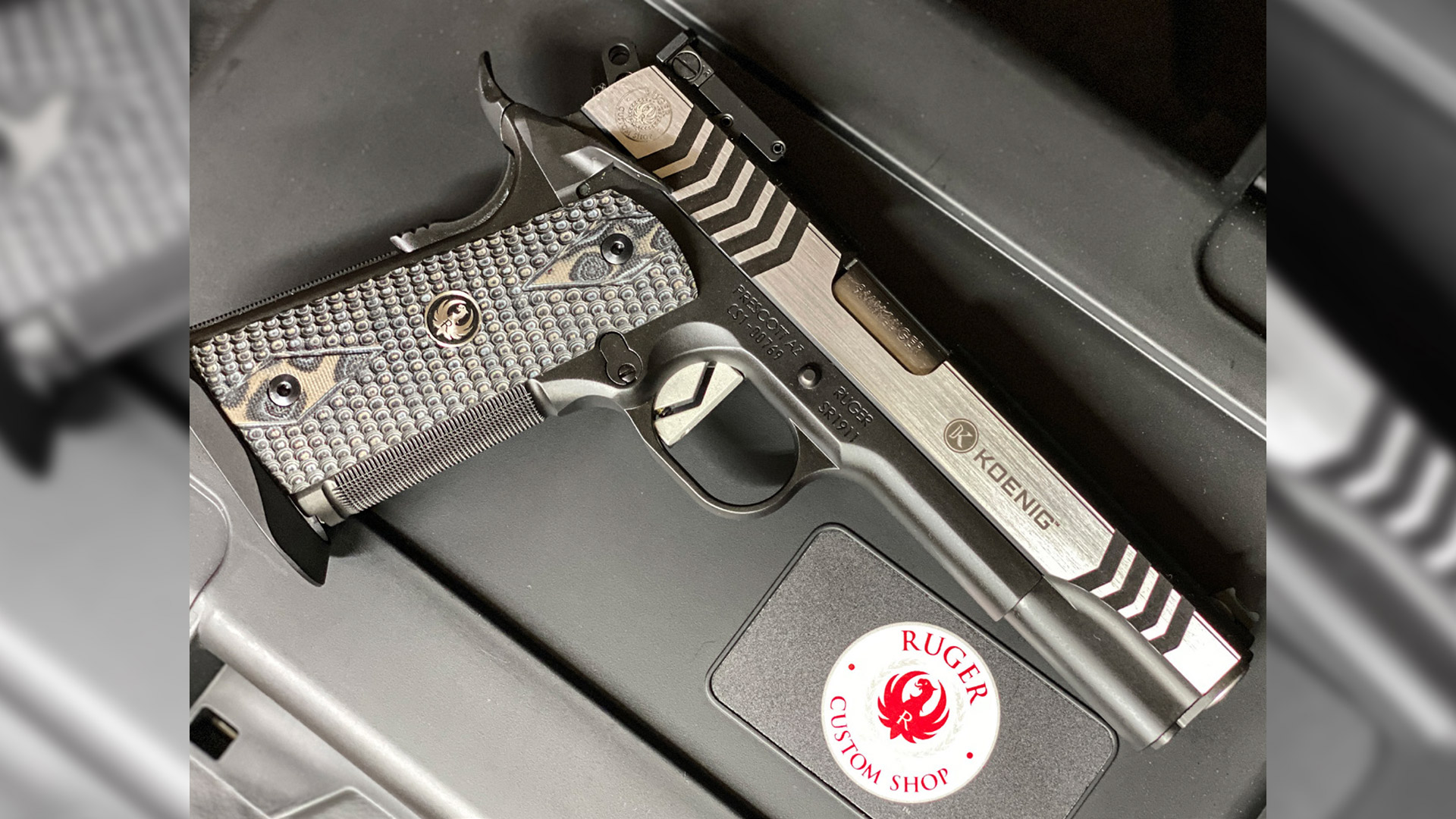 The plan was to get the gun and shoot it at the World Speed Shooting Championship back in April, since Ruger were sending the 9 mm version, but timing and shipping didn't work to get it in time. The gun was waiting for me when I finally got back from Alabama, and I was ready to hit the range with it and test it out. Scheduling and weather kept me from doing my normal "take it to the range and break it in" with a couple hundred rounds before shooting it in a match. Thus, the first opportunity to get it out was for a local club match. I took a page from Pat Kelley and did a "from the box to the range" test on the gun.
We broke the gun out of the waterproof, fitted hard case that Ruger ships the gun in, with two 10-round magazines, challenge coin, cleaning cloth, decal and Ruger Custom Shop Certificate of Authenticity, so my daughter could take some photos of it. The gun is good-looking right from the case, with the two-tone black-nitride and stainless-steel slide hand fitted to the black-nitride stainless-steel frame. I am a sucker for two-tone guns and prefer a blued or black slide over stainless or hard chrome; my second favorite combination is this style of two-tone.
The full size, five-inch 1911 slide has a round top but with arrow-type serrations that are from the rear adjustable sight to the dovetailed fiber-optic front sight. The rear sight blade has a nice wide notch with edges angled off. The rear notch matches up nicely with the slightly ramped and serrated black front sight blade with replaceable fiber-optic 0.060 insert. The green rod comes installed, but there are replacement red and green rods shipped with the firearm. The slide also has nicely cut front and rear serrations that make racking the slide an easy task.
As for the slide and frame, they are hand fitted. From the box, racking the slide resulted in a nice smooth feeling, nothing gritty or that "shoot to fit in" feel you get with some other guns. On the black-nitride stainless-steel frame is a 25-lines-per-inch checkered mainspring housing that matches the checkered front strap. The trigger guard has a nice undercut treatment that allows for a higher grip. I really like how Ruger did this, as it was not too aggressively high; the gun felt right when picking it up and gripping it. The grip safety has an extended upswept beavertail with a grooved "speed bump" to make deactivating when gripping an easy chore. The Hogue Piranha G10 grip panels are a nice additional to this gun, not just in their olive-drab grayish color but with classic double diamonds, and with the aggressive Piranha texture, the gun wasn't going to move around when shooting. The black and silver Ruger inset logo in the full-size grips is also a nice touch. I liked that they were not the thin grip panels and use a hex 3/32-inch screw. There is also a relief cut for the extended and checkered magazine release.

The gun ships with an installed TechWell magwell, this is the aluminum IPSC SP model. The IPSC SP model is designed to fit the box for both USPSA and IDPA. This is the TechWell system that is designed for magazines with standard or extended base pads and does have the gap in the front. All of my competition Single Stacks have TechWells, but I prefer the TGO model. The plunger tube is integral and not staked on the frame, another nice touch. The gun ships with ambidextrous extended safeties with the combat width paddles. This is another nice touch, as I prefer the thinner combat style over the wide target paddles. The slide release is also extended with nicely grooved serrations. The slide release protrudes from the right side of the frame. This is a feature many prefer, as it can serve as a reference point for finger placement when moving and ensuring your finger is outside the trigger guard. I prefer to have it countersunk and cut flush, which I personally think looks better.
The trigger assembly uses the Koenig Shooting Sports low-mass hammer, competition sear, hand-tuned sear spring and a nice flat-face trigger. The flat-faced trigger has nicely cut grooves as well as an adjustable overtravel screw. If you have been around 1911/2011s, the hammer that is used should look familiar to you. This low-mass hammer has been the go-to choice of many gunsmiths and shooters for years. All of my Limited and Single Stack competition guns have the Koenig hammer. My buddy George Huening, who is here in Indiana, has installed all of these for me and thousands of others over the years. George is intimately familiar with these components as he has been working closely with Doug Koenig for over 30 years. The duo have experimented and built parts and guns that Koenig has been using to win competitions with since the 1990 IPSC World Shoot.
George Huening is a former Indy Car chief mechanic who built cars for drivers like Team Marlboro's Emerson Fittipaldi. Huening owned and operated World Class Pistols based in Brownsburg, Ind., during the early days of building race guns. With work that has been featured in American Handgunner and guns built for some guys like Barnhart, Enos and Leatham, he was also known for bringing his experience with carbon fiber into race guns making scope mounts. Leatham introduced George and Doug to each other and the two have been working together ever since, specifically on all those guns that Koenig has won the Bianchi Cup with 19 times during his career.
With a professional shooting career that has spanned over three decades, Doug has learned what he needs to win and what a gun needs to do in order for that to happen. He has worked with many gunsmiths over the years, learning from them as well as being able to articulate his needs. When Doug signed on with Ruger, it wasn't just to pull the trigger at matches for them. He is a big part in helping to enhance their product line, where he regularly consults the engineers and product managers at Ruger's Custom Shop. He also is part of Ruger's regular product planning meetings and has had several onsite visits at their several production plants.
Koenig's hands-on approach of being able to convey the needs of a competition shooter has helped to make the Ruger guns better. All the years that he worked with George Huening he found that, like with race car drivers explaining how a car felt, he was able to do the same with Huening, who would take the feedback and continue to evolve the equipment and parts. I think George refers to this as "rubbing on the gun." I have had the opportunity to spend several hours with George in his shop, even watching him fix some stuff I have broken, or just dropped off, tell him what it was doing—only to come back later to have it fixed and something I didn't have to worry about anymore. Their partnership has worked and the results of Doug's experience shows in this gun.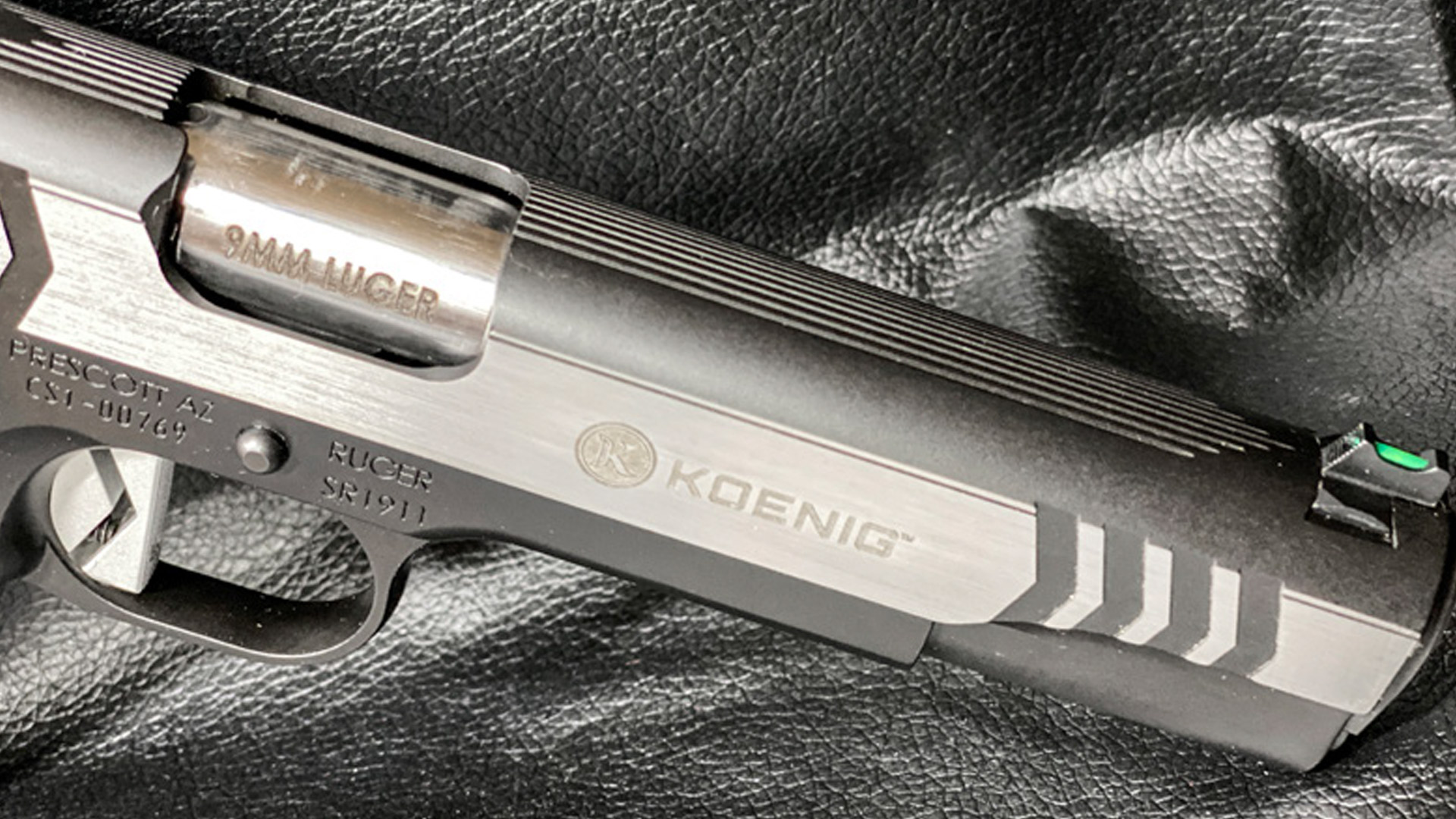 Besides the Koenig Shooting Sports parts used, other aspects such as the black-nitride finish by H&M Metal Processing and having the slide to frame fit correct are where Koenig has had big influences in the production. Koenig is an extremely accurate shooter and demands that all of his competition firearms be capable of shooting one-inch groups at 50 yards. He has learned that a 1:16-inch twist barrel with fully polished integral feed ramp, match crown and fitted barrel lugs is better suited to handle the more common 9 mm bullet weights and more accurate with lighter bullets.
While my daughter was taking the photos of the firearm, I readied my range bag with a selection of ammunition, magazines and other gear. I got out my Single Stack rig that hasn't been used since Classic Nationals last year. This is the Red Hill Tactical USPSA-logoed holster that Robert Hill sent me a few years ago, mounted on a Shooters Connection belt. I added some Hoppe's gun oil to the bushing, the barrel hood and with the gun locked opened I added a little bit of oil to the rails before bagging it for the match.
For magazines, I had the two that shipped with the gun, several of the Wilson Elite Tactical ones with ETM base pads, plus some Tripp Research Cobra mags. For ammunition, I brought along a variety to test out, including 150-grain and 130-grain Federal Syntech Action Pistol, 147-grain SIG Match Elite JHP, 124-grain Precision Delta JPH and 135-grain SNS Bullets handloads. All of the magazines dropped free and functioned with no issues. Additionally, all of the ammunition fed and ran for the duration of the match.
My 1911s do not have flat-faced triggers on them, but I had no issues running this trigger during the match. After the match, I put it on the Wheeler Trigger scale and it was right at 3.5 pounds. That might be considered a little heavy for some, but I don't like an extremely light trigger. I want one with just a little bit of take-up and a solid clean break with a positive short reset. This trigger checked all those boxes for me.
Now this is not the first time I have taken a gun to a match that I have never shot. I have even bought guns on the way to matches and shot them when I got there. It is not something that I offer as solid advice, but it has mostly worked out in my favor. There was this one time at that it didn't, but you can ask me about that the next time you see me. I figure after 110- plus years of building a 1911 and coming from the Ruger Custom Shop, the gun should be good to go. It was, with no issues, and I ended up having a pretty good match. The Ruger Custom Shop SR1911 Koenig pistol is available chambered in 9 mm and .45 ACP. If you are looking for a well-built competition 1911 with good parts, give the Ruger a try. With an MSRP of $2,619 (9 mm model), this gun costs a little higher than standard product 1911s, but under other factory custom shops with similar features.
Article from the July/August 2021 issue of USPSA's magazine. Photos by Isabel Martens.
---
Read more:
How To Add Weight To Your Competition Pistol