Steel Challenge participation has grown significantly during the last couple of years. And rimfire guns—especially rimfire rifles—have been a major factor. In fact, at the 2018 World Speed Shooting Championship there were over 150 rimfire rifle competitors.
Why the popularity? Well, what shooter doesn't love the "boardwalk carnival shooting booth?" Pay your money, shoulder their .22 LR rifle, knock down as many of the little metal ducks and rabbits as you can, and see if you win a prize. Even if you don't, the bang/ting is music to a shooter's ears.
Many competitors have found that shooting Steel Challenge with a rimfire rifle isn't much different.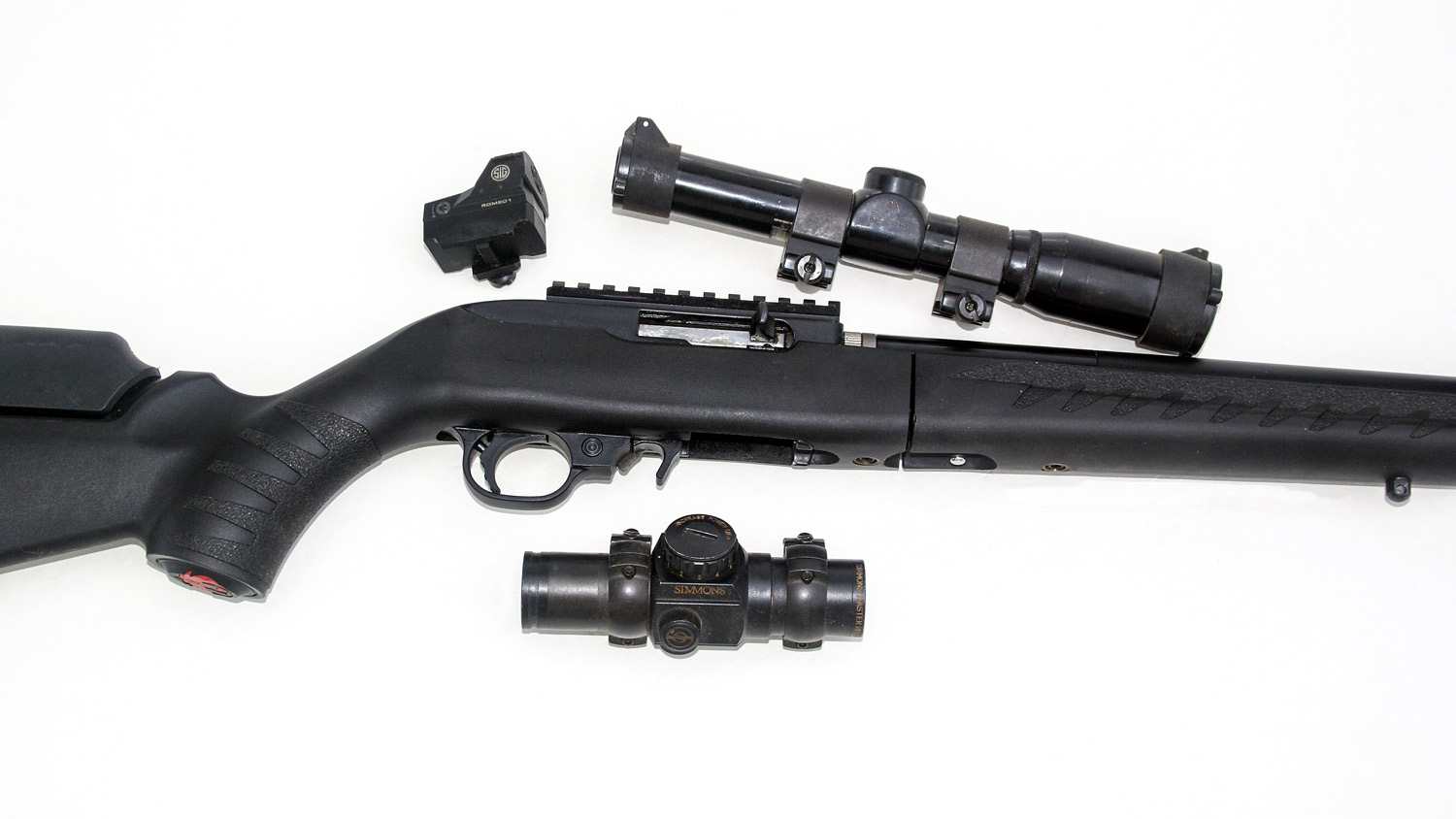 The targets don't fall, but you still get the bang/ting. And the faster you get it, the better you score. It can be addicting—and the right equipment makes it easier.
Any rimfire rifle chambered for .22 LR is legal in Steel Challenge. Other rimfire calibers (like the .22 Magnum or .17 HMR) are not allowed. However, it's pretty obvious that when scores are measured in fractions of a second, single-shot, bolt-action, lever-actions, and even pump-action rifles (while fun to shoot) are hardly competitive. This game really requires a semi-automatic. But not all of those are suitable either.
Tubular-magazine rimfire rifles create significant "administrative" problems on the initial Make Ready loading, the Unload and Show Clear (ULSC), as well as topping off between strings. They're slow and tedious to load and clear. They can also create a DQ if the club has a rule about the muzzle being elevated above the berm, or if the barrel sweeps the shooter's feet while emptying the magazine on the ULSC. It's difficult to load a tubular magazine without elevating the barrel skyward or empty it without pointing it downward. And, since the magazine securing cap is located near the muzzle, "sweeping" oneself is very possible when removing it to load or clear the magazine. That's a DQ as well. Since tubular magazines must be emptied before the chambered round can be ejected, there will be a live round in the chamber while the muzzle is lowered to clear the tubular magazine. That can give any RO heart palpitations if the muzzle sweeps around their feet, and creates another potential DQ.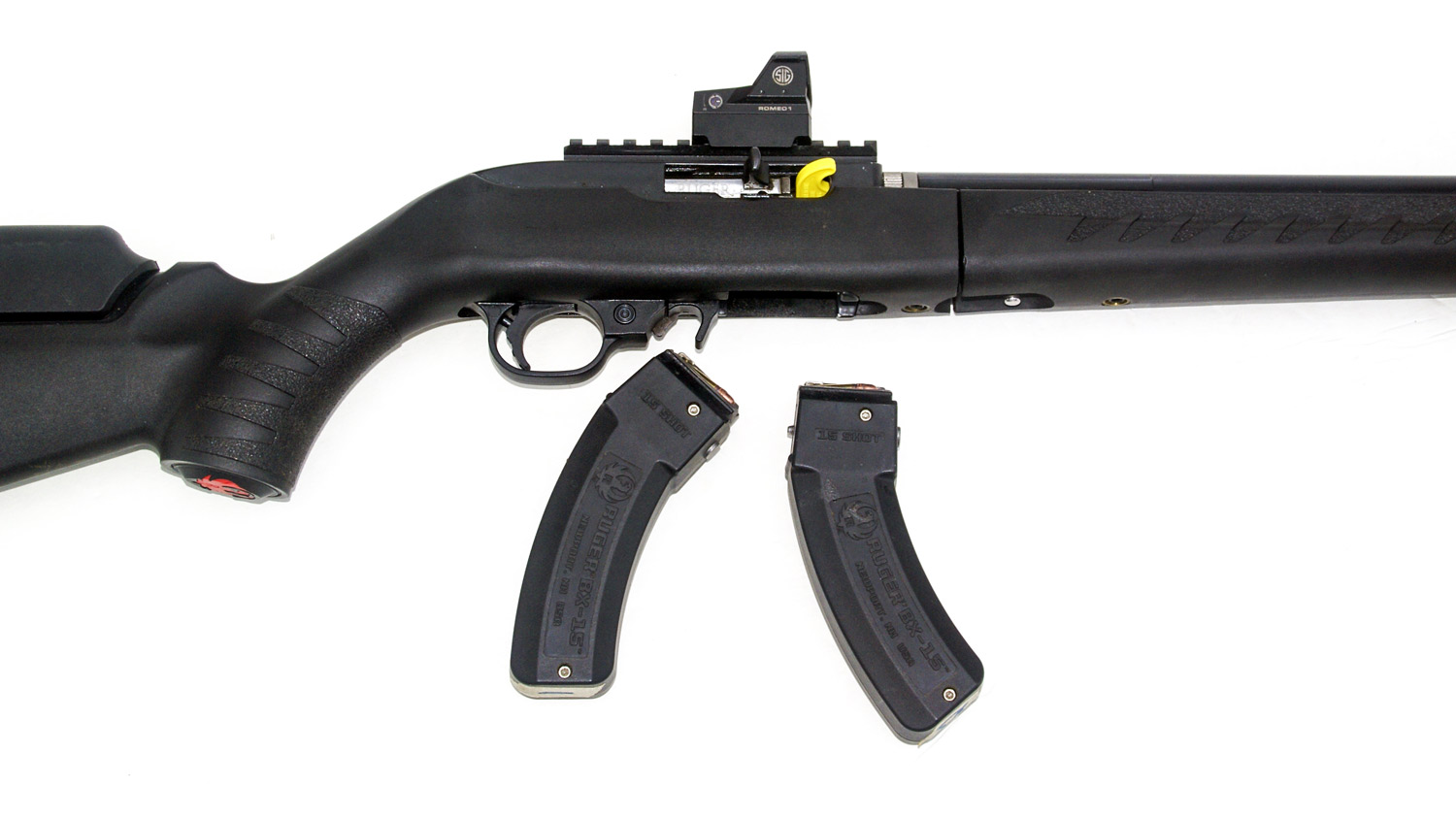 Thus, magazine-fed .22s are much preferred—just remove the magazine, and then clear the chamber—while the rifle is pointed safely downrange. That is the commonly accepted procedure.
The Ruger 10/22 is by far the most-popular choice (largely because the proven action is supported by a wealth of aftermarket accessories), but effective magazine-fed models are available from Remington, Mossberg, S&W, Browning, Thompson/Center, Winchester and Savage. A detachable magazine makes the "administrative" procedures quicker and smoother. All shooters have to do is make certain they have enough magazines.
Each of the eight Steel Challenge stages has five target plates. Most popular magazine-fed .22 LR rifles come with 10-round magazines. It takes a supremely confident (or naive) shooter to assume that one 10-round magazine will be able to handle two five-round minimum strings. Misses do happen, especially when trying to bang/ting five plates in under three seconds.
Of the eight stages, seven require five strings be shot, while Outer Limits requires just four. Experienced shooters opting for 10-round magazines normally carry six to the line. Shoot a string, change magazines and repeat. The sixth mag is there in case of a timer malfunction. That extra mag saves time, instead of having to reload one of the used magazines.
Extended magazines are available for some gun makes. With my Ruger 10/22 Takedown Lite, I use several Ruger BX-15 magazines. These compact banana-shaped mags hold 15 rounds. That's a comfortable margin for two strings—shoot two and change. It's less gear to tote to the line.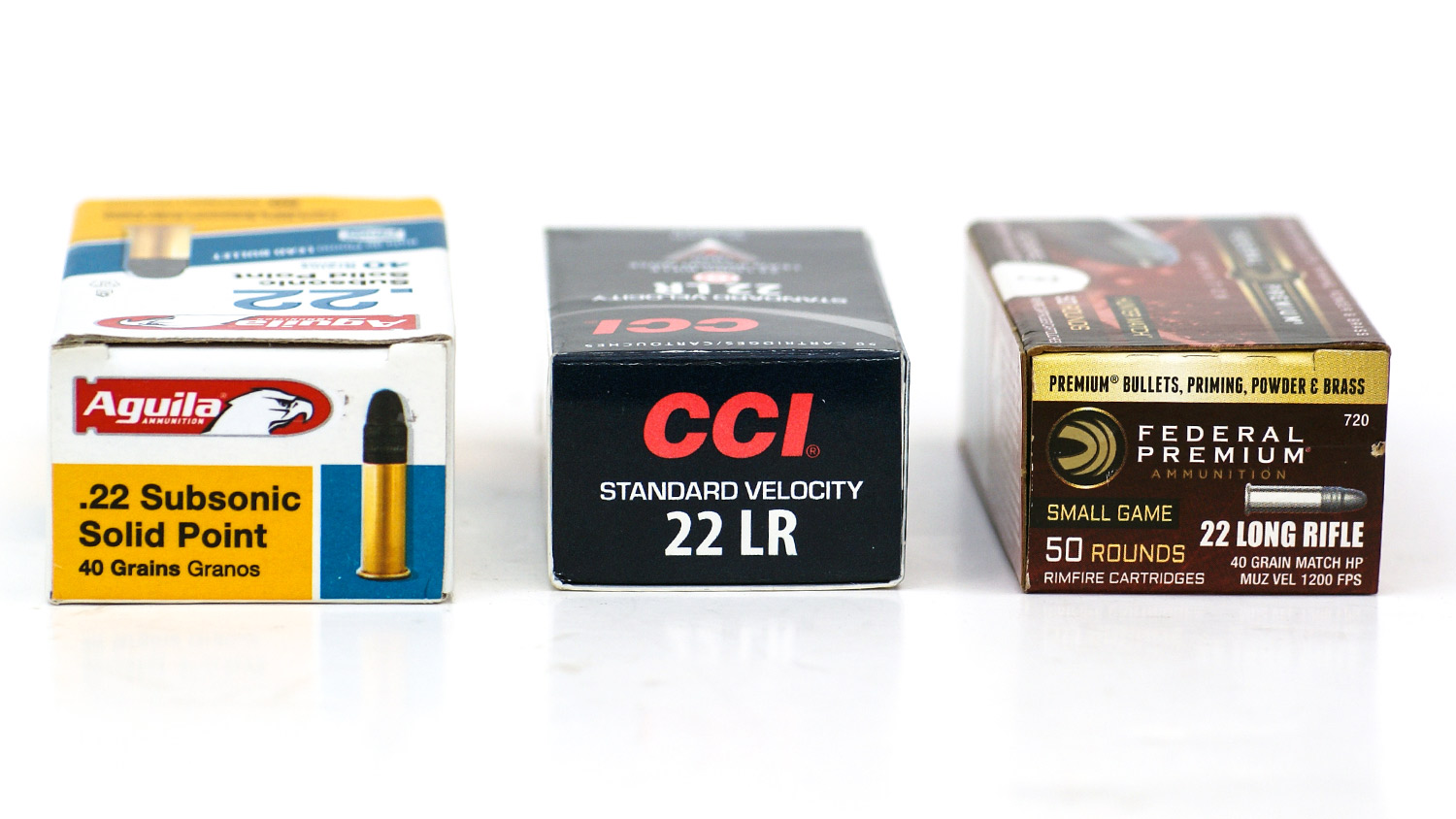 While a suitable gun and the proper number of magazines are important, so too is the ammunition chosen.
X-ring accuracy isn't critical in Steel Challenge. The most "difficult target" is a 10-inch plate at 18 yards. Virtually any .22 LR round will be effective. But not when they have to be recorded by an electronic timer. In that respect, not all .22 LR rounds are created equal.
Some timers have a problem picking up the report of standard velocity (sub-sonic) rounds. They don't make much noise, and with the muzzle several feet ahead of the timer they sometimes fail to register. You re-shoot that string. High-speed rounds (1200 fps) are a better bet, since the sonic crack will help the timer record the shot. Among the Grand Master, Master and A Class shooters I shoot with, the gold standard is any of the CCI Mini-Mag offerings, CCI Clean-22 High Speed, Aguila Super Extra or Federal's Hunter Match. It's a rare .22 LR rifle that won't group them into an inch or so at 25 yards, and timers love their sonic crack. Since the recoil difference between high-speed and standard velocity is zilch in a rifle, there's no reason not to shoot high-speed ammo.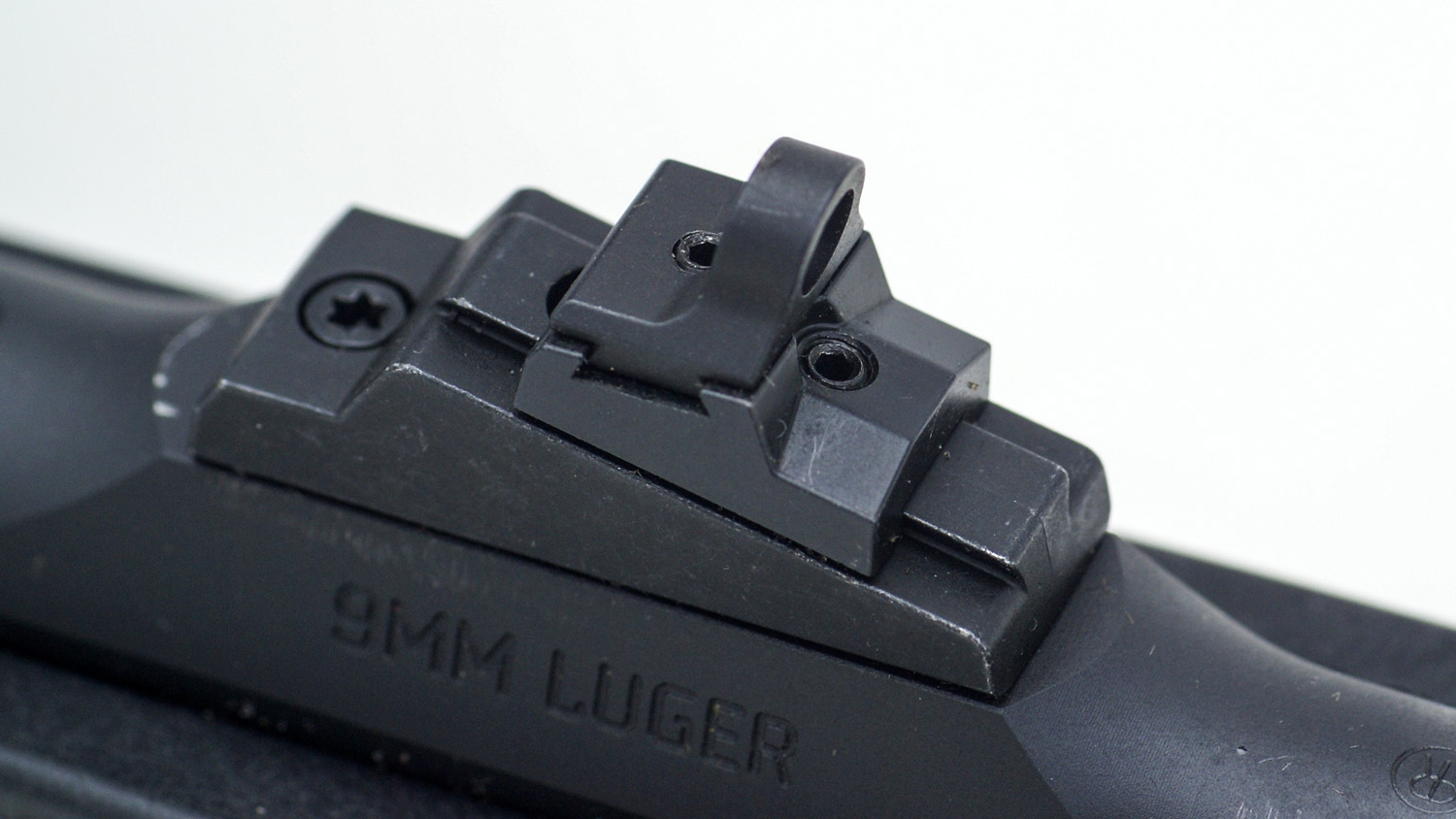 The last equipment consideration is sights. Rimfire rifle offers two divisions: Rimfire Rifle Optics (RFRO) and Rimfire Rifle Iron (RFRI).
RFRO allows any optical sight: scope, tubular red dot or reflex. Most shooters favor a reflex sight because of their lighter weight, although some shooters find the circular window on a tubular red dot seems to focus their eye more quickly on the dot. The size of the dot chosen (MOA) is largely a personal matter—depending upon a shooter's vision. Older eyes often prefer a dot in the 6 to 8 MOA (or larger) range, while some younger shooters are happy with a 3 to 4 MOA dot.
RFRI requires iron sights, and whatever happens to be on the gun is a good place to start. Upper-level shooters often prefer a rear peep sight with a fiber-optic front dot. Realistically, that's not much different than what a red-dot shooter experiences. Look through the "window" (peep sight) to find the dot (front FO). They can often be as fast as a red-dot sight.
Rimfire rifle shooters are required to have a chamber flag closed on an empty chamber when they bring the gun to and from the firing line. Some clubs require rifles cased or bagged, while others just require the flag.
It's a simple, fun and relatively inexpensive way to get all the bang/ting you can handle.