by
Chris Christian, Field Editor
posted on February 10, 2020
Support NRA Shooting Sports USA
DONATE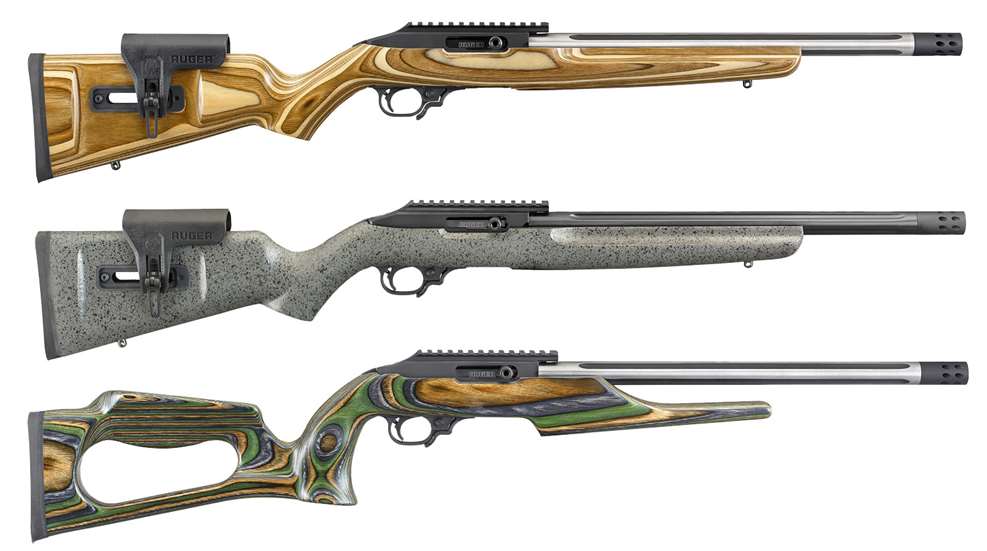 Rimfire-rifle participation continues to grow in Steel Challenge, and it's safe to say that the Ruger 10/22 semi-automatic rifle is one of (if not the) most popular choices. This may stem from the fact that the proven action has a wealth of readily available aftermarket accessories that can transform the basic gun into a race horse. Depending upon the thickness of their wallets, shooters can swap barrels, stocks, triggers and other parts to create a finely tuned shooting machine.
That hasn't gone unnoticed by Ruger, and its recently formed Custom Shop is providing an alternative to a complex (and often expensive) aftermarket build.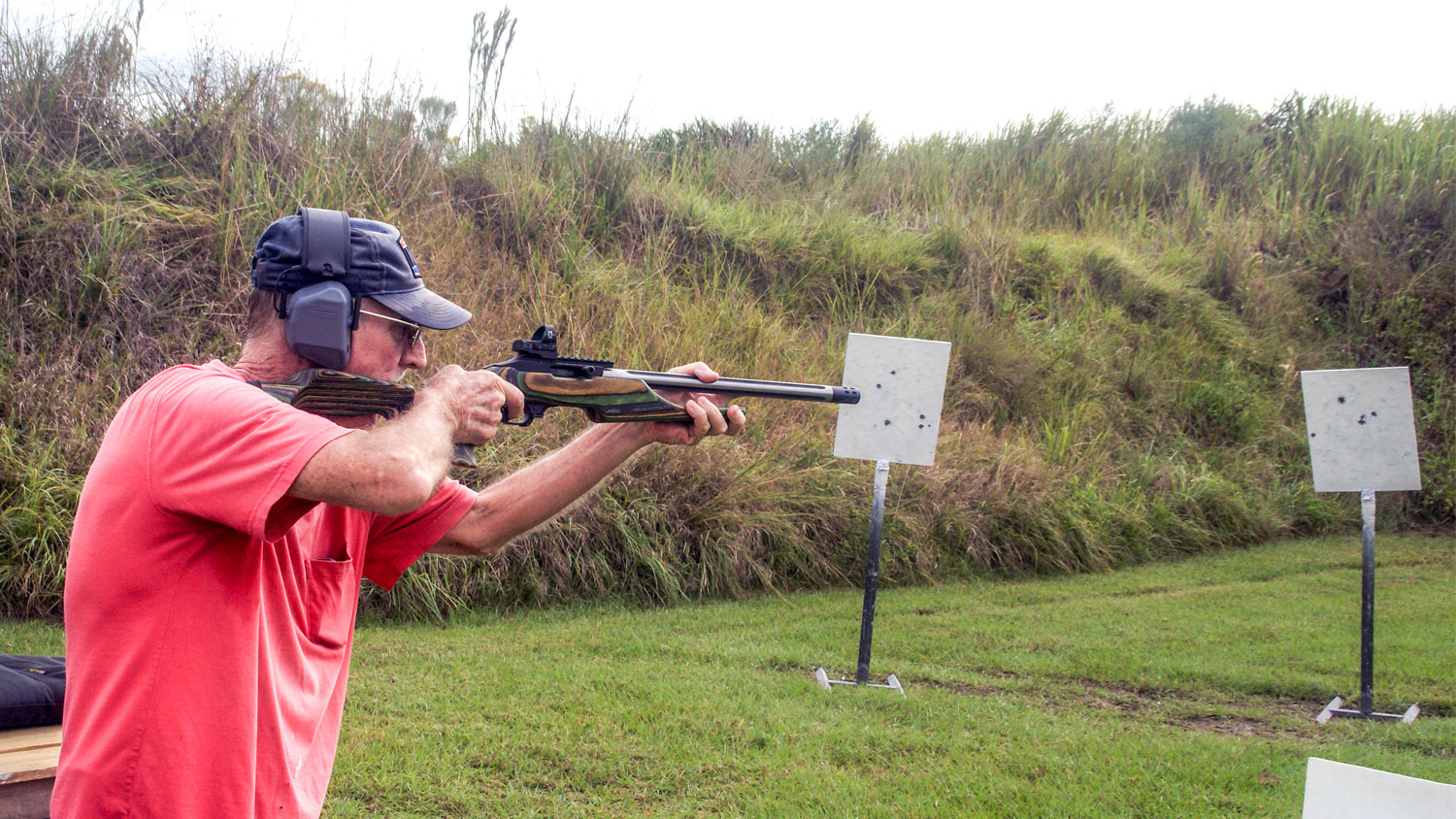 Ruger Custom Shop 10/22s
The Ruger Custom Shop 10/22 (MSRP: $899, Ruger.com) is available in three different configurations at the same price. Models 31120 and 31127 feature laminated sporter stocks, differing only in color. Each has an adjustable cheek rest, a 13.5-inch length-of-pull (LOP) and weighs 6 pounds. The newest model (#31147) uses a skeletonized Green Mountain Laminated stock with a 14.25-inch LOP and a 5.5-pound weight. Model 31120 uses an alloy steel barrel, while the other two use stainless steel. Beyond that, the specifications are identical.
All sport a hard-coat anodized CNC-machined receiver made from heat-treated and stress-relieved 6061-T6511 aluminum alloy. An oversize handle adorns the bolt and the barrels are 16.12 inches in length with a 1:16-inch right-hand twist, as well as fluted to reduce weight. The muzzle is threaded ½-28-inch to handle common accessories and comes with a multi-port, detachable muzzle brake installed. Each model is equipped with Ruger's BX Trigger, which greatly improves the trigger pull over standard models. The guns are sans iron sights and have an optics-ready Picatinny rail installed.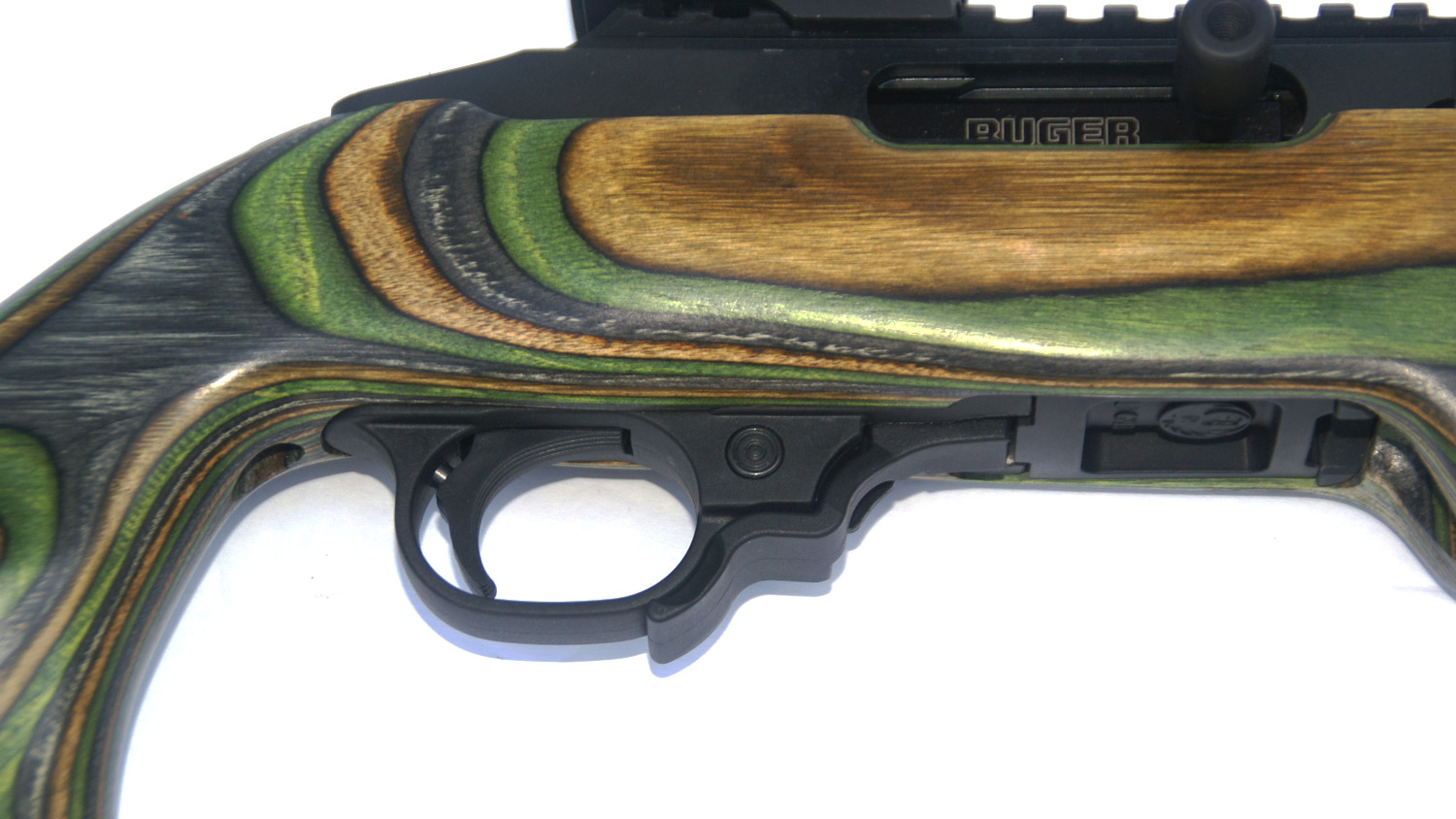 Operating controls consist of the normal right-side safety button, but the magazine release has been moved to a lever on the front of the trigger guard and allows the same ambidextrous operation.
A welcome change is the bolt lock-back system. To lock the bolt to the rear shooters still use the original lock-back lever ahead of the trigger guard. But, releasing the bolt no longer requires diddling around with that lever to find the sweet spot that releases the bolt. Instead, just pull the handle back and let it fly.
Another major change from standard models is the barrel and bedding system. Each Custom Shop barrel incorporates a proprietary enhanced semi-automatic match chamber that Ruger claims increases accuracy without compromising feeding and extraction. Additionally, each model includes a new dual bedding system using a second bedding lug to ensure the receiver is securely bedded to the stock. Furthermore, a second barrel locator provides a free-floating barrel that Ruger claims combines with the chamber and bedding to provide superior accuracy.
The guns ship in a hard plastic case with one 10-round Ruger magazine, muzzle brake, Custom Shop Certificate, challenge coin, cable lock, cleaning cloth, instruction manual and a decal.
I chose to test the newest model (#31147) with the Skeletonized Green Mountain Laminated stock. Needing a sight, I pulled the Romeo3 Max from my Ruger Takedown Lite RFRO match gun and the Picatinny mount made for a quick installation on the installed rail mount.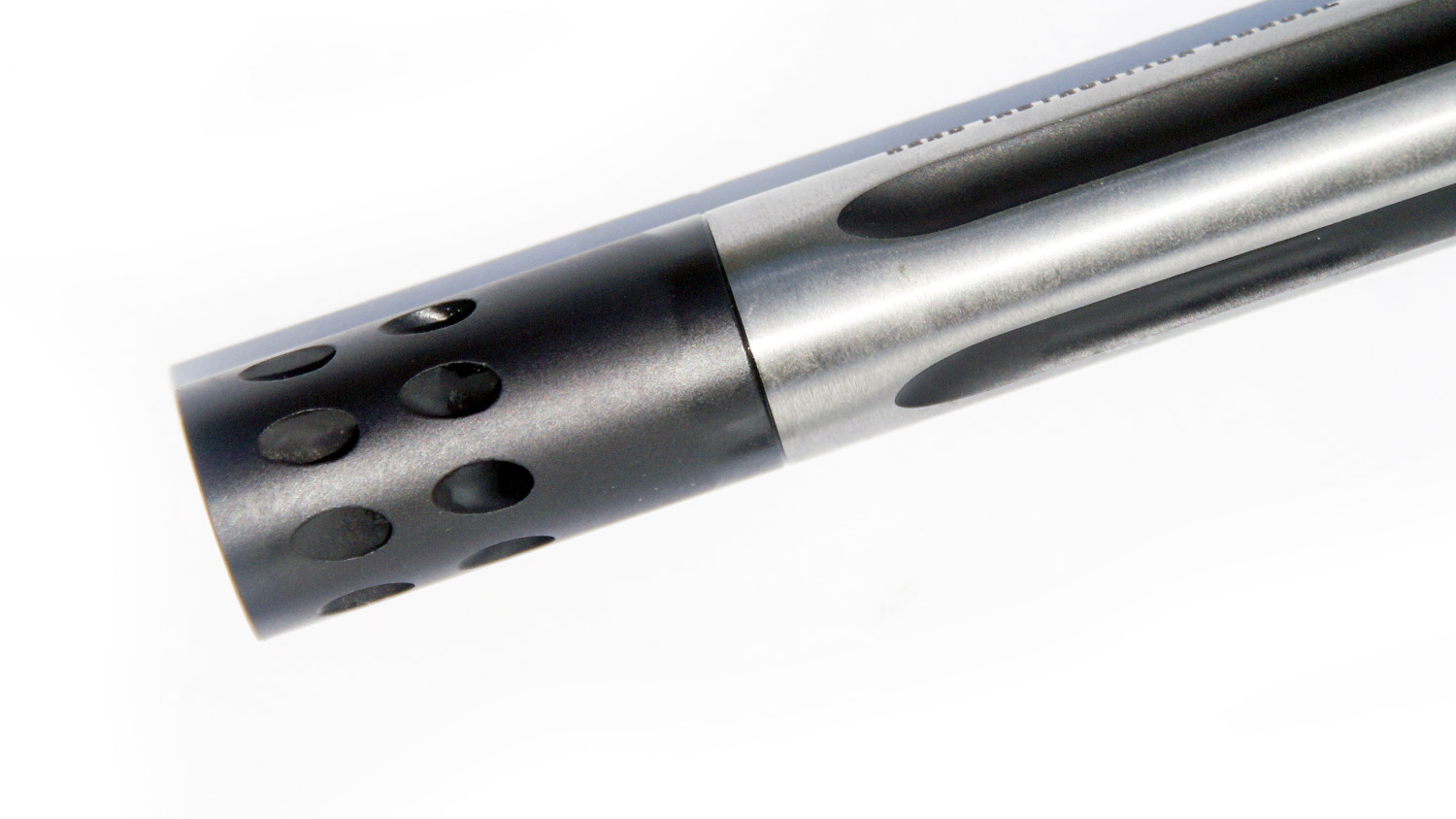 On the Range
For the range tests, I assembled six loads commonly used in Steel Challenge. Plated loads were Aguila Super Extra 40-grain RN and CCI Mini-Mag 40-grain RN. Lead bullet loads were Federal Hunter Match 38-grain Lead HP and CCI's Standard Velocity 40-grain RN. Having had good success in competition with CCI's new Clean-22, I added the Clean-22 Subsonic Blue and the Supersonic Red loads.
I ran a few lead rounds through the new barrel to foul it properly. The trigger pull measured 2.95-pounds on my Lyman Digital gauge, with virtually no take-up, a "glass rod" break, minimal overtravel and a fast reset. I then set up my 25-yard benchrest and used a burst-type target on a large sheet of white paper. I included 8x binoculars for checking the bullet impact to let me quickly zero the sight with the CCI Standard Velocity load.
The first round, looking through the binos, was about 9-inches high. I then fired a second round, checked with the binos and couldn't find it. There was just one hole in the white paper. I fired a third round, checked again through the binos and found out why I couldn't find the second shot. The second round was in the first, and the third round made that one hole just large enough for me to see a bigger than .22 LR hole. That was enough for me to walk down to the target for a closer look, and I found three distinct grease rings in one hole not much larger than a .22 LR bullet.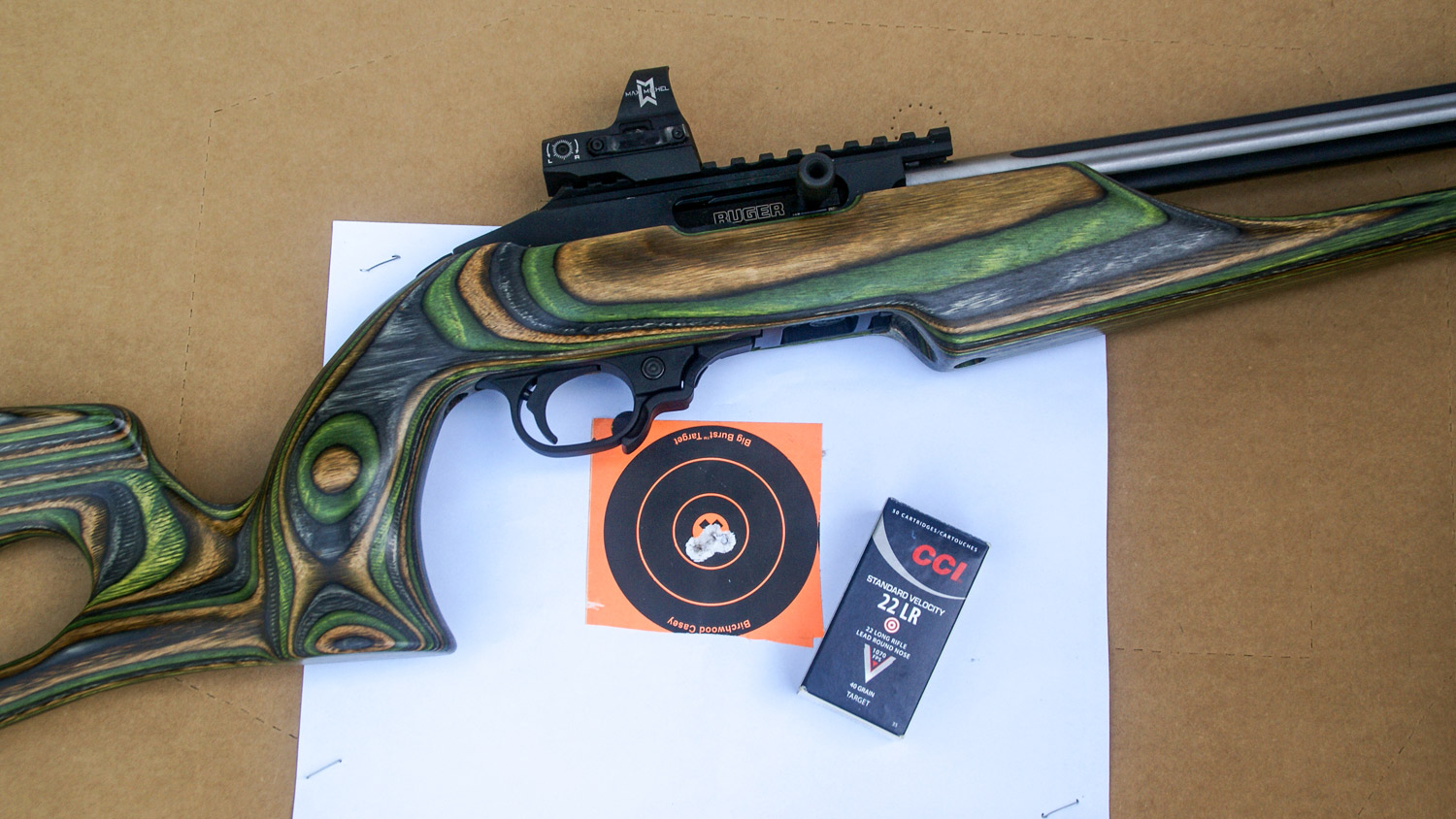 The Romeo3 Max zeroed quickly and I ran the loads for accuracy testing. They showed the first shots from the CCI Standard Velocity load weren't a fluke. Three of the test loads (as the accuracy chart will show) were just one ragged hole smaller than two bullet diameters. I had to use my RCBS Dial Calipers to get an accurate center-to-center group measurement. The other three loads weren't quite as good, but far more than adequate for Steel Challenge. I would have to say the new match chamber and dual bedding system seems to be a good thing. It produced a level of accuracy I would not have expected from a .22 LR semi-automatic rifle.
With the sight zeroed and the accuracy testing done, I gave the gun a quick cleaning and headed to a six-stage Steel Challenge club match. Although the CCI Clean-22 wasn't the most accurate load tested, I shot that because I had plenty in hand, and it has worked well in my regular RFRO gun.
The stages were a good mix of pure close-range speed and distance accuracy. Despite the stock being different than my normal RFRO gun, it took little getting used to and the gun handled well. By the end of the match there were over 300 rounds through the gun for this test and there were no malfunctions at any point.
Although this was my first match with a new gun, I finished sixth out of 15 RFRO shooters. Two Grand Masters and three Masters beat me, but these guys usually do. I did beat one Master and the rest of my fellow A Class shooters, so I was not overly disappointed.
Considering that I had done nothing more than pull the gun from the box, install a sight, fire about 150 rounds to get zeroed and acquainted, and then give it a quick cleaning before my match—I'd have to say this Custom Shop 10/22 is match ready out-of-the-box.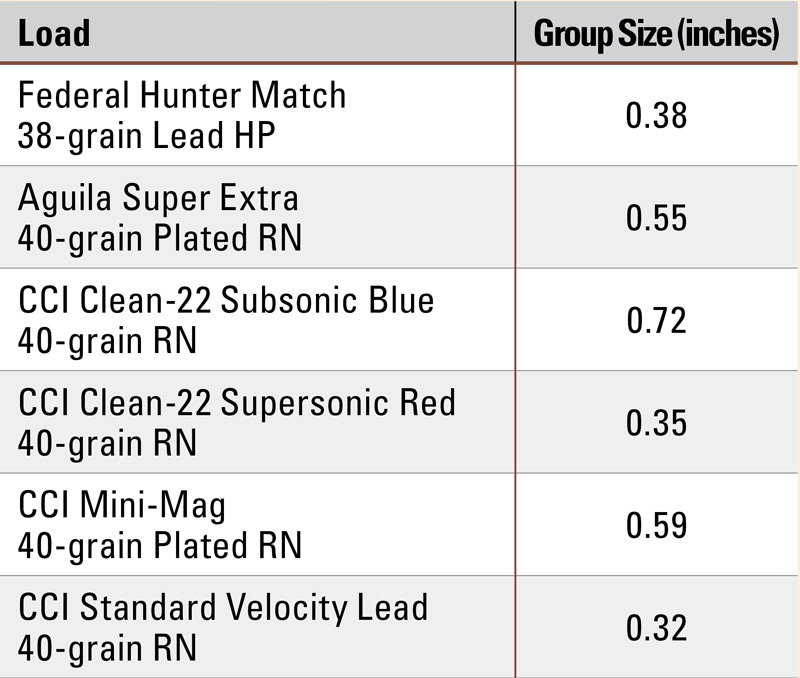 ---
See more: