by
Chris Christian, Field Editor
posted on September 17, 2018
Support NRA Shooting Sports USA
DONATE
Ruger's venerable 10/22 semi-auto .22 LR is, without a doubt, the most popular choice in any action shooting event that allows rimfire rifles. In fact, I don't recall seeing any other make on the firing line in Steel Challenge matches. But few, if any, were stock guns.

While the basic action/barrel has proven accurate and reliable, many shooters find the factory 5- to 6-pound-plus trigger pull a drawback when trying to ring five widely-spaced steel plates in under 3 seconds. Some also don't care for the standard field stock. That has resulted in the 10/22 becoming one of the most "customized" firearms around. Providing target-grade thumb hole stocks, match triggers, and optical sight mounting options has resulted in a thriving aftermarket industry. But once a shooter adds the required "bells and whistles" to tune the rifle for upper-level competition, it's not hard to turn a modestly-priced rimfire rifle into a $1,000-plus gun.





The new Ruger 10/22 Target Lite (#21186, $649, Ruger.com) adds the appropriate "bells and whistles"—but with a much friendlier price tag.

The Gun
The Target Lite is built on Ruger's standard alloy steel 10/22 action and accepts all 10/22 magazines and accessories. The lightweight 16.13-inch barrel (1:16 right-hand, six groves) is cold hammer-forged steel and tensioned within an aluminum sleeve in the same manner as the other Lite series guns. The muzzle features 1/2″-28 thread to accept muzzle accessories and is protected by a removable cap.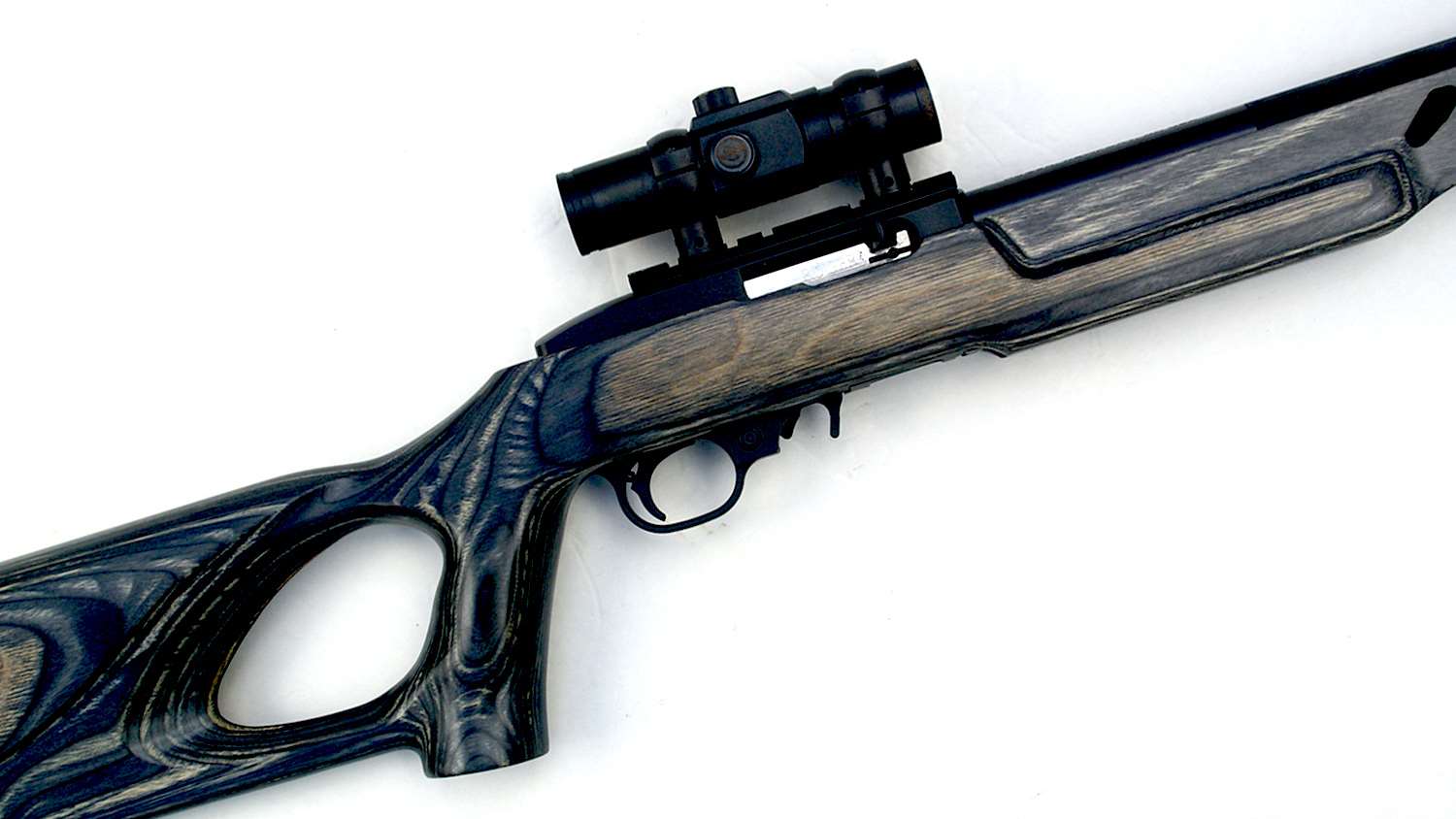 The stock is a gray/black thumb hole laminate with a raised check piece. It looks, and feels, little different from the futuristic-looking custom stocks that sell in the $250-$400 price range. The stock is fitted with a soft black rubber butt plate for a length of pull (LOP) of about 14.5 inches. But, it features a degree of LOP adjustment via inserted stock spacers. Two Phillips head screws, accessed through the butt pad, allow it to be removed and spacers deleted or added. With the two spacers that came on the stock, the LOP can be reduced by about .75-inch. That doesn't sound like much, but it can play a role for some shooters in getting the eye properly-aligned with the optic sight. Detachable sling swivel studs are installed.

The gun comes sans iron sights. A combination Weaver and Tip-Off mount base plate is included and it screws onto the top of the receiver quickly. Additional options available through Ruger as accessory items are a higher-sitting Picatinny Rail base plate (#90465, $19.95) and a Tactical Scout Rail (#18083, $37.45) that mounts the optical sight over the barrel.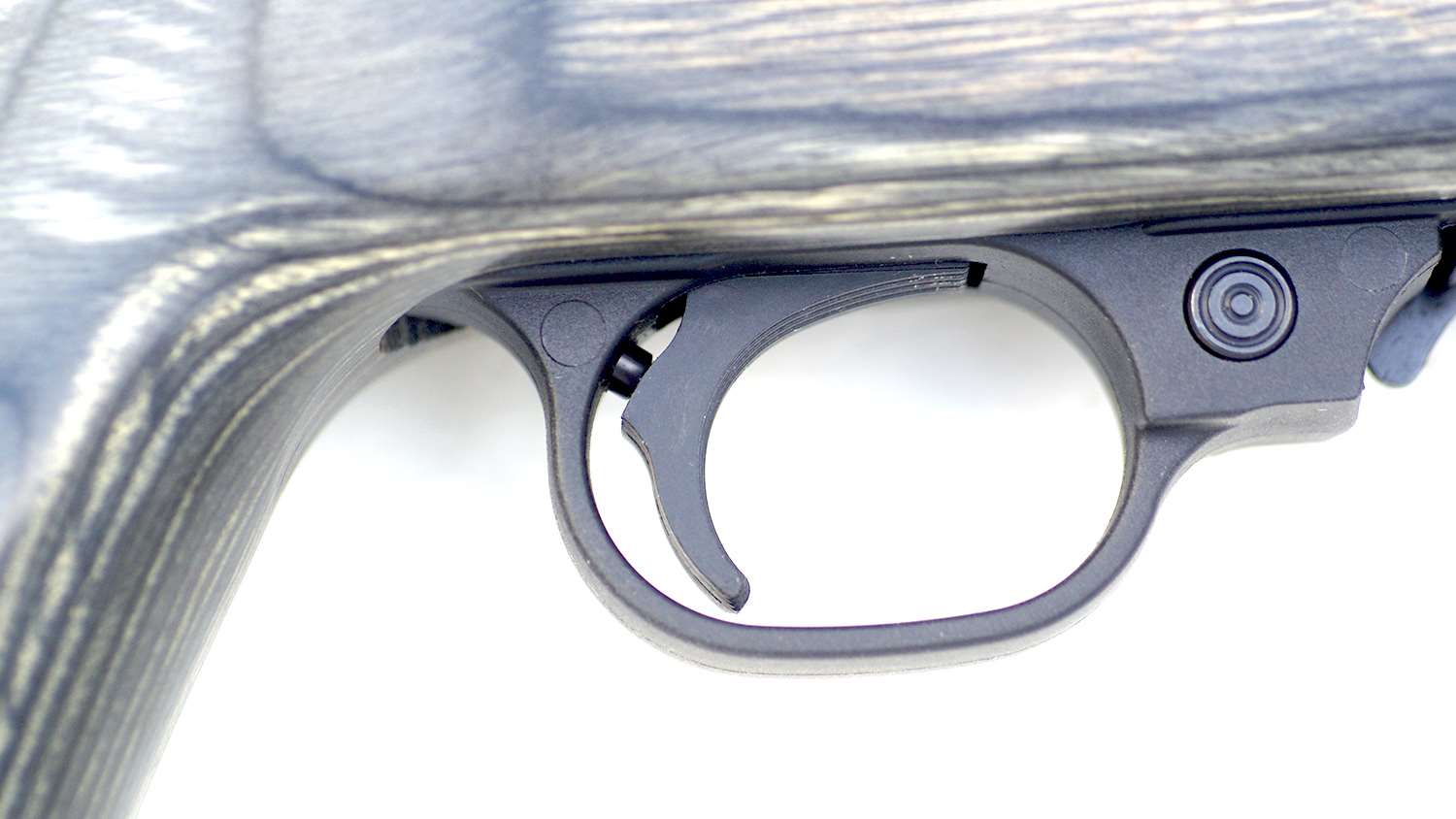 The trigger assembly is Ruger's enhanced BX Trigger. It's available as a drop-in accessory ($89.95) for all 10/22 actions. I installed one on the 10/22 Take Down Lite that I shoot in Steel Challenge and love it! The BX trigger on the Target Lite was little different. It broke at a consistent 3 pounds on my Lyman Digital Trigger Pull Gauge. There was no discernible take up, creep, over travel, or lag in the re-set. It was the proverbial "glass rod."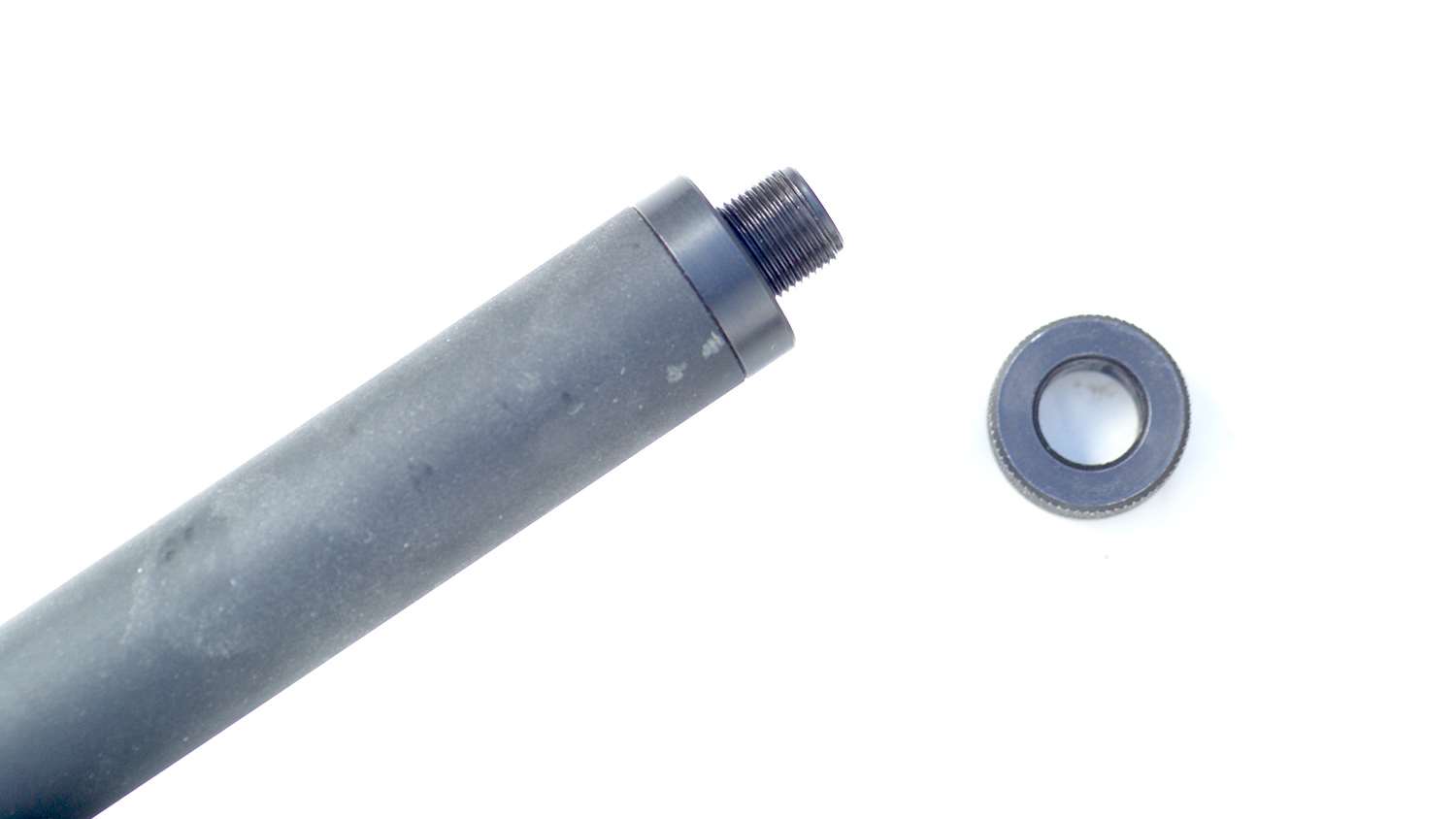 The metalwork is finished in a satin blue, the empty weight is 5 pounds, and the overall length is 35.25 inches.

On The Range
I picked the gun up from my FFL dealer on a rainy Saturday afternoon. Once home I mounted the sight plate. The Weaver spacing does not fit most Picatinny mounts. Rather than ordering the accessory Picatinny Rail to mount one of my reflex sights, I found an older Simmons tubular red dot sight with tip-off mounts and installed that. The tubular red dot is not my first choice on handguns, but I have come to prefer them on rifles. They seem, at least for me, to center the eye on the dot quicker than the square reflex sight window. I did nothing else beyond running a dry patch through the bore.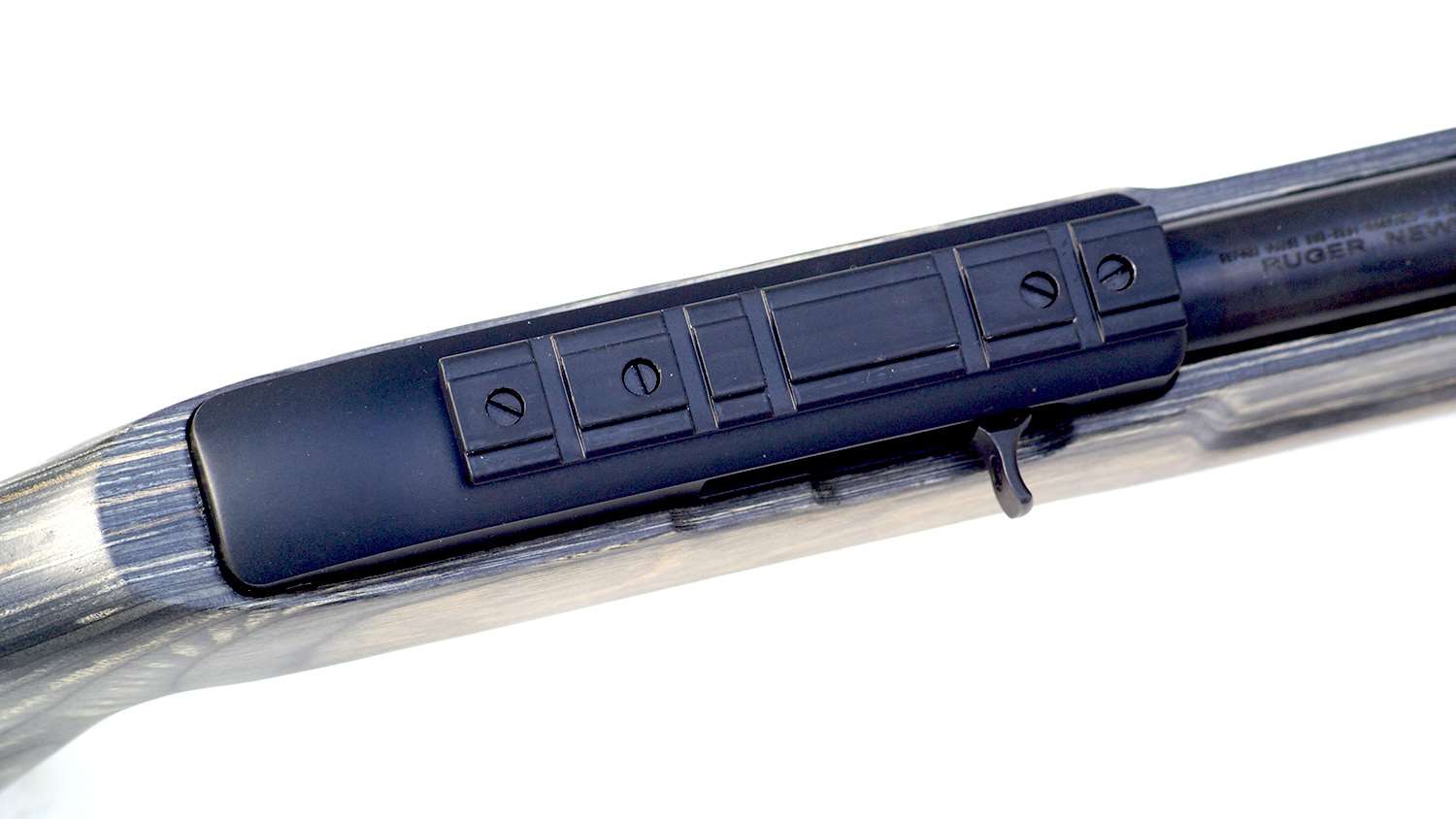 Sunday brought a break in the rain and I was able to zero the gun with Aguila Super Extra on my backyard range. I then ran a few "mount and shoots" to get used to the gun. I didn't get more than 25 rounds down range before the next shower hit, but I wasn't concerned.

The weather was clearing and my gun club holds a Steel Challenge match every Monday. They set up three stages and shoot each twice, while keeping score. I figured that would be a perfect place to start this test. I grabbed a few 10-round mags and two 15-round BX mags that I use in my regular match gun and loaded them with the Aguila. At the match, the stages they had set up (Pendulum, Speed Option, and Showdown) were a good test for a rimfire rifle.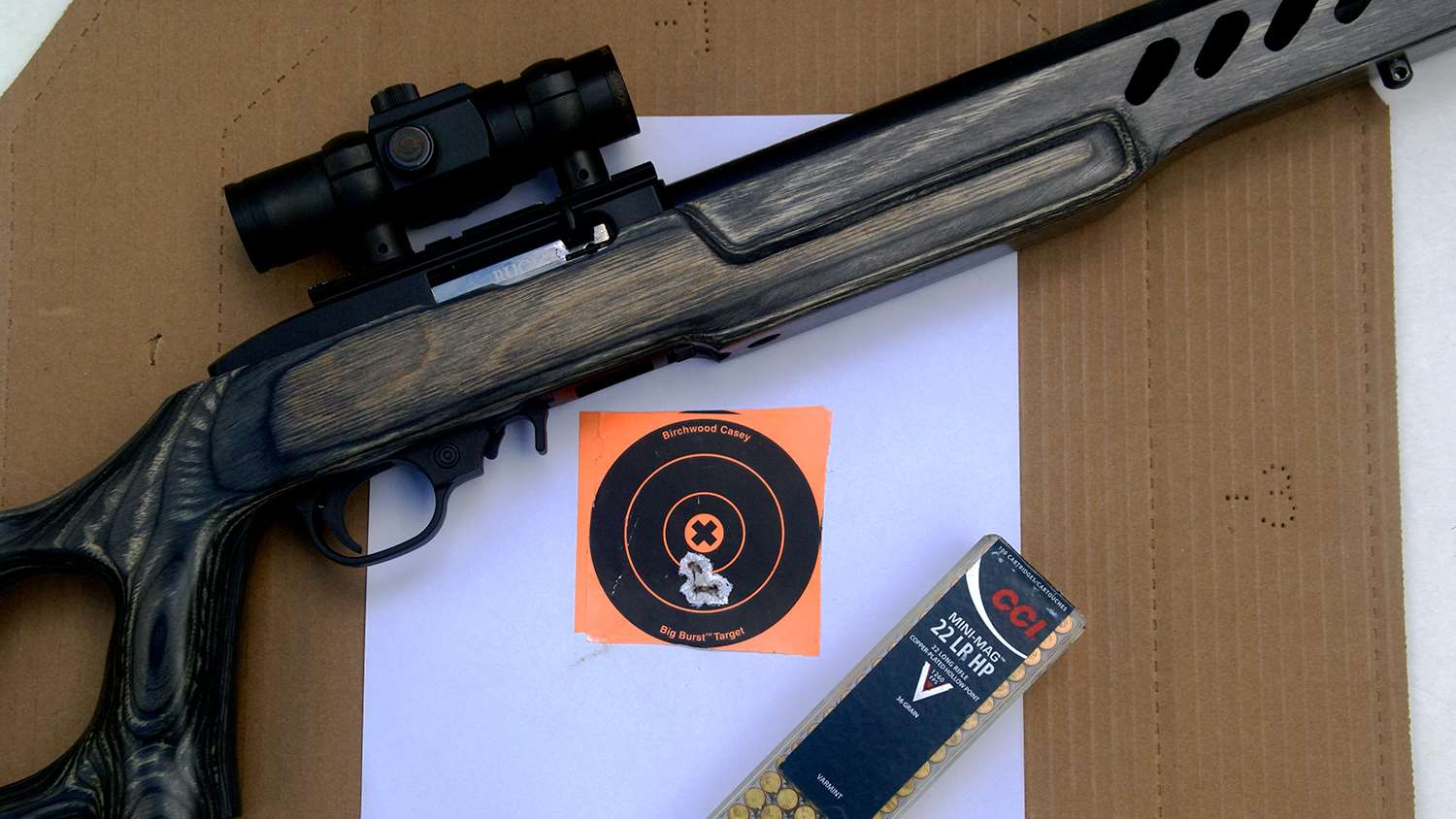 Although the gun only had about 25 rounds through it (hardly broken in) and with no cleaning or lubrication, it ran just fine. The only malfunction that occurred was one failure to feed with an elderly 10-round mag that I had numbered (and already flagged) as causing problems in my Take Down Lite match gun.
The thumb hole pistol grip stock took a bit of getting used to, since I shoot a straight stock on my match gun. The first stage was Pendulum, and I paid for that lack of familiarity. After that I started getting comfortable and life got good. I didn't win. Pendulum took care of that. But I finished fourth overall, behind two Masters and an A Class shooter.
But, the gun ran well and I was now comfortable with the stock.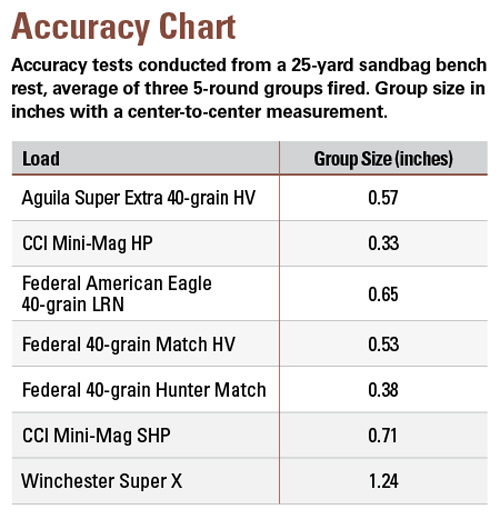 With the rain gone it was time for some accuracy tests. I had the Aguila Super Extra that I'd zeroed the gun and shot the match with. I knew that worked. I also had some CCI Mini-Mag HP. I consider this to be the "Gold Standard." During the three decades I've been testing guns it has always worked, and if it wasn't the most accurate load tested it was among the top three. Federal's American Eagle 40-grain LRN, their 40-grain lead Match HV, and Winchester's Super-X were also on hand. These are common target loads. Since some shooters may also use their "match rifle" for small game hunting or backyard pest control I included Federal's new 40-grain Hunter Match, and CCI's new Mini-Mag SHP—a segmented hollow point design that fragments into three pieces upon impact.
Although the gun had almost 200 rounds through it, without lubrication or cleaning, I decided not to clean it and just shoot it as is from my 25-yard bench rest.
The only malfunctions during another 150-plus rounds were two rounds of Super-X that failed to fire, despite a normal and distinct primer hit. Other than that the gun kept running. The accompanying accuracy chart will also show it ran well.
The features and performance of the new Target Lite, belie the blue collar price tag. Add a sight and its match ready.