by
Chris Christian, Field Editor
posted on November 15, 2019
Support NRA Shooting Sports USA
DONATE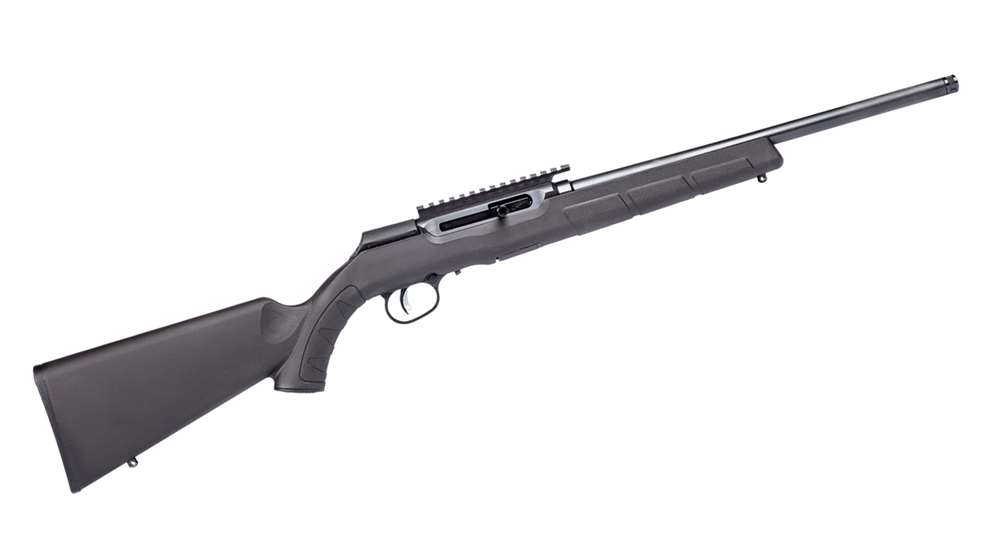 Rimfire rifles have become extremely popular in Steel Challenge. But, other than a semi-automatic action with at least a 10-round magazine there appears to be little consensus as to the best choice. Among the G, M and A Class competitors I regularly shoot with there are those who favor an AR-style stock, while others prefer a heavier laminated thumbhole target stock. Then there are those who favor a compact lightweight sporter stock for pure speed.


The new Savage A22 FV-SR definitely fits the latter category and at an affordable price.
The Gun
The Savage A22 FV-SR ($349) operates with a .22 LR blowback semi-automatic action. Weighing in at 5.26 pounds, with an overall length of 35 inches, it features a 16.5-inch medium contour, carbon steel button-rifle barrel (1:16-inch twist) with a target crown. The muzzle is threaded for standard accessories, along with a protective muzzle cap. The gun is sans iron sights, but drilled and tapped. A 6-inch section of Picatinny rail is installed and can be moved atop the receiver to suit the shooter's preferred sight position.
The stock is a black composite sporter-style with sling swivel studs attached. The length-of-pull, as I measured it from the face of the trigger to the rear of the buttplate, is 13.6-inches. There are no provisions to adjust LOP or comb height, but if individual fitting is required there are a number of aftermarket accessories available to help accomplish that.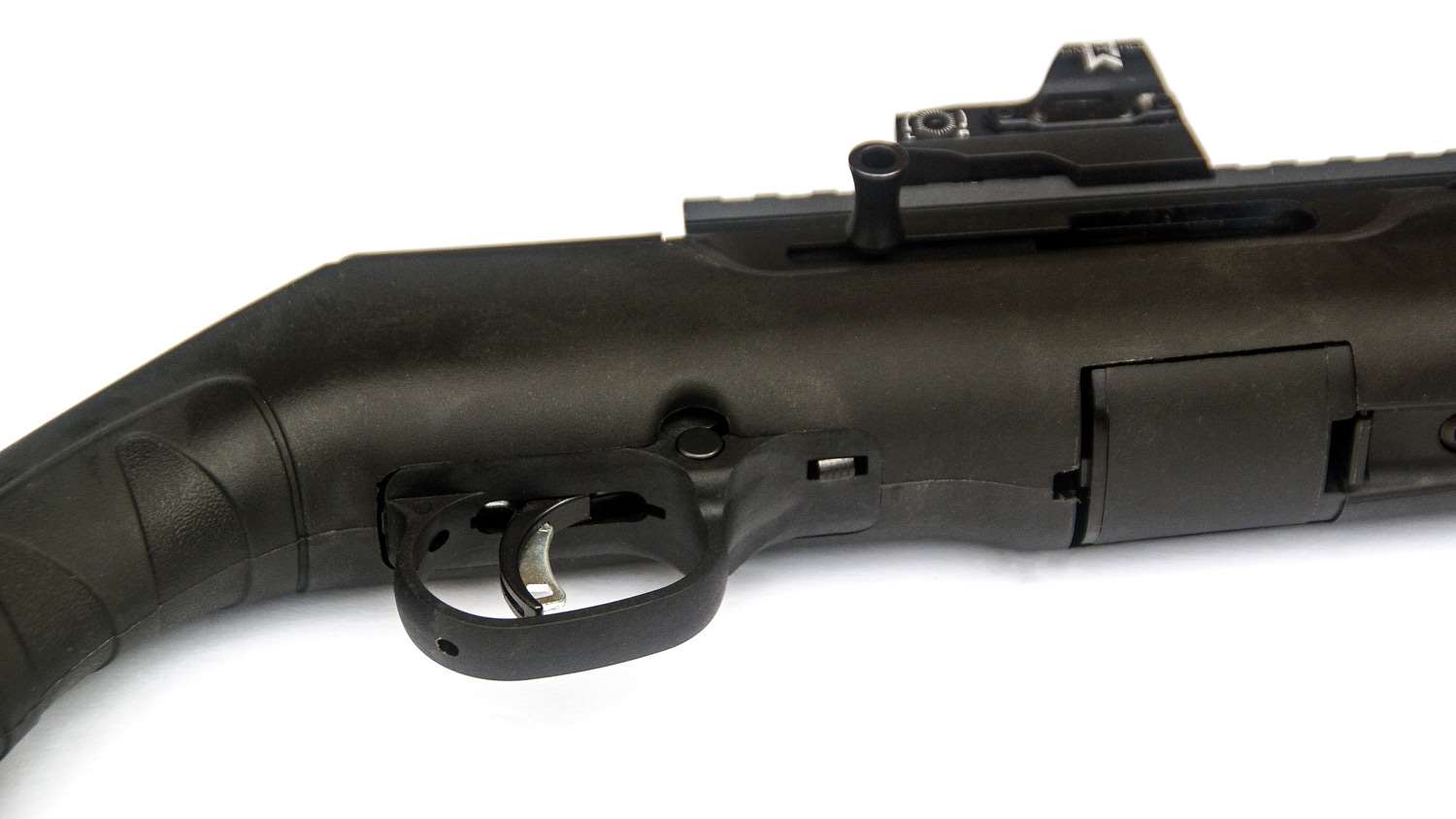 The gun feeds from a 10-round rotary magazine of Savage design. The bolt does not lock back on an empty magazine, which is of no concern in Steel Challenge. The oversize bolt handle is easy to manipulate, and a button forward of the trigger guard will lock it back. Pulling the charging handle to the rear releases the bolt. The safety is a right-side button on the forward portion of the trigger guard. It's a simple system.
The trigger assembly is Savage's proven, user-adjustable, Accu-Trigger. As the gun came from the box it measured 4.1 pounds on my Lyman digital gauge. It can be reduced with a simple (supplied) hex-type wrench. But, the trigger was crisp. I prefer rifle triggers in that pull weight, so that I control the trigger and it doesn't control me, and I left it where it was.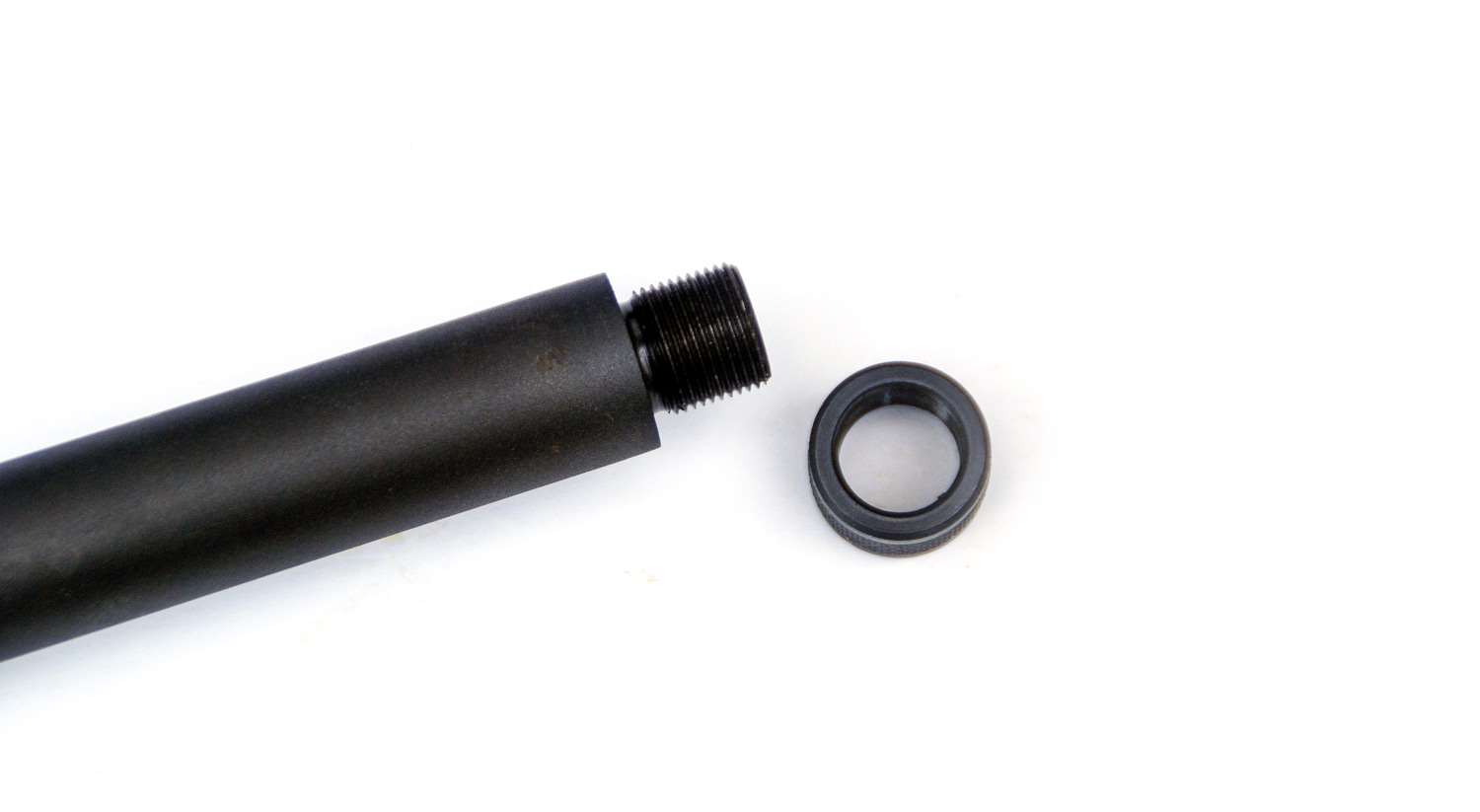 The A22 FV-SR ships with one 10-round Savage magazine, with additional 10-round magazines available from Savage. Butler Creek also lists 25-round extended magazines for the A22 series. Included in the box is the Accu-Trigger wrench, chamber flag, cable lock and a set of foam ear plugs.
On The Range
The gun needed a sight, and I had a SIG Romeo3 Max in for another test project. With its Picatinny rail, installation was quick. Beyond that I did nothing to the gun out-of-the-box, other than checking the bore.

For test loads, I chose a mix of those commonly used in Steel Challenge that included polymer, lead and plated in both standard velocity and high-speed. The polymer loads consisted of CCI Clean-22 standard velocity (blue) and CCI Clean-22 high-speed (red). The lead loads were CCI Standard Velocity 40-grain lead RN and Federal's Hunter Match high-speed 40-grain lead HP. Plated loads were CCI Mini-Mag 40-grain RN and Aguila Super Extra 40-grain RN, both high-speed.
The gun zeroed quickly from a 25-yard benchrest with the CCI Mini-Mag. With only one magazine a match was not doable. Instead, I set up five of my white cut-out targets to simulate some Steel Challenge stages and started running rounds. The magazine got a workout, as I ran four runs through the targets with each load.
I found the sporter stock was a good fit for me, and the gun handled smoothly through the target array. I shoot a sporter-style stock on my regular RFRO gun, so there were no adjustments needed. From a low ready, at the BEEP from my PACT timer, the gun snapped up quickly—and right on target.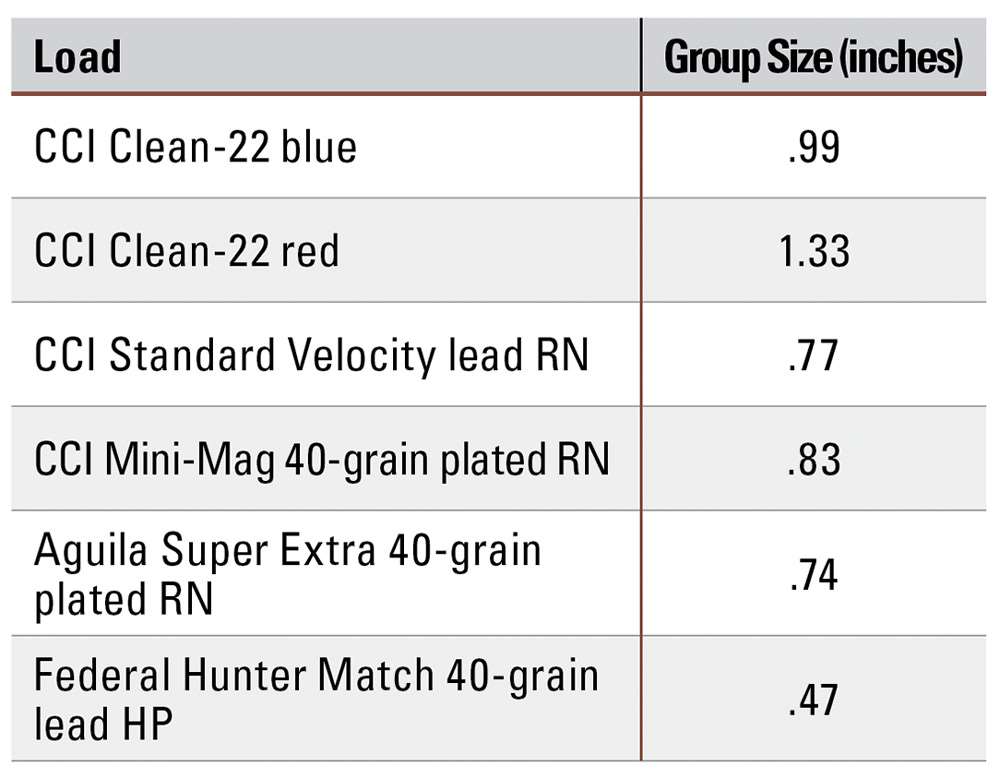 Accuracy testing was next from a 25-yard sandbag rest. The SIG Romeo3 Max brightness adjustments dialed down enough to give me a very precise dot on the 3-inch targets I used. The accuracy chart will show that any load used had more than enough accuracy for Steel Challenge—although it did have a favorite or two.
Despite shooting the gun straight out of the box with no lubrication, there was not a single malfunction with any of the various 300 rounds that I ran through it.
For those out there who prefer a light, reliable and quick-handling rimfire rifle, the A22 FV-SR is a good choice. The modest price helps take some of the wallet sting out of obtaining the required extra magazines and a sight—making it an easy way to get into Steel Challenge RFRO competition.

---
Read more articles by Chris Christian: