by
Chris Christian, Field Editor
posted on April 15, 2019
Support NRA Shooting Sports USA
DONATE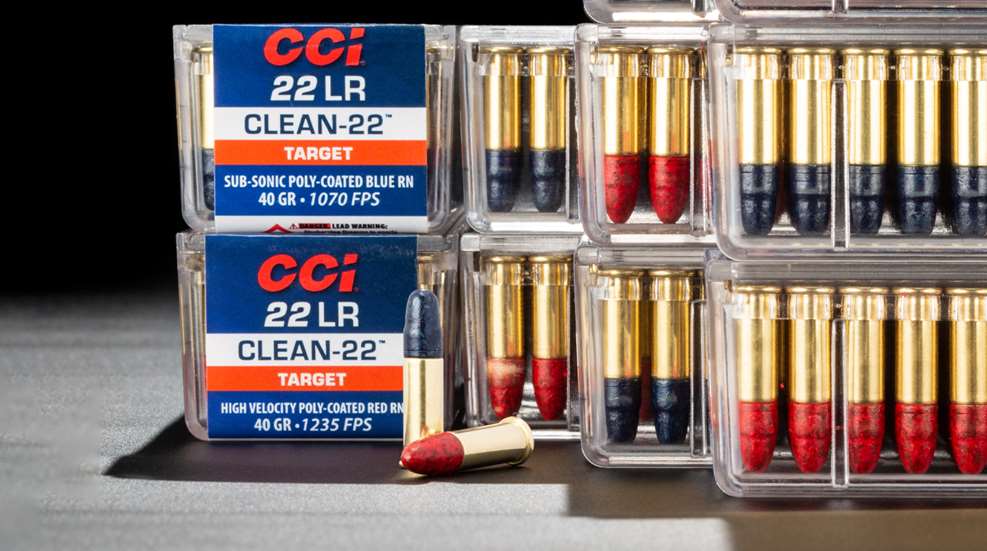 Rimfire ammo is fun and economical to shoot, but the .22 LR can be quite messy. When you combine powder formulas almost as dirty as black powder, externally-lubricated lead bullets and firing mechanism lubricants, you can "gunk" up a gun or magazine pretty quick; especially if it's a blow-back-operated, .22 LR semi-automatic. Even copper-plated rounds can be dirty, and match malfunctions due to "gunk" are not uncommon for those who are a bit remiss in their gun cleaning.

CCI's new Clean-22 intends to provide a solution to this problem.


Polymer-Coated Rimfire

Available in 40-grain lead loads in sub-sonic (1070 fps, blue-tipped bullet) and high velocity (1235 fps, red-tipped bullet), the Clean-22 uses a polymer bullet coating. CCI also claims the powder formula used burns more cleanly.

I shoot several Steel Challenge matches a month with rimfire rifle and pistol. It doesn't take more than one or two malfunctions to really screw up my day, so I was very interested in this new rimfire technology. A call to CCI brought enough ammo for an extensive test.

For the tests I used my regular match guns—a Ruger Mark IV pistol with a Burris FastFire III reflex sight and a Ruger 10/22 Takedown Lite with a SIG ROMEO1 6 MOA reflex sight. Both guns were thoroughly stripped and cleaned before the first Clean-22 loads were fired.

My test procedure was simple, but extensive. I would run about 200 rounds of each load through each gun for accuracy and reliability tests on my backyard range, and then shoot each gun in two Steel Challenge matches—without cleaning the guns until the tests were finished. I figured that would show me how clean and reliable the new loads were.

I started with the 10/22 rifle and the "red" load. It was shooting very close to where the gun was zeroed. Multiple target drills followed, and then 25-yard accuracy tests. Shifting to the "blue," I repeated the drills and accuracy tests. Knowing that some timers have a problem picking up sub-sonic rounds from a .22 LR rifle, I grabbed my Competition Electronics Pocket Pro timer and my PACT Club timer. I set one on the bench, turned it on at Delay, and at the BEEP I shouldered the rifle and fired five rounds of the "blue," and then repeated it with the other timer. The timers were about 18 inches away from the ejection port and both timers picked up all five rounds.

After looking at the 25-yard 10/22 groups with the SIG reflex sight I decided to alter my test procedure.

My club holds CMP Sporter Rimfire matches with 50-yard targets. The 10-ring measures 1.75 inches with a 1-inch X-ring. I was curious. I also had a 6x scope on hand. So I pulled the SIG reflex sight, and installed and zeroed the scope. Moving back to 50 yards I shot the accuracy tests again. No one is going to confuse the 10/22 Takedown Lite with a precision rimfire target rifle, but the 50-yard groups clearly show the Clean-22 is capable of minute-of-10-ring accuracy.

The Mark IV pistol was next. I started with the "red" load. The Ruger ran 200 rounds without problems and the accuracy tests were very acceptable.

Shifting to the "blue," the ejection seemed weak and I had several failures to eject and two failures to go into battery within the first 50 rounds. I wasn't surprised. This Mark IV has a high round count and during the last few months it had shown balky performance with sub-sonic (1070 fps) loads that previously shot well in it. I had considered ordering new springs.

The groups were another matter. The first groups were erratic. Some would be under an inch, and others would be in the 3-inch range. Some even had 4-inch fliers that were not explainable. I then shot a total of 10 groups, and they remained erratic.

Seeking a second opinion, I brought out my 30-year-old Ruger Mark II with a Simmons tubular red-dot sight. Despite its age it has a far lower round count than the Mark IV. I put 100 rounds of the "blue" through it without malfunction and the accuracy testing showed good groups.

In addition, after a match I gave 150 rounds of the "blue" to a fellow competitor who was wondering how it might shoot in her compensated Volquartsen Scorpion. She ran 100 rounds without problems. She then let another shooter fire 50 more rounds through, in her words, "A very dirty Ruger Mark III." They ran fine.

After ordering new springs for my Mark IV, an eight-stage Steel Challenge match (200-round minimum) was next. Given what I experienced on my range I chose to shoot the "red" in the Mark IV and the "blue" in the 10/22. That was followed a week later with a six-stage Steel Challenge match (150-round minimum) with the same ammo selection. There were no timer problems with the "blue" loads.

By the end of the second match there were almost 800 rounds through the Mark IV (all but about 120 rounds being the "'red" loads) and the 10/22 had over 800 rounds, with the majority being the "blue" loads. The only malfunctions, at any point during this extended test, were those early in the tests with the "blue" loads in the Mark IV. That's far longer than I would run any .22 LR semi-automatic match gun, so I stripped them down for a cleaning.

The Mark IV barrel showed some flakes of unburned powder. A couple of Hoppe's No. 9-coated patches came out a light gray color, and a following dry patch came out clean. Beyond that the barrel and chamber were very clean. Having tested Federal's polymer-coated Syntech centerfire ammunition last year, I wasn't surprised about this. The polymer coating leaves little bullet fouling.

Inspecting the action showed some powder fouling, along with some minuscule red and blue flakes; which I have to assume came from the bullet coating on the "red" and "blue" loads. "Gunk analysis" is very subjective, but the level didn't seem to be much more than I would see when cleaning the gun following a 200-round match with standard .22 LR rimfire loads.

The 10/22 Takedown Lite, with over 800 rounds through it, was even better.

Peering through the barrel, it actually appeared to be unfired! There was nothing there. A Hoppe's No. 9 patch came out with just a light-gray tinge. A following patch came out clean—and that was it. There was some light powder fouling in the action, but one Hoppe's No. 9-soaked patch wrapped around my finger cleaned that out quickly. The level of powder fouling was more akin to a 100-round practice session—not shooting 800-plus rounds over two weeks. Whatever powder recipe CCI is using appears to burn very cleanly and thoroughly in a 16-inch barrel. It's not quite as clean in a 5.5-inch barrel, but better than other loads I've used.

After thorough testing, it seems that CCI Clean-22 rimfire ammunition lives up to its name. MSRP is $9.95 per 100-round box. Learn more at CCI-Ammunition.com.