by
Chris Christian, Field Editor
posted on June 17, 2019
Support NRA Shooting Sports USA
DONATE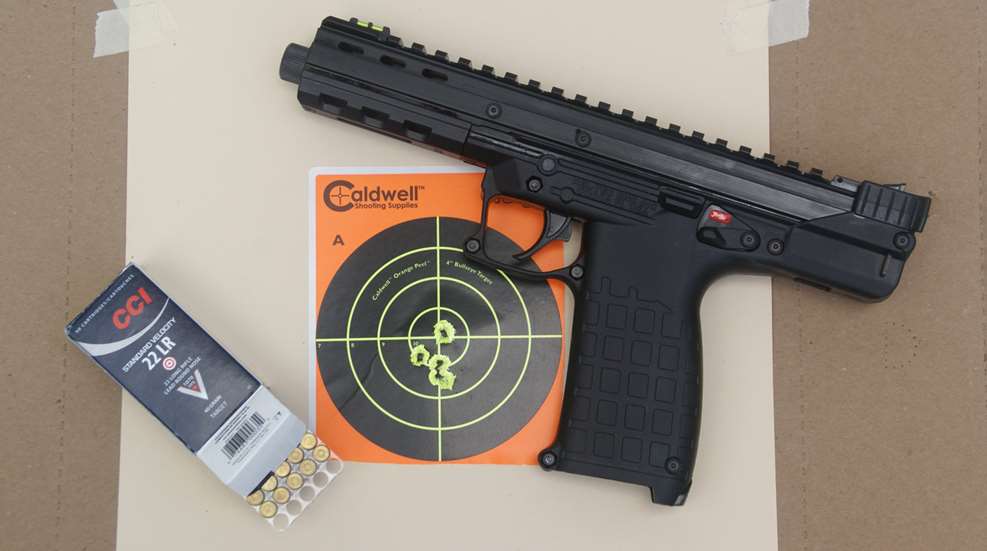 The rapid growth of rimfire competition in Steel Challenge has prompted some gun makers to enter the fray. Kel-Tec is one, and their new CP33 .22 LR pistol ($475, keltecweapons.com) has a lot of potential.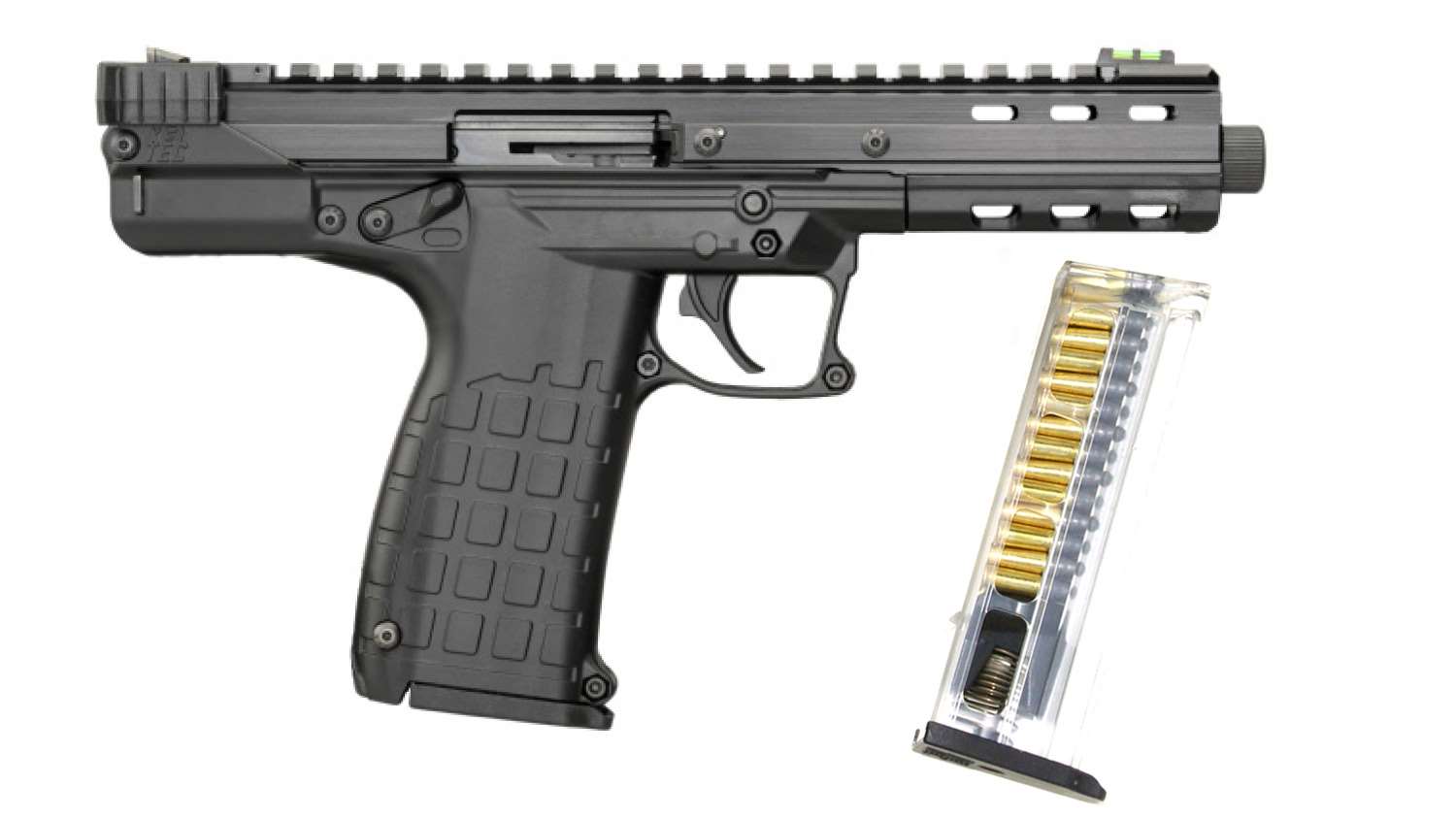 The Gun
The CP33 Competition Pistol ($475) uses the same operating action as the PMR30 22 Magnum introduced in 2011. A major difference is that the upper-unit assembly now extends about 2.5 inches rearward beyond the rear grip strap, creating an overhang that gives the gun a futuristic look. In fact, Star Trek was mentioned a few times by shop personnel when I picked up the test gun from my FFL dealer.
The barrel length is 5.5 inches (1:14-inch twist) and features an extended threaded muzzle (1/2x28 standard thread) that allows the easy installation of a compensator. The overhang creates an 8.75-inch iron-sight radius, and provides 7.5 inches of Picatinny-style rail for mounting optics. The iron sights consist of a fully-adjustable rear with two red fiber-optic inserts and a removable front blade with a green fiber-optic rod, for a three-dot sight picture.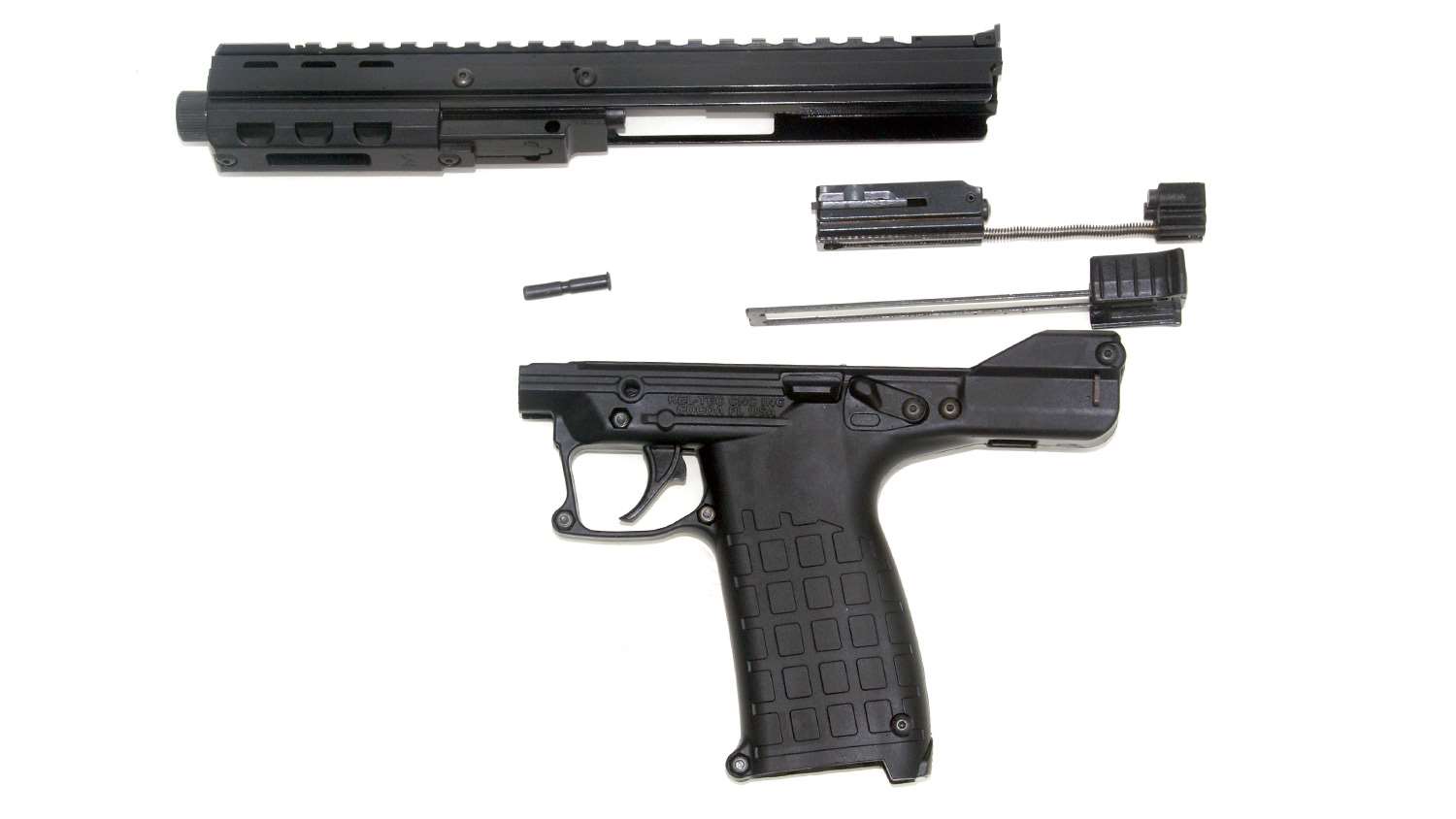 The CP33 is built on a polymer frame and weighs 24 ounces empty. Overall length is 10.6 inches and 1.7 inches at its widest point. Operating controls consist of a left-side slide release and ambidextrous thumb safeties. A non-reciprocating charging handle cycles the bolt. The slide locks back after the last round.
The magazines are clear plastic with side cut-outs and hold 33 .22 LR rounds. They are the same fore and aft dimensions as the .22 Magnum models on the PMR30. That's longer than needed, but Kel-Tec uses the extra length to create an integral feed ramp. The magazine release is heel-style. The magazines don't drop free and require a conscious effort to remove. I don't consider that a drawback for rimfire pistol competition. As a Steel Challenge RO, I have seen more than one competitor unintentionally eject a drop-free magazine—including a few who managed that feat while engaging targets.
The operating action is hammer-fired, which is a plus with the tougher brass rim primers on rimfire ammo. The trigger pull measured 3.4 pounds on my Lyman Digital Gauge, with a hint of take-up, a very crisp and creep-free break, as well as a fast reset.
The gun ships with a hard-plastic lockable case, instruction manual, two 33-round magazines, trigger lock and a chamber flag.

On the Range
Out-of-the-box, I did nothing more than lock open the action and add a few drops of light lube to obvious bearing points. The Kel-Tec manual notes the gun is designed to operate with high-speed .22 LR ammo, so I selected three proven rounds: CCI Mini-Mag 40-grain solid, Aguila Super Extra and Federal Hunter Match. Just to check, I also included two standard velocity (1070 fps) loads that have worked well for me: Aguila Pistol Match and CCI Standard Velocity.
After setting up my 25-yard benchrest and targets, I loaded the magazines. The Kel-Tec manual notes they may be difficult to load at first. They are correct. They required a careful loading procedure—slightly different than the common 10-round single stack mags used by most pistols—and the springs were stiff. I found a small screwdriver pulling the follower down helped. But after they'd been loaded a couple times they were much easier to load, and with no need for the screwdriver.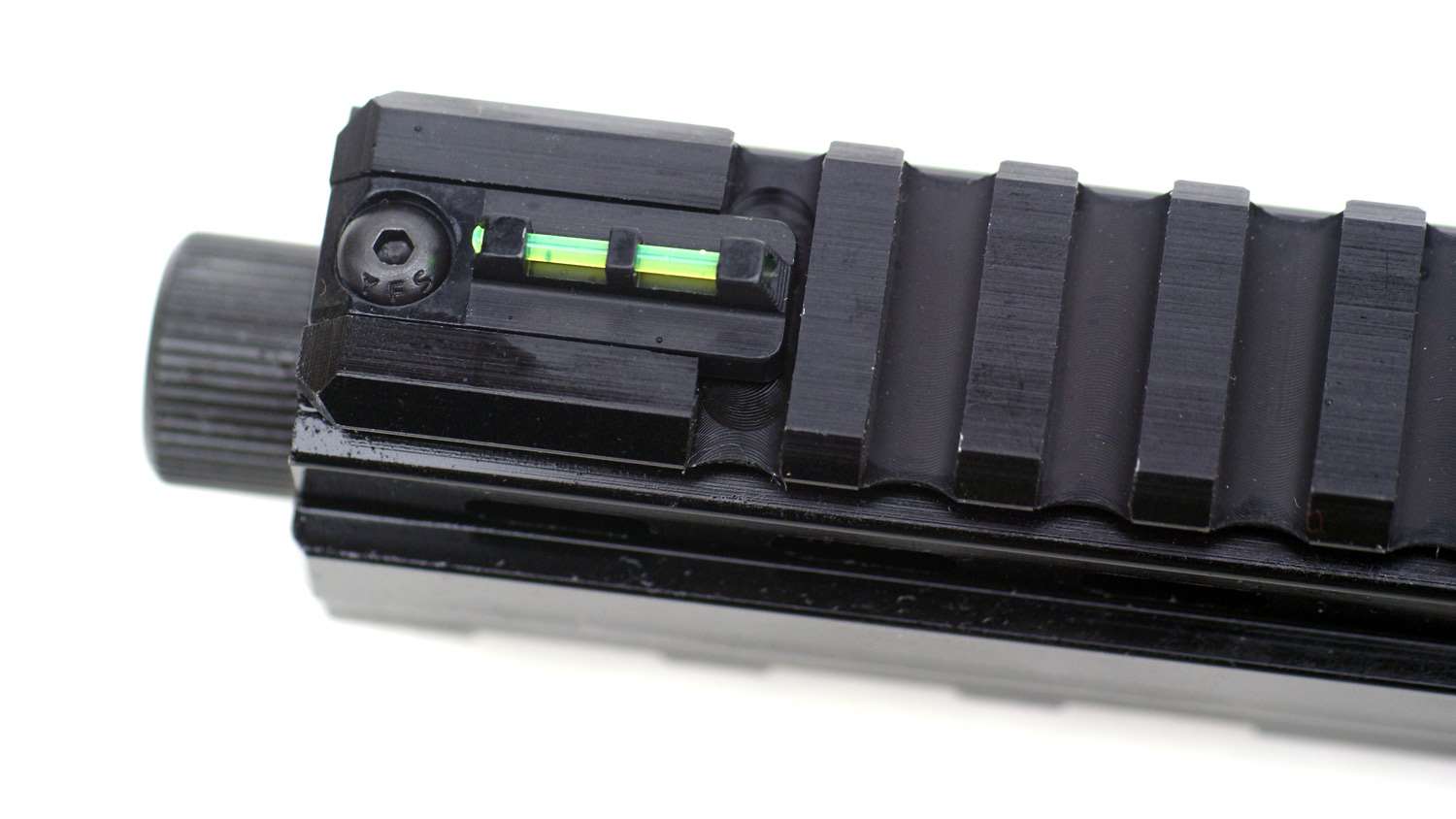 With magazines loaded I went to zero the iron sights. The slide was locked back. I inserted a magazine and hit the slide release. The CP33 does not like to chamber a round in that manner and tip-up jams resulted. The CP33 bolt travels beyond the cartridge pick-up point during recoil, but apparently slide-lock doesn't put it there. I then started chambering rounds via the charging handle. That worked perfectly, whether the slide was locked back or forward.  
Once I figured that out I zeroed the iron sights with Aguila Pistol Match. They were about four inches low, but the adjustable sights zeroed quickly. The iron sights were bright and crisp, so I decided to stay with them for the tests. I then ran some transition drills. The grips were a bit slick and skinny for my hands. I could have fixed that with some skateboard tape, but being a test gun I declined.
The above loads were run through the gun on multiple target drills. The iron sights were extremely bright, almost as if they were battery-powered. The 8.75-inch sight radius provided a very precise alignment and there was no mistaking when they were properly aligned on a target.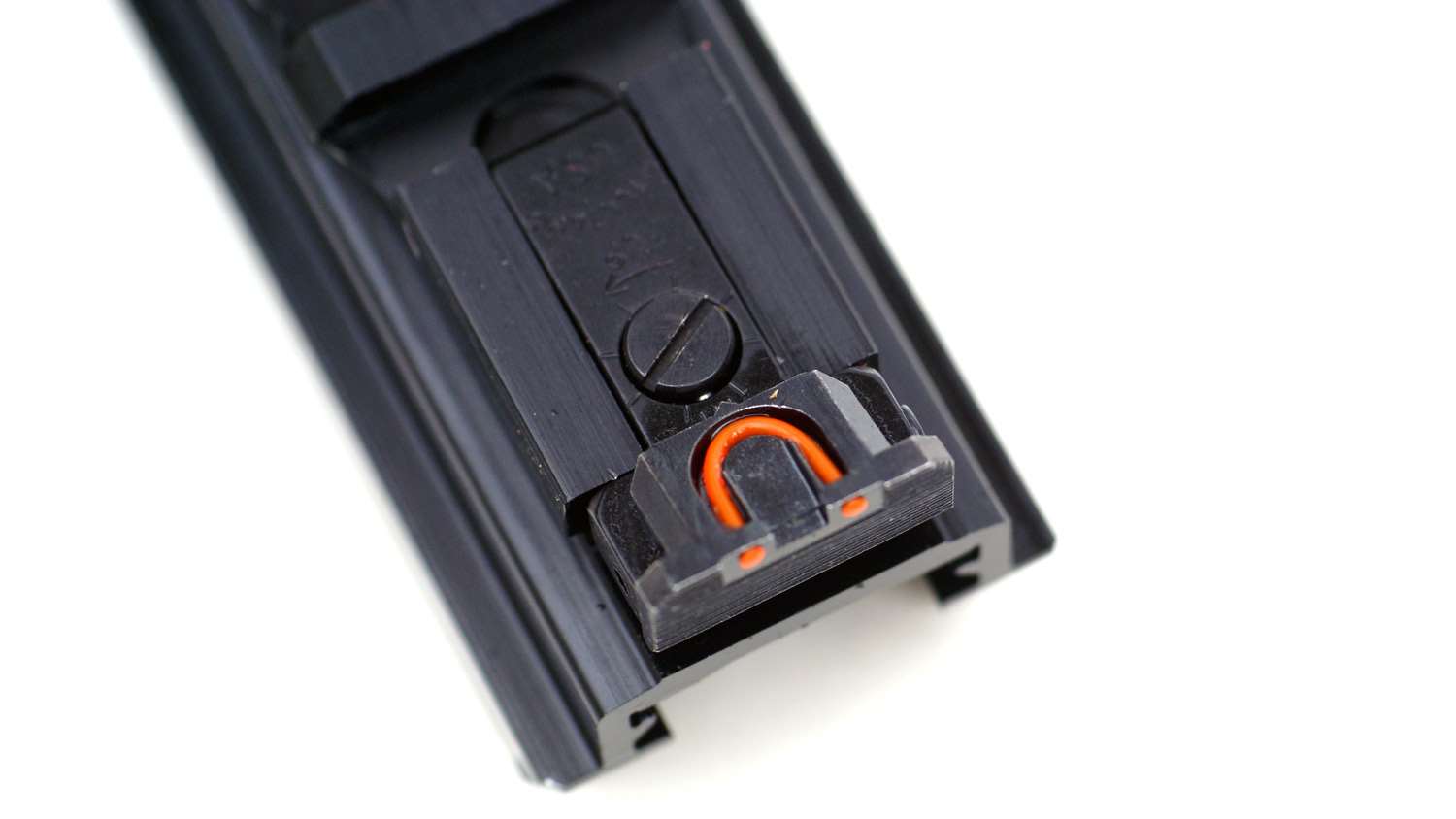 Recoil with the 1070 fps loads was virtually non-existent, but there were a number of failures to eject. Given that the owner's manual clearly states the gun is designed to operate with high-speed ammo, I couldn't fault the gun. The high-speed loads ran well, with only a slight increase in muzzle rise. The extended rear provided a neutral balance grip that got the iron sights on target quickly with a freestyle grip. I then shifted to a one-hand precision grip. The balance point let the gun lay perfectly on target with little effort on my part. I was getting to like the Star Trek grip.
I then accuracy tested all loads, with the iron sights. The CP33 wasn't finicky about accuracy. The accompanying chart will show it was "minute of X-ring" with all.
By this time there were about 300 rounds through the gun with nothing more than my initial lube and no malfunctions other than the slide-lock tip-up jams and the ejection failures with the sub-sonic loads.
A six-stage Steel Challenge match was next so I stripped, cleaned and lubed the gun. Disassembly is simple—drift out one pin and the upper unit lifts off the frame allowing the bolt and charging handle to be removed. This opens everything for a thorough cleaning. Reassembly proved a bit "less simple," as the instruction manual is not overly-clear. It took me several tries, and some test-fired rounds, to make sure I had it back together correctly. A bit of practice would make it easier.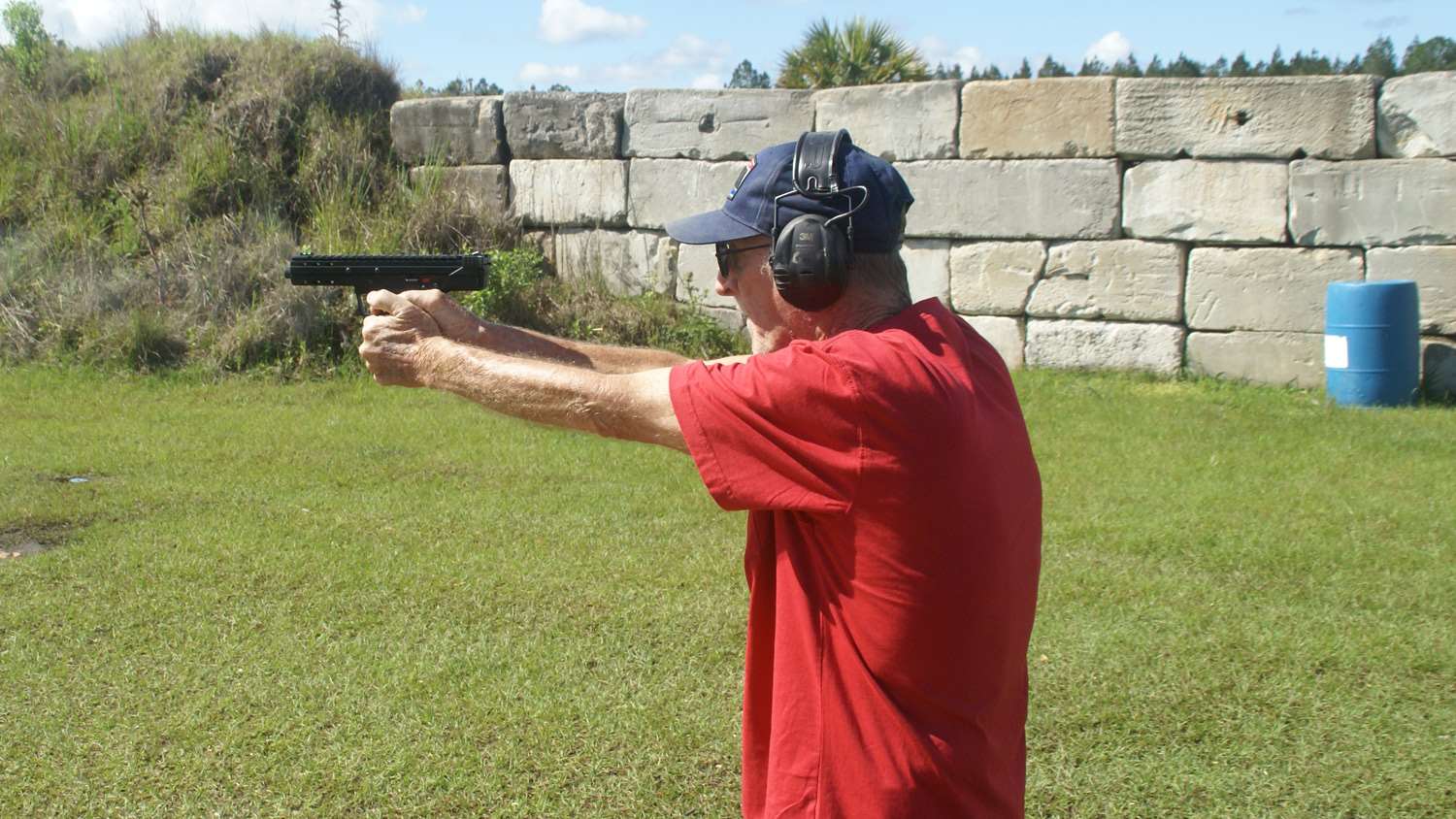 I had not shot iron sights in Steel Challenge in a while, had never shot Rimfire Pistol Iron (RFPI), and was Unclassified in that division. I decided to shoot RFPI and used the CCI Mini-Mag.
The high-speed ammo ran perfectly. And, while Super Senior and iron sights isn't a winning combination in Steel Challenge, the bright sights and handling qualities let me finish top among iron-sight shooters and even hold my own with C and B class rimfire pistol shooters using optical sights. I actually beat a couple of them, and didn't consider that a bad "first match with a new gun." It would be interesting to put a reflex sight on the gun, and maybe even shoot some Bullseye with it.
Kel-Tec isn't a name commonly associated with competition pistols, but the CP33 might change that. It has a lot of potential.

Accuracy Chart
Accuracy tests conducted from a 25-yard sandbag bench rest using the iron sights. Groups are the average of three five-round groups fired, measured in inches.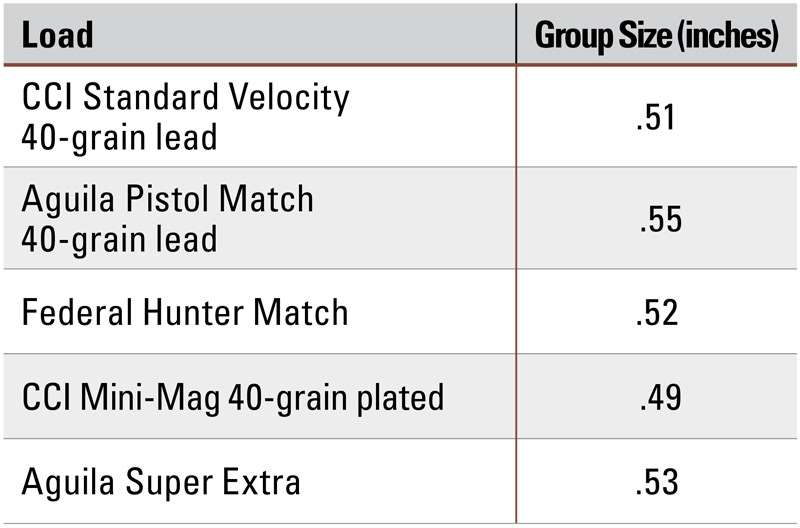 ---
See more: George Kellgren of Kel-Tec Wins 2019 NRA Golden Bullseye Pioneer Award