by
Chris Christian, Field Editor
posted on August 11, 2020
Support NRA Shooting Sports USA
DONATE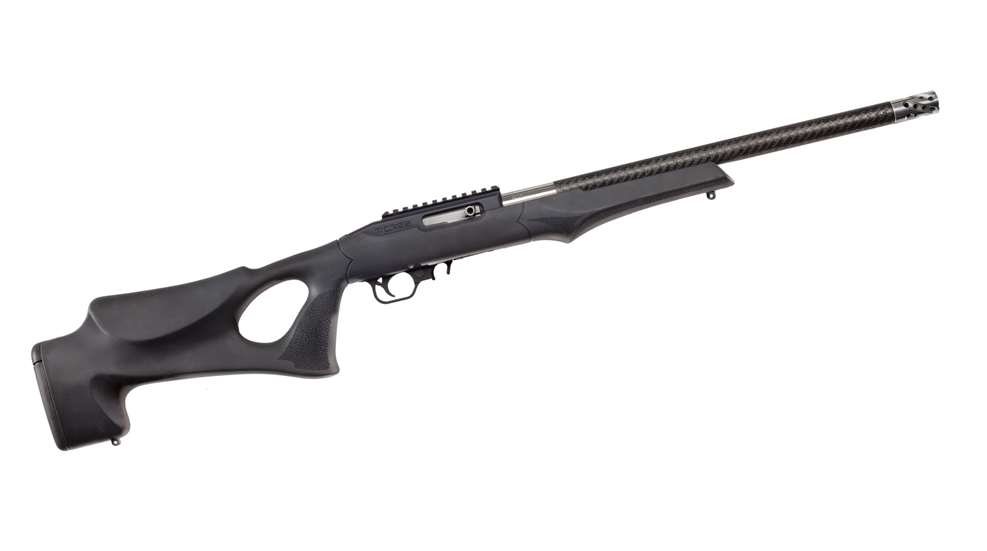 Rimfire rifles, and the games they play, are increasing in popularity. Savvy gun makers are cranking out competition models, and the latest is a joint effort between Thompson/Center and the Smith & Wesson Performance Center.
The Guns
The Performance Center T/CR22 is a blowback-operated .22 LR rifle built on a machined 6061 aluminum alloy receiver with a rear hole that allows cleaning the barrel from the breech end when disassembled. The bolt is stainless steel.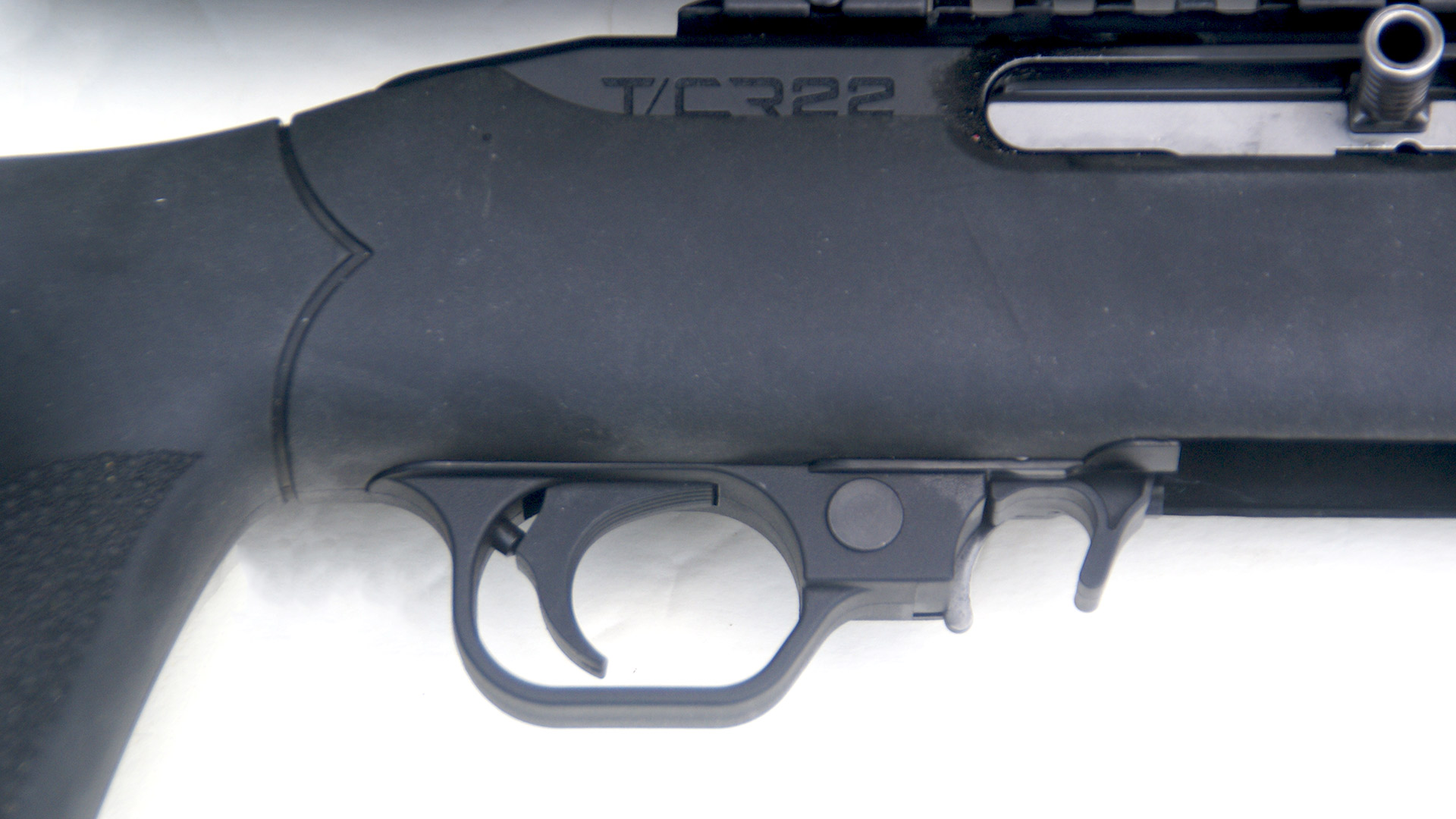 A slender stainless-steel barrel measures 17 inches and is button rifled with a 1:15-inch twist. The removable Performance Center muzzle brake (using standard ½-28 threads) gives it an overall length of 18.375 inches. The barrel is wrapped in a heavy contour carbon fiber and results in a distinctive appearance.
Operating controls—bolt lock back, magazine release and safety—are virtually identical to the Ruger 10/22, although releasing the bolt doesn't require using the lever. Just pull it back and let it fly. The gun accepts most 10/22 aftermarket parts, accessories and magazines. Iron sights are absent, but a 4.6-inch length of Picatinny rail atop the receiver allows the mounting of optical sights.
Four models are available, differing only in their stocks and slight variations in empty weight. Three models use Altamont Laminated Wood Stocks with a right-hand cheekpiece in brown (SKU 12577), blue (SKU 13146) and red (SKU 13145) at $642. The last model, and the one I chose to test, is the Hogue Overmolded Stock (SKU 13115, $523). It tipped the scales at 5.2 pounds, which is about 0.3 to 0.5 pounds heavier than the different laminated wood stock models.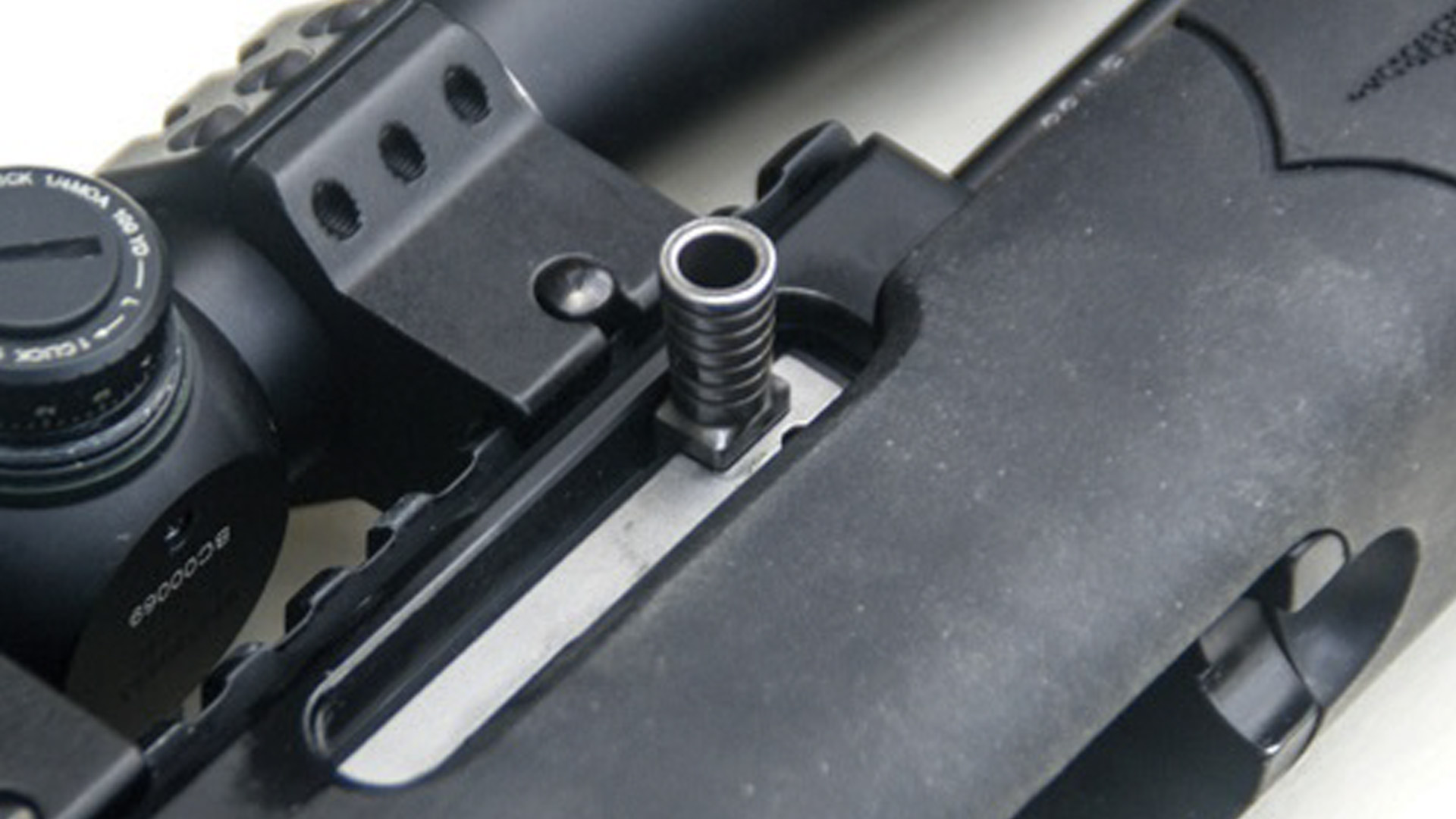 Guns ship with one 10-round rotary magazine, in a foam-lined and lockable plastic case, with a cable lock, instruction manual and the usual paperwork.
On the Range
Out-of-the-box, I ran a swab through the barrel and applied some light lubricant to the action. I was impressed by the "feel" of the stock. The weight was "between the hands" and the balance was very steady. The trigger pull measured 4.5 pounds on my digital gauge with a crisp, creep-free break. I decided to run this gun test a bit differently than the Steel Challenge-oriented tests I have previously done with rimfire rifles.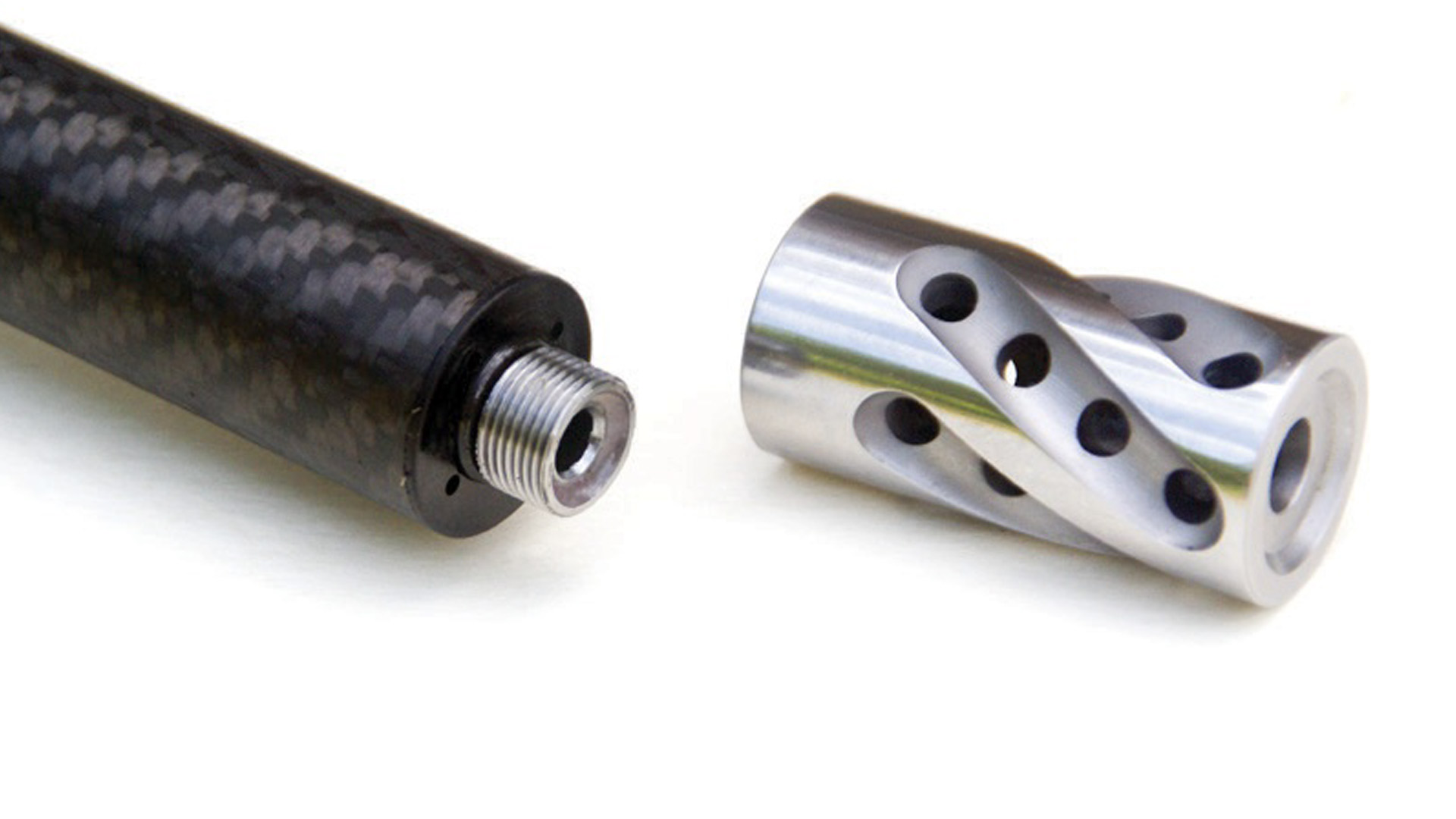 My club holds informal rimfire sporter rifle fun matches that I had been wanting to shoot. Scoped guns (up to 6x) are allowed, and the matches are usually two-position (prone and sitting Rapid Fire) at 50 yards and offhand at 25 yards. The target is the CMP B-19 C with a 1.75-inch 10-ring. I had a Bushnell Prime 3-12x 40mm scope that was ideally suited and legal at 6x. It has marked left-side external parallax adjustments from 10 yards to infinity, externally adjustable windage and elevation turrets and interchangeable turret inserts to allow a quick Return To Zero. It's a very nice piece of glass and well-suited to .22 LR rifle competition. If I could find a load that would group under an inch at 50 yards, I figured I could have some fun.
Not having done any precision .22 LR rimfire rifle lately my cupboard for that type of ammunition was a bit bare. I grabbed some CCI 40-grain lead Standard Velocity, CCI Mini-Mag 40-grain plated RN and Federal's 40-grain lead Hunter Match that had worked for me previously. I added CCI's Clean-22 standard velocity and Aguila's 40-grain standard velocity lead target load. I had not used the Aguila in a rifle, but it had performed adequately from handguns.
I set a rough zero on my 25-yard range with the Mini-Mag that would get me close, but not dead-on at 50 yards. I used my crosshair targets and wanted the group off the center-X so that it didn't interfere with that precise aiming point. The supplied T/C magazine worked, and I also added my 10- and 15-round 10/22 mags for the rest of the tests.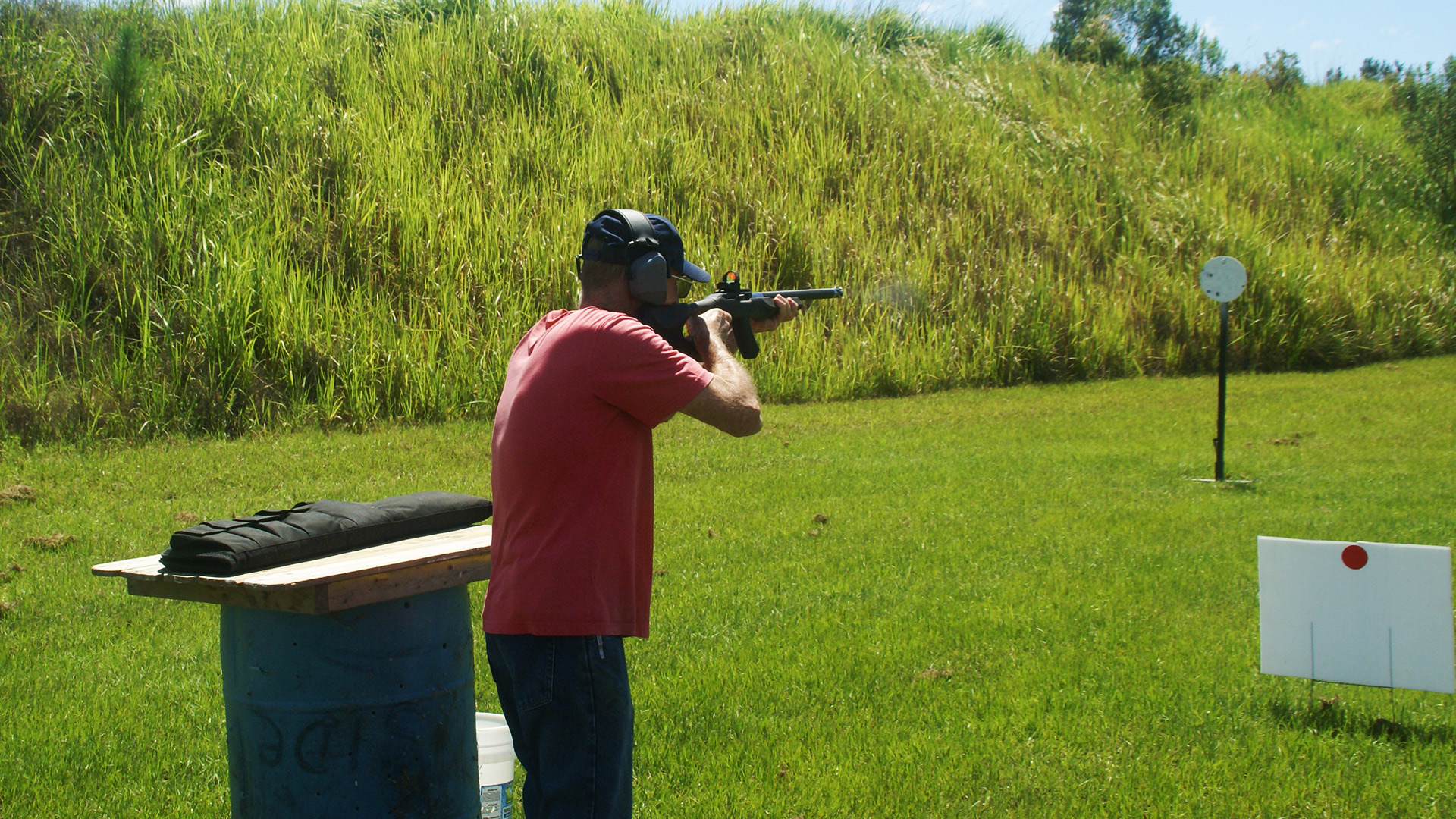 I arrived at my club's 50-yard rifle range on a dead calm morning and set up two target backers with four cross hair targets each. The gun rest was a long bag front that supported the full forearm, with a rear sandbag for the shooting arm elbow to prevent buttstock wobble. My left hand came over the top of the scope to lock the gun in, making it almost as steady as a machine rest. The sight picture at 50 yards was precise at 12x.
Two five-round groups were fired with each load. The resulting accuracy chart shows their performance and illustrates why rimfire competitors should definitely test their loads. Not all guns like all loads.
CCI Standard and Mini-Mag looked very good, so I moved my gear to the 100-yard range. Setting up four new targets, I ran two five-round groups each. The Mini-Mag came in at 1.23 and 1.29 for a 1.26-inch average; not bad for a lightweight rimfire semi-automatic. The CCI load disappointed. With both groups there would be three rounds clustered into 0.6 inches and a pair of fliers that I couldn't account for that expanded the groups. Strange things happen to .22 LR bullets between 50 and 100 yards. But, I had my 50-yard loads and was ready for the upcoming match.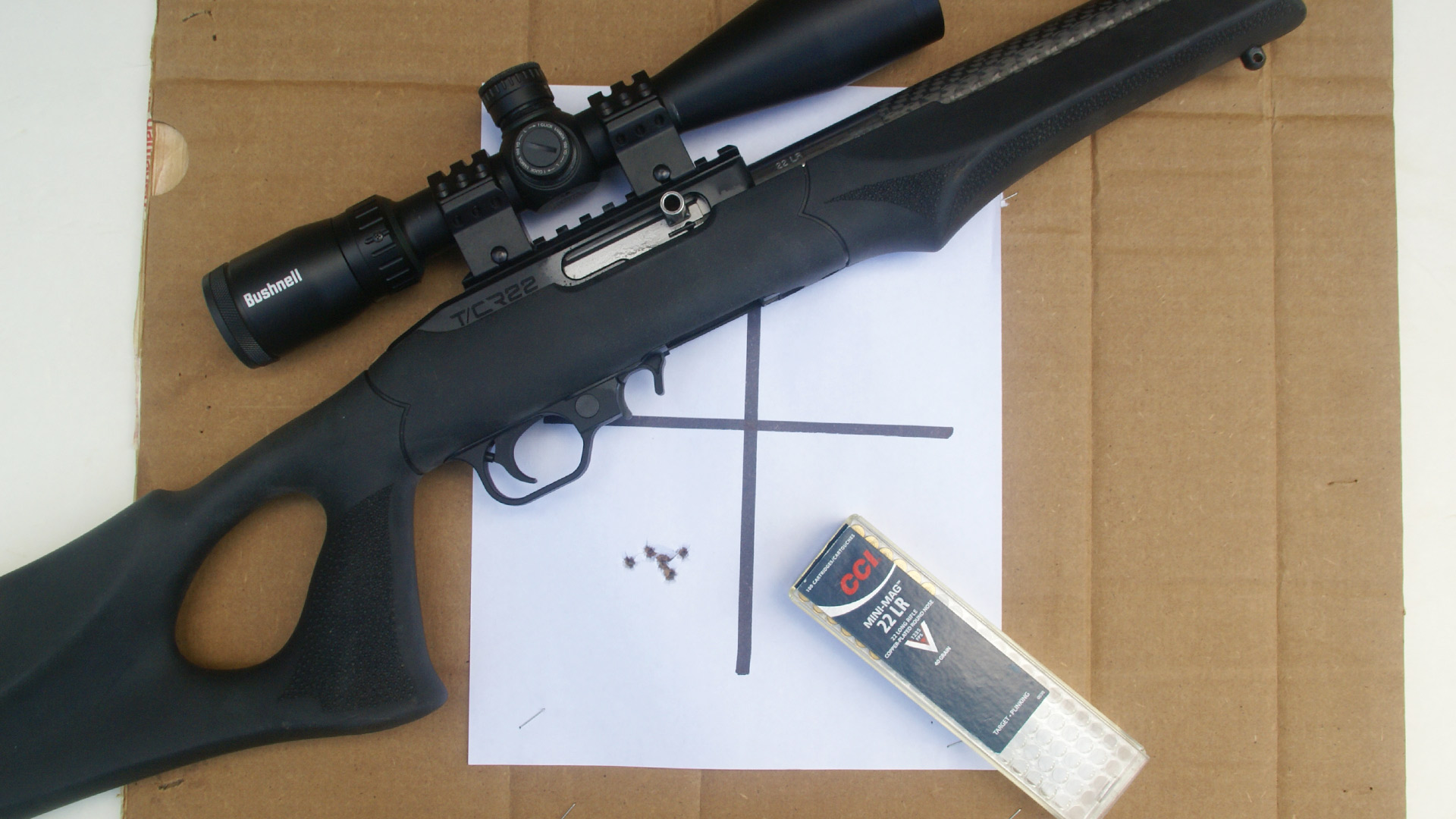 Unfortunately, the club canceled those matches for the hot summer months. Time for Plan B. I had a six-stage Steel Challenge match I could shoot in two days, so I pulled the scope and installed a SIG Romeo3 Max. I zeroed it at 25 yards using the CCI Clean-22 high-speed load that I use in Steel Challenge. That load wasn't tested with the scope, but it was producing 0.5-inch 25-yard groups with the reflex sight during sight-in, which is more than needed for Steel Challenge.
All my previous shooting with the T/C had been off a benchrest, with no off-hand shooting. But the handling qualities that had originally impressed me resulted in a fourth-place finish in RFRO out of 10 shooters: behind two Grand Masters and one A Class shooter, but ahead of the only Master and the other two A Class shooters. I also bested two of my A Class Peak Classifier times and came within 0.25 seconds on two others.
By this time there were about 350 rounds through the gun, with nothing more than my out-of-the-box lube. There were no malfunctions of any type during the test.
Performance on Steel was very good, and the 50-yard groups with the scope (and loads it liked) were even better. Given how easy it is to the swap reflex sight and scope, that's a lot of versatility from the T/C Performance Center T/CR22. I'm looking forward to the fall scoped-gun matches.
Performance Center T/CR22 Accuracy Chart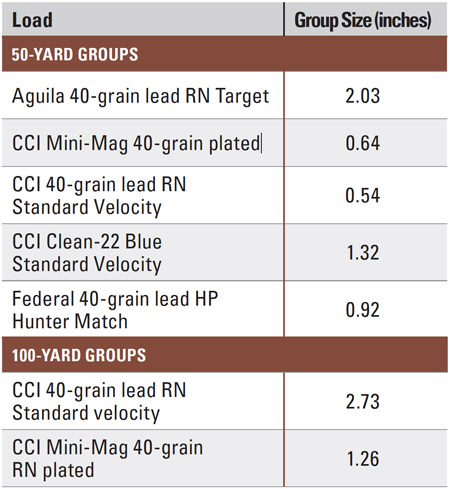 ---
See more:
EAA Girsan MC1911 Noel 9mm