by
Chris Christian, Field Editor
posted on July 11, 2018
Support NRA Shooting Sports USA
DONATE
In 2015, Smith & Wesson introduced a radically-new rimfire handgun design. The Victory .22 LR pistol was accurate, reliable, easy to strip and clean, and came with an innovative sight selection option that made it suitable for many sporting purposes—from small game hunting to competitive shooting. Additionally, with an MSRP of $409, it was a very affordable pistol.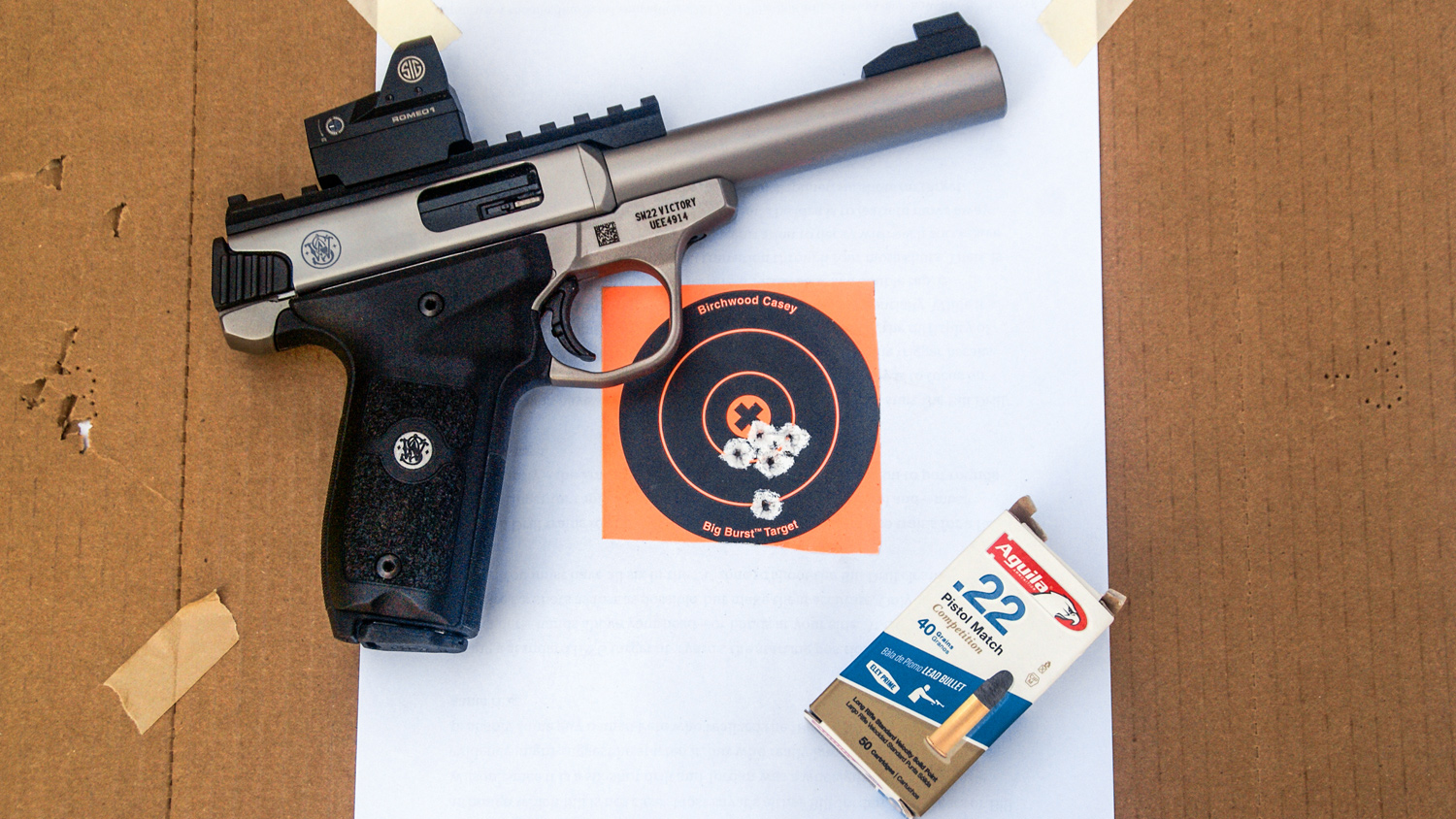 Earlier this year, S&W introduced a Target model of​ the same gun. Having tested the original Victory, I was eager to see what tweaks were made.

The Gun
The SW22 Victory Target Model ($429) is built from stainless steel with a satin finish. The bull barrel is 5.5-inches with a recessed target crown. The operating action is single action blow back with an internal hammer instead of a striker. The gun incorporates a magazine safety. Single left side controls consist of a thumb safety, slide release, and a behind the trigger guard magazine release. Its empty weight is 36 ounces.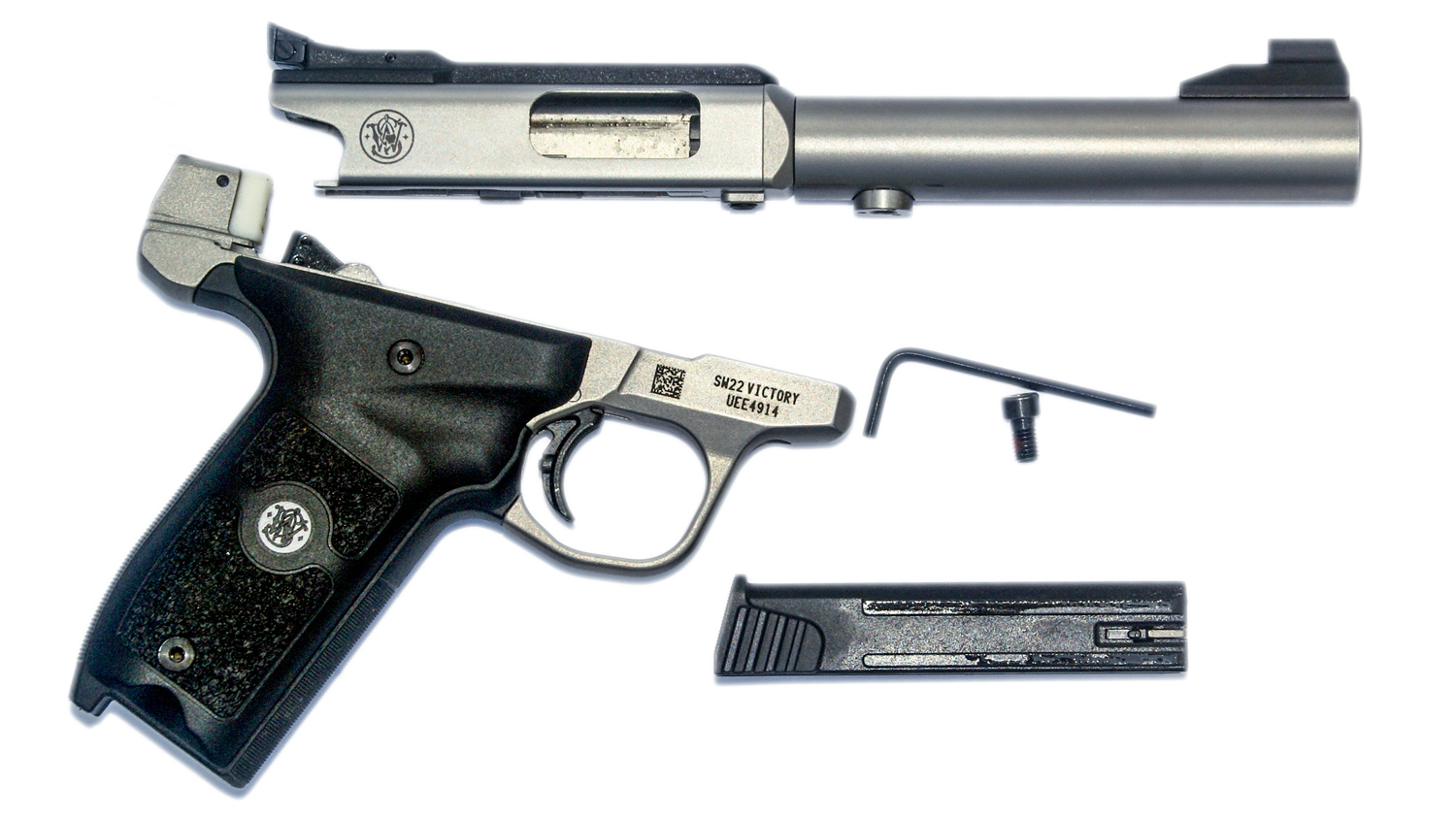 An interchangeable top plate allows for an easy switch between iron or optical sights.

Disassembly is the same as the original—remove the 1/8-inch Allen screw (wrench included) and the barrel comes off to allow the bolt to be removed. It's quick, and makes cleaning easy.

None of this so far is different than the first model, but I did come across three changes that I could see.

The original iron sights were a fiber optic front (.060 rod) and a rear with two smaller fiber optic rods, for a three fiber optic dot sight picture. The Target model features a black .010 front blade and a Williams target rear sight with a black serrated blade. It's a more precision-oriented sight picture.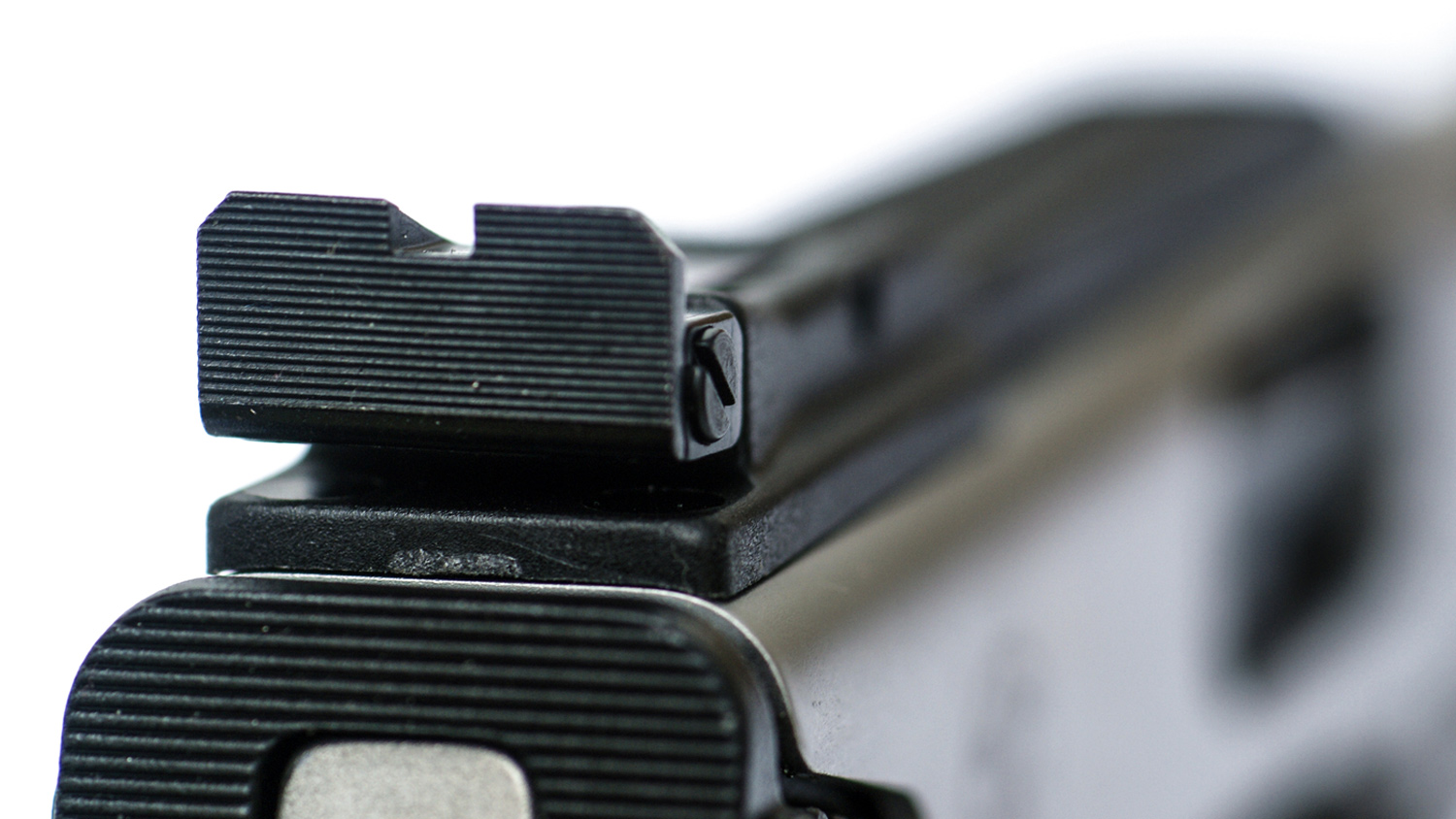 The first model grips were checkered polymer panels. The new grips are also checkered polymer, but feature a left side thumb rest with a right side trigger finger groove. They're very comfortable for right hand shooters. A second set of interchangeable grip panels are included that provide the same features for southpaws—a nice touch.

The trigger on the original test gun featured a bit of take up, a 3.15-pound break (on my Lyman Digital Gauge), and a bit of over travel, though a through-trigger over travel adjustment screw was provided that would have corrected that. The Target model comes with what is described as a "match trigger." It has a bit less take-up, a slightly crisper break, and the same over travel screw. It broke at 4.1-pounds on the same Lyman gauge.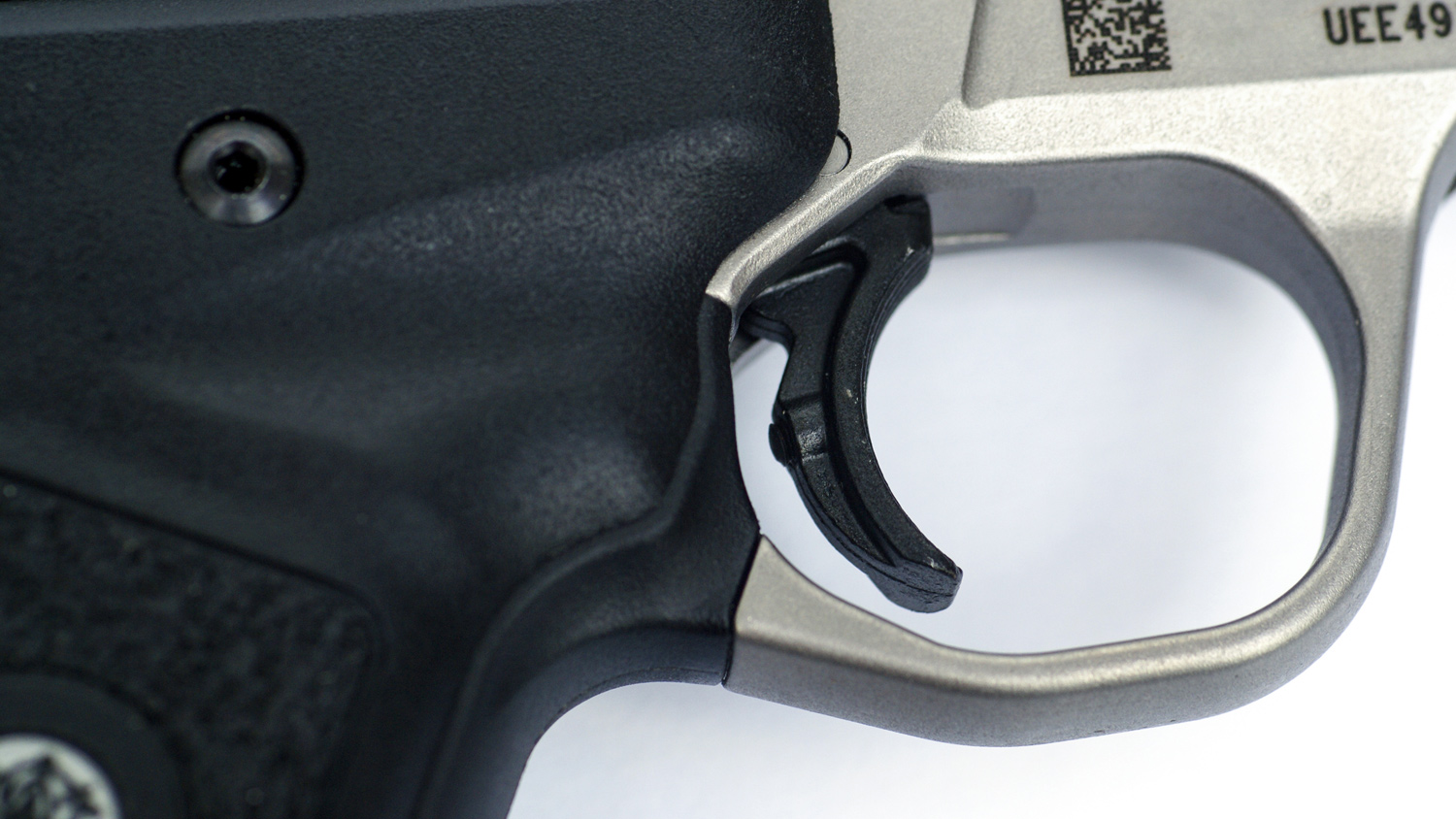 The gun ships in a hard plastic foam-lined case with the iron sights installed, a Picatinny Rail, 1/8-inch Allen for take down, instruction manual, gun lock, southpaw grips, and the appropriate warranty card and paperwork.

On The Range
The gun was a bit rough as it came out of the box, so I did a strip and lube before heading to my backyard range.

The ammunition on hand for this test consisted of CCI .22 Mini-Mag HP (one of the most consistently accurate loads I've used over the last few decades) as well as Aguila Pistol Match and their Super Extra. Both of those have worked well in my Steel Challenge rifle and pistol. I included some Winchester Super X XT22LR, and Federal's new Hunter Match as well.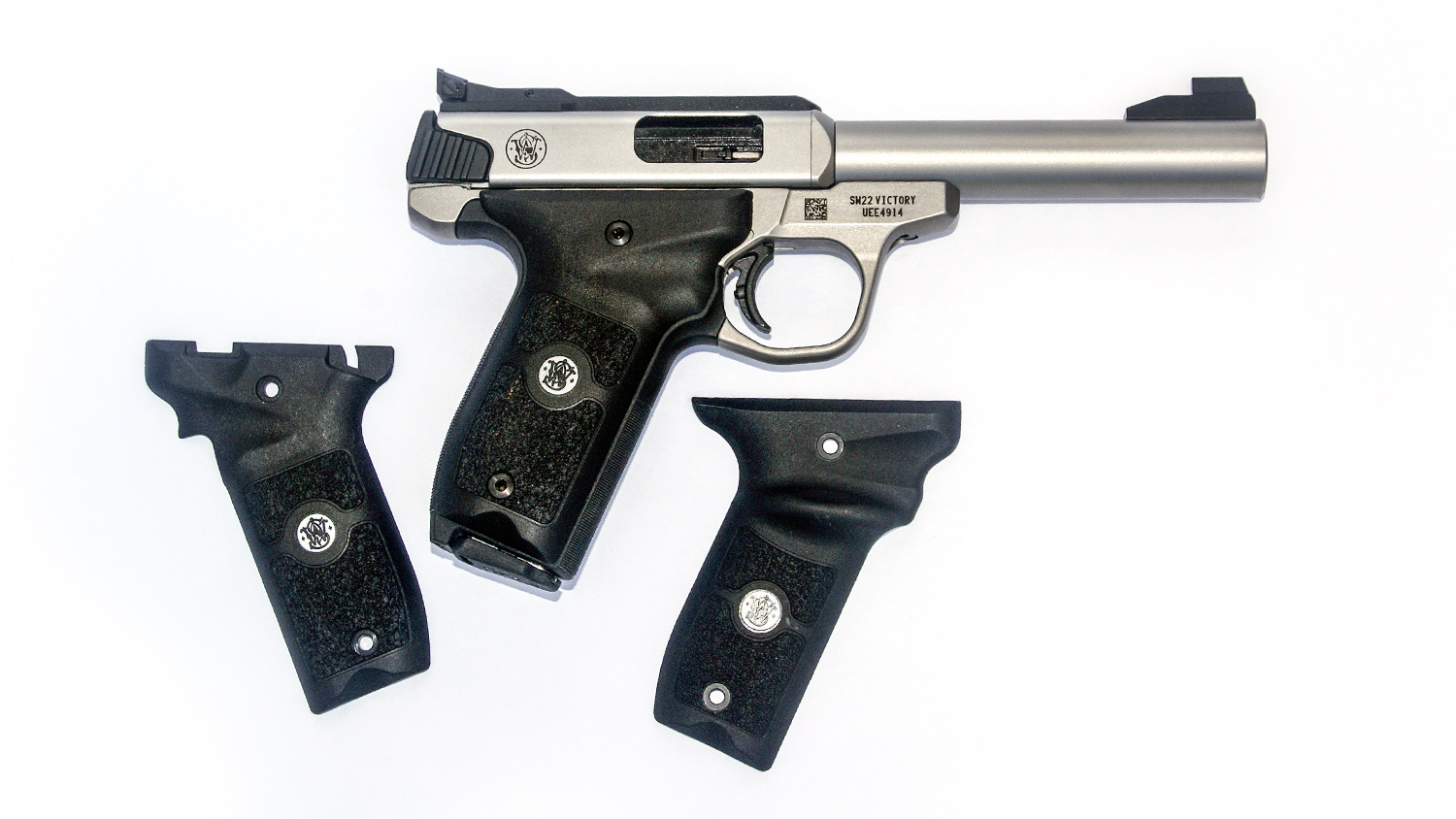 Given the multiple competitive roles this gun can handle, my first step was to play with the match iron sights. From a 25-yard bench rest they zeroed quickly with the Aguila Pistol Match. The sight picture presented by the .010 black front blade and the serrated black rear sight was very precise.

Next I put up standard B-8 (CP) 25-yard target repair centers, and starting running all of the loads through the gun utilizing a one-handed stance.

It's been a while since my Navy Pistol Team days, when bullseye was the only game available, but I settled into it easily with the Victory. The grips were extremely comfortable for my hand. The left side thumb rest was properly-shaped for this right-hand shooter, and the gun balanced nicely. The trigger was heavier than I would prefer, but it was consistent.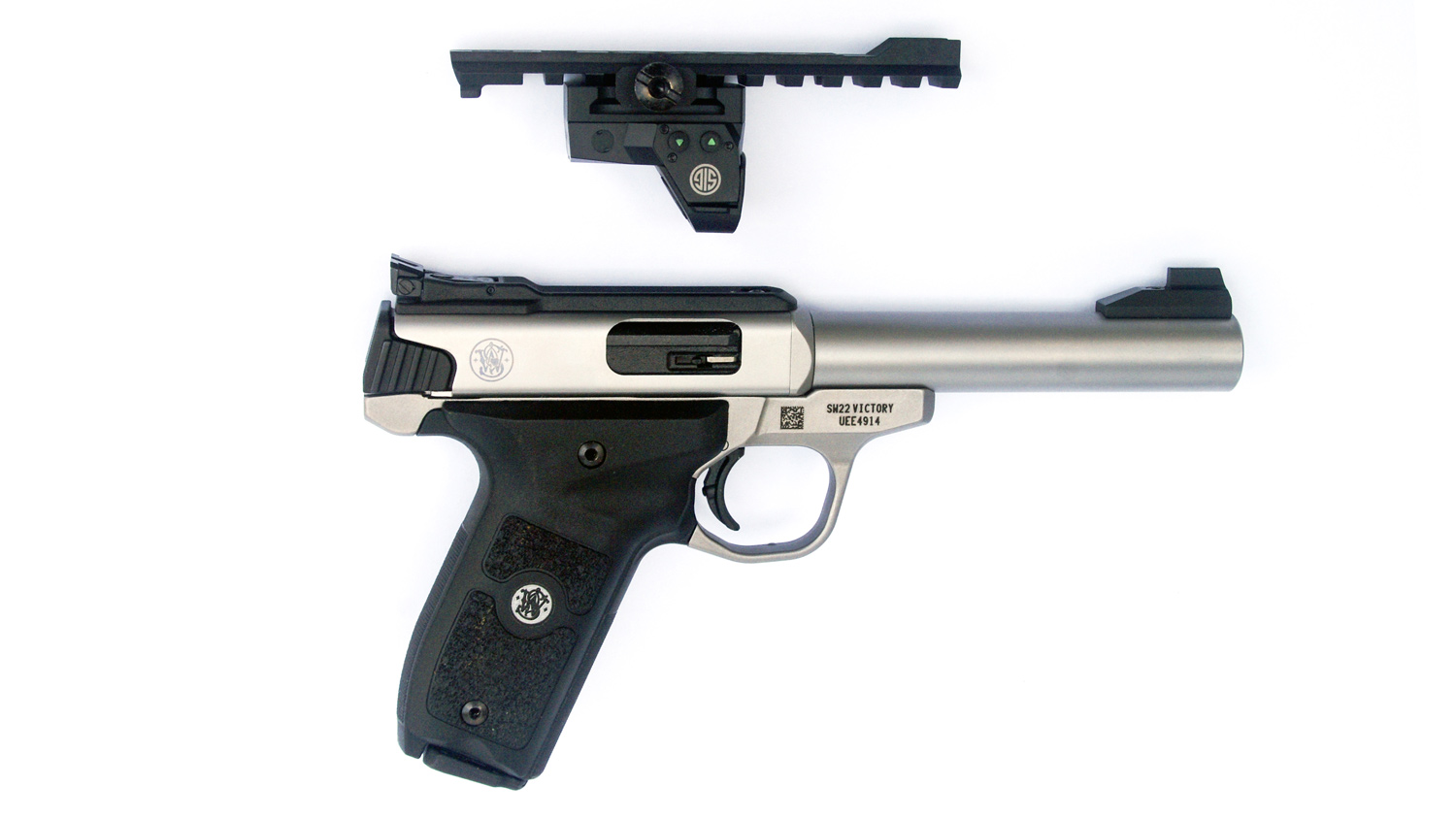 I'd like to report that I chewed out the X-ring. But it has been a few too many years since my Outdoor Pistol Expert classification. The targets weren't very pretty, but any rounds outside the 10-ring weren't the fault of the gun.

I spent about 150 rounds at this, alternating between both magazines and the full selection of test loads. The magazines loaded easily to their stated 10-round capacity and every round that went into the magazine came out as a fired case. There were no malfunctions of any type.

I then pulled the iron sight rail and installed the Picatinny rail. A 3/32 Allan wrench (not included) was all it took, and most shooters will have one already. I had a SIG ROMEO1 3 MOA reflex sight with a Picatinny mount on hand and it installed easily. A 3 MOA dot is a bit small for me in action pistol games, but it's a great choice for precision.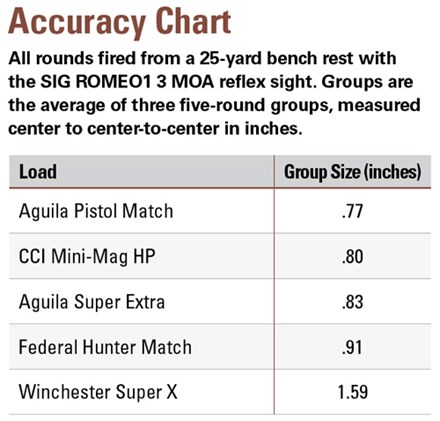 It zeroed quickly. I then discovered a first round flier that my older eyes didn't pick up with the iron sights. A first round flier is not uncommon in a new, inexpensive, semi-auto pistol, and often decreases significantly as rounds go down the barrel and the parts work themselves in. I did run another couple hundred rounds through the gun—tested again—and the fliers decreased in size, but were still there. They were consistent at somewhere between 4:00 and 6:00 low. The accompanying accuracy chart (with the first round flier included in group size) will show they weren't really a significant factor for practical purposes.

By this time I had close to 600 rounds through the gun and was still waiting for my first malfunction. I did strip it down for cleaning at around the 350 round mark, but that's still very reliable performance.

One thing I did with this gun that I didn't do with the first one; after both the iron and optics were zeroed, I switched sight rails and checked their zero. I swapped them back and forth a couple of times and found no significant POI change. That's a nice feature if you need, or want, to shoot irons in one match and optics in the next.

The SW22 Victory Target is reliable, adequately accurate, easy to maintain, and versatile enough for a number of games. With an MSRP of $429, it's also a very affordable pistol.