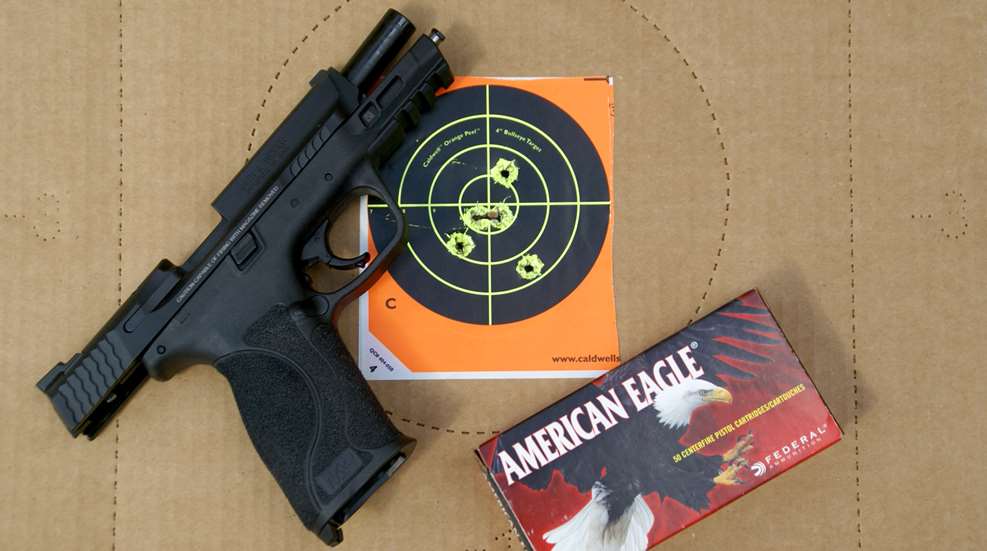 Above: The 2.0 showed excellent accuracy for a service grade pistol. The increased steel inner chassis length may have played a role in that.

In 2005 Smith & Wesson introduced their M&P semi-auto. It was a radical departure from their traditional steel and alloy-framed handguns—their first polymer-frame, striker-fired pistol.

Intended for the law enforcement market, (and where such Duty Pistols always wind up in the Action games) it featured three interchangeable back strap inserts to allow the shooter to achieve a proper trigger reach for their hand size; a new concept at the time. It provided a light gun weight, high capacity magazine, with a crisp and relatively short, trigger pull. I received one of the first writer's test models and (in the interest of full disclosure) I instantly fell in love with the gun! To throw a few over-used cliches into the mix—"It fit my hand like a comfortable old glove and was as smooth to handle as a well-used bar of soap."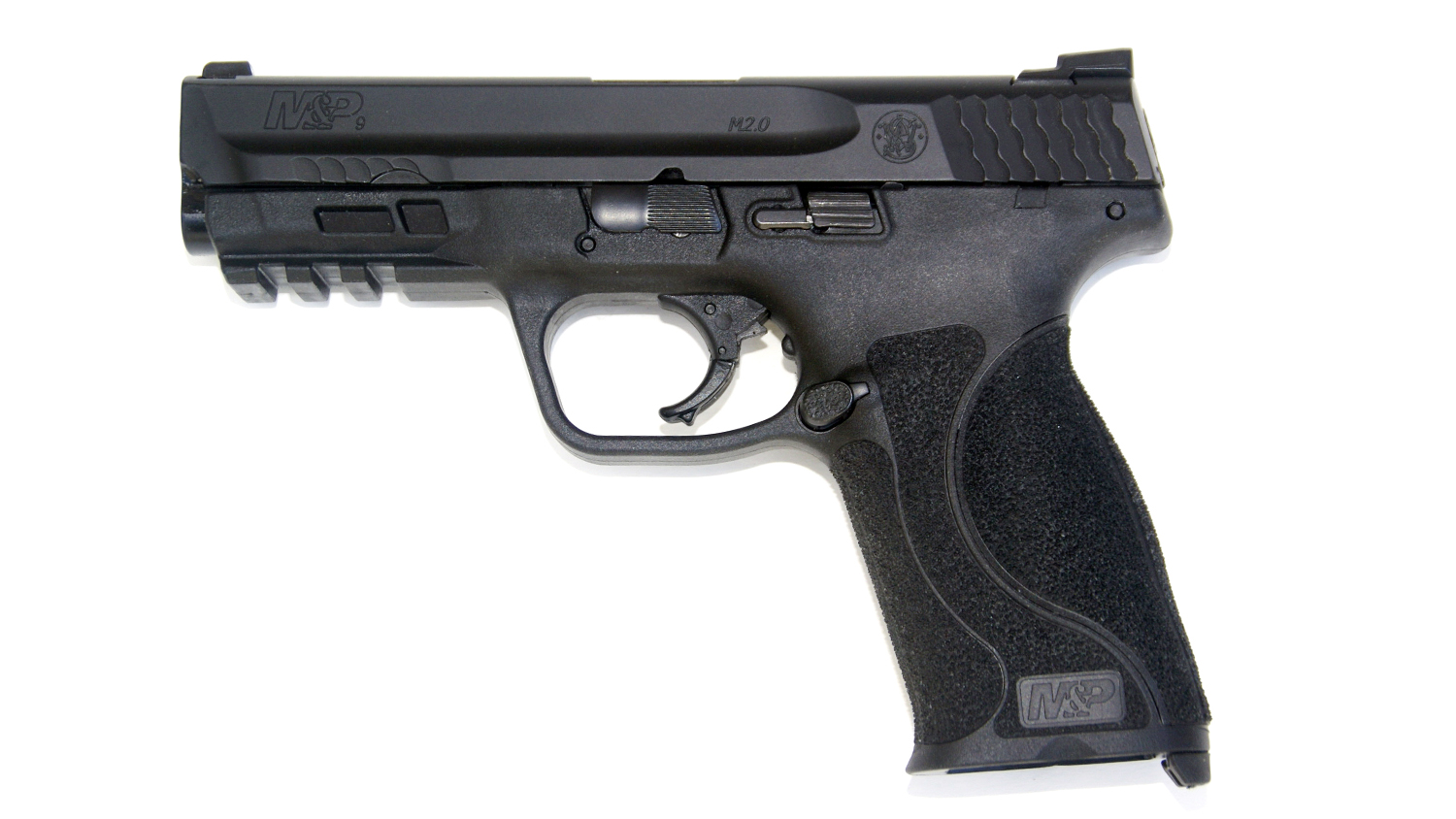 Unfortunately, for me, the original offering was in .40 S&W caliber. I had no real use for the caliber, then or now, so I finished the test article and returned the gun to S&W.

However, I still loved the ergonomics of the gun and have since acquired five of them. Two are 9 mm, one is a .45 ACP, and those are tuned for competition. All have put trophy Action Pistol plaques on my wall. A 9 mm Compact is my EDC, and a .22LR is there just for 'fun practice'. When S&W announced their new 2.0 version at the 2017 SHOT Show, I was eager to see what refinements they came up with.

The gun

The M&P 2.0 is currently available in 9 mm (4.25- and 5-inch barrels) .40 S&W (4.25- and 5-inch barrels) and .45 ACP in a 4.6-inch version. All can be had with or without a thumb safety and feature steel Novak windage adjustable three white-dot sights. Unlike the original M&P they include four different size back strap inserts instead of three. The colors available are black matte and Flat Dark Earth (FDE). All ship in a hard plastic case with two magazines, four back strap inserts, chamber flag, and owner's manual.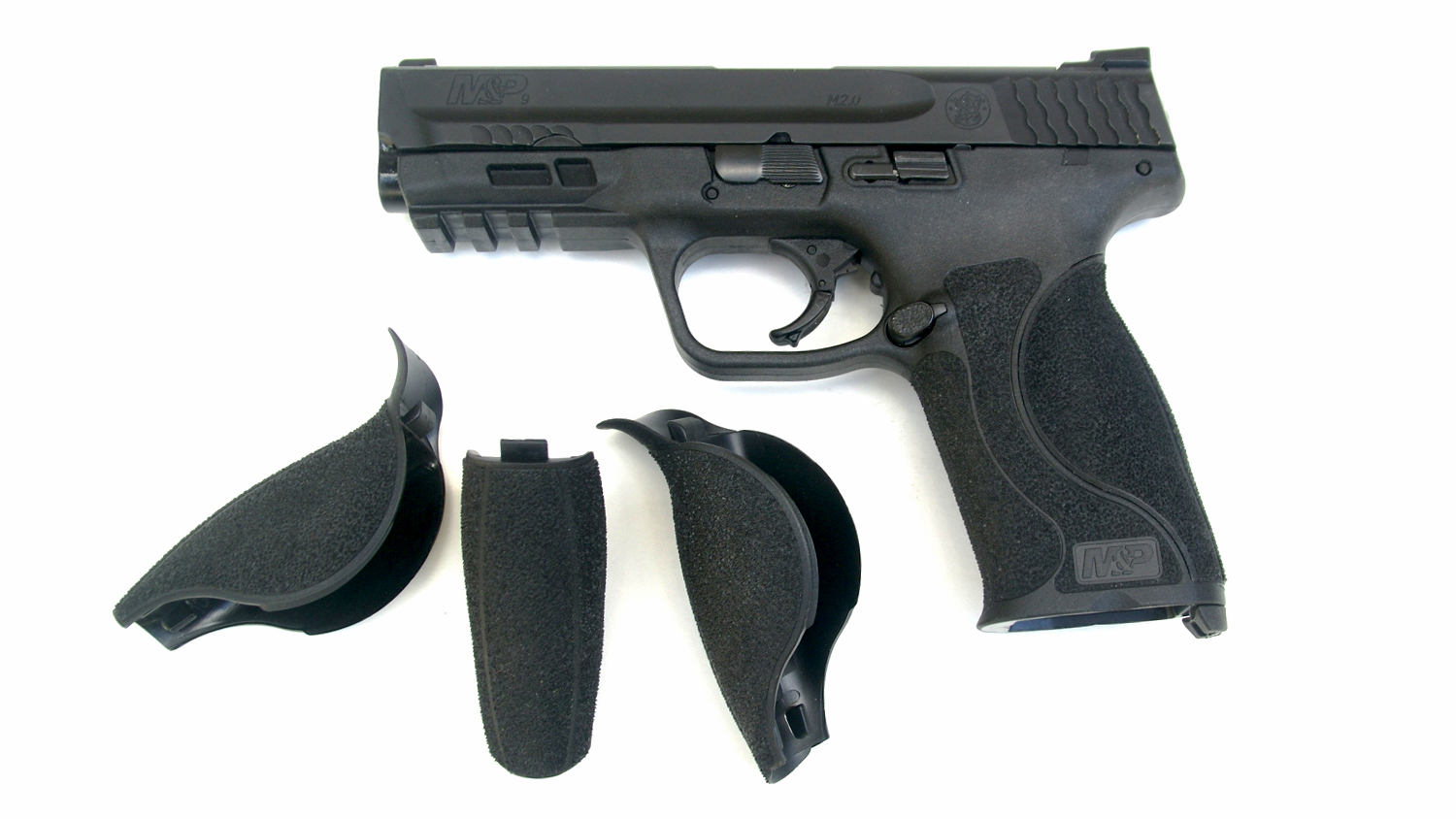 The test model I chose was the 9 mm #11521 (MSRP: $599) which mimics one of my 9 mm competition models. It features a stainless steel 4.25-inch barrel (1-10 twist) and stainless steel slide; both with an Armornite finish. The empty weight is 24.7 ounces, with an overall length of 7.4-inches. Magazines are 17-round, and it uses existing M&P magazines. The trigger pull measured 5.9 pounds on my Lyman digital gauge, but with a shorter take-up, and quicker reset, than my original factory triggers had.

What's different?

There are both obvious external changes and subtle internal changes.

At first glance, the most obvious change is the stippling pattern on the grips. It's an aggressive texture that covers the front strap, side panels and back strap inserts. This pattern was first seen a few years ago on the Performance Center C.O.R.E. models and has now been incorporated into the 2.0 production pistols.

Another external change is that the extended beavertail on the rear of the frame has been removed. This brings it into line with the grip profile and feel of my 9 mm compact EDC gun. It allows a higher grip on the frame but still provides plenty protection for the web of the hand.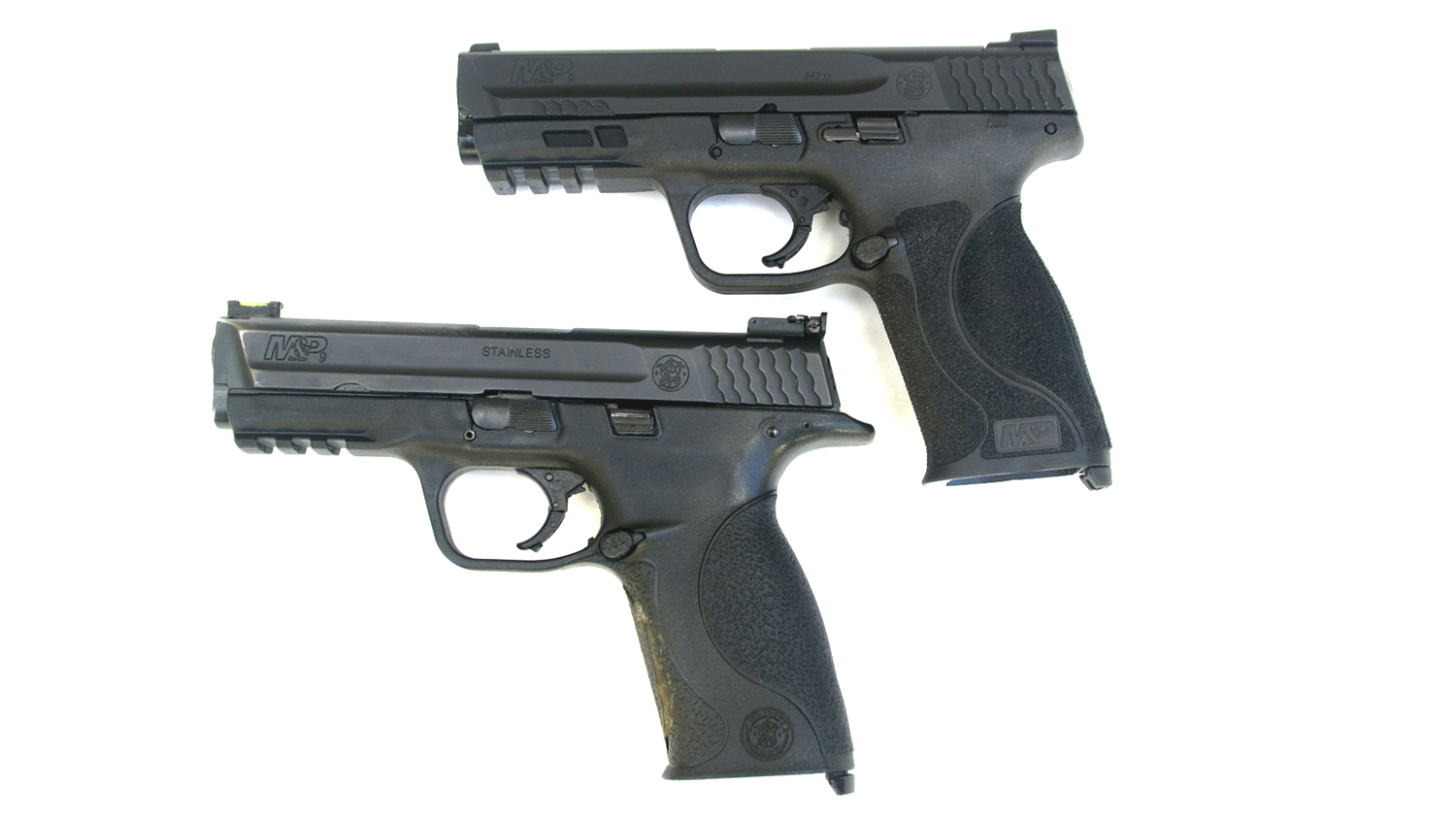 The hinged trigger remains, but has been slightly reshaped to provide a bit more curve than the original one. Additionally, the slide has been re-worked with additional lightening cut-out slots on the lower side next to the frame. The slide is also a bit thicker. It was slightly too wide to fit the Blade Tech holster that my original model rides in, but adjusting the tension screws allowed it to slip in for a proper fit. Internally, the stainless steel chassis has been extended forward to provide a more rigid frame, and the trigger system has been 'tweaked' to provide a shorter take-up, faster reset, and more audible reset.

On the range

Prior to bringing the gun to my test range it was used as a 'range gun' at a concealed handgun permit class. It was taken out-of-the-box (with no further lubrication) and then ran about 100 rounds of 124 FMJ ammo without any malfunctions.

Once I got it to my range I gave it a quick lubing and assembled a selection of loads that covered many commonly-used factory-loaded competition rounds. They consisted of SIG Elite Performance 115 FMJ and Federal's American Eagle in 124- and 147-grain FMJ. I also added my light 'Mouse Puff' Steel Challenge load that launches a 124-grain Bayou TCG slug at about 920 fps. Speer's 124 Gold Dot JHP +P self-defense load was also included, since there is no reason the gun can't do 'double duty'.

S&W claims the higher grip results in reduced muzzle rise. Using the 147-grain Federal load I alternated between the 2.0 and my original match gun. Shooting was done both freestyle and from a rest to compare muzzle rise. S&W is correct. There was a modest, but noticeable, decrease in muzzle rise with the 2.0.

The new aggressive stippling pattern created a very secure hold and also seemed to provide some cushion for the hand. Perceived recoil is a very subjective thing. But with the reduced muzzle rise and cushioning effect of the grips I felt the 2.0 produced less felt recoil than my match gun when fired with the same loads.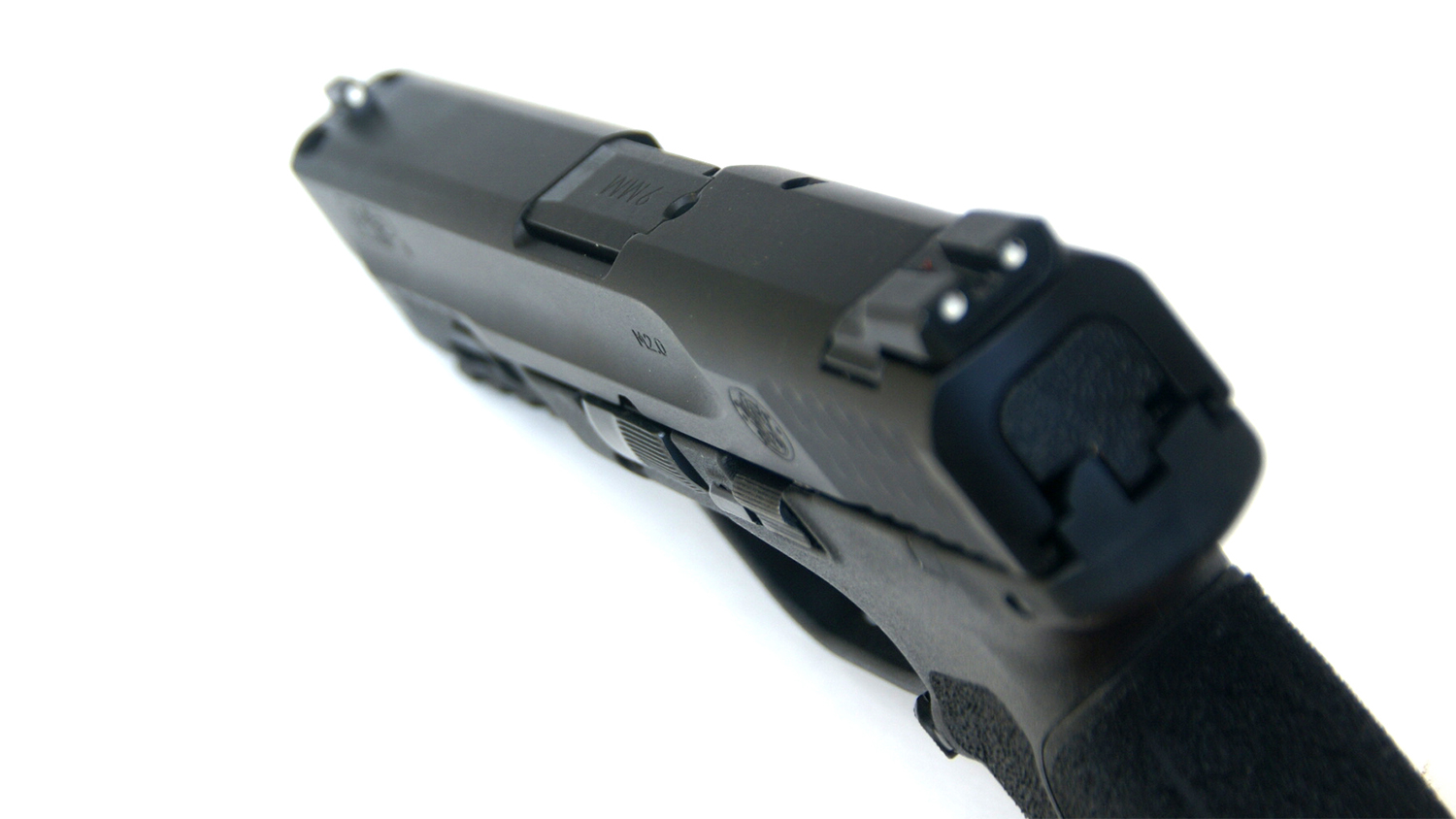 I'm not a fan of three-dot sights and all my M&Ps have aftermarket sights installed. But the factory sights on the 2.0 seemed to be more generously cut than those on my original models and provided a very crisp sight picture. The accuracy chart will show that they were more than up to the task, and that the M&P 2.0 delivers 'better than average' service pistol accuracy. During the entire testing period the 2.0 digested about 400 rounds of mixed make 9 mm ammunition, and there was not a single malfunction; even with my 'Mouse Puff' load.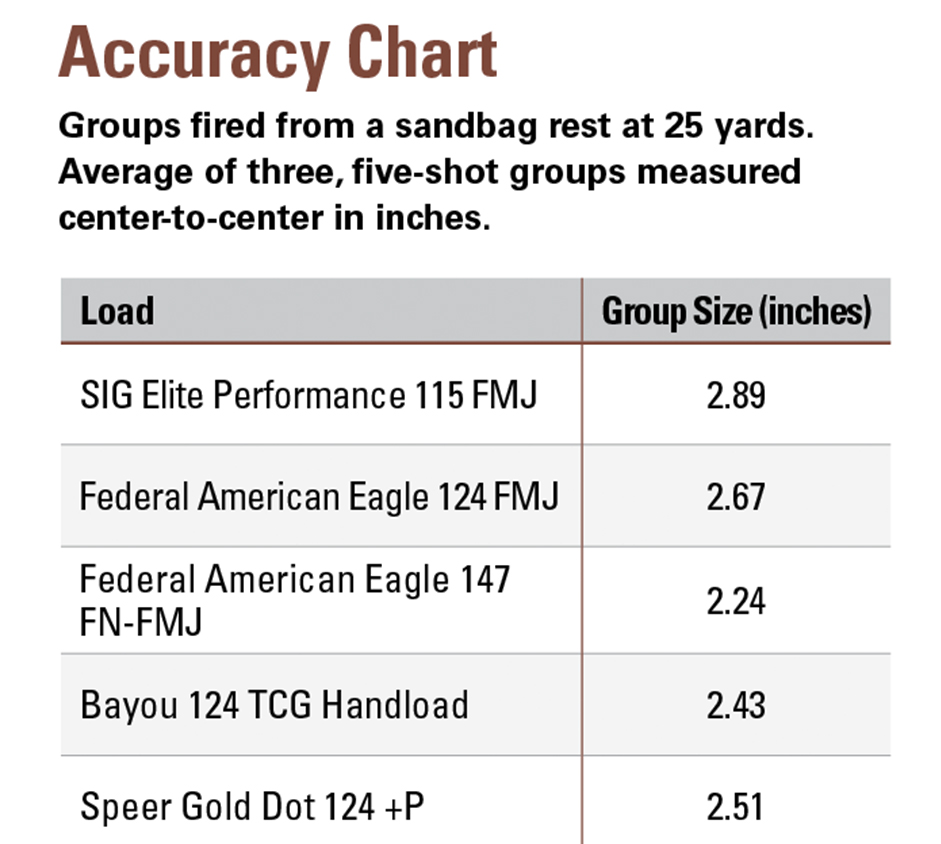 The original M&P has proven a popular and effective design. It's made plenty of trips to the winner's circle in USPSA and IDPA competition. The M&P 2.0 does nothing to detract from that. It just adds some worthy refinements to an already effective design.