Smith and Wesson introduced the M&P series of polymer-framed, semi-automatic pistols in 2005. Proving popular with law enforcement and the public, their use grew in competitive shooting circles—a direct competitor with Glock pistols in Production division.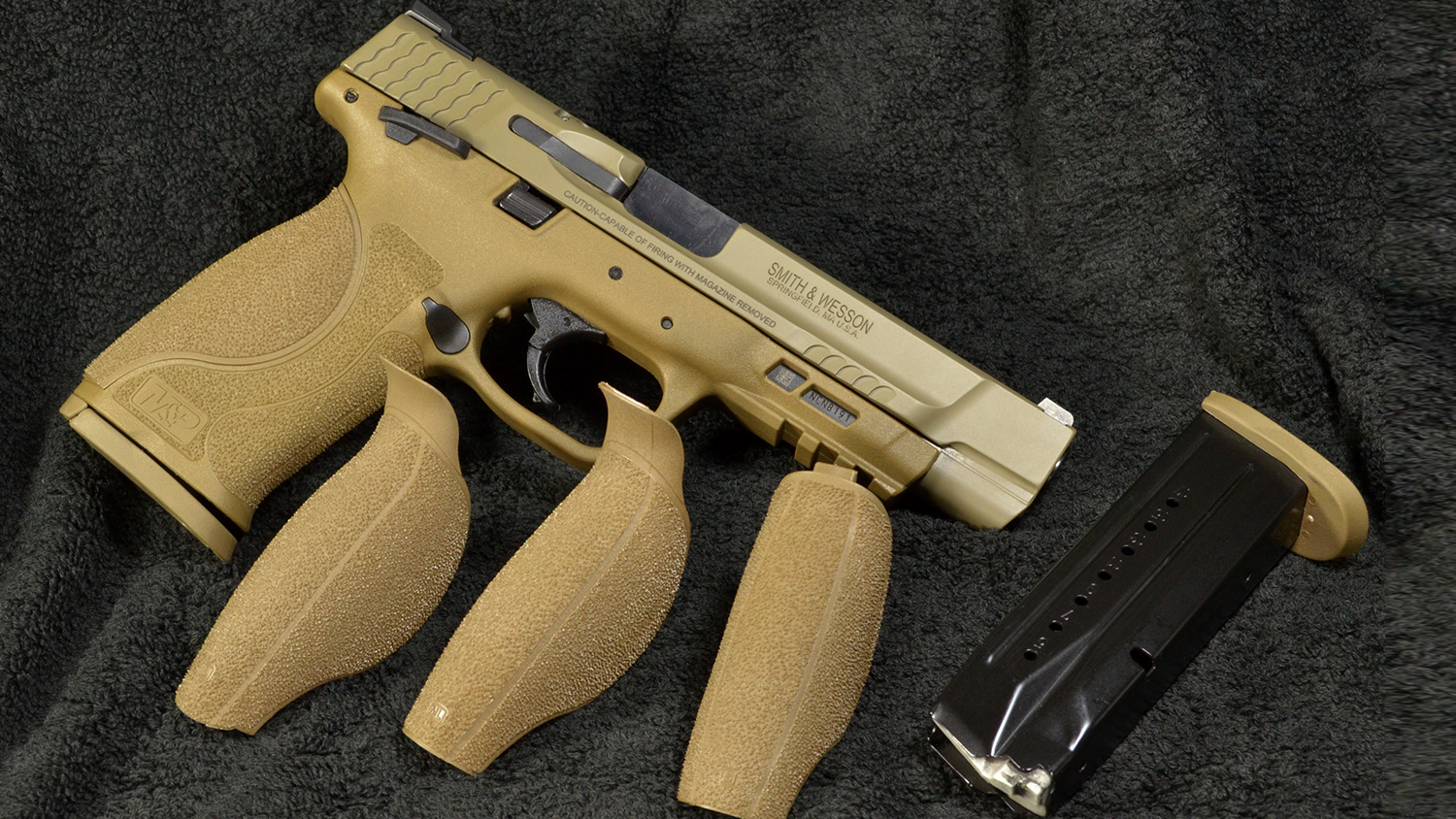 In 2017, S&W offered an upgraded version of the M&P, the M2.0 series, providing improvements to several aspects of the gun. These include a lighter and crisper trigger pull, an extended stainless steel chassis in the frame to reduce flex and torque, an aggressively textured grip to enhance control and an improved slide lock. The M2.0 series offers four interchangeable palmswell grip inserts instead of the three that comes with the original version. The M&Ps also offer a low bore axis to reduce muzzle rise and allow faster follow-up shots.

The M&P pistols have an 18-degree grip angle for a natural point of aim. This has been a complaint about Glocks, whose grip angle is a few degrees more, and which some shooters find unnatural. I happen to be one of those shooters who finds the Glock grip angle forces the gun to point high, causing me to change my natural grip angle to get the sights on target. The S&W M&P, however, points naturally and right at the bullseye for me.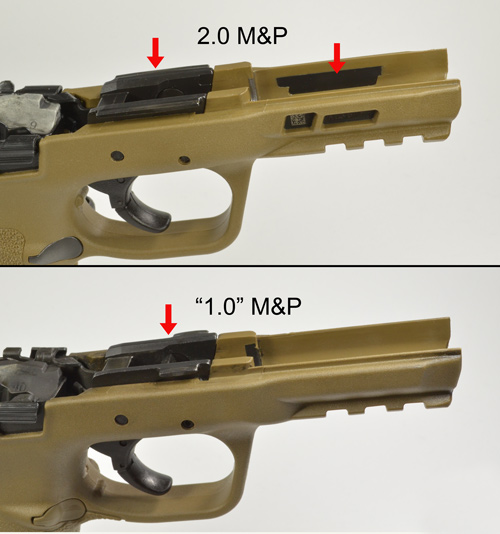 The M&P pistols also have an ambidextrous slide release, and can be had with or without an ambidextrous thumb safety. In addition, the magazine release is reversible.

I tested a 5″ M&P M2.0 in 9mm (MSRP: $599, they are also available in .40 S&W for the same price). The 5″ barrel offers the longest sight radius of the M&P pistols, which aids the shooter in more precise shooting. The 5″ M2.0 models are available in flat dark earth (FDE). The FDE on the slide is Armornite, a hardened nitride finish that offers corrosion and wear resistance and surface lubricity. The barrel, sights, trigger, magazine release, slide stop, takedown lever, extractor and optional thumb safety are black. This gun has the optional ambidextrous thumb safety—up for safe and down to fire. It's conveniently positioned and easily operated.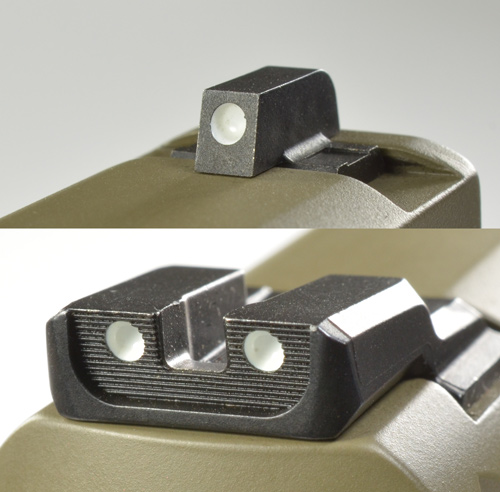 I like new grip texture of the M2.0, although when I first got my hands on one, I thought it might be a little too rough. I concluded that it's a superb gripping surface after becoming accustomed to it. The trigger pull broke at 5.75 pounds on my RCBS trigger pull scale and as advertised, you can feel it reset. You can hear it too, though not with hearing protection on.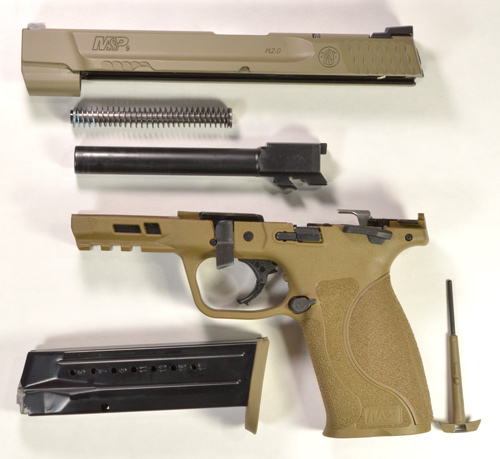 Most test ammo fired a full 50 shots in one group, though I also included some leftovers from a previous test that include as few as 19 rounds. Factory ammunition and handloads were tested.

The gun functioned flawlessly during these tests which was over 650 rounds, and with a wide range of ammunition.

Keep in mind that 50-shot group sizes are larger than reported with 5- and 10-shot groups in most reviews. Based on my tests, the average 5-shot group is about 60 percent the size of a 50-shot group. Applying that number to these results would shrink the numbers considerably.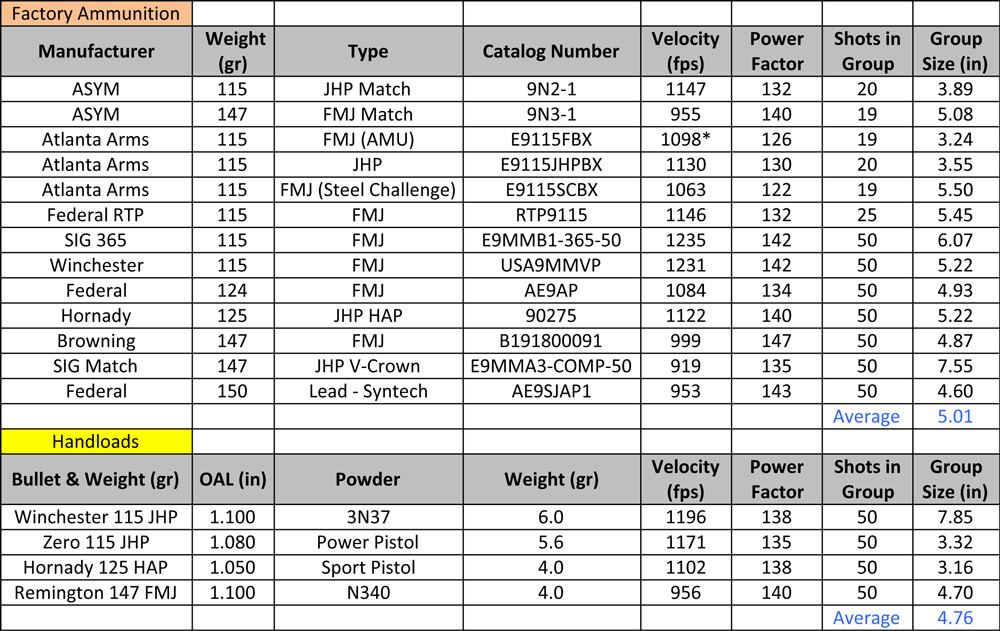 Of the factory ammunition, the 5″ M&P liked the Atlanta Arms 115-grain FMJ U.S. AMU (Army Marksmanship Unit) load the best, putting 19 shots in a 3.24″ group. Of the factory loads that fired 50 shots in one group, the most accurate load was the Federal 150-grain Syntech load with a 4.6″ group. Syntech is a lead bullet coated with a red synthetic polymer coating designed for competitive shooting.

The gun liked two of the handloads, the Zero 115-grain JHP bullet powered with Power Pistol, and the Hornady 125-grain HAP bullet driven with Sport Pistol. Their 50-shot groups measured 3.32″ and 3.16″, respectively.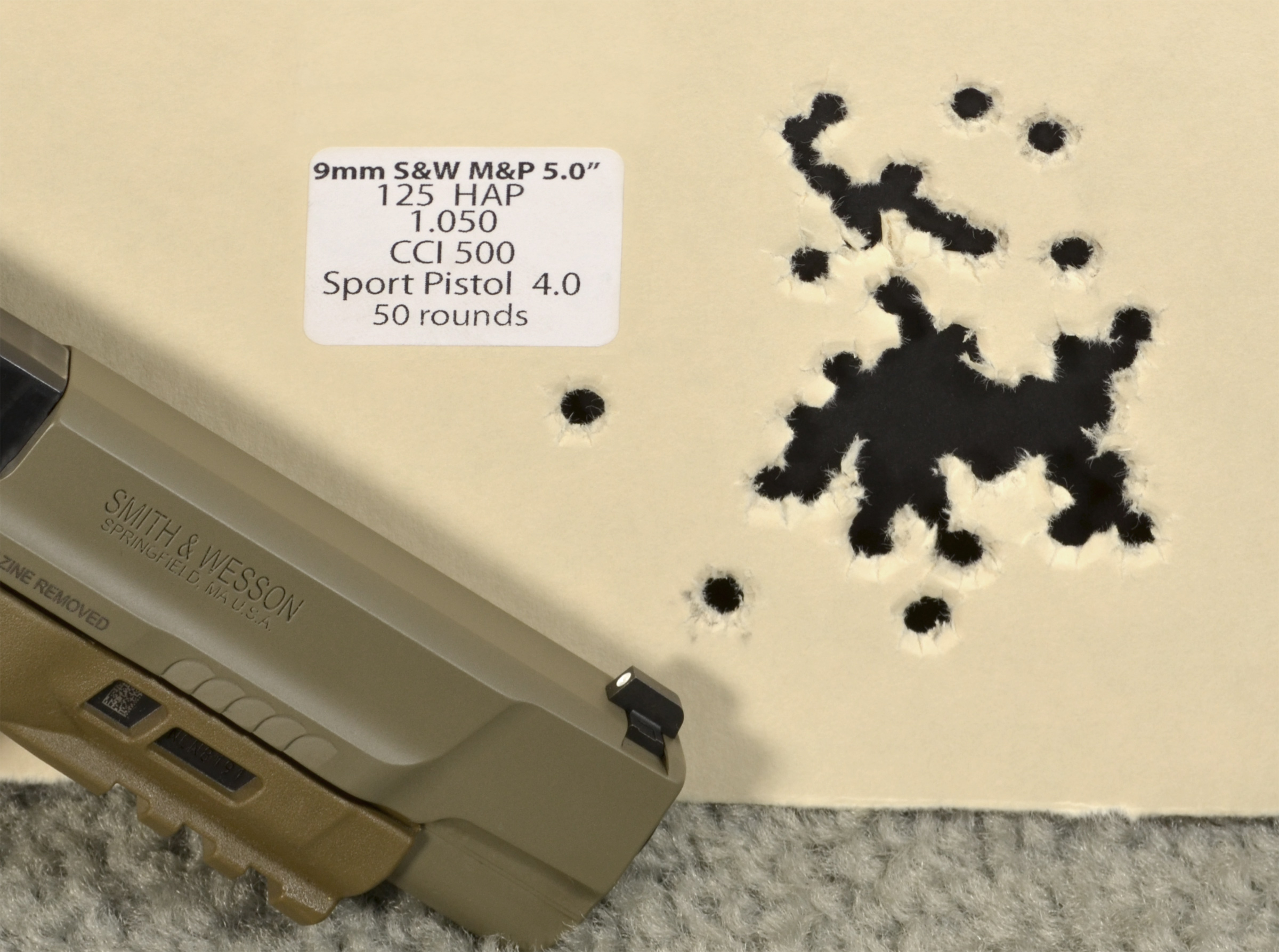 This M&P is a worthy consideration for a wide range of purposes, range gun, duty gun, competition and home defense. It's reliable and has excellent ergonomics. The 5″ barrel provides a longer sight radius and more velocity than shorter barrels. There's a lot to like about this gun. The natural pointability of the M&P has won over many Glock fans with its superior ergonomics. Get your hands on one.
---

Specifications: