by
Chris Christian, Field Editor
posted on October 8, 2020
Support NRA Shooting Sports USA
DONATE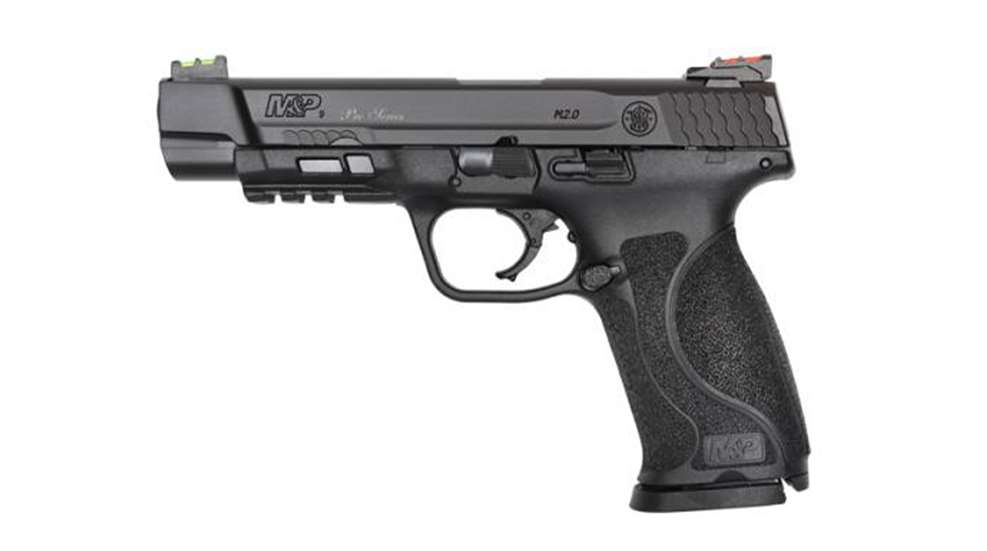 When Smith & Wesson introduced its new polymer-framed M&P semi-automatic in 2005, it was initially offered in a 4.25-inch barrel with fixed three-dot sights and chambered for the .40 S&W. Most observers assumed it was marketed towards law enforcement as a duty pistol. Whether or not that was the intent, duty pistols have a tendency to wind up in action-pistol events like USPSA and Steel Challenge Production, and IDPA Stock Service Pistol (SSP) divisions.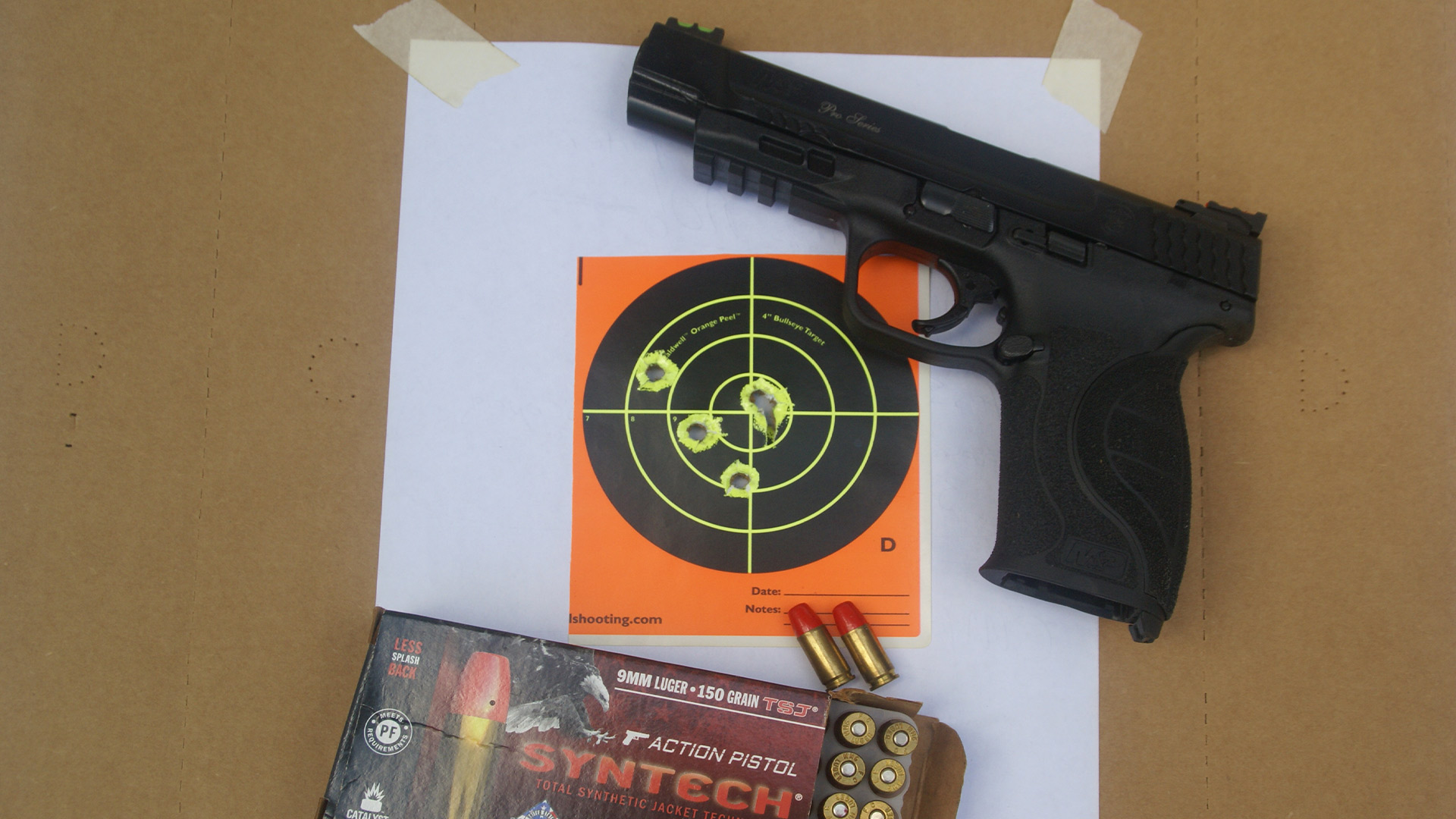 The M&P was no exception, earning high praise for its ergonomic handling qualities and three interchangeable back straps, that allowed shooters to fit the semi-automatic to their hand. The original .40 S&W was followed by 9mm and .45 ACP models, and competitive shooters embraced them as well.
In 2017, Smith & Wesson upgraded the M&P series with the M2.0 model. Changes included a longer internal metal chassis within the polymer frame, a reshaped trigger with more curvature and a slight change to the trigger action to promote a faster, more audible reset. The biggest changes were a more aggressive checkering pattern on the grip, four interchangeable back straps instead of three, and a thicker slide with lightening cut outs. The M2.0 modifications carried over to the entire M&P line, and a number of those models are well-suited to competition. But the one that stands out as an economical choice for Production, SSP, or home-defense use is the Performance Center M&P 9 M2.0 5-inch Barrel Pro Series ($664, SKU 11820, smith-wesson.com).
The Gun
This gun is a five-inch barrel 9mm M&P M2.0 9mm, which includes all of the 2.0 upgrades. The stainless-steel barrel (twist rate not listed) and stainless-steel slide are finished in black Armornite. Overall length is 8.5 inches, and the empty weight is 30 ounces.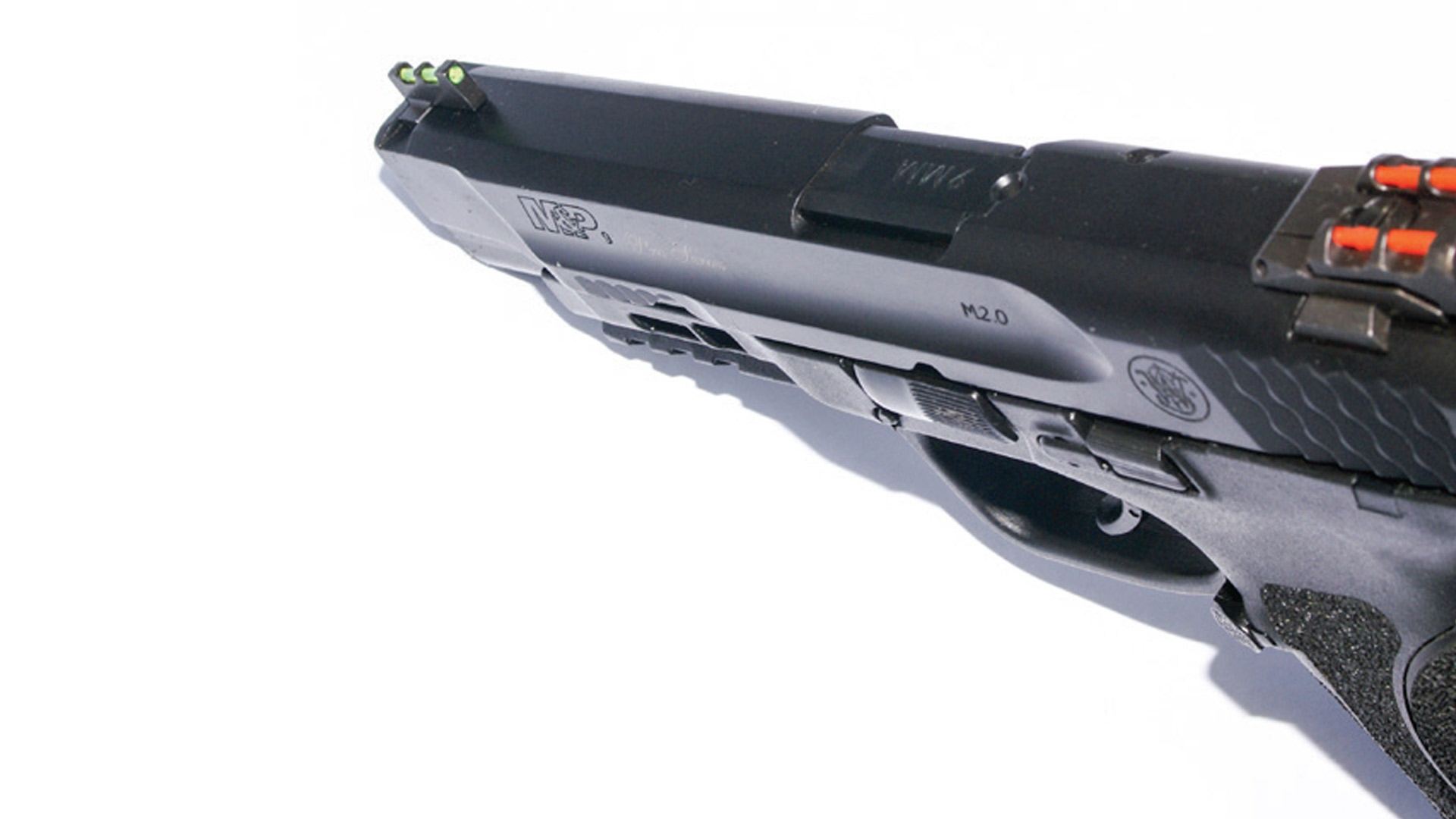 Trigger pull on this test is typical M&P, with the usual two-stage feel. There was about ⅜-inch of take up slack, followed by a clean 4.5-pound break. The front sight is dovetailed with a 0.060-inch green fiber-optic (FO) insert, and the adjustable rear sight has two flanking red FO inserts in the same size.
Guns ship with four interchangeable back straps in Large, Medium Large, Medium, and Small, two 17-round magazines, cable lock and the normal paperwork. Also included, in its own zippered soft case, is a very slick two-piece rod pistol cleaning kit, with brushes and jags to handle pistol calibers from .22 to .45 calibers.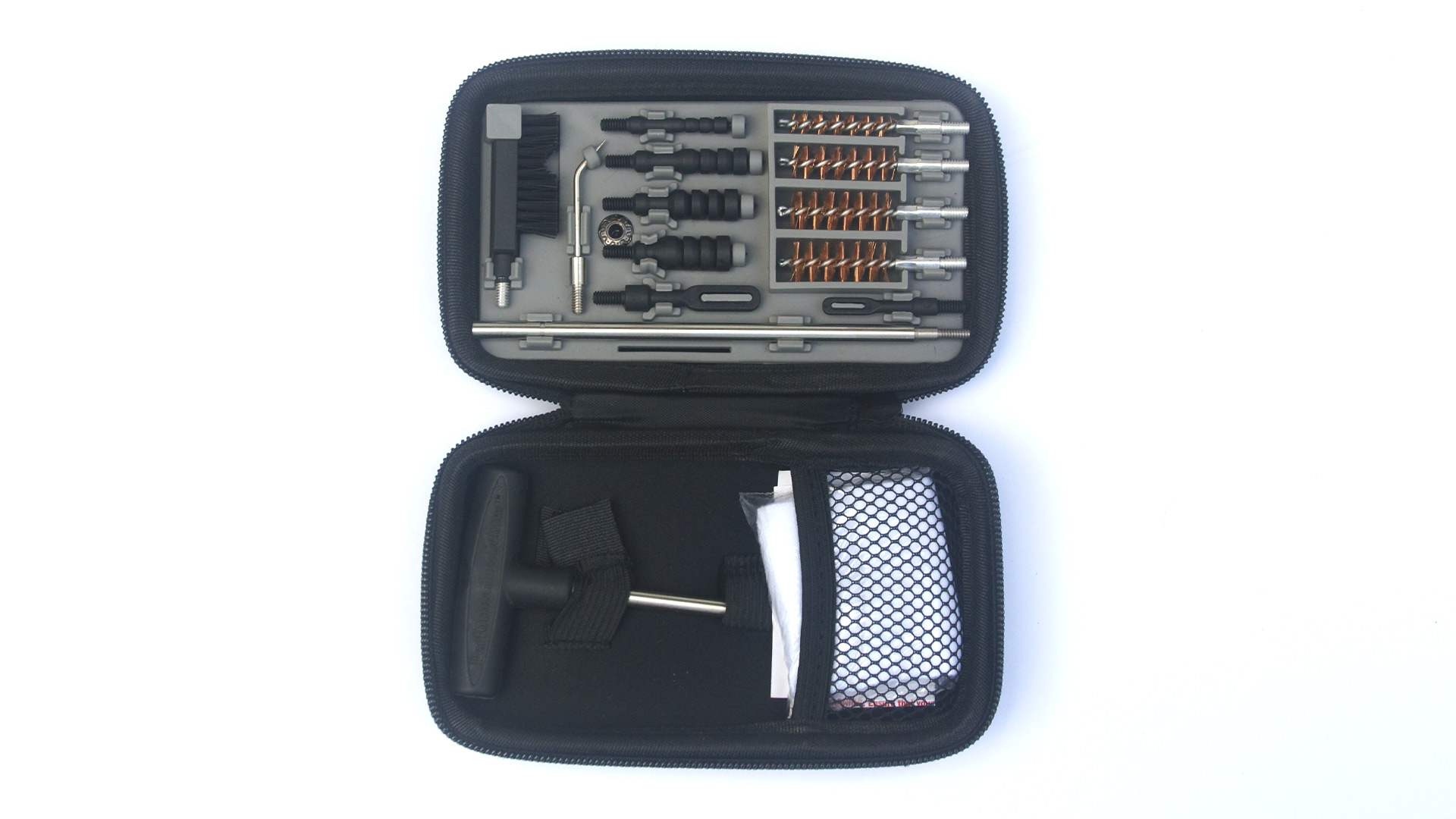 On the Range
Having shot M&Ps in competition for the last 15 years, it was simple to field strip the gun and give it some lube. Not knowing the barrel twist rate, and given the number of different games this gun can play, I wanted to test as many bullet weights as possible. I selected Federal's 150-grain Syntech Match, Federal's 147-grain FMJ FP and Federal's 130-grain Syntech PCC. Although that latter load is aimed at PCC shooters, I've found it performs quite well in handguns. I had a partial box of Aguila 124-grain FMJ left over from previous tests and tossed that in. For lighter bullets weights, I added SIG's Elite 115-grain FMJ and Koenig Shooting Sports 110-grain JHP Competition load.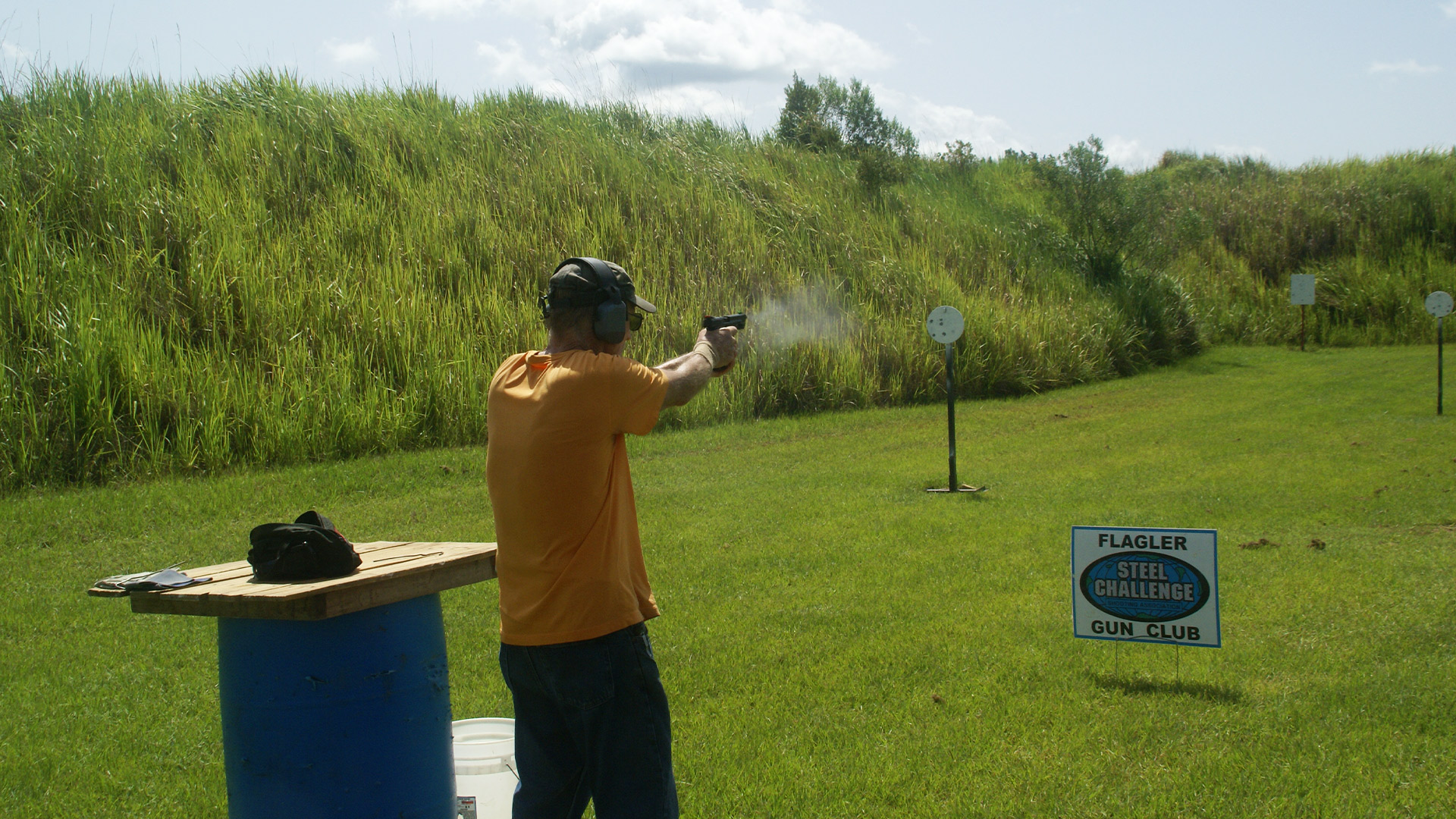 I zeroed the gun at 25 yards on my range using Federal Syntech 130-grain PCC, a midweight load that has worked well for me. Zeroing these sights is a bit different from click-adjustable models. Windage is adjusted by drifting the rear sight in its dovetail. Elevation is adjusted by slightly depressing the rear sight and then turning the set screw, left to loosen and raise the height, and right to tighten and lower the sight. That allows the rear sight spring to move the sight and height. It took a few minutes of trial and error with a drift punch, hammer and small screwdriver to get the gun on.
With the gun zeroed, I would have liked to shoot a match, but the increased slide width was not a good fit for my original M&P holsters. And given the current COVID-19 situation, getting an appropriate holster in within a reasonable time frame wasn't a doable thing. Without a holster, matches were out. That left multiple target set ups from the low-ready on my range. After a few runs, I became quite fond of the sights.
The green front and two red rear FO rods presented a bright and bold sight picture that was extremely quick and positive to acquire. The front FO rod almost covered a four-inch square from a 25-yard bench rest, and would be a bit much for Bullseye shooters. But for those in Production, Steel Challenge, SSP or home defense—that's plenty of precision. The speed at which they can be acquired is a major asset.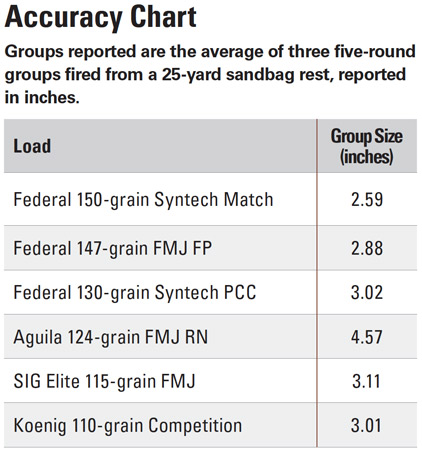 By this point, there were about 200 rounds through the gun, so I set up targets and ran the accuracy tests from my 25-yard bench. The accompanying accuracy chart shows the gun had more than enough accuracy for action-pistol games.
That prompted me to head over to my gun club for Wednesday Steel Challenge practice.
Steel Challenge stages have five metal plates set in a wide 90-degree arc. The toughest are 10-inch round plates set as far as 18 yards. Foot speed isn't required. But the ability to quickly acquire the first target, swing over a wide transition range, and ring all five plates within three to four seconds will tell you a lot about the gun. After another 150 rounds on different stages, I liked the sights even more. They proved to be quick and positive.
By the end of this test, there were more than 350 rounds through the gun, with nothing more than my original lube. There were no malfunctions of any kind. This modestly priced pistol is ready for any action-pistol game.
---
See more:
Our Guide To Starting In Steel Challenge