by
Chris Christian, Field Editor
posted on October 21, 2020
Support NRA Shooting Sports USA
DONATE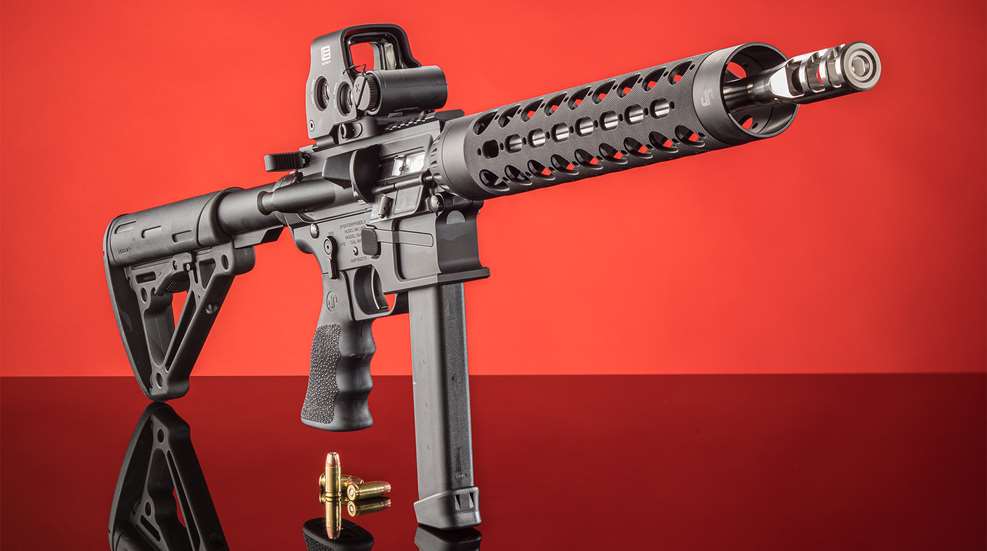 When USPSA announced its new PCC Division in 2016, there were a number of suitable guns available from various manufacturers. And as per normal with any new competition firearm division, one would expect a "sorting out" period where competitors try different equipment to determine what works best for them.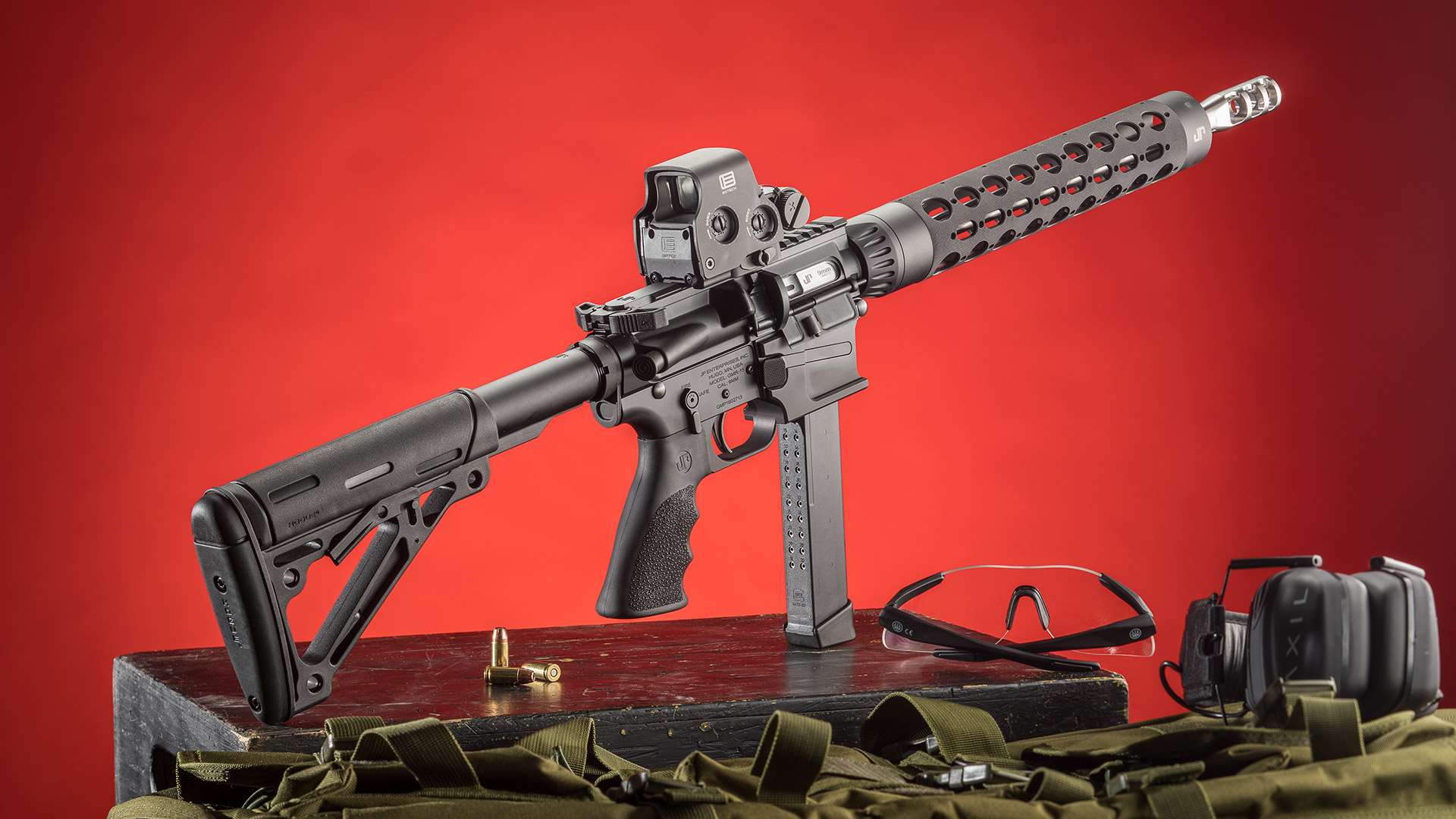 With guns from JP Enterprises, it didn't take many competitors too long to decide.
During the first USPSA National Championship (2017) following the PCC division introduction, JP carbines were the most popular choice, with 36 percent of the competitors using them. The 2018 Nationals again saw JP as the top choice with 33 percent choosing them. The 2019 Nationals made it a three-peat, with 37 percent of shooters betting on its performance. Being the most popular PCC brand at a National Championship for the first three years straight is an impressive feat. After running my own tests on the most popular PCC, I came to understand why.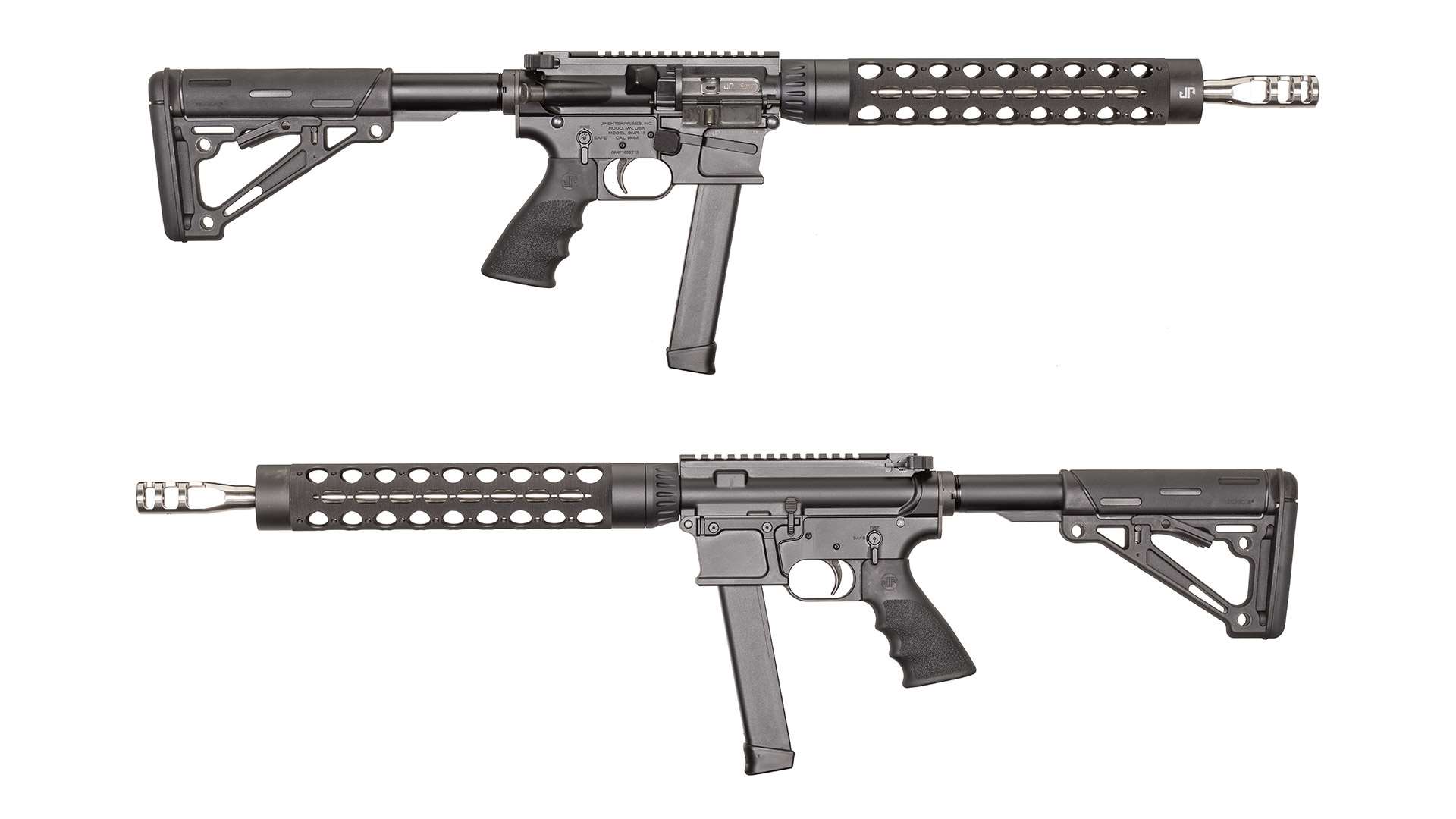 The Gun
The JP GMR-15-Match ($1,819, jprifles.com) is an AR-15-style, 9mm blowback-action carbine built on a machined billet GMR-15 lower receiver and a forged JP-15 upper, with both finished in black matte. The barrel is a light contour, 14.5-inch Supermatch with a 1:10-inch twist. To make the barrel legal length, a 416 machined stainless-steel Competition Series Compensator is pinwelded to 16 inches on the barrel. The comp is 2.95 inches in length with an OD of 0.850, and weighs four ounces. The empty gun weight is 6.8 pounds.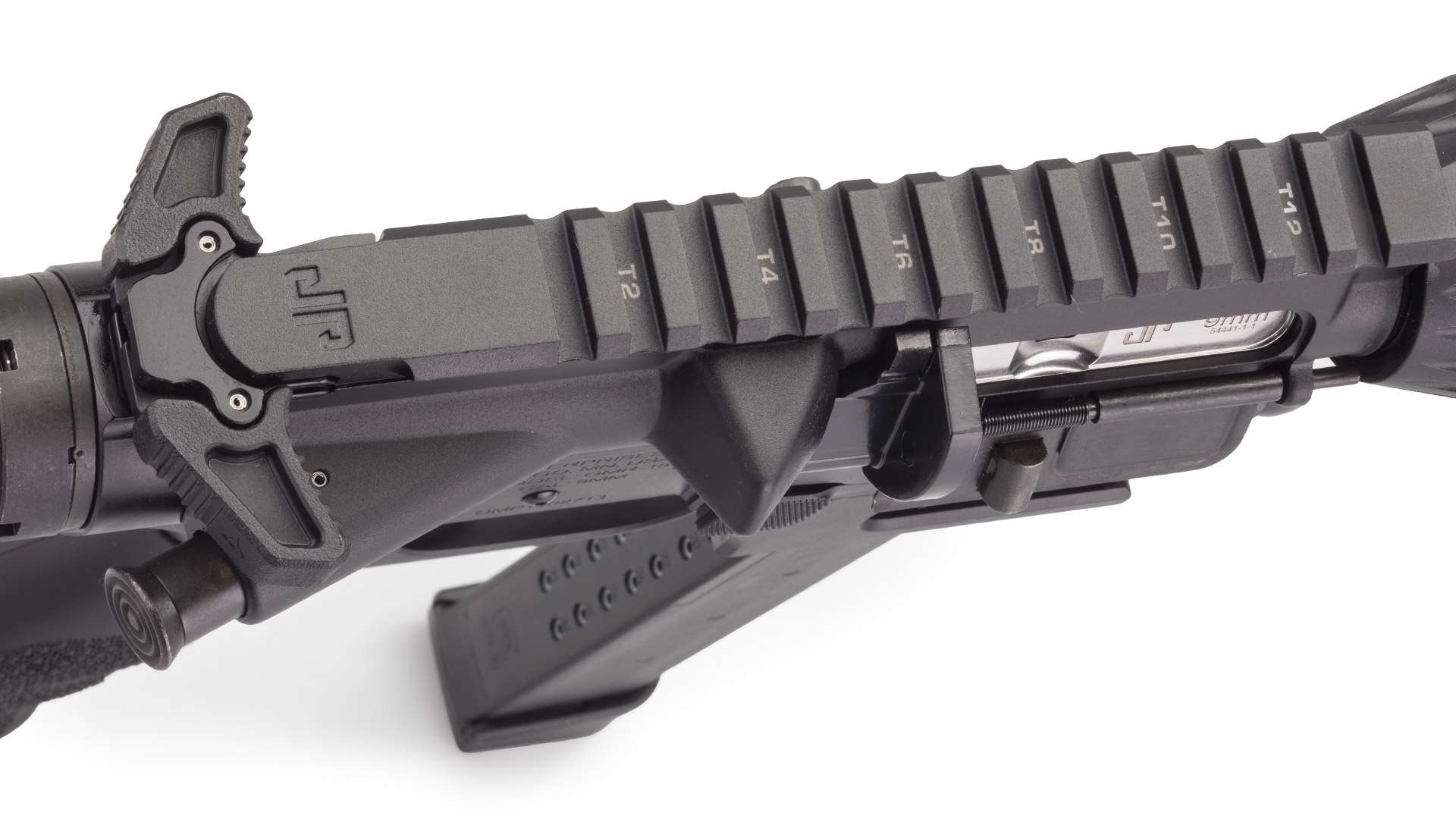 Operating controls consist of the normal AR-15 left-side bolt release, right-side magazine release, plus an ambidextrous two-position safety. A standard AR-15 top charging handle and ejection port dust cover complete the operating action.
A Hogue Overmolded Carbine Buttstock (adjustable length) encloses JP's 9mm silent captured buffer spring, with a Hogue Pistol grip and JP's MKIII Rapid Configuration fore-arm, plus a 12.5-inch OAL completing the stock.

Iron sights are absent, but a 5.25- inch section of Picatinny rail allows optical sight mounting. The gun came to me with an EOTech EXPS3 reflex sight ($799, eotechinc.com), featuring a bright red 68-MOA outer ring surrounding a one-MOA center dot. It's a very robust sight with a big window, but quite heavy at 11.2 ounces. I had never used this particular sight before (although I understand they're quite popular with our military), so I decided to run this test with the EOTech.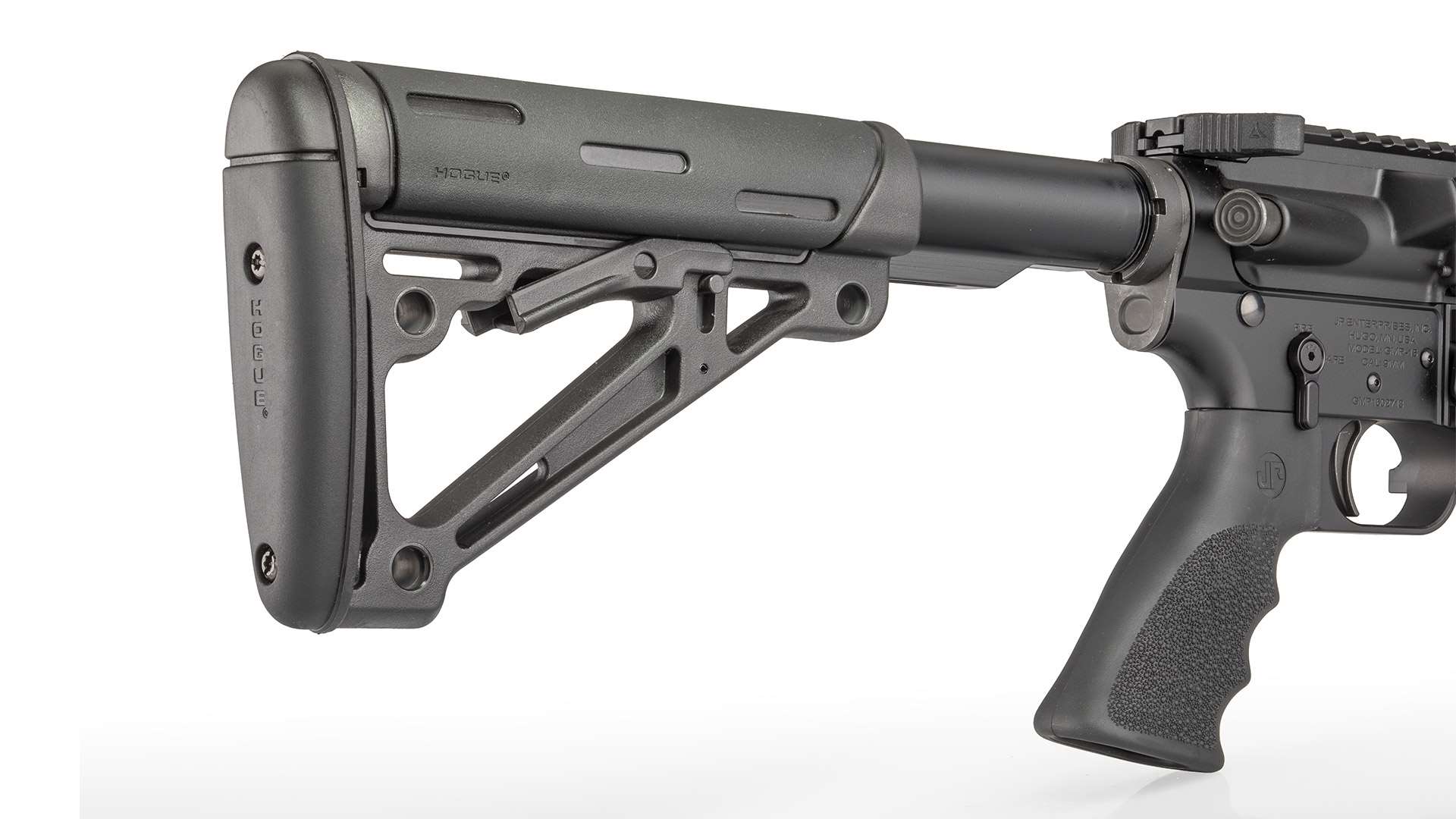 On the Range
Taking the gun out of the box, I ran a swab through the barrel (as the manual recommends), then cracked the rifle, pulled the bolt and gave it a coating of Mobil One Synthetic 20W-50 V-twin oil. Dry firing was next to get the feel for the trigger, and I received a pleasant surprise.
JP specs say the trigger is factory set at 3.5 to 4 pounds. I measured it at 3.8 pounds, and it acted like a quality single-stage trigger. There was no take-up slack—just a glass-rod break—and almost no over-travel. I would love this trigger on some of the precision scoped guns I shot back in my military days.

Mounting the EOTech sight was next. It's a different mounting system than other reflex sights I have used, but following the instructions made it simple. The GMR-15 is set up for Glock G17 magazines, with 31- and 10-rounders provided for this test (one each).
The current "ammo crunch" made assembling test rounds a challenge. I wanted to test as many bullet weights as possible in the 1:10-inch twist barrel, but the cupboard was a bit bare. I found some partial boxes left over from previous tests. They included Atlanta Arms 100-grain Steel Challenge, CCI Blazer Brass 115-grain FMJ, Lapua 123-grain FMJ, Federal Syntech 130-grain PCC and Federal's 147-grain FMJ-FP. The partial boxes only had enough rounds to conduct my normal accuracy and basic function tests. But, I did have a sufficient quantity of my current PCC handload—a 147-grain plated bullet with a modest charge of Win 231—to run range tests and a match.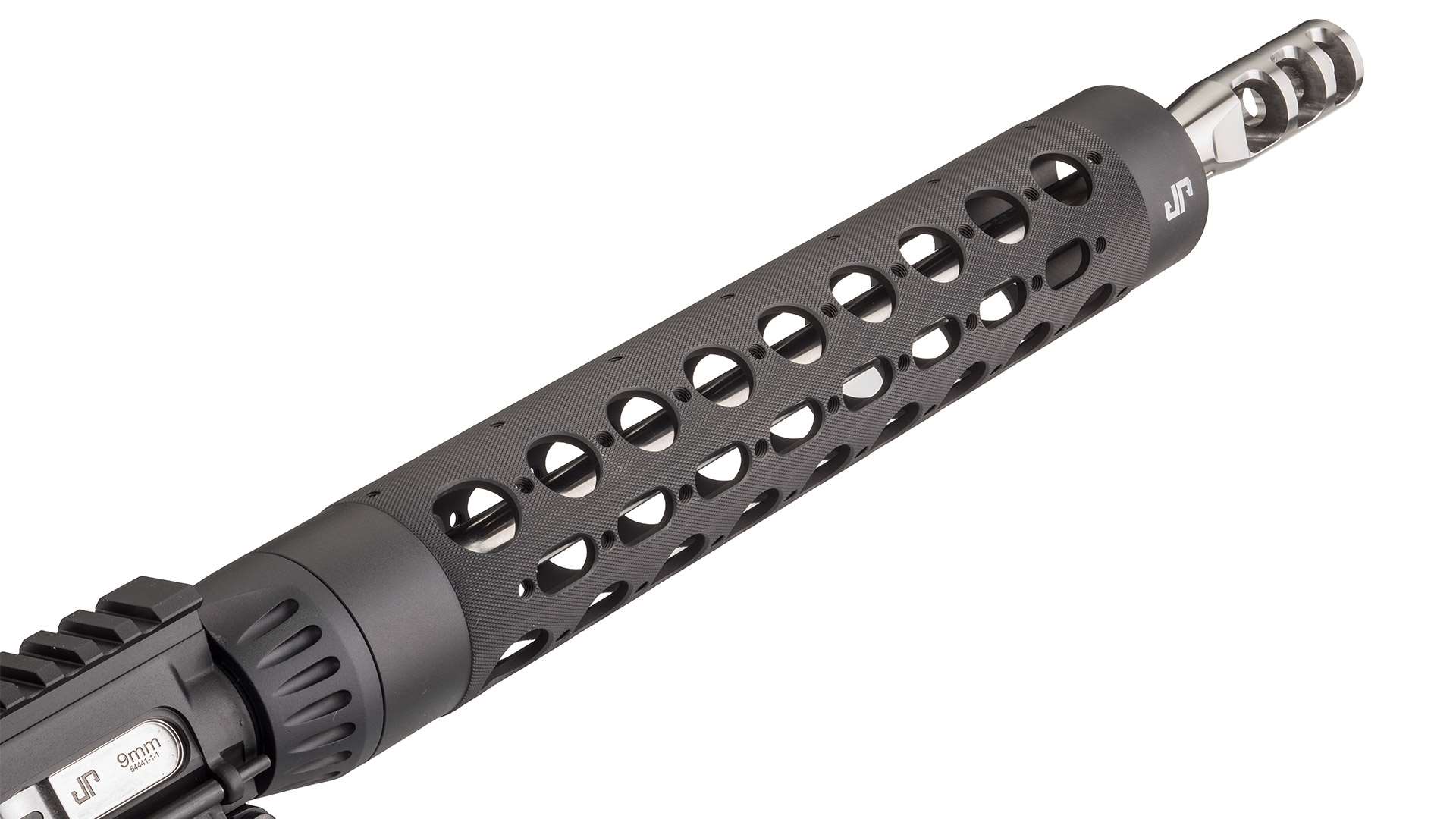 Late summer weather in Florida is equally challenging as rounding up suitable ammunition. It rains hard and frequently. I was able to dodge the downpours long enough to get my backyard range bench rest set up and zero the gun with the handload. I used the 10-round magazine, since the 31-rounder was very awkward on the rest. The POI was slightly low and right as installed, but the clicks came up quickly and got the gun zeroed before the mag was empty.
Accuracy testing had to wait until the following morning, but from the rest the one-MOA center dot and the exquisite trigger made it easy. The accompanying chart shows that this is an extremely accurate PCC (one of the most accurate I have tested), with all bullet weights.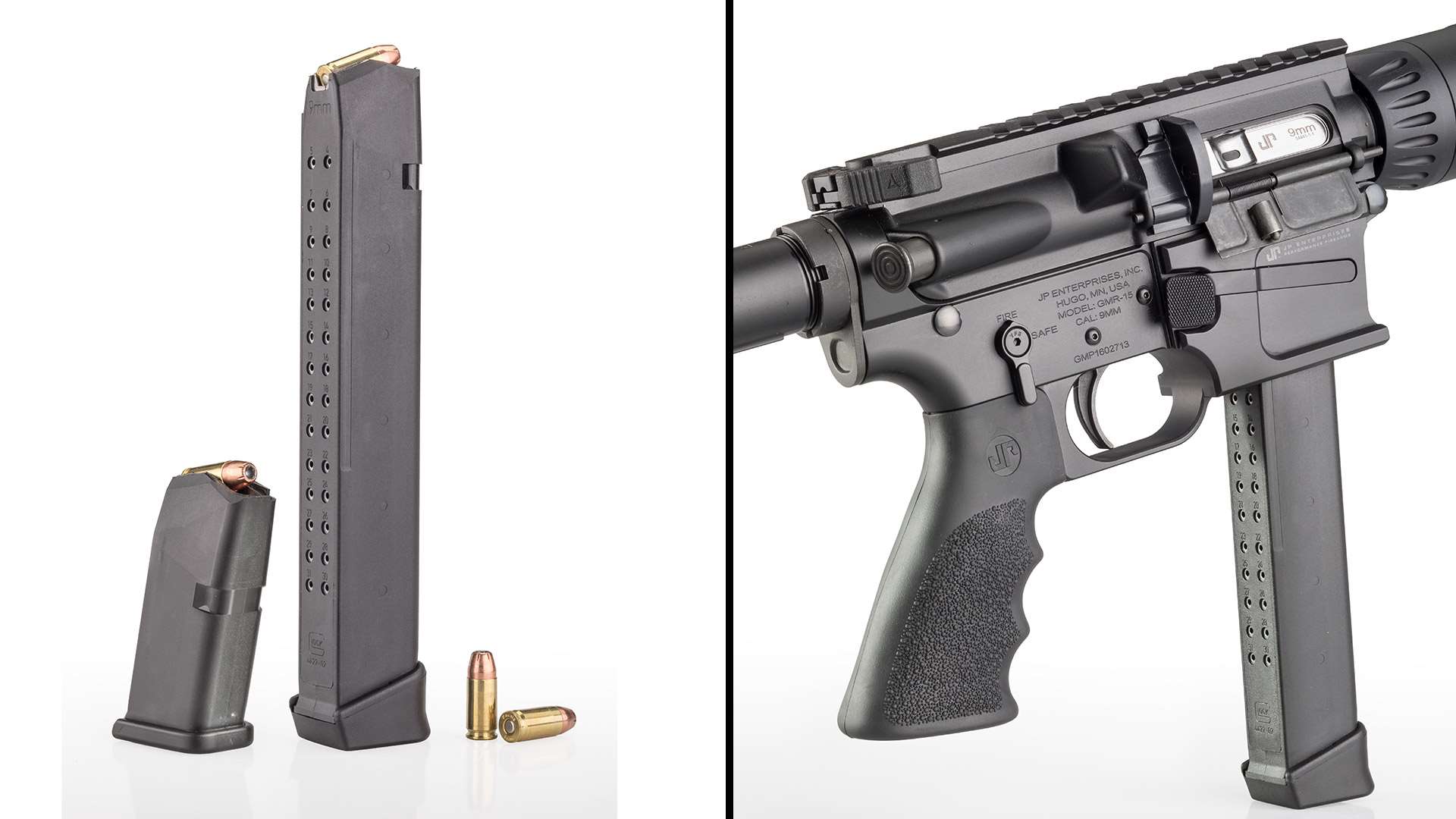 The "busy" EOTech reticle wasn't a factor during sight-in and accuracy tests on the bench, since the center dot drew the eyes. But I wondered how it would do on multiple targets during a match. Deadlines and weather didn't allow for a USPSA or IDPA match, but my club had a Steel Challenge practice day set up, and I headed over there.
This was the first time I had used the 31-round magazine, and combined with the 11.02-ounce EOTech, it made for a heavy gun. My quick guesstimate was over nine pounds. That's more than I'm comfortable with. But, realistically, it wouldn't be hard to reduce it to the mid-seven-pound range. Commonly used miniature reflex sights, such as ones from SIG Sauer, Trijicon and Burris weigh less than two ounces with a Picatinny mount. That would easily drop well over a half-pound, and using 17-round mags instead of the "big stick" would chop another half-pound or more.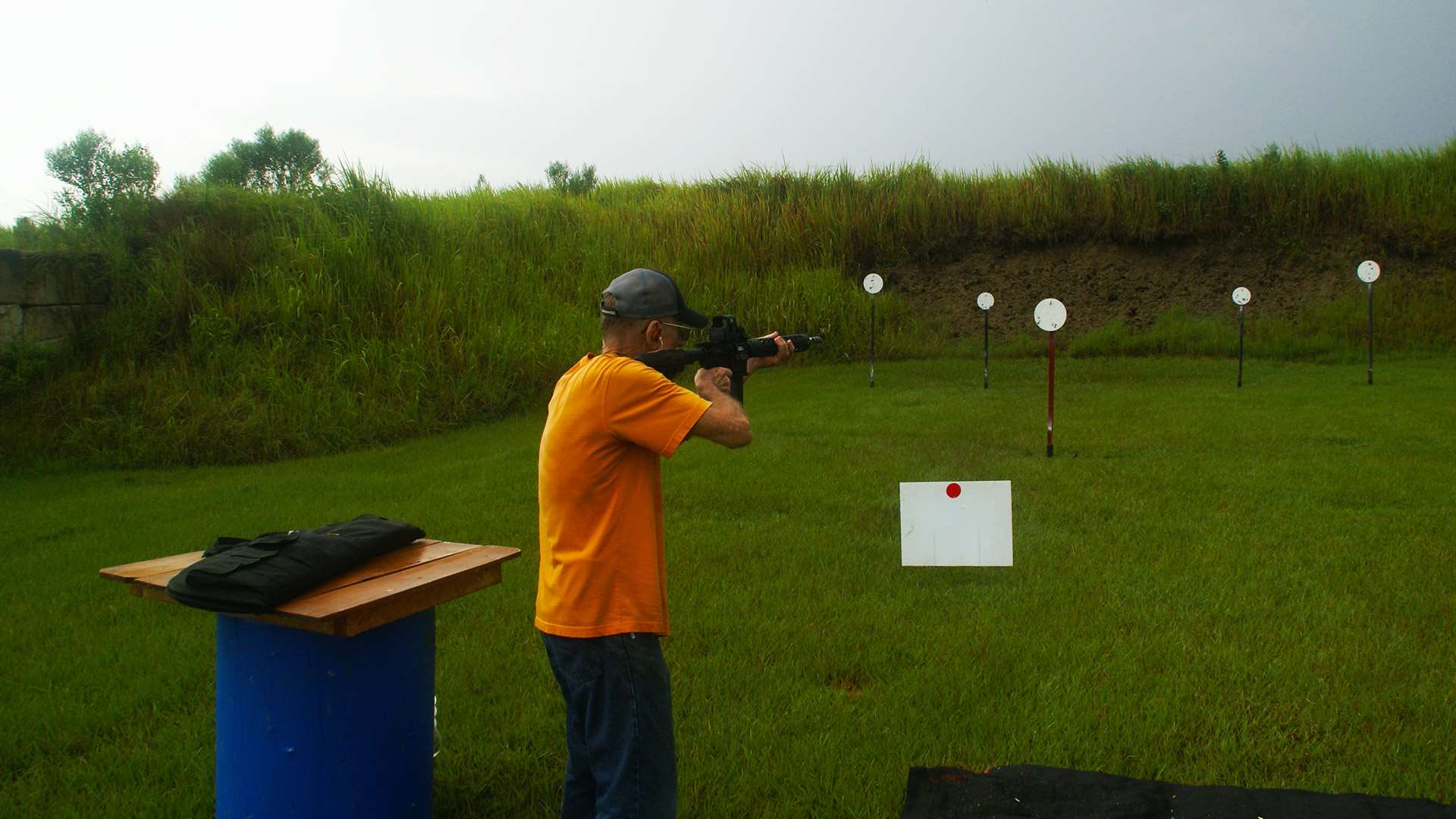 The "busy" EOTech reticle took some rounds to get used to. But after multiple stage runs, I felt comfortable enough to take it to our six-stage Steel Challenge match a few days later.
Rain turned the six stages into two. The ones I got to shoot were Roundabout and Five To Go. I didn't set the world on fire with the heavy gun and new sight. But I did get within 0.36 seconds of my PCCO A Class Peak Time on Roundabout, and 0.63 seconds on Five To Go. I could see some real possibilities if I knocked a pound-and-a-half of weight off the gun and used a sight I'm more used to—especially with that exquisite trigger.
By this time, there were more than 300 rounds of mixed ammunition through the gun, with nothing more than my original barrel swab and lube. There were no malfunctions of any type. When I add up that reliability, the accuracy and the trigger, I began to understand why JP PCCs are so popular.
Accuracy Chart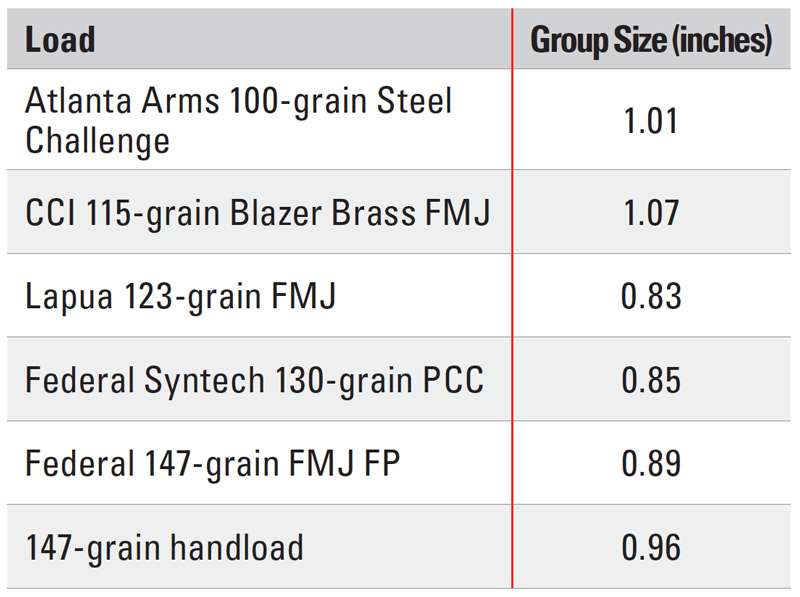 All photos by Forrest MacCormack unless otherwise noted.
---
See more:
Stage Breakdown: 2020 USPSA PCC Nationals