by
Chris Christian, Field Editor
posted on August 17, 2018
Support NRA Shooting Sports USA
DONATE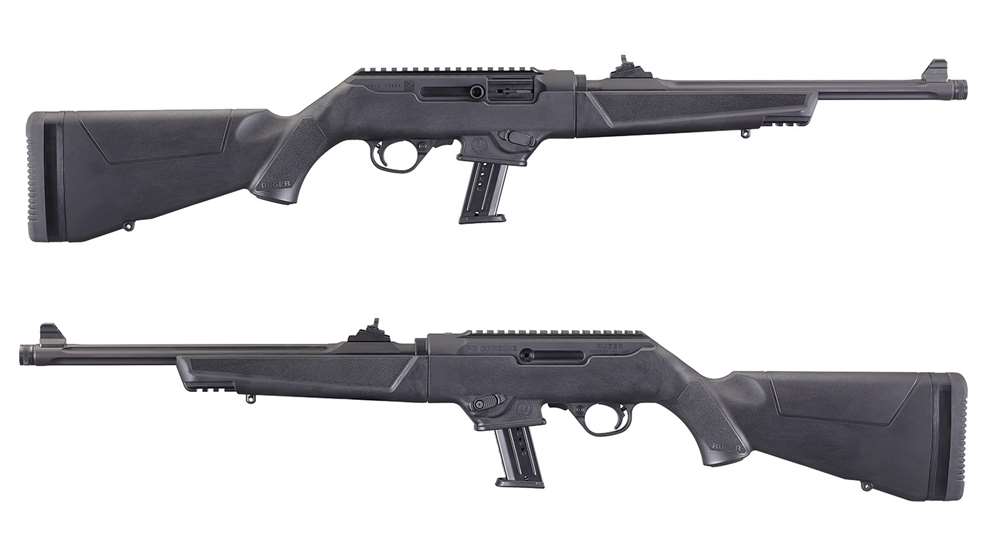 In 1996
Ruger
introduced the Ruger Police Carbine. Roughly patterned after their popular 10/22 rimfire rifle, it was available in 9mm and .40 S&W, and used Ruger's P-Series pistol magazines. The intent was to provide law enforcement officers with a long gun providing greater accuracy than their sidearm, while using the same magazines and ammunition. The gun was discontinued in 2007 due to a lack of demand.
Times change.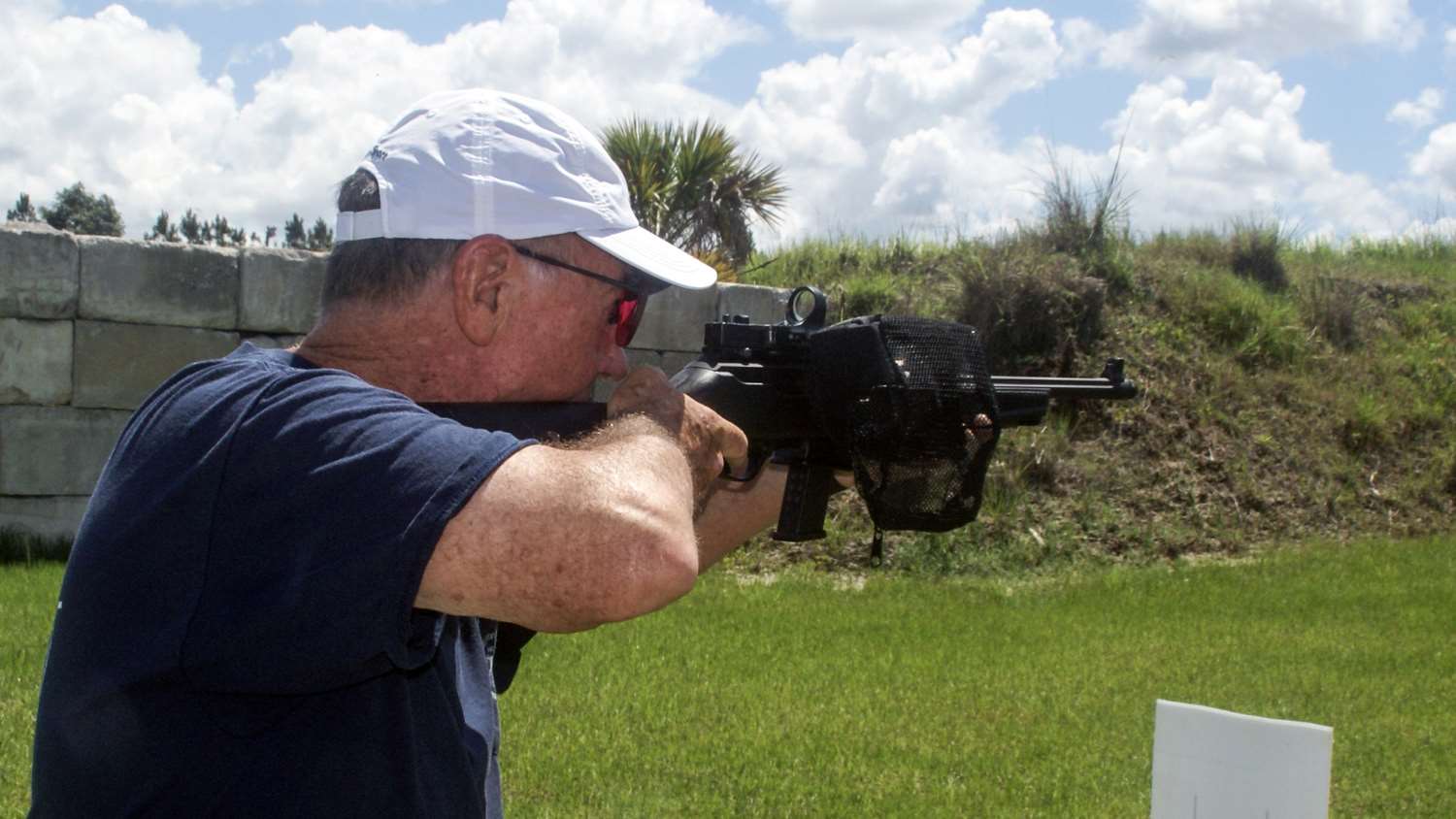 At the 2018 SHOT Show it was almost impossible to walk down an isle without tripping over a pistol caliber carbine. Whether this is due to a renewed interest in compact long guns for home defense, or their inclusion into
USPSA
, Steel Challenge and IDPA competition is debatable. But there is no doubt these guns were among the most prominent new firearms. And the re-introduced 9mm Ruger PC Carbine (with a few innovative tweaks from the original) was one of the most popular.
The Gun
The
Ruger PC Carbine ($649, Ruger.com)
bears a strong resemblance to the company's 10/22 Take Down Lite. And like the rimfire, it's also a take down. Break down is in the same simple manner as the 10/22 Lite, while incorporating solid locking lugs to handle the increased pressure of the 9mm.
The operating action is a dead blow back, using a two-piece bolt with a dead blow tungsten weight that shortens the bolt travel. The bolt is machined from heat treated chrome-moly steel, and the receiver from aluminum alloy with a Type III hardcoat anodized finish.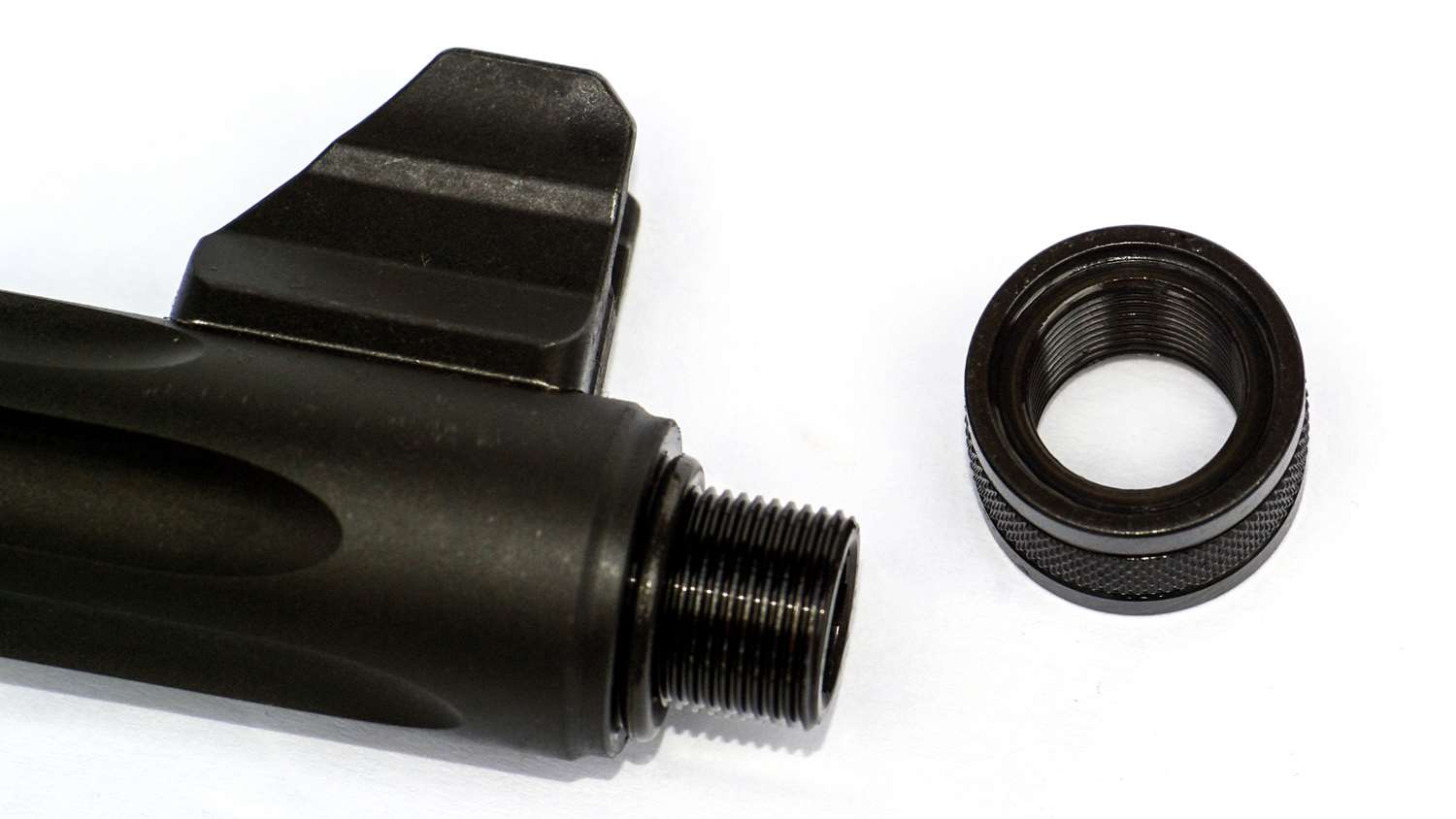 The lightweight fluted barrel is 16.12-inches in length, with 6-groove rifling in a 1:10 right-hand twist. It's hammer-forged chrome-moly steel with a well-shaped feed ramp. Two barrel models are available: Model 19100 features a threaded muzzle (standard 1/2'28 threads) and a protective cap; Model 19101 is a plain barrel, to comply with some state laws. The sights are identical for both models: a front protected blade and an adjustable Ghost Ring rear. Both are removable. An integral Picatinny Rail rides atop the receiver for optics mounting.
The matte-black stock is a glass-filled Nylon synthetic, with sling swivel studs installed, and features a stippling pattern on the grip and forearm. It offers Length of Pull (LOP) adjustment via ½-inch spacers inserted between the butt stock and rubber recoil pad. Three spacers are included, along with the appropriate Allen wrench for installation. That allows an LOP from 125⁄8- to 141⁄8-inches. A short Picatinny Rail mount is incorporated under the forward end of the forearm to allow for mounting lights or lasers.
The empty gun weight is 6.8 pounds, and the overall length is 34.37 inches.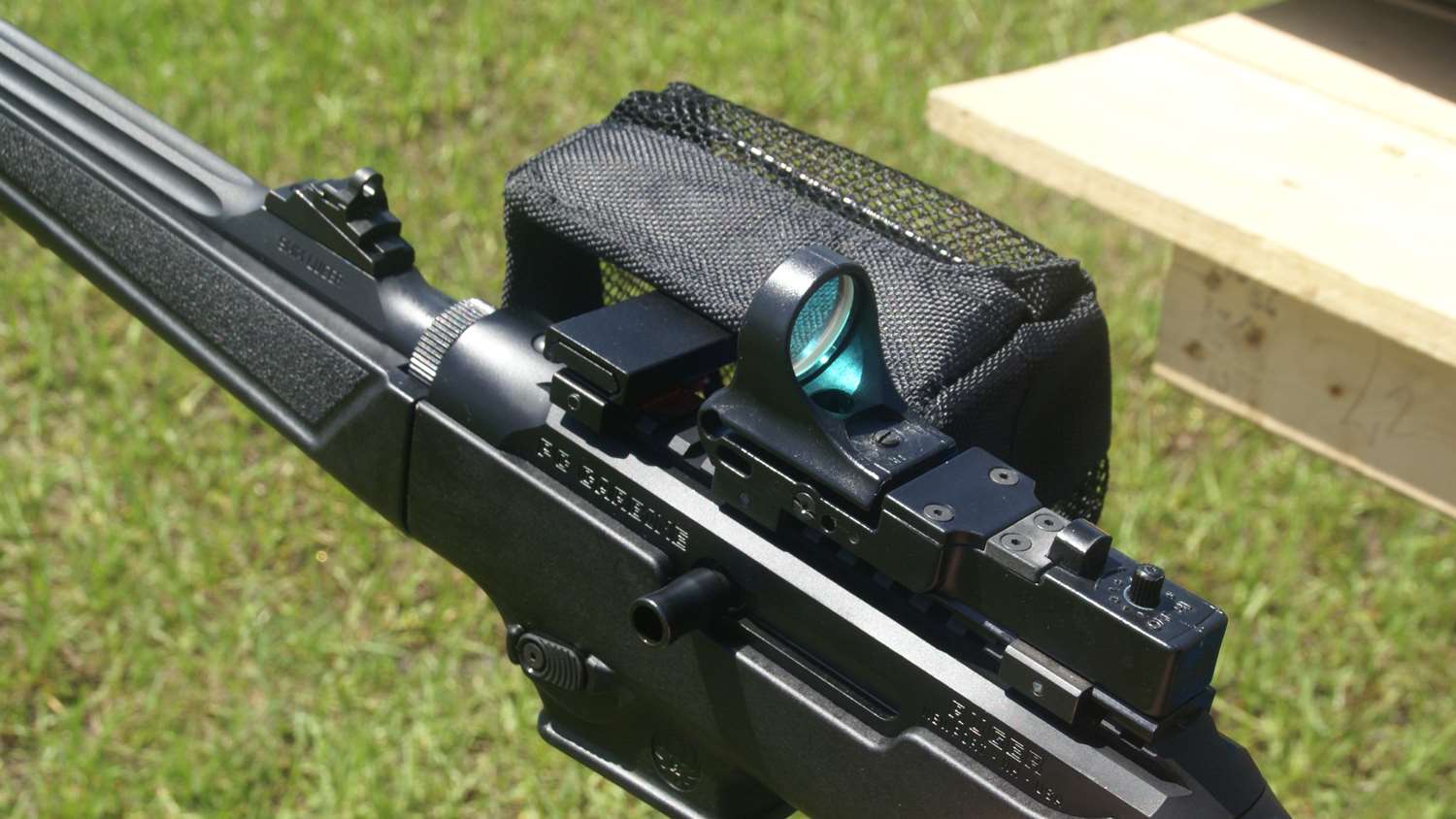 The operating controls consist of an oversize charging handle on the right side that is reversible to the left side: a handy feature for those competitive shooters who want to install a Caldwell AR
Brass Catcher bag
to corral their fired brass and avoid having to play "Range Chicken."
The magazine release is located on the forward end of the magwell. It's set from the factory to the left side, but is easily reversible to the right.
The trigger group is virtually identical to the 10/22 series, but with an improvement. Locking the bolt open is done with the same lever just forward of the trigger guard, but releasing the bolt no longer requires "diddling" with a second lever—just pull the handle back and let it fly—a definite plus when trying to insert a flag at the Unload and Show Clear!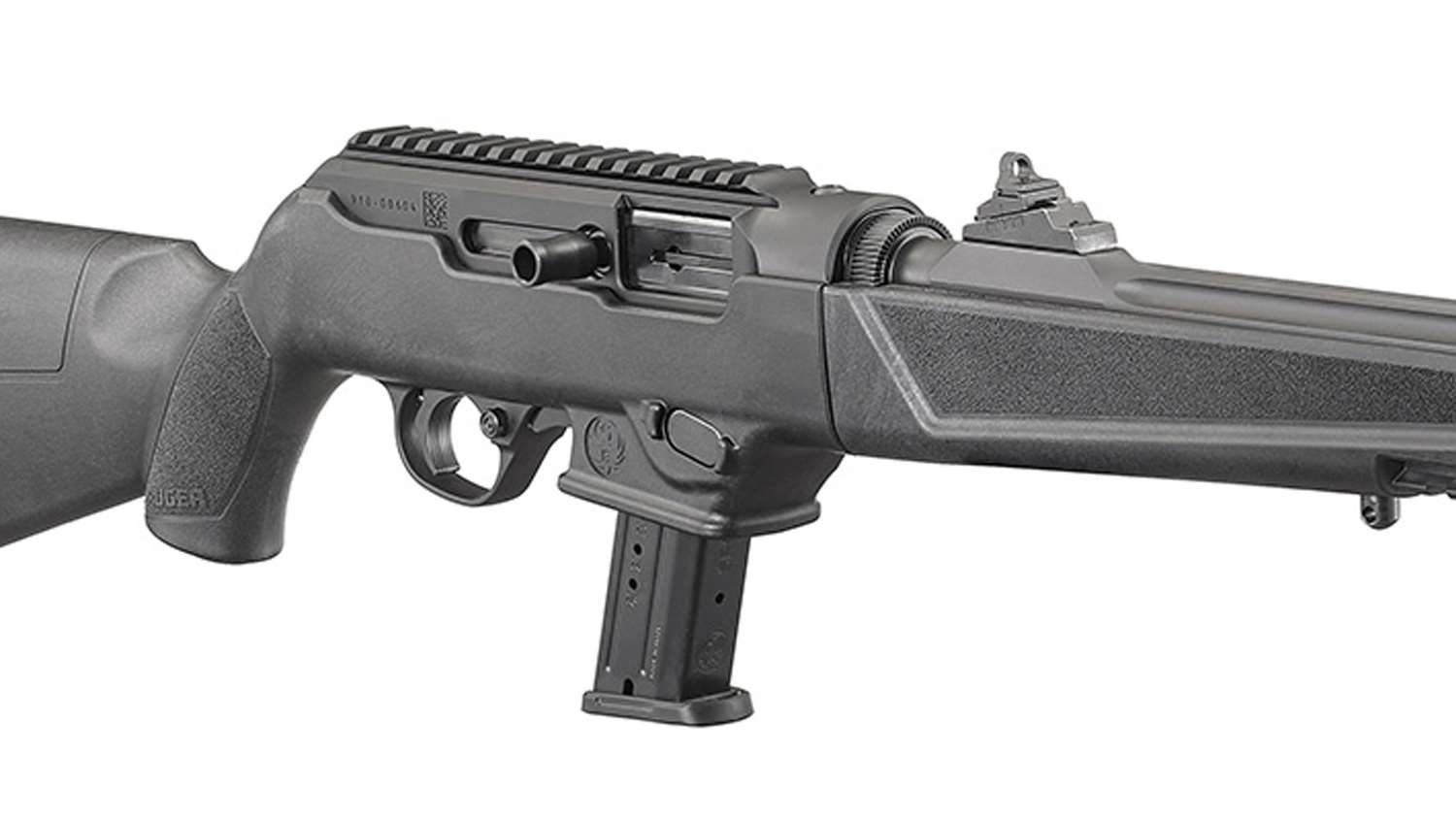 The trigger broke at 4-pounds, 1-ounce on my
Lyman Digital Gauge
. There was a mere hit of take up, followed by a "glass rod" break, no discernible over travel, and a fast reset.
The PC Carbine has interchangeable magazine wells. It ships with the
Ruger SR9
 well installed. Model 19100 includes one 17-round SR9 magazine, and Model 19101 comes with one 10-round magazine. A Glock magazine well is also provided, and easily installed. Savvy competitors in USPSA will use the Glock mag well and 30-round mags. Even the longest stage will then require only one reload, which can be made virtually anywhere on the COF while moving to a new shooting position.
On the Range
I didn't play with the iron sights, although they presented a crisp sight picture. Instead, I installed the new
6 MOA SIG ROMEO1
reflex sight with a Picatinny mount. After a few practice mounts I started adding spacers to the 125⁄8-inch stock. Three spacers gave me a perfect cheek weld and sight alignment. There was no need to remove the iron sights—the SIG rode right over the top of them and they weren't a distraction.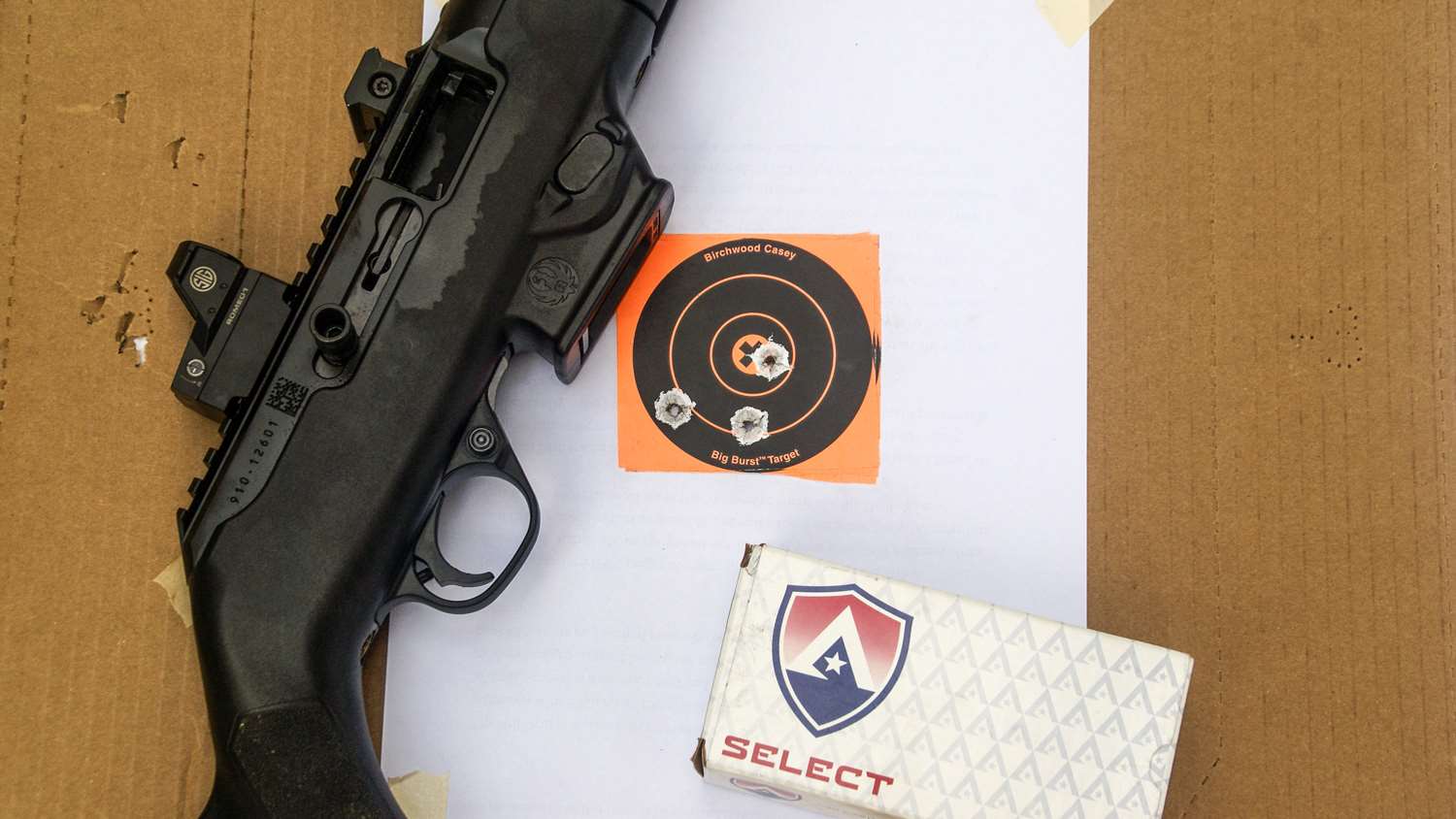 The 9mm loads on hand consisted of Atlanta Arm's 100- and 115-grain Select Steel Challenge, Aguila 124-grain FMJ, Winchester USA (White Box) 124 FMJ, Federal 147-grain FMJ FP, and the 120-grain TCG coated Bayou Bullet handload that runs in my 9mm pistols.
I started my "get acquainted" session with my Bayou hand load and then encountered a slight problem.
The TCG is a truncated cone FP bullet. I had left a significant amount of driving band/bearing surface ahead of the case mouth. They ran fine in my pistols, but the driving band was engaging the rifling on the PC (I could see the rifling marks) and prevented the PC from going into battery. A few minutes at the reloading bench shortened the overall length (OAL) of the loads and they ran fine. At a later club practice session, another shooter had the same issue in his new Ruger PC with truncated JHPs that were loaded too long.
This is not a knock on Ruger. Just a thought for reloaders—overall length needs be checked. But, that was the only malfunction (with any load) during what ultimately became a 600 round-plus test.
Accuracy testing from a 25-yard bench was next. A 6 MOA dot isn't the most precise tool for that task, but the accompanying Accuracy Chart shows clearly that it didn't hold the Ruger PC back one bit during testing.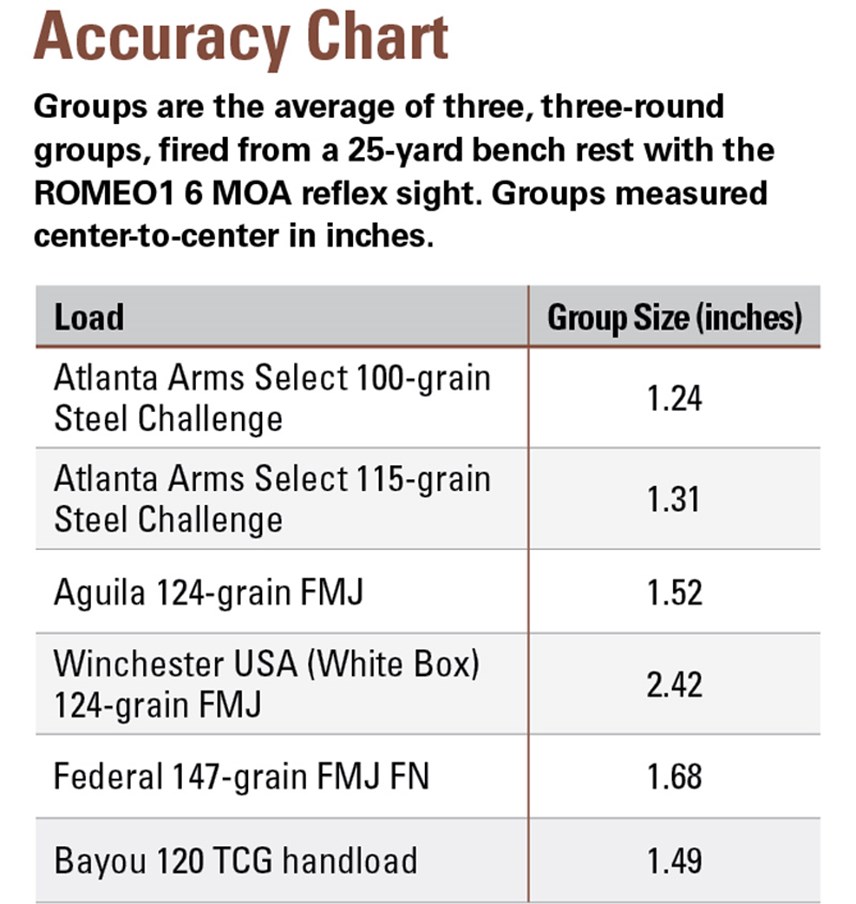 The take-down feature made for very simple cleaning. And, I removed and re-installed the barrel several times at the bench rest and did not find a point of impact shift.
I had a six-stage sanctioned
Steel Challenge
match in two days, so I ran some multiple target drills from the low ready. It was little different than my
10/22 Take Down Lite
. There was slightly more recoil, and the gun is about two pounds heavier. But the balance was between the hands and it moved and stopped smoothly. The crisp trigger was a plus.
I'd never shot Pistol Caliber Carbine (
PCC
) in a Steel Challenge match. But I finished second in PCC behind an established A Class shooter—and beat him on four of the six stages. An epic "brain fade" on Roundabout let him slip a few seconds ahead of me. I wasn't overjoyed, but it wasn't a bad first match with a new gun.
Realistically though, it wasn't a "new gun." It was so close to my 10/22 that shooting one was much like shooting the other. In fact, after the match a number of shooters gathered to look and shoot the "new gun." Three of them (A and Master Class shooters who shoot 10/22s) decided to order one.
The 10/22 appeals to many. The Ruger PC Carbine is little different.
---

Additional reading on the Ruger PC Carbine: