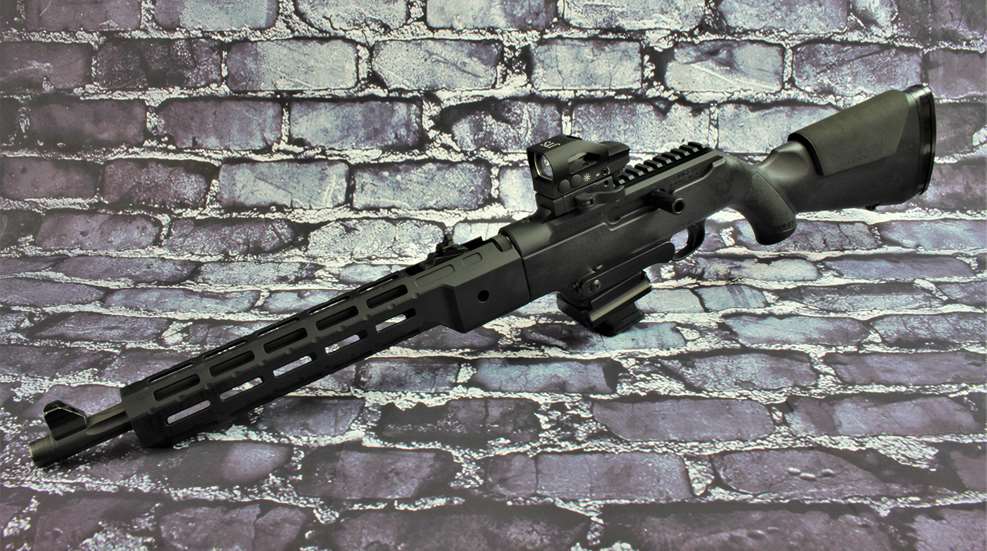 The world of practical competition shooting was shaken up when USPSA announced that they were adding a pistol caliber carbine (PCC) division. Not to be outdone, IDPA followed suit in early 2020, and folks were soon off buying and building the guns to compete in the budding division.
As "luck" would have it, Ruger released the PC Carbine during all of this and it caught on very quickly. While the little carbine was praised right off the bat, competitors found a few shortcomings, and naturally this led to a vast aftermarket of parts and accessories. Thus, I scoured the internet and found five interesting components to trick out a stock Ruger PC Carbine.
---
M*Carbo Trigger Spring Kit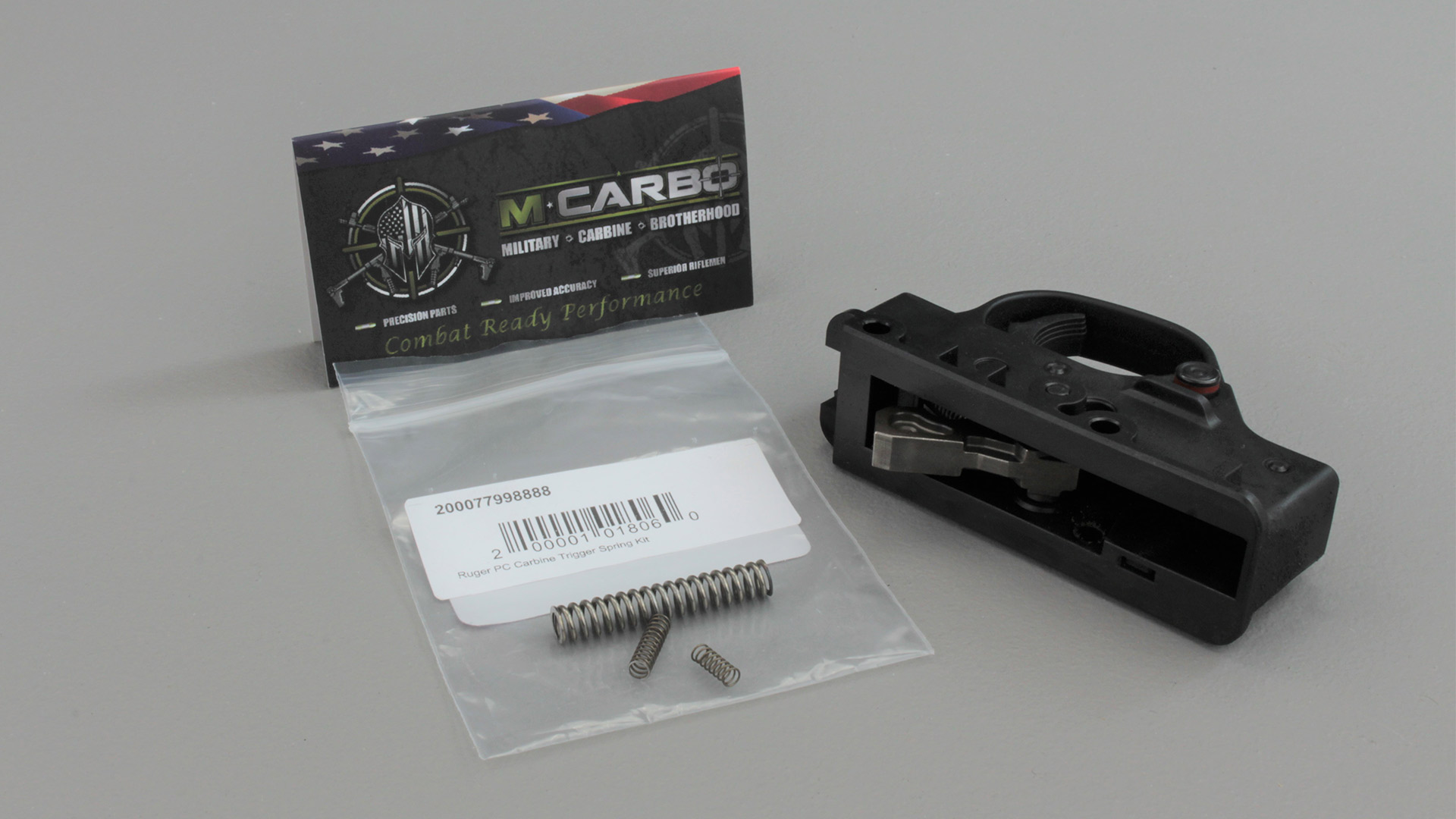 M*Carbo will likely be your first hit on a Google search for "PC Carbine Upgrades" and rightfully so as they have a huge selection of well-thought-out products. The veteran-owned company also sends a portion of the proceeds to various military-based charities, so purchases feel good too. After perusing the company's products, I decided to start with a trigger upgrade. At just over five pounds, the factory Ruger trigger wasn't doing me any favors.
The trigger upgrade kit consists of a reduced weight hammer, sear and return spring. Installation was as simple as pulling the trigger out and swapping out the factory springs with the M*Carbo replacements. Aside from the Allen wrench, all that is needed is a punch or a thin screwdriver to slide a few pins. M*Carbo also has a helpful video on its website to walk you through the process. After installation, my PC Carbine trigger pull weight dropped down to 3 pounds, 12 ounces, providing nearly a two-pound reduction. $19.99, mcarbo.com
---
M*Carbo Recoil Reduction Bundle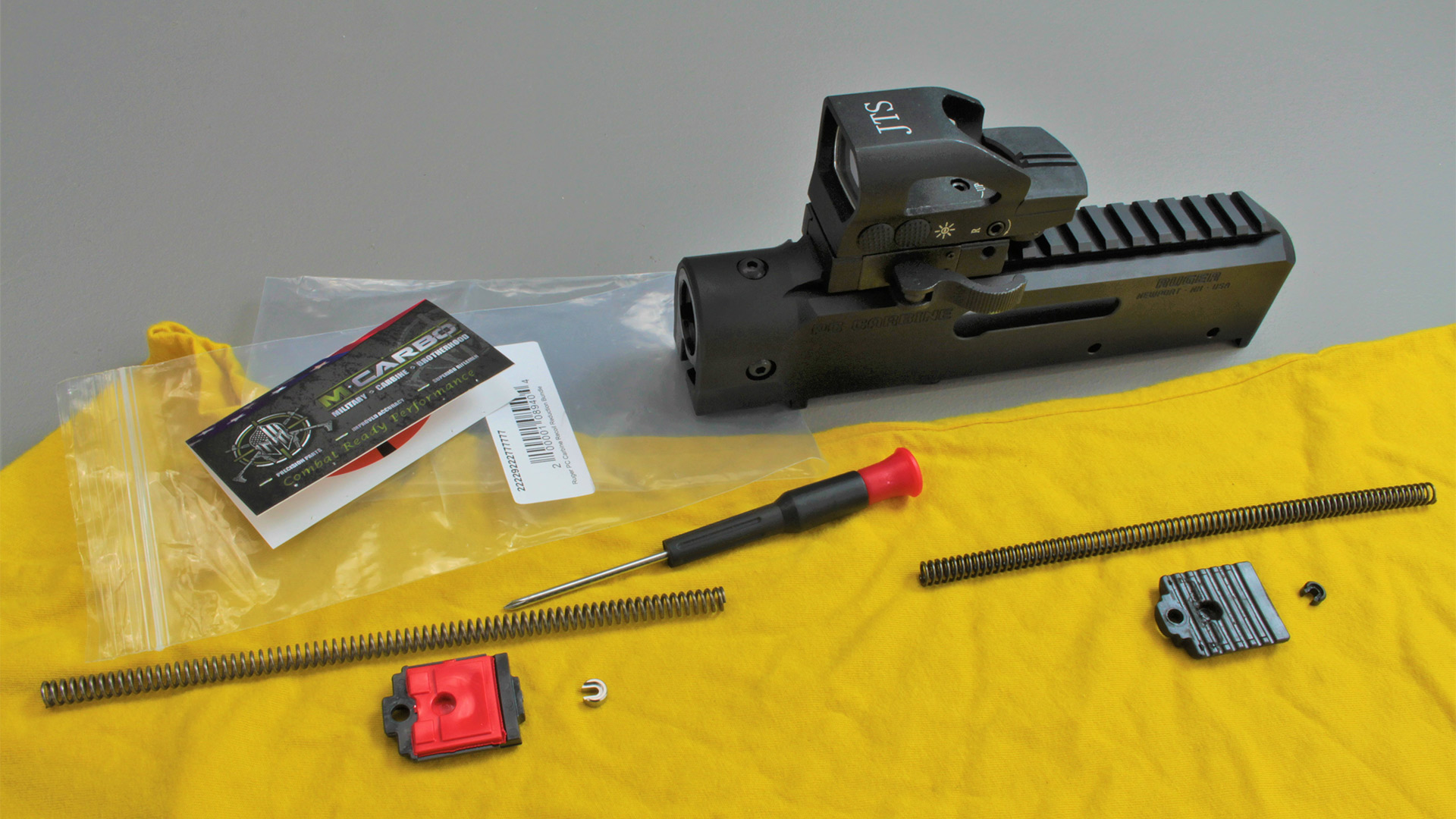 Getting subsequent rounds on target quickly is essential for shooting sports like USPSA and IDPA. Extra seconds will rob a competitor of vital points and nothing arguably slows you down more than recoil. For this reason, the M*Carbo recoil reduction kit was second on my list of upgrades. This kit includes the M*Carbo Shock Buffer, extra-power recoil spring and a stainless-steel recoil spring retainer. These parts are sturdier than the factory ones and are also likely to hold up longer through hard use. This was another easy installation, especially if you already have the gun taken apart. M*Carbo also has a video on this, but it is as simple as following factory disassembly instructions and reassembling with the aftermarket parts.
Since disassembly requires removal of the charging handle, I also put on the M*Carbo extended upgrade for a little more clearance around my optics QD lever. Additionally, while the gun was taken apart I swapped the factory extractor for the M*Carbo Exact Edge upgrade. This tool-grade steel is advertised to last longer than the original. On the range, we experienced noticeably "flatter" shooting, as there was less bump with each shot and we were able to stay right on target through fast double taps. Feeding and ejection were also flawless, which is always a concern when you start changing springs. $19.95, mcarbo.com
---
Taccom Extended Magazine Release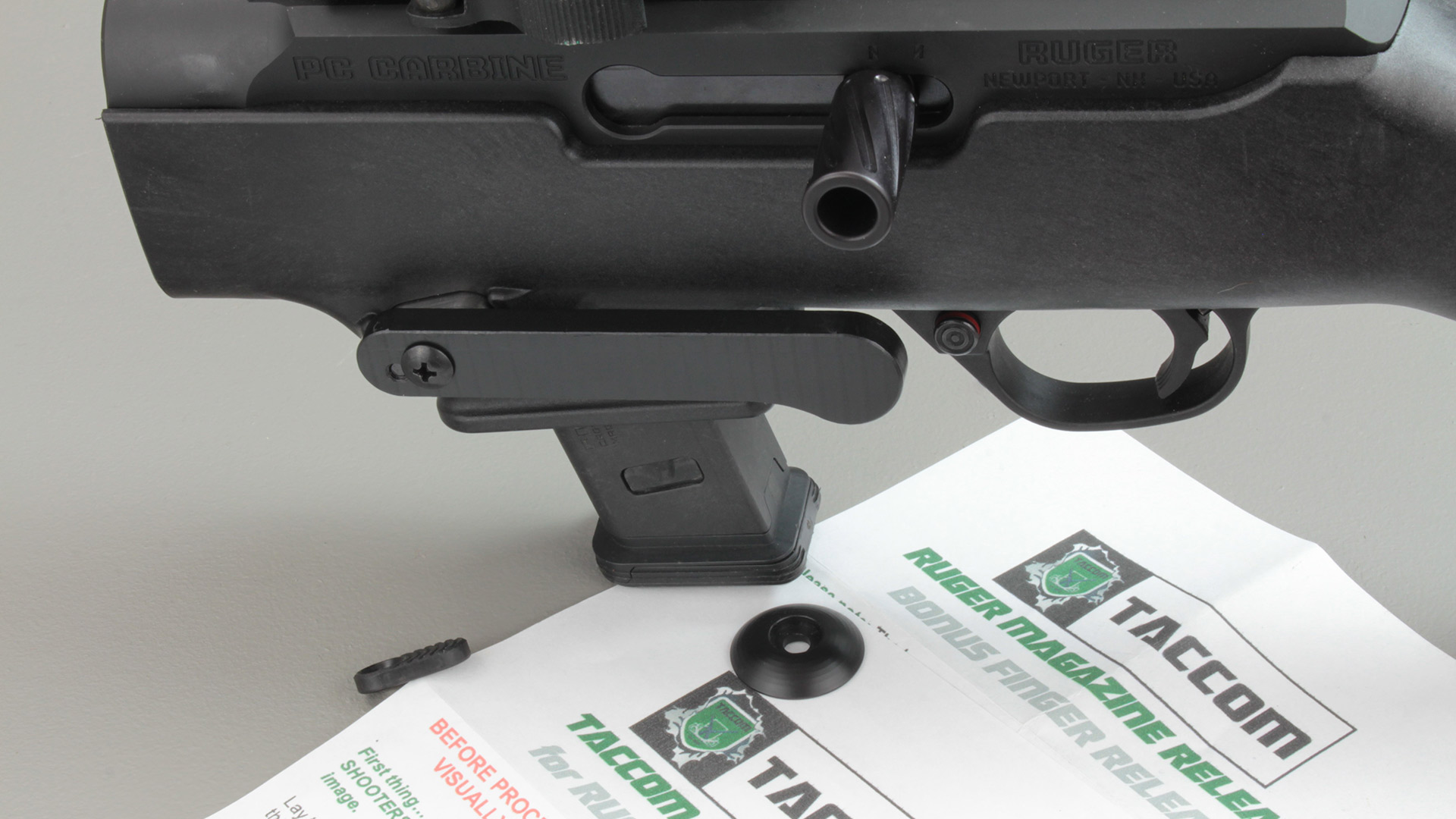 A sloppy reload can be the most time-consuming function on a timed match stage and the PC Carbine can certainly be better at it. Taccom is no stranger to aftermarket parts geared toward the competitor and it was exciting to see the company throw its hat into the PC Carbine ring. Just an Allen wrench and a Phillips head screwdriver is all that is needed to upgrade the factory button to an oversized dome, or even a trigger finger lever. The kit comes with both, but I would not recommend the lever to those with short fingers, as you need to hit it about halfway up for reliable magazine release. I wear a size large glove so I went with the lever and was very satisfied with it, as I no longer needed to break my grip to release the magazine. $26.95, taccom3g.com
---
Taccom Magazine Funnel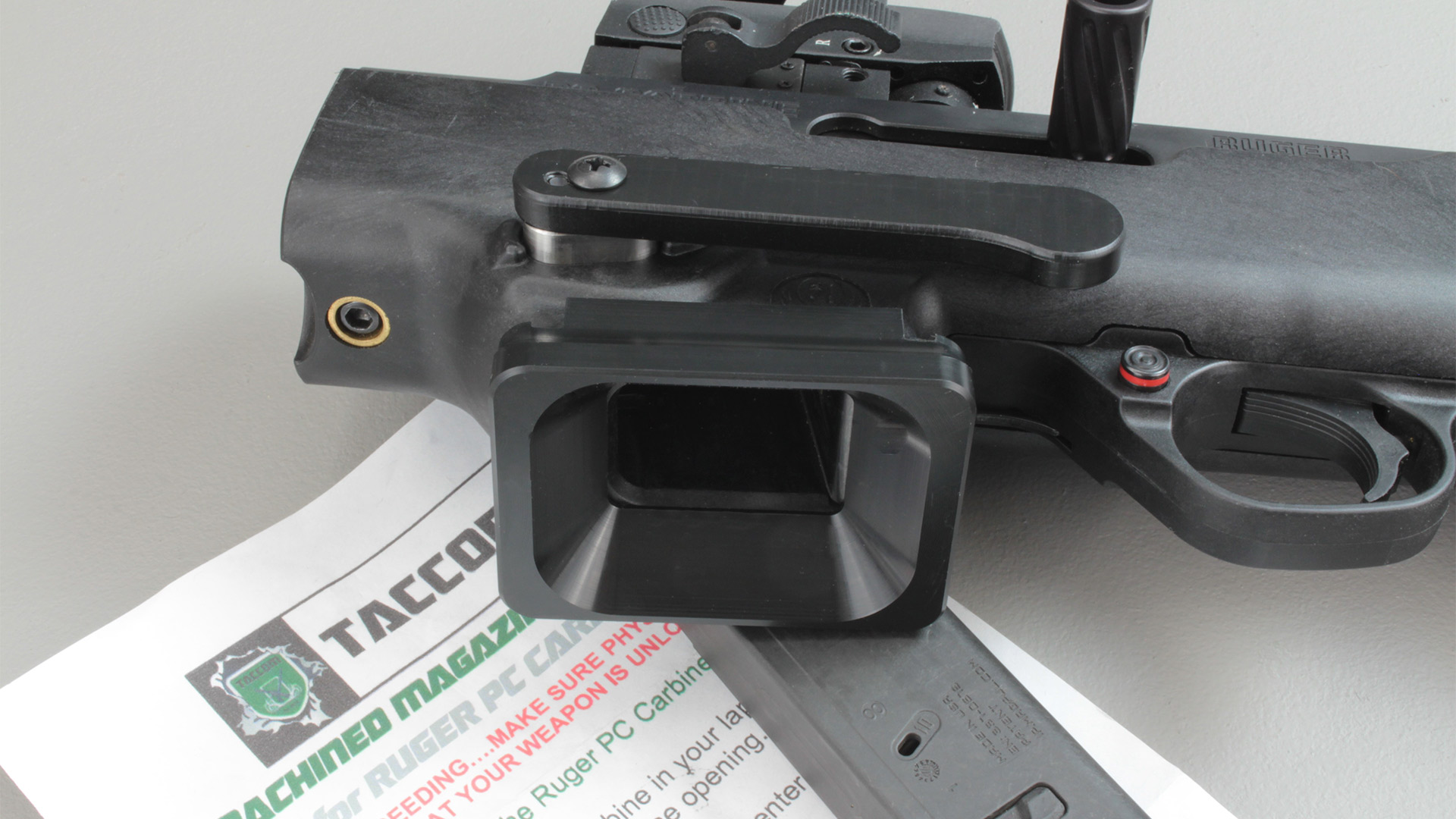 Again with faster reloads in mind, the magazine funnel helps to guide a fresh magazine in place should you miss the well by an inch or so. This was the most effortless install of the day, with the instructions being little more than "bang it hard into place." The black delrin funnel simply snaps over the well and stays put no matter how rough you are on it. It only took one solid whack with the palm of my hand to latch it into place, and once I was finished I was able to handle a mag swap with my eyes closed or even better—on the next target. $49.95, taccom3g.com
---
Midwest Industries PC9 12-inch Combat Rail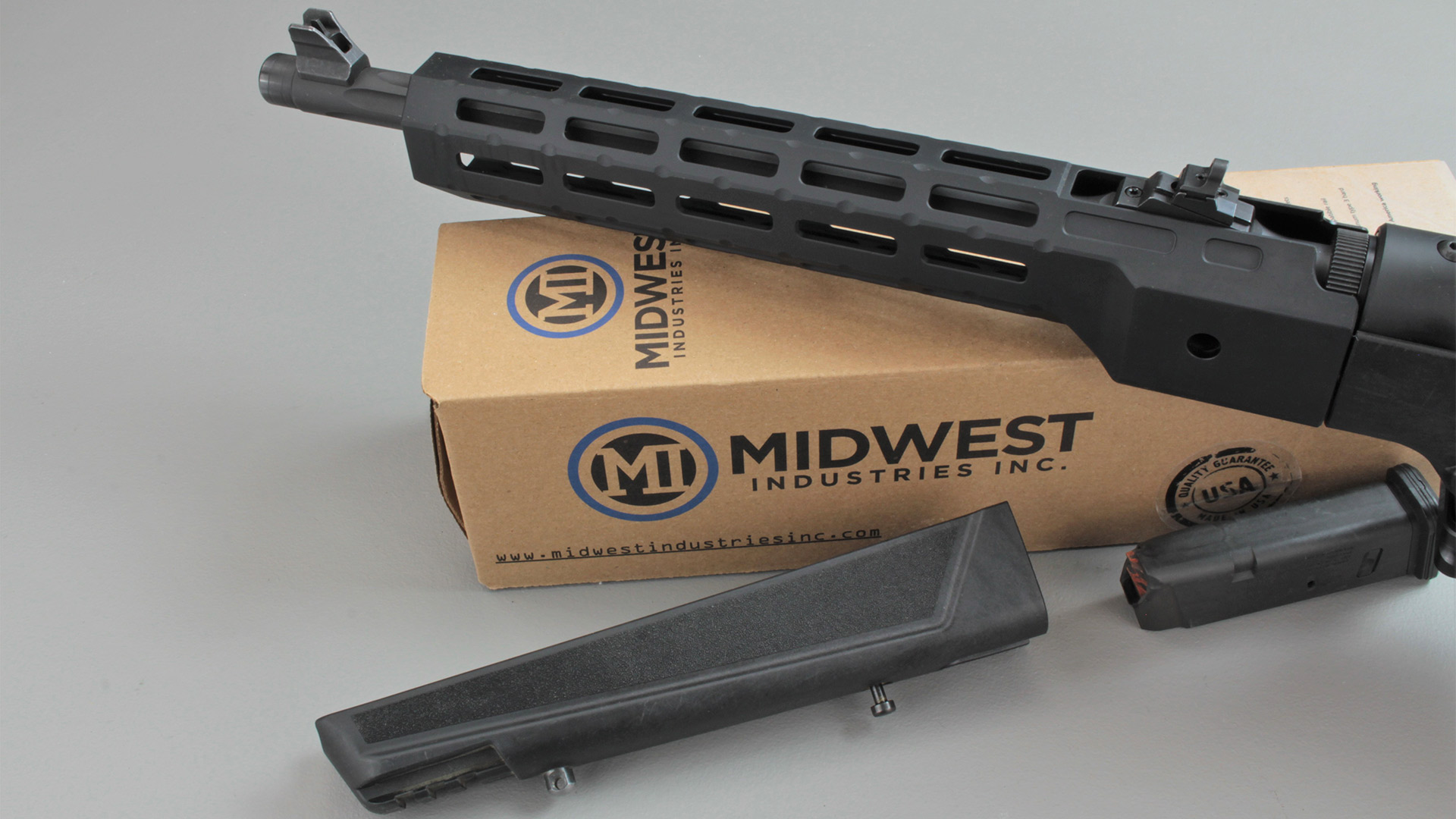 Hand position and grip are going to be a major factor when it comes to how fast you can maneuver—particularly around obstacles. While the conventional fore-end on the PC Carbine will work in most circumstances, competitive shooters looking to run an outstretched C-grip will not find it conducive to their shooting style. For this reason, we installed a Midwest Industries 12-inch Combat Rail that gave us the extra length we needed. The one-piece rail is also cut with eight sides of M-Lok slots for whatever accessories we might be interested in running. Although longer, it is slimmer and made from 6061 aluminum.
Through design and material selection, all of the extra real estate only added 2.9 ounces to the shooting package. Installation required removing the old fore-end (held in place by a single screw) and slipping the new rail over the barrel. The required Allen wrench is included, but you'll need a torque wrench if you want to get it to the perfect 55 inch-pounds that are recommended. At the range, the gun was noticeably easier to swing, and I enjoyed no longer burning myself on the top of the barrel. $159, midwestindustriesinc.com
After my work, the PC Carbine looked and felt entirely different. It not only shot better, but the aesthetics were downright pleasing. In addition to the performance-enhancing accessories, some comfort parts were also added on as well, like the Taccom cheek riser and buttplate. Together, these helped me fit the PC Carbine to my unique physical attributes. If you are looking for a gun that will run well in a match, and something that is fun and easy to accessorize, give the PC Carbine a look. There are more than enough options to keep you busy for many afternoons.
---
See more:
Thompson/Center's New Competition Rimfire Rifles