by
posted on November 19, 2020
Support NRA Shooting Sports USA
DONATE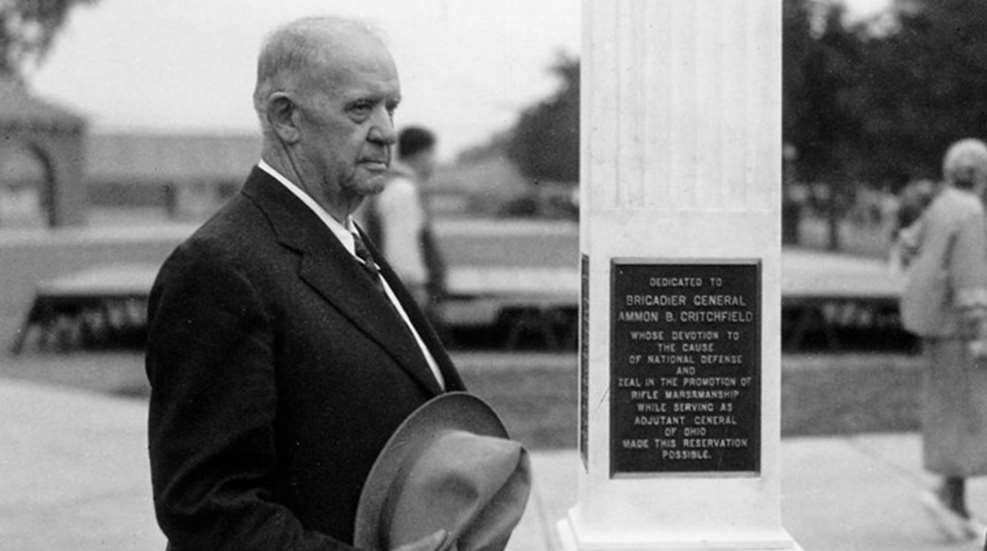 The range at Camp Perry, Ohio, is the result of Brig. Gen. Ammon Critchfield's intense interest and belief in the value of rifle practice. As Adjutant General of the State of Ohio from 1903 to 1908, Critchfield in 1906 secured legislation authorizing the purchase of 350 acres of land for a rifle range. He investigated personally, "pretty near every yard of lake shore in the State, and a good deal of territory beside" in seeking a site for the State Range, but the site of the present Camp Perry "seemed to just naturally be at the right place." The features of the site considered important in its selection were that the shooting is to the north, the lake shore runs so the targets are naturally in echelon, and a reef is 10 miles out with no navigation within the reef.
Critchfield was personally on the job, building Camp Perry from 1906 to 1909. The site was largely swamp and had to be drained by honeycombing it with tile pipes before it could be used.
As a young Adjutant General, Critchfield also secured the adoption of a State law and tax plan which for the first time resulted in adequate equipment for the State's Guard. For years, Ohio was known for the excellent military riflemen it produced and in 1912, Critchfield was adjutant of a state team that represented the United States at the matches of the International Shooting Union at Biarritz, France.
Critchfield was a vice president of the NRA from 1907 through 1916, and a member of the National Board for the Promotion of Rifle Practice from 1907 to 1913. He was NRA President in 1936.
In 1932, the State of Ohio erected a monument to Critchfield in front of the Arcade Building at Camp Perry. The plaque carried the following inscription: "Dedicated to Brigadier General Ammon B. Critchfield whose devotion to the cause of national defense and zeal in promotion of rifle marksmanship while serving as Adjutant General of Ohio made this reservation possible."
The Critchfield Trophy, awarded annually by the NRA to the National Smallbore Rifle Prone Champion, was placed in competition in 1934 by the riflemen of Ohio.
---
Read more:
Last Year At Sea Girt: 1906 National Matches