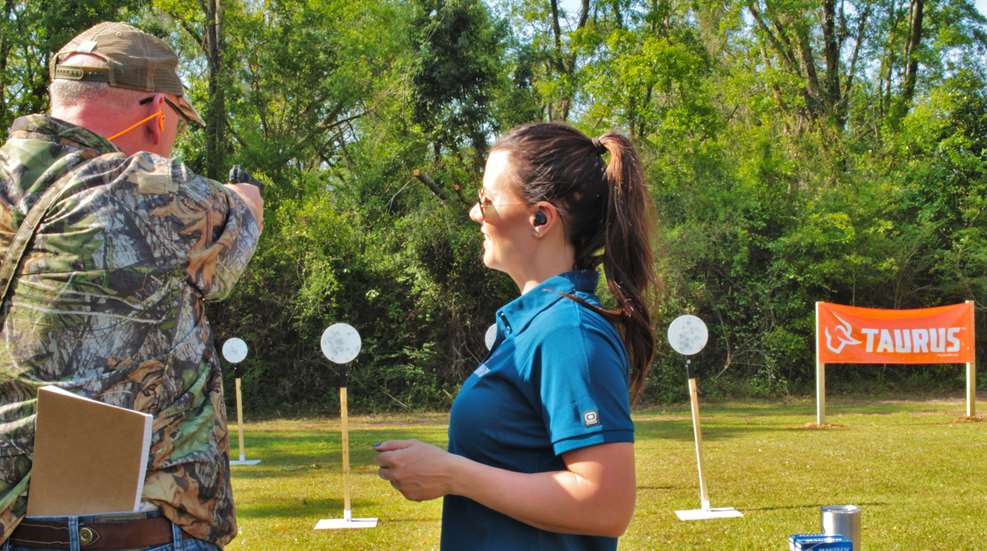 So, you finally got up the nerve to shoot your first match and realized that it wasn't so bad. You probably learned that it wasn't nearly as intimidating as you originally thought, and you likely bent the needle on the fun-o-meter.
If you are reading this you are no doubt in the early stages of competitive shooting addiction and to that we say welcome. Shooting that initial match has likely left you with a lot of questions about what to do now. Here are five things to do as early as possible to get things going in the direction that you want.
Make friends at matches.
Although we compete against one another, we're all ultimately on the same side. Competitive shooters are among the friendliest of gun owners and most are eager to share their experiences to help new shooters. One of these reasons is that it helps them stay connected to the fundamentals (remember that when it's your turn to help a newbie). Before you leave a match, be sure to get some contact information and connect on social media. Having friends at the hosting club means you have a good shot at getting invited to practice sessions and it is usually the gateway to membership as well. Not sure where to start? Don a pair of work gloves and help with breakdown and clean-up.
Read the rule book.
If you limped into your first match just to try it out, then you likely didn't go through all of the rules beforehand. Now, there is nothing wrong with that since most match directors will go through the basics with anyone who is brand new. My home club in Westhampton Beach, N.Y., has a new shooter briefing before each match to help newcomers understand what is expected from them in terms of safety, as well as to introduce them to the match commands. However, what isn't covered is how to shoot your best match. Perhaps there is a division that more closely matches your equipment or shooting style. Maybe there is an allowance for more time or make-up shots that you don't know about. Did you lose points for dropping a magazine with rounds in it? Do you have to wait until you're empty to reload? Are shooting coats allowed? Regardless of what you shoot, odds are there are a few points to be made up just by perusing the pages of the most up-to-date rule book.
Evaluate your targets and stages.
Sure, as a beginner you will have a few bad moments, but these are all opportunities to improve. When I first started shooting I learned that Texas Stars are tougher than they look on YouTube, and that I wasn't as good as I thought I would be at shooting a rapid-fire string in the prone position. Understanding this has shaped my training sessions and as a result, these tasks don't cause me half of the heartache that they once did. If your match director won't let you keep your targets then try to snap a picture of them before you leave. If practical shooting sports are your game, consider wearing a forward-facing camera, which can replay not only your shots—but your movements as well.
Adjust your load.
While you don't want to make your competitive shooting career a series of load development, the early days are a good time to get your load just where you need it. If you're shooting factory ammunition, seriously consider handloading, as it's the only way to get precisely what you need and it makes long practice sessions exponentially more cost-effective. Practical pistol shooters might want to make sure that they aren't running too far above the Minor power factor, otherwise they are digesting more recoil than necessary—costing them valuable seconds. Shooting Major? Better make sure your rounds have enough oomph before you find out otherwise at a major match. Rifle shooters may want to re-evaluate their load after taking them out to distance the first time. Personally, I found out that one of my coveted rounds tumbled after 850 yards and, boy, was I glad to find that out early on.
Properly maintain your gun.
I'm not going to enter the debate as to whether you should clean a rifle bore after a match, but most will agree that you should at least clean and oil the action. In most shooting sports, clearing a malfunction must be done on the clock—which is never the path to that number-one spot. The same holds true for your magazines, especially if your match arena is comprised of sand. Aside from cleaning and oiling the internals, be sure to wipe any vulnerable external surfaces with some oil, particularly if you have been shooting in damp conditions. Finally, check any screws that may work themselves loose. Grip screws, sling hardware, holster retention nuts and other components can cause you trouble when the chips are down and the clock is ticking.
Getting that first match under your belt is a major milestone for most shooters, and you should to be proud of yourself for just showing up. After seeing what it's all about, there is no better time than the present to start improving your scores. Practice is key to getting you over the humps later on. However, in the early stages, you have a number of simple tasks that are going to yield huge results with minimal effort.
Enjoy the ride.
---
Read more:
Tips For New Pistol Shooters