At the 2019 Southeastern Outdoor Press Association conference, I met an interesting young woman. Serena Juchnowski is 21 years old, at the beginning of her career as a shooter and outdoor journalist, and had just earned her Distinguished Rifleman Badge. Since I spent 16 years of my life shooting, coaching and competing in NRA High Power, we had a lot to talk about. I had questions about how things work now and she was amazed at how things worked then. We came up with the idea of writing this article together, to describe how things were then compared to now and to give the perspective of an up-and-coming shooter compared to one who has seen a lot of change since the beginning of his shooting career.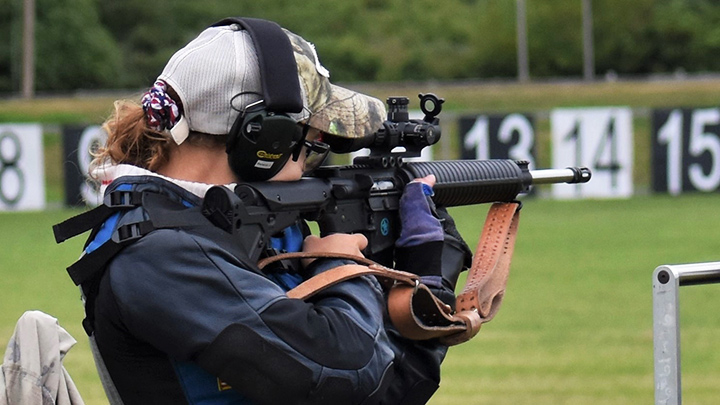 Serena: Though I've lived in Ohio, home of Camp Perry, my entire life, I did not discover High Power Service Rifle until 2015 at the age of 16. I had joined a local junior team, rifle teams focused on supplying kids through their 20th birthdays with the equipment and coaching needed to start competing. My coaches encouraged me to attend the Small Arms Firing School (SAFS) at Camp Perry. Though that experience only lasts a few days, hundreds of people come for the program (first run in 1920) that teaches civilians how to shoot. I participated in the USMC Junior Clinic the year after, and in 2017 started shooting more of the National Matches.
Dick: In the years I shot at Perry, from 1984 to 2000, almost everyone stayed on the base in the World War II POW housing, which we called the huts. Each hut had four beds, a door, three windows, three electrical outlets, no air conditioning and a single 60-watt light bulb. In those early years, the latrines could be a considerable walk with the same amenities the prisoners over 40 years earlier enjoyed. Most of the time, we had hot water. The majority of those huts are now gone, they were simply too dilapidated to continue to use.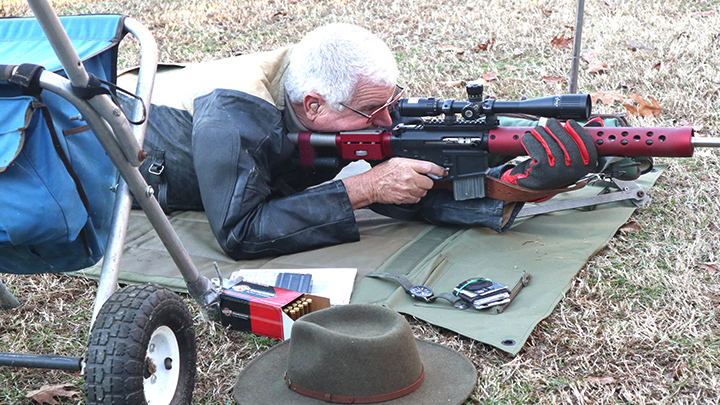 Serena: It was 2018 when I started to understand the culture of the High Power community and the tradition surrounding the National Matches. Mostly junior teams stay on base in the huts. Though they are structurally similar to Mr. Jones' description, they have been renovated to include air conditioning. Though you may still hear complaints about the occasional spider, they are nothing like the horror stories I have heard of the "old huts." I heard it was common for competitors to set a bug bomb off and wait several hours before re-entering. The bathrooms are only a short walk, have hot water and are wellmaintained. Though the Nationals are a time for people from across the country to reconnect, and hospitality abounds, housing arrangements are generally location-centered. For example, the Texas juniors having Texas team dinners in the evenings. The Michigan Embassy, erected at the end of the huts by several Michiganders, both breaks and honors this by inviting everyone to eat, laugh and have fun. While it can be difficult to secure base housing, the magic still persists on local campsites and wherever else competitors choose to stay off base.
Dick: The "Board" matches were run by the National Board for the Promotion of Rifle Practice, coordinated by the Director of Civilian Marksmanship (DCM), which was run by an Army Colonel who rotated out of the position every two years. The DCM was highly supportive of competitive shooting, supporting the teams with travel expenses for half of the team members for the National Trophy Team and Infantry Trophy Team matches as well as for half of one Whistler Boy team match. They also furnished teams with limited amounts of both 7.62 mm and .30 caliber ammunition for practice. All ammunition was furnished for the "Board" matches.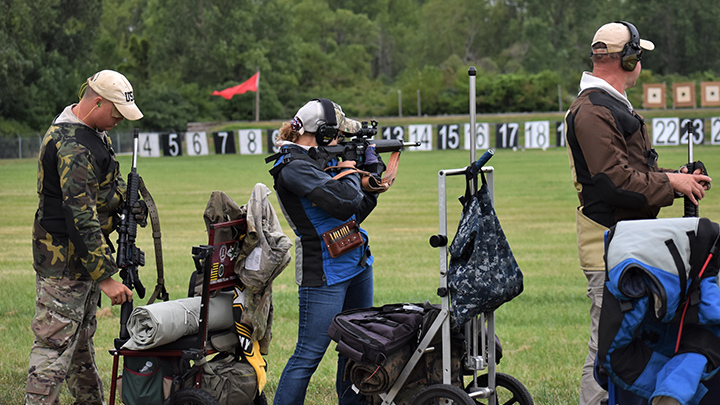 Serena: I knew that there were NRA and Civilian Marksmanship Program matches—the NRA's rifle matches moved from Camp Perry to Camp Atterbury in 2017, so I never really experienced the NRA Nationals. The Cup Week matches were fired on electronic targets before the formal Nationals, which include the famous National Trophy Individual and President's Hundred matches. Competitors bring their own rifles, ammunition and equipment. Even though they are not provided by match directors, equipment is available on loan to juniors from special programs. Many in the community are willing to help new competitors to get started.
Dick: Even though the current Service Rifle was the M16, almost no one shot M16s or AR- 15s. The matches were dominated by M1As and M14s. M14s were provided by the DCM to civilian teams. As team captain for North Carolina, I had 26 National Match M14s and 10 M1 rifles to distribute to my team members. Most of the serious competitors shot their own upgraded M1A or other commercial M14 clones. Ammunition for all the matches was issued on the line. You were not allowed to shoot your own ammunition and having one round of ammunition with the wrong head stamp was cause for disqualification.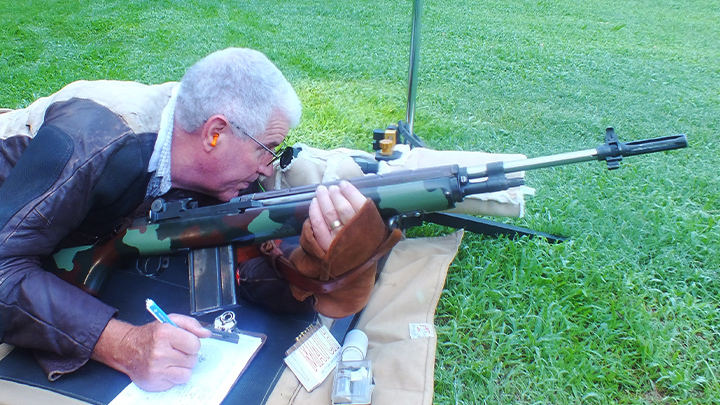 Serena: The current Service Rifle is the M16, with civilian competitors using the AR-15 platform. On occasion you will see Garands on the line, but usually in competition for a special Garand award or for fun. Separate "Games" matches for vintage rifles exist. The biggest change that has happened during my time was the legalization of optics (limited to 4.5x) and adjustable stocks (horizontally only) in 2016. I started off with iron sights and resisted switching over until late 2017. Several other changes, such as the allowance of an extended bolt release have been added as well.
Dick: There was no option for scopes. A lot of effort was spent on Service Rifles getting the slop out of the movements. There were two options for aperture diameter and three different post widths. M14s and M1As were much more difficult to manage in rapid fire because of recoil. Using Hawkeye or Firm Grip adhesives was almost universal because a locked in position is required for the second magazine of eight shots of 7.62 mm match ammunition. Because of the recoil of the M14s, juniors with a Distinguished Rifleman Badge were rare. During my tenure running North Carolina's program only a couple of my juniors earned leg points.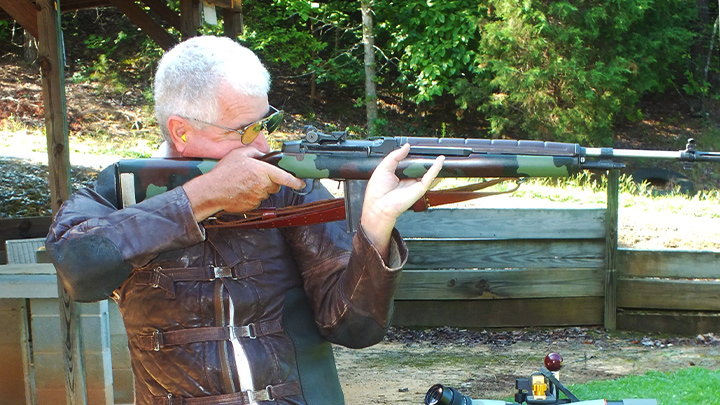 Serena: EIC matches are 50-shot matches without sighters following the National Match Course-of-Fire. The top 10 percent of nondistinguished competitors earn Excellence in Competition points toward the Distinguished Rifleman's Badge. When I first started, cut scores for points were around the 470s. Now, one must reach nearly 480 or better to earn points. Many people blame scopes for this, but I don't believe they've changed the game that much. I believe that scopes have leveled the playing field for those with eyesight issues, due to age, genetics, etc. Talented shooters who had started on the Distinguished path but were unable to finish reentered the game, driving the scores up. In order to compete, the next generation learned to shoot better, the higher cut scores driving more intense competition.
Dick: In those years, High Power was probably the most popular of all the NRA disciplines. All 250 firing points on Viale and Rodriquez were filled to six relays and even seven relays were tried. Because of the tight schedule, the match was ruthlessly kept on schedule. When the call, "Is the line ready?" was issued, a raised hand drew the response, "Shoot him on the alibi relay." Prep time for following relays was done concurrently with scoring for the previous relay, meaning you did your prep with the previous shooter's spotters in the target. We were on the line and in the pits at first light and the days were long.
Serena: High Power Rifle is not the most popular discipline nowadays with action sports like 3-Gun that are more spectator-friendly. Colleges don't have High Power teams, so many young kids and adults pursue Smallbore and Air Rifle for scholarship opportunities. There has been an increase in women in the sport, especially among juniors. Much of this may be due to the minimal recoil of the M16. High Power is still largely dominated by older males. This needs to change so that the sport can live on. We need more young people to enter the sport. The community is incredibly welcoming and supportive—all it takes to get started is some time and reaching out to someone who is already involved.
---
See more:
Life In The Pits