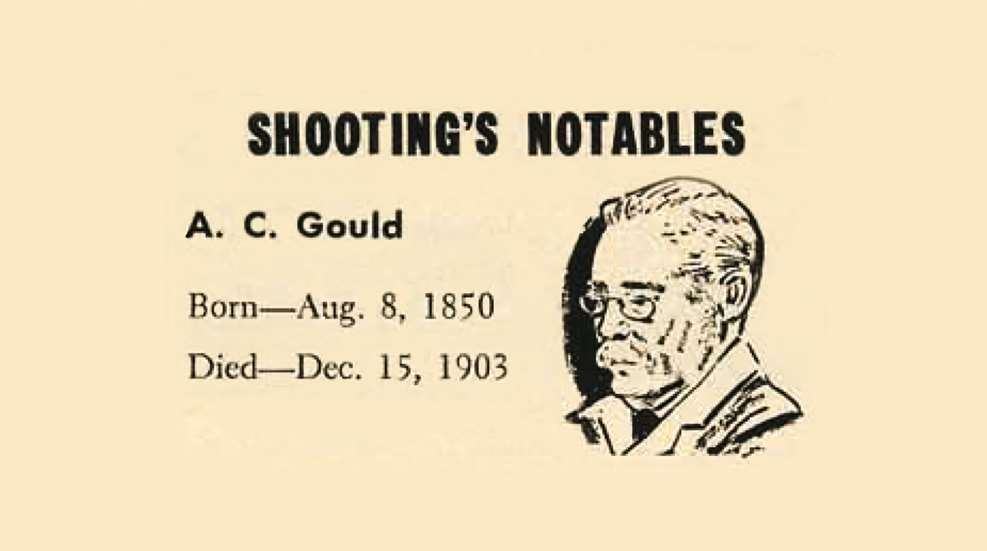 From the August 1955 issue of
American Rifleman
, the legacy of notable shooter and writer A.C. Gould by John A. Harper, Jr.
Arthur Corbin Gould was an enthusiastic member of the Massachusetts Rifle Association in the 1880s. A skillful shooter and a student of firearms mechanics and ballistics, he founded the publication which is the
American Rifleman
today. First issued in May 1885 under the name of
The Rifle
, it reported on rifle shooting and rifle clubs until July 2, 1888 when the name was changed to
Shooting and Fishing
and its scope was broadened to include outdoor recreation with rod and gun.
Mr. Gould initiated through the pages of the magazine several movements which led to the advancement of organized shooting in this country. In the early 1880s many
targets of different dimensions and shapes
were in use by shooting groups, and records exited for scores made on each target. Through the pages of
The Rifle
a discussion of targets was initiated, and a poll of organized shooting groups conducted, which led to the adoption as the Standard American target that was designed by Charles W. Hinman.
Mr. Gould gave impetus to organized pistol and revolver target shooting with a department devoted to "Revolver and Pistol" which appeared first in the December 1886 issue. It is recorded that the first public competitions with handguns were held at
Tir de Versailles
, near Paris, in 1879. The first pistol competitions in this country were fired in the 15th Annual NRA Matches at Creedmoor in 1887. The attention given this activity in
The Rifle
and
Shooting and Fishing
was of considerable importance in furthering handgun competition.
For several years prior to 1900 the National Rifle Association existed essentially in name only, its annual competition being conducted under the auspices of the New Jersey Rifle Association at Sea Girt, NJ. Mr. Gould and the then-secretary of the New Jersey Rifle Association, Albert S. Jones, initiated through the columns of
Shooting and Fishing
a movement to organize a League of American Rifleman for the revival of the
International Palma Trophy Match
, last fired between Ireland and the United States in 1880. This led directly to the reorganization pro team on September 5, 1900, of the National Rifle Association of America, which reorganization became official at a meeting of the NRA Board of Directors on December 17, 1900.
Mr. Gould's interest in firearms produced two books,
The Modern American Pistol and Revolver
in 1888, and
Modern American Rifles
in 1891.