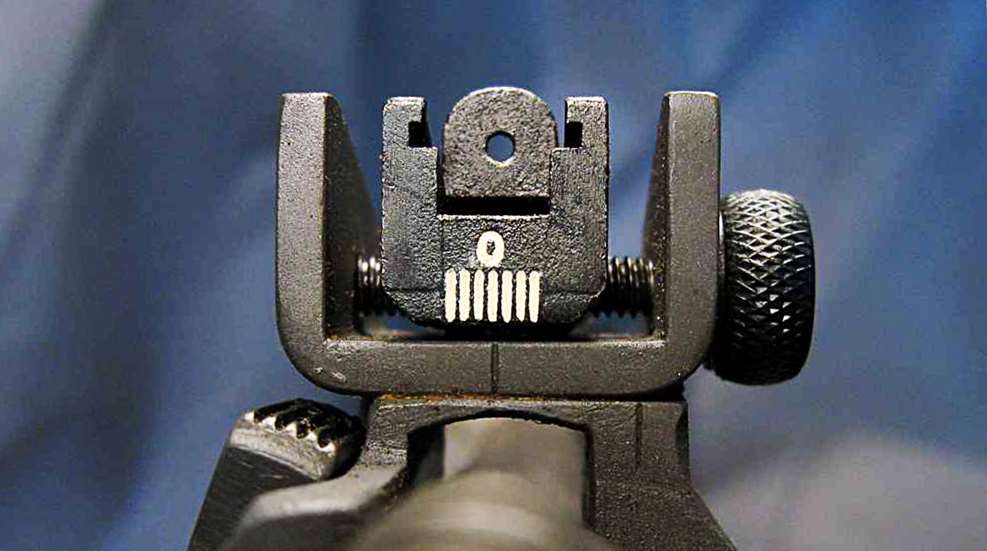 In many NRA competitions we can modify our firearm to various degrees to make it suit our pet ideas about what makes a "better" match gun. In Civilian Marksmanship Program (CMP) Vintage Military Rifle competition the shooter must instead adapt to the rifle because rules strictly limit adapting the rifle to the shooter. However, compromises to the "as-issued" spirit of competition allow minor modifications to triggers, sling mounting and sights.

Rear sights
Though there are no unimportant parts on a rifle, it's natural when discussing a target rifle to immediately consider the sights. The rear sights on the Enfields, Mosin-Nagants, Mausers and others in the Foreign Military Rifle classification have a level playing field with all being non-windage adjustable, but take a closer look at your rifle's lowest elevation setting. We shoot VMR competition at 200 yards or even only 100 yards at smaller club ranges, but the lowest elevation setting on many of the foreigners is 200 or 300 meters.

The classic sight picture with open or post-and-aperture sights is, of course, the 6 o'clock hold; but with this hold at 100 yards rear sights bottomed out at 200 and 300 meters will place bullet impacts above the black 9-10-X scoring rings and take you out of the competition. (Note also that 200 meters equals about 220 yards and 300 meters is nearly 330 yards, causing an inherent further slight elevation of impacts.) The immediate solution is to hold below 6 o'clock, a sight picture that leaves a gap between target black and front sight top. But can you consistently keep shots in the black with that picture? Not everyone can.

If you haven't yet purchased your VMR competition rifle, then consider choosing one with a rear sight that has a 100 meter elevation setting. Many Mosin-Nagant rifles, particularly the Model 91/30, have rear sights with lowest sight settings of 100 meters, and so do a good many German 98k Mausers.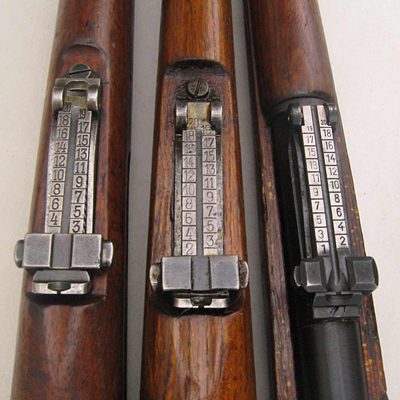 If your rifle has a 200 or 300 meter rear sight lowest elevation setting, the solution to lowering bullet impacts while using a 6 o'clock hold lies in the front sight—which is also where you find your windage adjustment.

Front sight windage
Most VMR front sights consist of a blade that is drift adjustable within a dovetail machined into a block. If you look closely you may see a combination witness mark/stake struck through the sight dovetail and into the sight block. Once the location of the bullet impacts satisfied the armorer during zeroing, he struck the front sight dovetail so that 1) The sight wouldn't readily move under recoil and handling, and 2) If it did move, it would misalign the witness marks to indicate the problem.

It is possible that your front sight appears to be mounted way off-center; if so and if the witness marks are still aligned, don't try to drift the front sight back to center. Shoot the rifle first to determine whether the windage is actually correct; you will likely find that it is, if you are shooting milsurp ammo intended for your specific rifle, or ammo loaded specifically to duplicate it. Shooting bullets of different weight and/or velocity will change point of impact, so it may be necessary to change the front sight windage and/or height when changing ammo or after working up a good handload.

Elevate the front
At this point we move from "adapting" to minor modification "compromising" in accordance with CMP rules that recognize the need to put bullets in the black to keep it fun.

My first VMR competition rifle was a Swedish M1896 Mauser; the rear sight bottomed out at 300 meters and my local club's range had only 100 yards available for competition. Installing a taller front sight brought bullet impacts down into the black scoring rings. That particular taller front sight came from a milsurp armorer's pack of sights of varying height made specifically for that purpose. Similar modern reproduction sights are available from Sarco (www.sarcoinc.com); it is possible these taller front sights, with a little hand fitting, can be made to fit other Mausers with front sights installed in dovetails. You'd have to try it and see for your specific rifle.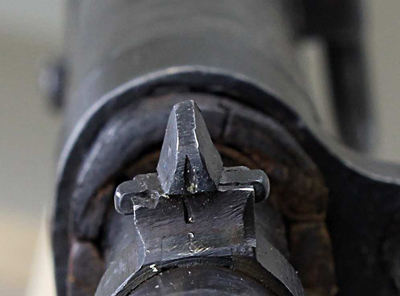 You (or a gunsmith) could instead add some weld to the top of your existing front sight to raise its height, and then through shooting a trial-and-error process file off the top of the sight until it groups center in the target black.

Both of these solutions are legal for competition, though for the latter you must shape the finished front sight so that it has the same contour (appearance) as the original so that the rifle remains "as-issued."

Modified is as-issued?
That said, CMP is the offspring of the now defunct U.S. Army Director of Civilian Marksmanship, and with genetic government illogic CMP allows several modifications to rifles while unabashedly still calling them "as-issued."

The first oxymoronic as-issued modification is, unsurprisingly, to the front sights. Many rifles sport the "inverted V" or "barleycorn" front sight; CMP rules allow modifying the barleycorn front sight to a straight-edged post sight no more than 0.1" wide. Though arguably not as precise as aiming with a barleycorn, the post presents a sight picture more familiar to American shooters and, for many, is easier to see.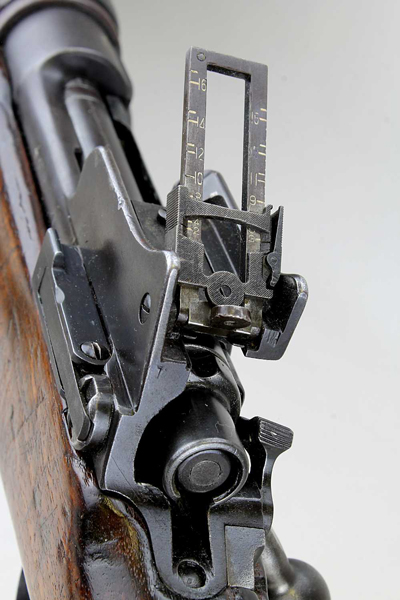 Secondly, CMP permits aperture rear sights, such as those on British No. 4 and P14 Enfields and U.S. M1917 rifles, to have modified internal diameters—meaning smaller diameters for more precise aiming, because some of those old apertures present what we would call a "ghost ring" sight today. The rule, however, prohibits adjustable apertures, interchangeable inserts and lenses.

Reducing aperture diameter of these rear sights entails either a complete replacement with a hand made, machined aperture, or filling an existing aperture with weld or permanently mounted insert and precisely drilling a new, smaller diameter aperture.

Modifying rifle sights—especially rear sight apertures—requires precision work to ensure precision results. Rough cuts, off-center drilling or other errors of only a few thousands of an inch can create wonky sight pictures and more frustration than shooting with original issue sights.

Download a free PDF copy of the 2016 CMP Games rule book at http://thecmp.org/wp-content/uploads/CMPGamesRules.pdf.