Double Alpha Academy products have long dominated the competition market with innovative products all over the world. That is the company goal and passion, to develop and innovate new advanced shooting accessories for the competitive shooter.
The Race Master Holster ($199) has been one of the top choices for Limited and Open shooters in USPSA since its introduction. After years of trend-setting benchmarks in the competitive holster industry, DAA kicked it up a notch with the launch of the Alpha-X Holster ($224.90). With new upgrades and refinements that create a fresh new look, there are several performance upgrades. The new Alpha-X has body rail height adjustment, a new ball joint and lock-up mechanism, detachable belt hanger, and interchangeable color logo inlays. The Alpha-X takes the same insert block as the Race Master, so you can easily upgrade to the Alpha-X by ordering the holster without the block, making it more affordable.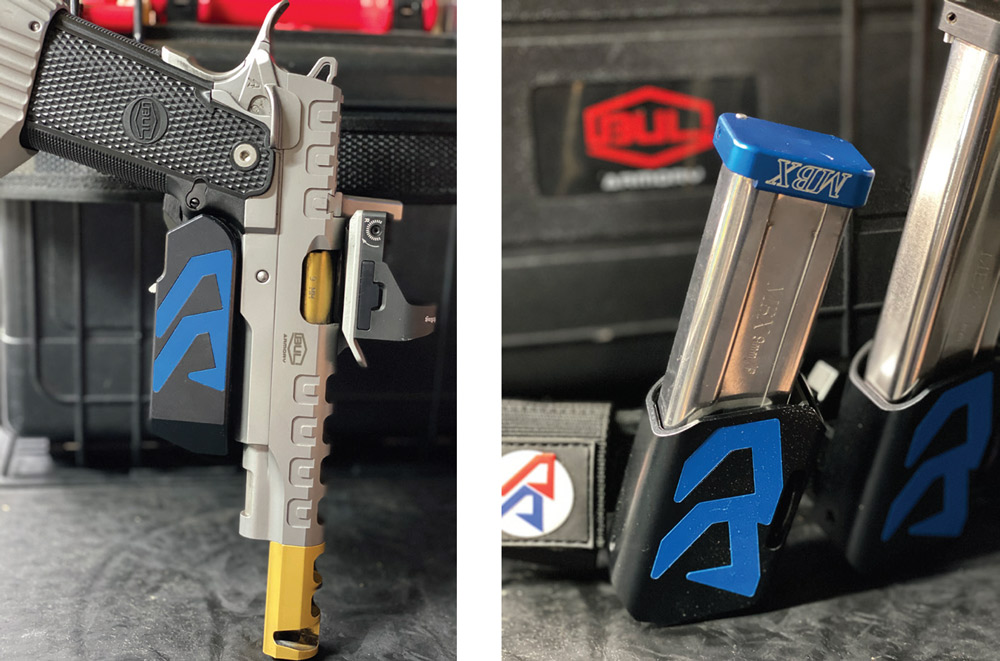 Out of the box, the holster was very easy to mount to the DAA Premium belt ($54.95), which again has been a top choice of competitors worldwide. The Premium belt mixes the extreme rigidity of the Competition belt model but offers the higher quality and look of Pro models. It is the best of both worlds. Once we got the holster mounted, we added Alpha-X magazine pouches. These are also an evolution of the Race Master pouches ($227.81/four-pack). Never one to sit back and relax, DAA is already working on a new version of these pouches—the Alpha-XI should be available very soon.
With everything in place, we worked through some dry-fire practice with the new Alpha-X holster and BUL Open gun to get used to how quickly you can present the firearm on the draw. Both Aron Bright and I are used to traditional-style Kydex holsters for our Limited division guns, so it took a few draws to get comfortable with the race holster. Once we worked through some drills and started getting used to the Alpha-X holster, we felt a lot more comfortable with it. Add to it that, the DAA belt stiffness kept the holster in place with no movement when grabbing the gun from the holster, wnich made it that much better for the draw.
Check out the Double Alpha Academy and Alpha Dynamics USA website to see all of the selection of competition gear and accessories.
Article from the July/August 2020 issue of USPSA's FrontSight magazine.
---
See more:
Eric Hollis Slings: Stabilizing Rifle Positions And Strengthening Family Bonds