Since 1991, Evolution Gun Works (EGW) has been designing and manufacturing world class parts and accessories for not just 1911s, but for rifles and many other pistol models. Founded by George Smith, who worked in the machining and firearms industry for many years prior to starting EGW, he is involved in all aspects of the business, from new product design, writing the programs and working with customers. Since the age of six when Smith first went shooting with his father, he has been hooked on guns. His father was an avid collector of firearms and grandparents were NRA instructors, so his love of firearms runs in his family. After his curiosity was piqued, Smith took a two-year correspondence course on gunsmithing, which he completed in less than five months. He soon found himself working with a local gunsmith, where he honed his craft for the next five years before he started EGW.
Evolution Kits
EGW started out with only four manual machines in a shop of about 1,600 square feet in Doylestown, Pa. It was here that Smith and EGW quickly gained a reputation for building excellent parts and firearms for well-known competitive shooters like Doug Koenig and Travis Tomasie. The company outgrew the space it was in even after doubling in size, but soon found a new home in Quakertown. Their first move was into a 5,500-square-foot building, and then to another location with over 23,000 square feet of space. Evolution Gun Works is now one of the largest suppliers of scope mounts, 1911 pistol, AR and rifle parts and accessories in the United States.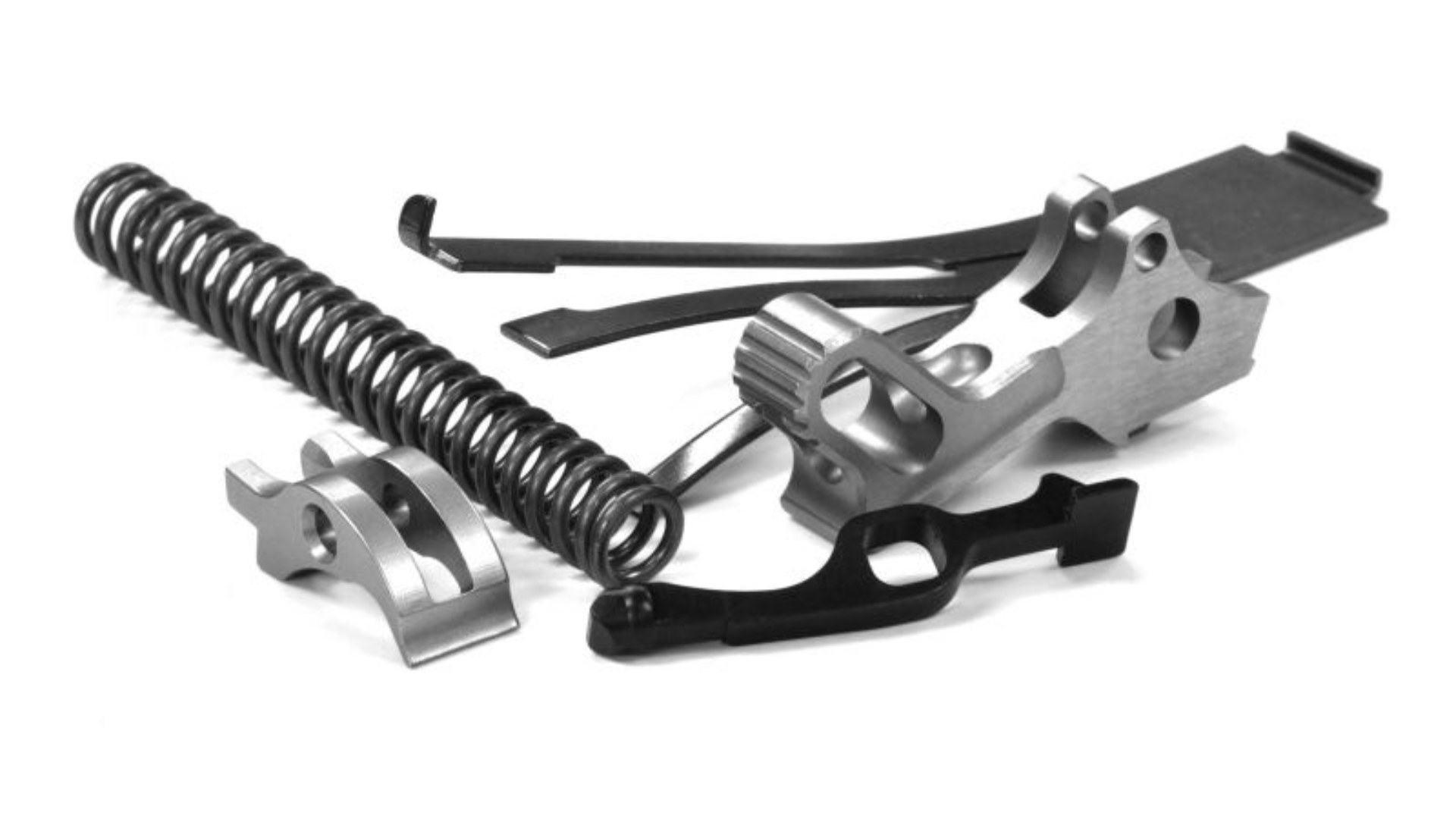 I have a Springfield Armory Professional Model 1911 in .45 ACP. These guns are made in the Springfield Custom Shop and were developed for the FBI's Hostage Rescue Team (HRT). Designed as the ideal platform for rugged duty use with high end custom shop features, the gun comes from Springfield with a match hammer and sear fitted with a three-hole speed trigger tuned to be a 4.5-pound trigger pull. The stock custom shop trigger is good, with a crisp break and short positive reset—ideal for defense and duty use. For competition, even with its crisp break, it was a little heavy compared to the other 1911s I have. All of my other 1911 handguns are fitted with the Koenig Hammer and EGW parts that have been installed by George Huening, who is local to me here in the Indianapolis area. He has a long history in the gun-building industry with his work, and parts that were used by some top shooters such as Jerry Barnhart, Brian Enos, Rob Leatham, Doug Koenig and Vera Koo. When it comes to 1911s, it is nice to have one of the best gunsmiths across town from me to make sure my guns work.
I let Huening know that I was bringing over a gun for him to do the trigger work on again. He gladly accepted the job, after his usual reminder of "You don't need this right away, do you?" I explained that I had ordered a new ignition kit from EGW and that I was sure he could handle it in short order. All of my 1911 and 2011s that Huening has the trigger work on have EGW parts—that is all he will use. The kit included EGW's HD Hard Sear, which is machined from proprietary American-made tool steel and vacuum-treated, yielding 52-53 on the RC scale. The sear has neutral geometry, and the primary face is set to perpendicular to the axis from the pin. Designed for the best possible combination of strength, wear resistance and durability, over the years EGW has made minimal geometric improvements to the original sear spec, grinding the hammer contact surface to ensure strength.
The kit also comes with the HD Stainless Steel Lightened Hammer. This hammer sports a slot through the top that adds a distinctive look and makes the hammer lighter. Like the EGW hard sear, disconnector, slide stops and thumb safeties, the hammers are machined from stainless steel. Staff use one hold to machine and ream the holes, mill the profile, cut the reliefs and slice the hammer, which allows all these operations to be held within 0.0005-inch tolerance for a true and square hammer.
Next is the HD Ball Head Disconnector, made of 4140 chrome-moly steel and has the top machined taller, so that it doesn't drag on the sear pin. The ball head is added to get rid of the click found on 1911s caused by the head moving back and forth in the frame hole. This eliminates the need to stake the frame hole trying to minimize the play that creates that click. EGW has also added a safety feature by altering the geometry of the disconnector when a magazine is inserted it won't be tripped, which could cause an accidental discharge when reloading with a live round in the chamber. In addition, the bottom spade of the disconnector will not dig into the trigger bow. These parts are machined using a USA Fadal Machining center, sent to Vacu-Braze (also in Pennsylvania) to be vacuum heat-treated and then sent to Universal Black Oxide to be coated.
EGW is known for improving on original designs, and the Evolved Sear Spring is one of these parts. Sometimes 1911 frames can be out of spec; in this case the sear spring slot is cut lower than it should be, which can cause the sear spring to not fully engage the sear. EGW went back to the drawing board, making it 0.030-inch longer on the left finger to accommodate frames that encounter this problem. Also included in the kit are ISMI mainsprings. These are not drop-in kits, and it is recommended to have a gunsmith install them, or at least check them before hitting the range.
When I picked up the Springfield with the new EGW parts installed by Huening, and I racked the slide, gently pressing the trigger, a grin began to form as the hammer made its distinct sound striking the firing pin. With another rack of the slide, and the trigger still depressed, I checked the reset. My grin quickly became a smile.
Mounting Plates
EGW makes several parts for 1911s, rifles, handguns and scopes. The company has also started making mounting plates for red-dot sights, which have become wildly popular on handguns. When you hit the EGW website and click on Pistol and Red-Dot Mounts, there are over 170 plates available. Also search by firearm brand, which after a quick count showed about 35 manufacturers listed; or by red-dot brand, with about 20 different models listed.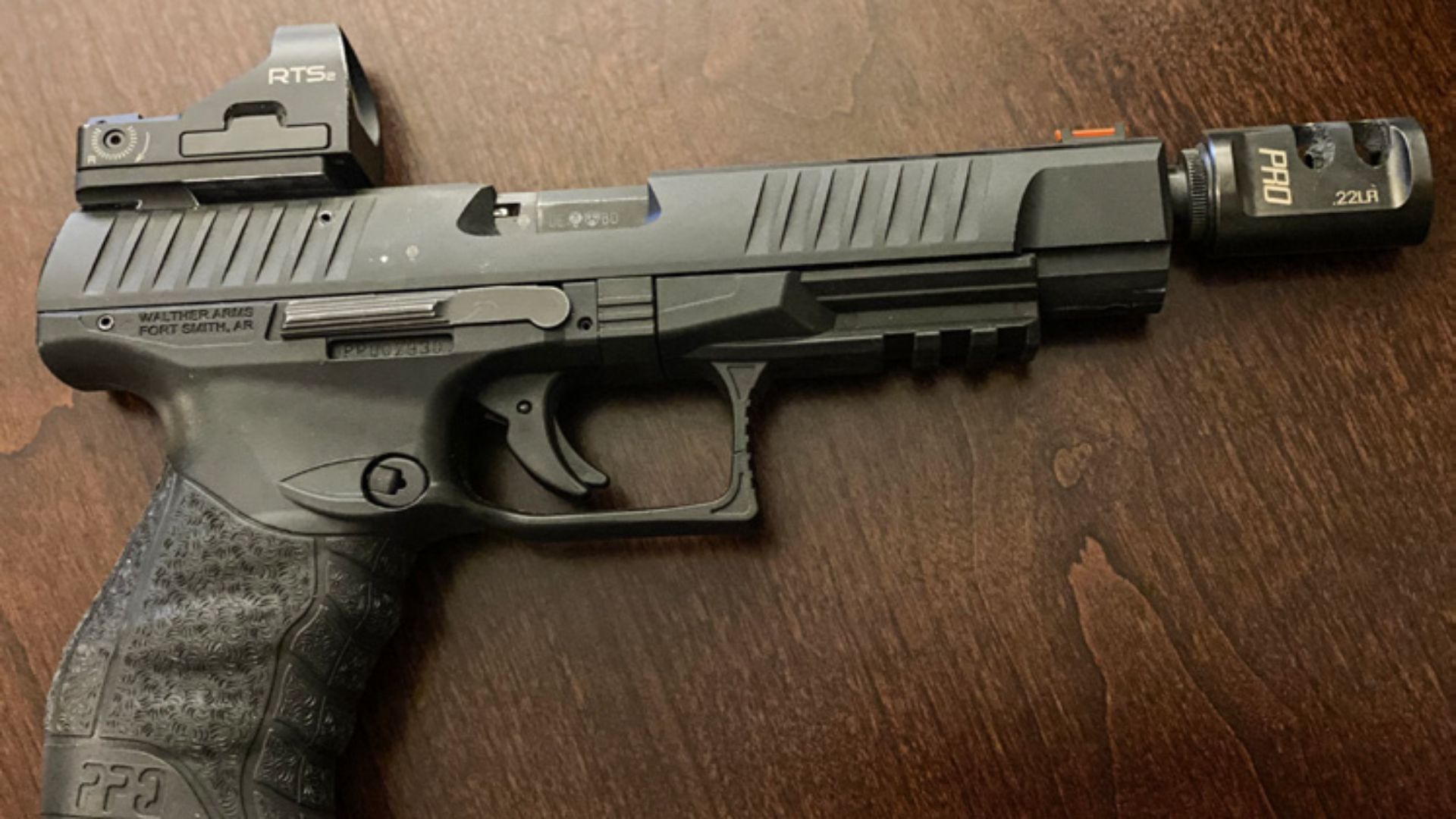 The plates are designed to fit the rear sight dovetail on the slide for the specific model of handgun you select. This type of mount allows the installation of a red dot on an existing slide—minus the expense of having to get the slide milled to accept the red dot. This is an inexpensive way to add a red-dot optic, and not a permanent change to your slide if you have it cut for a dot. The red dot will sit a little higher on the slide over one that is fit into a milled-out section on the slide. However, it will not be much taller than many of the optics-ready guns that replace the rear sight section with a mounting plate.
All of my Carry Optics division guns are optics-ready, but I wanted to try a new plate out, so I ordered one for the Walther PPQ 22 that I have been running in Rimfire Pistol Irons at Steel Challenge matches to try with a C-More RTS2. Once the plate arrived, I followed the installation instructions, which for me was to head over to George Huening's shop and let the pro handle it. Plus, hanging out and sharing stories with him is always a great afternoon spent "working."
With the C-More RTS2 installed on the mount and the mount inserted into the rear sight dovetail, I headed to the Indiana State Steel Challenge Match to give it a go in Rimfire Pistol Open. I was able to set four personal bests in the RFPO division for the first time out with the new Walther set-up.
If you have a firearm that you have been considering trying out with a red dot, but don't want to permanently alter it, this is an affordable alternative to having it milled.
EGW has been in the game for a long time making the parts and accessories to enhance firearms performance. Visit egwguns.com.
Article from the January/February 2021 issue of USPSA's FrontSight magazine.
---
Read more:
5 Common Mistakes Shooters Make At Competitions