Above: Popular red dot optics for carry optics action shooting include (l. to r.) the C-More RTS2, Leupold DeltaPoint Pro and Vortex Viper.
A
red dot sight on a handgun
is not a new concept; the first time I shot one was an Aimpoint tube mounted to a Smith & Wesson Model 41 when I was about 10 years old. (I actually shot that same gun in one of my first
Steel Challenge
matches about eight years ago.) The first generation Aimpoint was a red dot originally meant for rifles in the 1970s, but in 1990 Jerry Barnhart mounted one to his single stack and won the USPSA Nationals.
Doug Koenig
would get one mounted to win the World Shoot later that same year.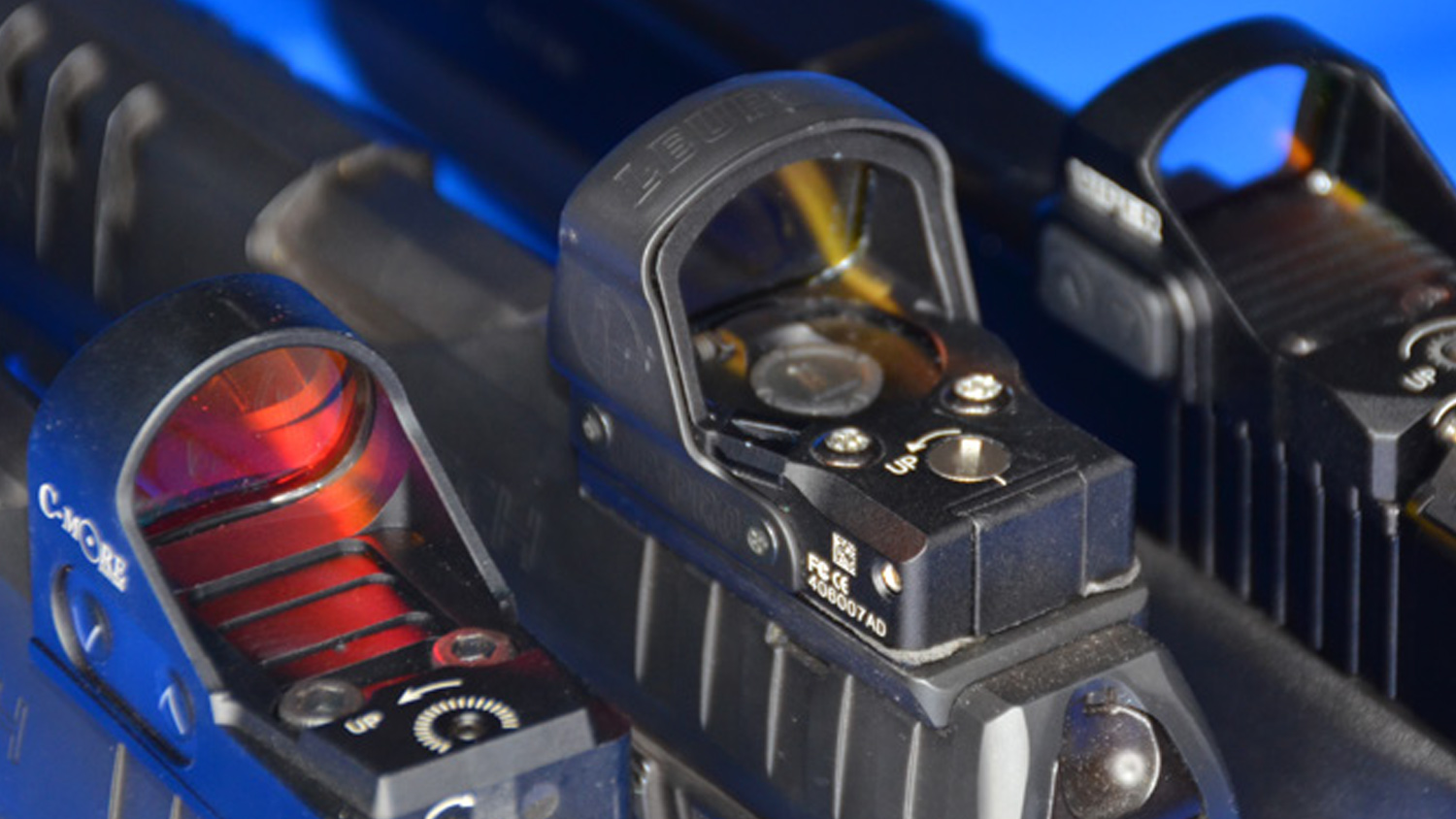 These were big, bulky tubes weighing more than a pound, with a very narrow field of view. After that Nationals and World Shoot, Open Division was on, especially when the hi-cap frame came into play. Competitors tried everything, looking for
reliable red dots
that would hold up to the abuse of a match. It wasn't just the red dot itself, it was the mount as well. Things were changing fast and competitors were looking for lighter weight mounts to offset the heavy red dots. Trying to find the right bullet and powder, red dot and mount, gunsmiths were very busy chasing the next "winning combination."
Some History
The red dot, or actually the reflex sight, is over a hundred years old and relied on an optical system that superimposed a reflected reticle image onto a curved lens. These were better gunsights for aircraft and anti-aircraft gunners than telescopes because they didn't limit the field of view. This resulted in sights that only require one focal point rather than a front and sight that need to be aligned. Aimpoint introduced the battery-powered sight that contained a LED (light-emitting diode), and its glowing "red dot" soon became its nickname.
The military and law enforcement quickly adapted to reflex sights on service rifles. Research showed that it made the average officer and soldier more accurate with less training.
We can thank the early pioneers in USPSA/IPSC,
Bianchi Cup
and
NRA Bullseye (Precision Pistol)
, law enforcement and the military for continuing to push the manufacturers to produce lighter and more reliable red dots. The advancement in batteries and the design of the red dots allowed firearm manufacturers to look at producing optics-ready pistols.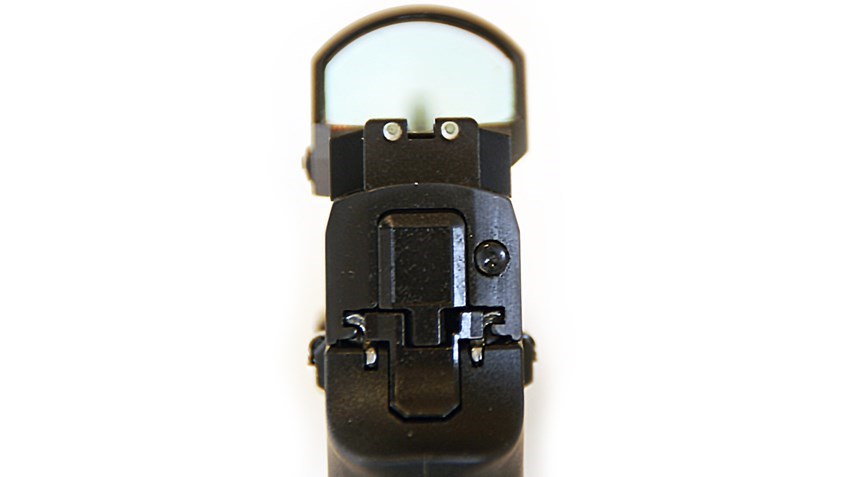 Smith and Wesson introduced the C.O.R.E (Competition Optics Ready Equipment) in 2013
, FN America had the FNX-45 Tactical out shortly afterwards, and Glock introduced their MOS (Modular Optic System) in 2015. SIG Sauer had the P320 out, but then brought out the P320 RX when it introduced their own line of sights, the Romeo1 and Romeo3. The RX model came equipped with the Romeo sight mounted to a machined cutout in the slide, zeroed at the factory. Walther revamped their entire lineup of firearms and brought out the PPQ Q5 Match model. Springfield Armory followed SIG with the XDm OSP model that comes with an optional Vortex sight pre-installed.
As these guns were being released, aftermarket players like Springer Precision, EGW and Dueck Defense were manufacturing mounting plates that would allow the user to drift out their rear sight and place the mount in the dovetail. This would allow you to run a red dot without having to mill your pistol's slide.
The USPSA President at the time was Phil Strader, who was employed in the firearms industry. Strader noticed this trend and proposed to the USPSA Board of Directors a new division, Carry Optics.
Introduced in mid-2015, Carry Optics
followed the trend of polymer-framed handguns being released as optic-ready models. The Provisional rule set restricted the magazine capacity to 10 rounds and allowed
Production division approved handguns
to weigh no more than 35 ounces with an unloaded magazine. The sight had to be mounted between the ejection port and the rear of the slide. Modifications were limited to the same rule set as Production division, along with holster and mag pouch position.
The division initially showed a lackluster amount of participation. For example, the revolver division had twice as much activity in the same time period. Carry Optics was set for review at the 2016 USPSA Board Meeting, where newly-elected President Mike Foley, with the assistance of participants from within the firearms industry, presented a modified rule set to the Board.
A few minor changes were made in 2016, the biggest being a maximum weight of 45 ounces, and later that year there was the first USPSA Carry Optics Nationals. The one-day match was held after Production Nationals, with 77 competitors and Team SIG
'
s Max Michel edged out Shane Coley by 22 points. Michel would repeat his win at the 2017 Optics Nationals, 13 points ahead of Hwansik Kim, shooting for Walther.
Setting the Stage for Carry Optics Growth
Two months before the 2017 Nationals, the USPSA Board once again reviewed the still-provisional Carry Optics division and made just one more change that would set it on a rapid growth path for the rest of the year. Until then, magazine capacity had been restricted to no more than 10 rounds; however, the previous year base pads on mags were allowed, as long as they were less than 141mm in length. By removing the capacity restriction, competitors could now load up their mags, with many fitting in 21 or more rounds. Game changer? Yeah, a bit. It quickly started to grow and, as some like to refer to it, "Open Light" was no longer a division where people with bad eyesight went to compete. This year saw the Carry Optics division allow grip modifications, slide lightening and exchange of small external parts, as long as the gun continued to weigh less than 45 ounces.
Did it make a difference? You tell me. Last year, from January to October there were 9,257 activities submitted for Carry Optics. This year, in the same time frame 15,326 activities have been submitted. Carry Optics has seen the largest growth in activities this year, yes even more than much-heralded
PCC
(Pistol Caliber Carbine) division.
Manufacturers have stripped the red dots down to their basic components, and they are now referred to as Mini-Reflex sights. There are several manufacturers that are producing these handgun reflex sights: Trijicon RMR, Leupold DeltaPoint, Burris FastFire 3, Doctor Sight, SIG Romeos, C-More RTS2, and Vortex with several models.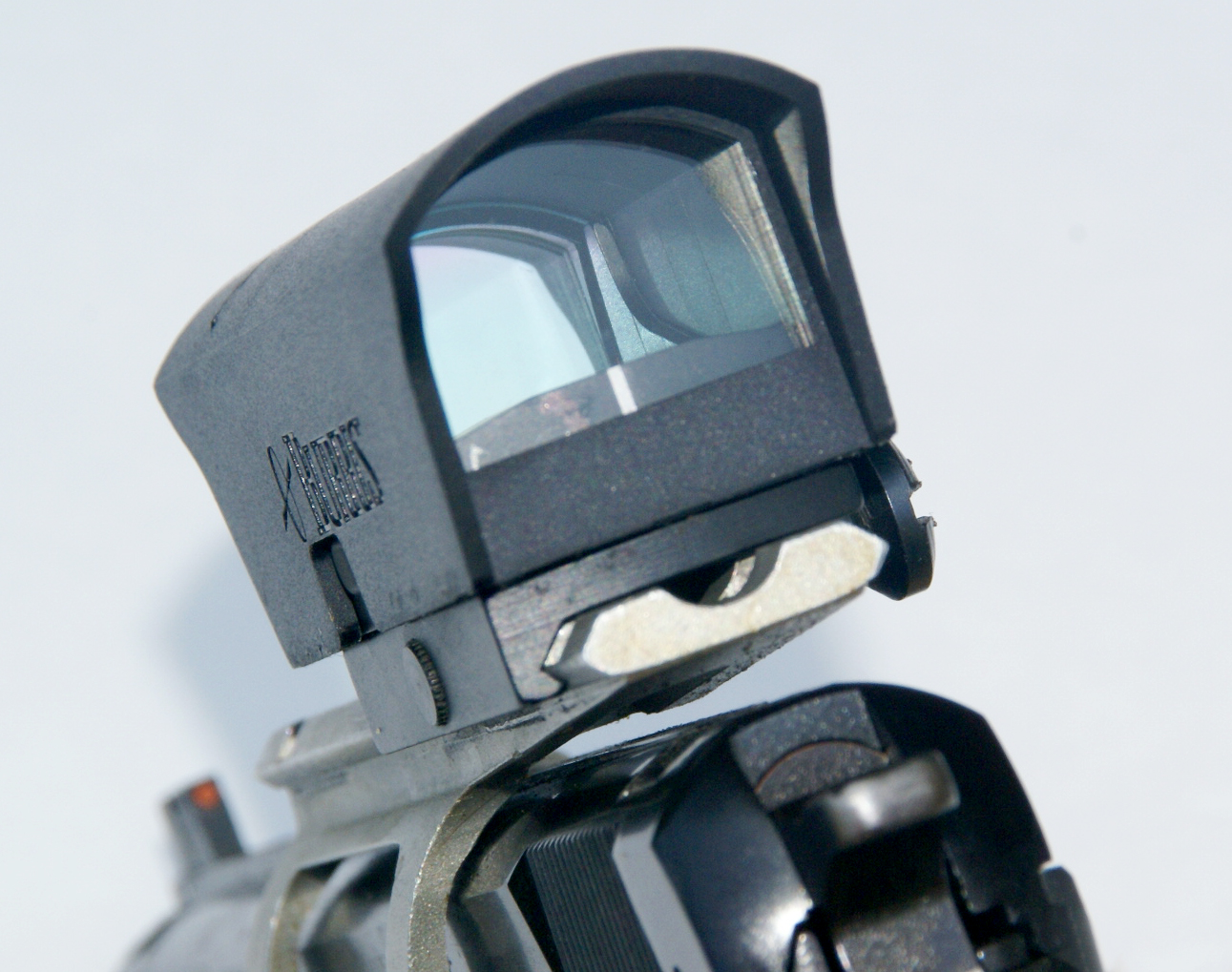 At the 2016 Carry Optics Nationals I bought a CZ 85 model, used a Springer Precision dovetail mount and ran a
Burris FastFire 3
. This was a new experience for me; up to that point I had never competed in Open division, only having shot some at the range. I struggled badly during this match
—
but my preparation for it was putting the red dot on the gun and sighting it in at the range the day before the match. My stage times were horrible because I spent at least 63.7892 percent or so of my time trying to find the dot. This was with 10-round mags, so I had to try to find it on the draw, the transitions and after the reload. When I got home I put the gun, sight and whole rig up for sale and said to hell with it
—
I would rather shoot Revolver Division than mess with that again.
Picking a Red Dot
In 2017, I messed around shooting PCC, Single Stack, Limited and more Steel Challenge matches. After the Iron Sights Nationals I wanted to do something different, so I decided to give Carry Optics another try. I bought a Walther PPQ and set out to find a red dot sight that worked for me.

First up was the
Trijicon RMR Type 2
with 3.25 MOA dot. The RMR is a sleek design that mounts low to the slide with its battery located on the bottom of the sight. The design incorporates a patented housing shape that absorbs impacts and diverts stresses away from the lens to increase durability. The Type 2 boasts redesigned and upgraded electronics designed to be mounted on slide-ride pistols for military, law enforcement, target and concealed carry. The unit has a manual and an automatic mode, and allows the user to lock out the buttons so that it functions in automatic mode. This ensures that inadvertent button pushes do not cause a loss of aiming solutions. I mounted this model to the Walther and headed to the range for a planned all-day session.
After sighting in, I spent the rest of the morning just shooting
—
not really doing any drills, just getting familiar with the dot. After that, I worked on finding it on the draw and transitions. I struggled finding it on the draw and would lose it sometimes during wide transitions.
[Editor

'

s note: Want to learn how to use wield your red dot-equipped pistol like a true Jedi Knight? Read this article about the Modern Samurai Project red dot pistol course. I recently took the course myself and was very impressed, be sure to look for my write-up in a future issue of the digital magazine.]
I put about 500 rounds through the gun that trip, everything worked, easy to sight-in and the red dot was nice and bright on a cloudy Indiana morning. I packed up and headed to Florida for the Florida Invitational Pistol Tournament at the Volusia County Range. It was good to get out of Indiana in December and get to the warm weather in Florida … NOT. It was cold, wet and muddy at the range. There were only 17 Carry Optics competitors at the FIPT, and I ended up 9th, shooting 90 percent of the points with no misses
—
but I was very slow and found myself struggling to find the red glowy thingy that was supposed to be so much faster. It was not, and I was already picturing myself "selling my way" out this Carry Optics decision.
Once I got back home, I tried the RMR one more time at an indoor match; everything worked, and the red thingy was much brighter inside, but it still was not easy for me to find consistently. That's not any fault of the red dot itself; it is mounted low on the slide, and if I were going to carry a firearm with a red dot on, this would probably be my choice with the addition of suppressor sights. The Walther PPQ Q5 plate removes the rear sight when mounting a red dot to the supplied plates, so I also removed the front sight. This is for competition, and you don't see co-witnessed sights on open guns, now do you?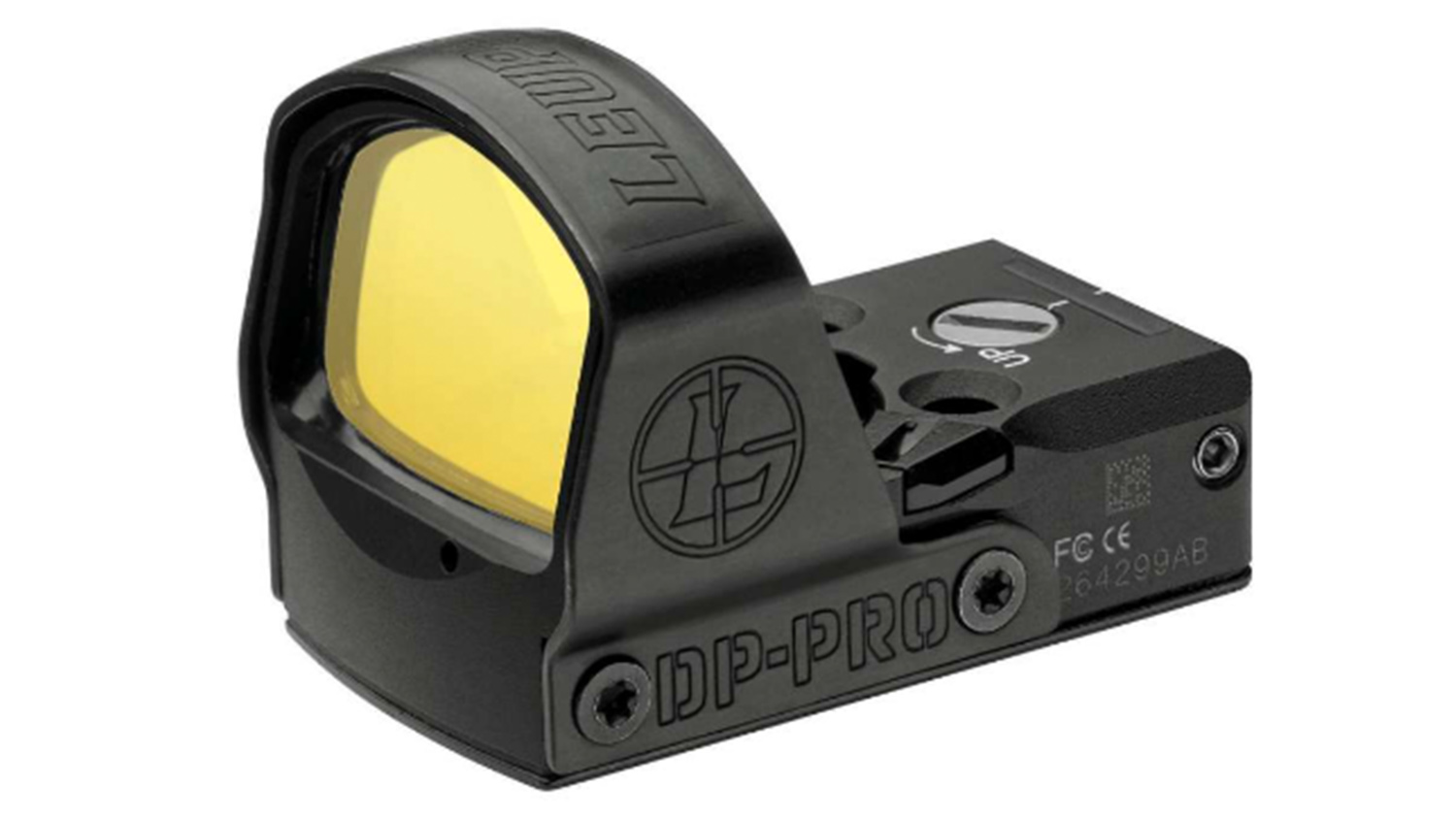 I bought the
Leupold DeltaPoint Pro
2.5 MOA model at Cabela's when they went on sale
—
actually, they price-matched Optics Planet and I managed to snag it for $369. The DeltaPoint rides on many open guns and has a large and loyal following. Leupold makes good stuff, and the Pro has an incredibly wide field of view and a very clear glass. The battery compartment is top-mounted and easy to get to. The Pro features click adjustments for a more precision sighting in. It weighs less than 2 ounces, and is 1.3 inches wide by 1.3 inches tall. The lens is protected on the exterior for abrasion resistance. Another feature is the Motion Sensor technology; it automatically deactivates illumination after five minutes of inactivity, yet reactivates instantly as soon as any movement is detected. It is waterproof and fog-proof, although I never tried it out in those conditions.
Once I unlocked the adjustment system that is designed to lock in windage and elevation so the reticle won't wander under heavy recoil or extended fire, I got the sight dialed in and proceeded to punch holes in paper at the local indoor range. I spent the next hour working on picking up the gun and finding the red dot (you cannot draw from a holster here). I found it much easier to find with the large window on the Pro, but I did find it hard to track the dot while shooting. It would "leave the window" in recoil and I would find myself waiting for it to come back.
I headed to a special classifier match; my performance was not so special. Four classifiers and four regular stages resulted in me shooting 75 percent of the points, with four misses and a no-shoot (which I think I did out of frustration). I was all over the place, dropping points like I thought it was cool. I just was not able to feel comfortable with the red dot; it was moving like an EKG readout on a rabbit, bouncing all over the place. I was slow and just did not find it easy to shoot. Was it time for the
Brain Enos Forums Classified listing
?
I hit several indoor matches locally where I was able to shoot the first flight in Open with the Carry Optics setup, then run through it again in CO, getting more experience shooting the dot. I switched to a
C-More RTS2
3 MOA that I took off my PCC rifle to try. C-More has been in the business of making sights for competition for a very long time and has been on the podium with National and World Champions more times than I can count. The battery is in a tray that is side loaded; it weighs 1.09 ounces, the overall height is 1.275 inches, and width is 1.1 inches.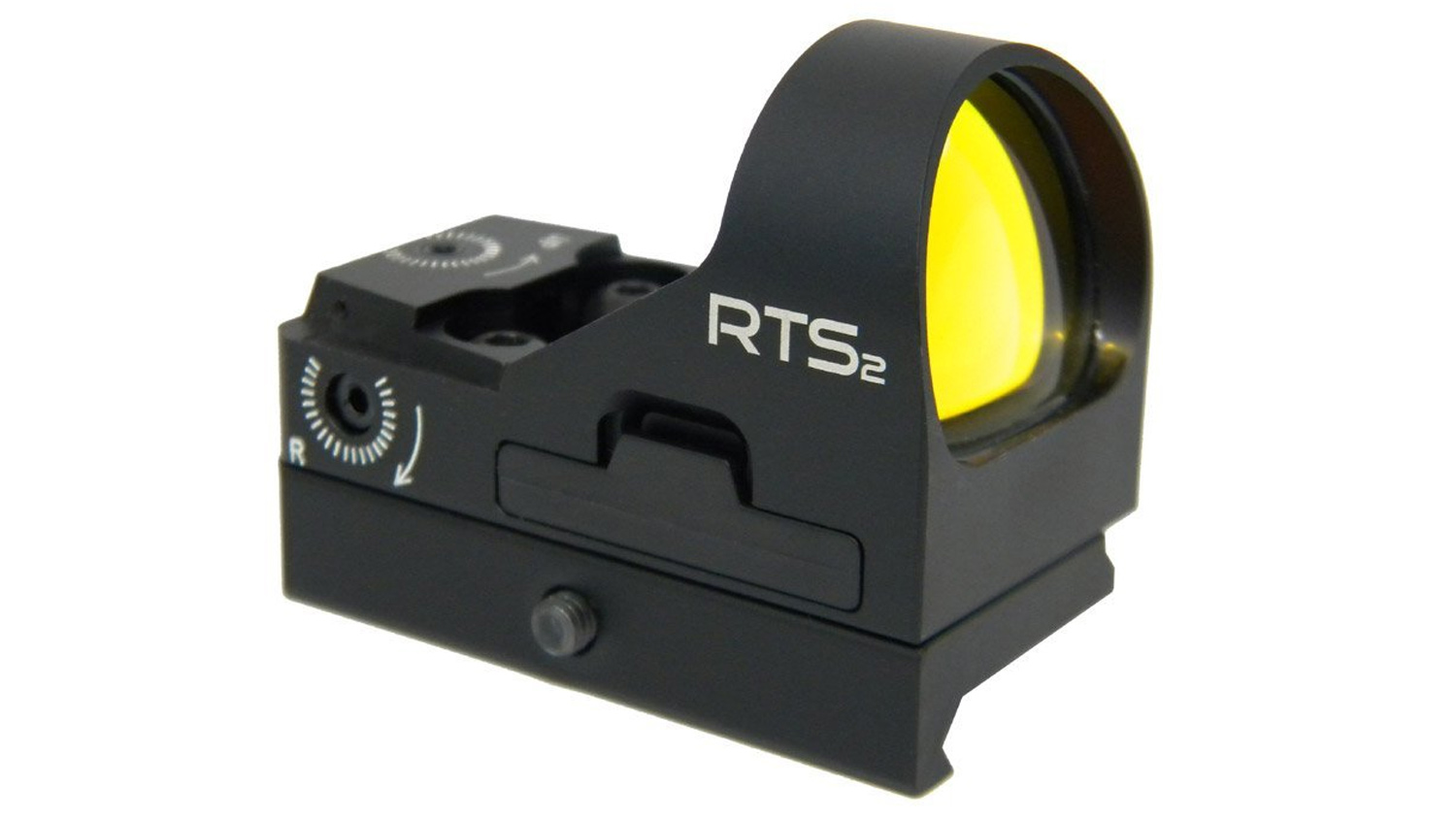 The window is a very nice round top with flat bottom glass that is hard-coated for maximum scratch resistance and light transmission. The housing is made of aircraft-grade aluminum alloy and the electronics are designed to handle the recoil of hot loads and continuous firing. The illumination is controlled by a 10-position, manually-operated push-button switch, and will auto-off after eight hours of inactivity. The RTS2 has a positive locking system with MOA adjustment clicks for windage and elevation.
Switching to the C-More allowed me to "see more," the red dot was there for me and I was doing much better with it at the local indoor range. I headed back down to Florida for the state match and saw improvement with 86 percent of the points. I still had four misses and a no-shoot, but let's face it, this was a Smitty and Jenks match, so that is pretty good to walk away with only four misses. Everything started to 'click' with the C-More, it was there in the window during recoil and I could find it on the draw with no issues. But one thing I really noticed was that the 3 mMOA on the C-More was hard to see in bright sunlight, and man, it was small. At the indoor matches this was not a problem, but outside in the sun it was faint and tiny.
I bought another
Walther PPQ Q5
, put the DeltaPoint Pro on it and headed to the range to compare them. Something obvious was going on; in recoil, the red dot would leave the window on the Pro, which it didn't on the C-More. I could also see the dot the whole time with the RTS2 mounted to the Walther. The Walther does not come with a mounting plate for the C-More, but you can get the .6 ounce aluminum plate from C-More. In contrast, the plate that ships with the Q5 for the DeltaPoint is steel and weighs 2.5 ounces. I believe this additional weight causes more dot bounce when you fire the gun. The 3 MOA dot was too small, so I ordered an 8 MOA and 6 MOA to compare them on the RTS2. I have had the 6 MOA as my main setup since May and really like it a lot. The 8 MOA is on my backup gun.
As part of our test on the Glock G34 Gen5
, I ran a
Vortex Viper
that was sent for review. The Viper is smaller, similar in size to the RMR from Trijicon. It mounts super-low on the gun and is a great setup for co-witness sights. I found it a little weird, to be honest, but don't get me wrong
—
for the money this is a good little red dot. It is advertised as being a great setup for co-witnessed sights; however, when we mounted it to the plate on the Glock, the rear sight covers the locking screws that you have to unlock and lock back in to adjust the red dot. I could not see how you could mount this and adjust the sight without removing the rear sight. We stuck it on there, however, and got lucky that it shot to point of aim.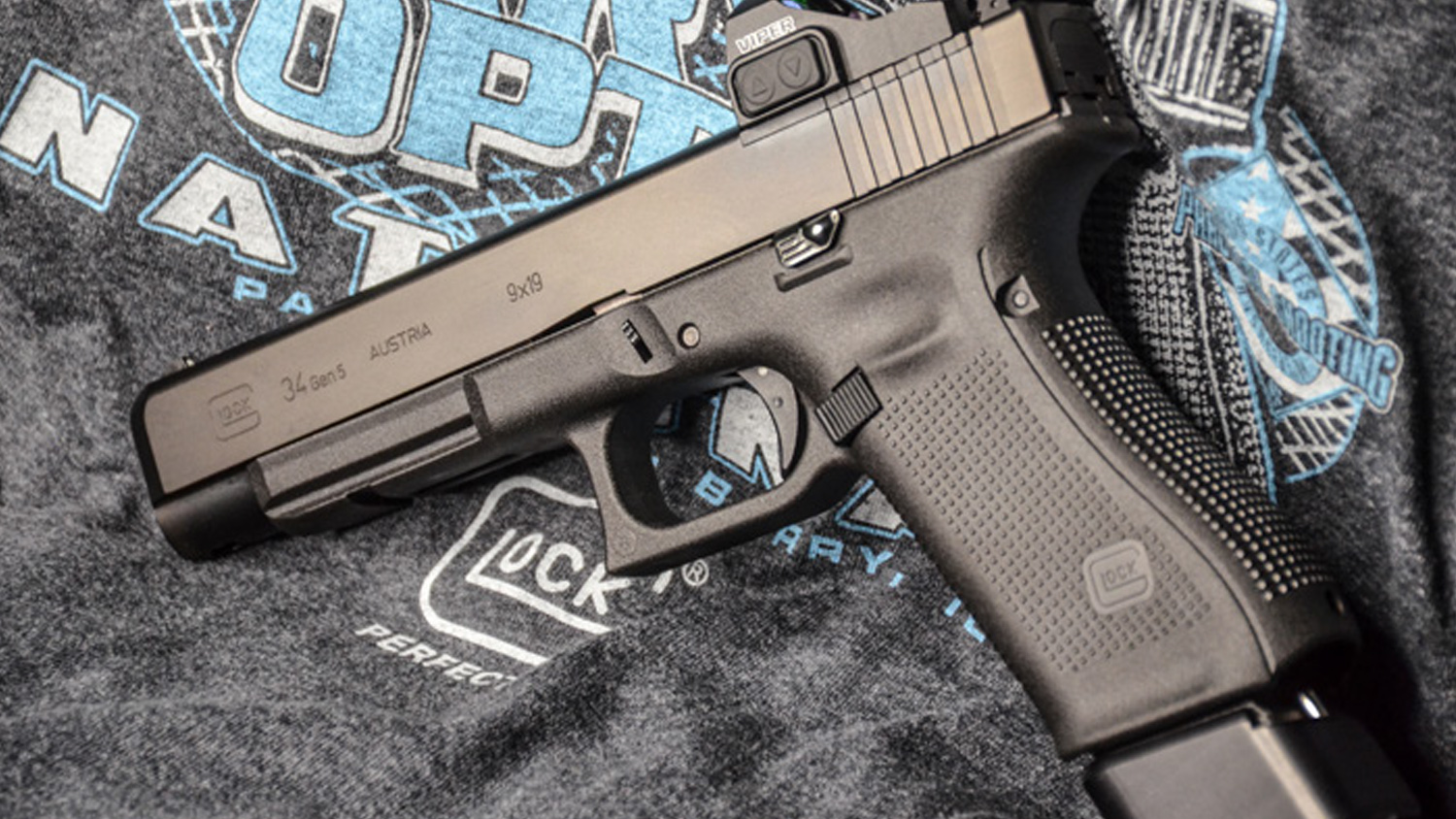 The window has multiple anti-reflective coatings on all air-to-glass surfaces that increase light transmission. Vortex has their Armortek coating, an ultra-hard, scratch-resistant coating that protects the exterior of the lens. The battery mounts under, and the unit is 1.02 inches tall by 1.06 inches wide and weighs 1.1 ounces. The 6 MOA dot was very bright, but like the RMR the window is smaller and designed more for a duty or concealed carry than competition. It performed great, with no issues during the Glock test.
The last red dot that I got my hands on was a
SIG Romeo1.
SIG has done their homework here, or maybe they went to Max and said design a sight that works for competition and carry. The Romeo1 weighs .8 ounces, is 1.1 inches in height and 1 inch in width. It mounts low, however, and has a top load battery like the DeltaPoint. The housing is an extremely strong and lightweight magnesium housing, comes with SIG's MOTAC (Motion Activated Illumination) that powers up when it senses motion and powers down when it does not. It has a molded aspherical lens that is bright and distortion-free, with a red-notch style coating to keep the red dot very bright. The TruHold feature is twin adjustment springs that provide a lockless zeroing system while maintaining zero. SIG boasts that it will keep zero for over 10,000 .45 ACP 230-grain rounds.
The window is huge and the 6 MOA red dot is bright. I ran this on a
SIG P320RX
with a little adjustment; getting used to the SIG over the Walther took a couple of magazines. I had no trouble finding the dot, it was easy to pick up on the draw and transitions. I found all the features on the Romeo to be just about right.
I had a chance to run the Walther with the C-More RTS2 6 MOA back-to-back with the SIG P320RX with the Romeo1. My times and points were pretty much the same, a little better with the Walther/C-More setup, but that is to be expected considering I have been shooting the Walther since last December. For me, the one thing I noticed was when really driving the guns hard and pushing the splits, the red dot would stay in the window on the C-More, and would rise out of it on the SIG
—
but that is me shooting it on two different guns.
Conclusion
At the end of 10 months of shooting Carry Optics with different sights and on different guns I have learned a few things:
Do not think that sticking a red dot on your pistol is going to make you faster or more accurate.
Do not give up when you discover the first item on this list.
If you do not give up, and learn how to shoot a red dot, you can be faster and more accurate.
Carry Optics is a lot of fun; however this does not mean you should go out and try it. I would prefer less competition than more.
Minor scoring can really screw up a fast time.
---

Optics Tested
Article from the November/December 2018 issue of USPSA's FrontSight

 

magazine.