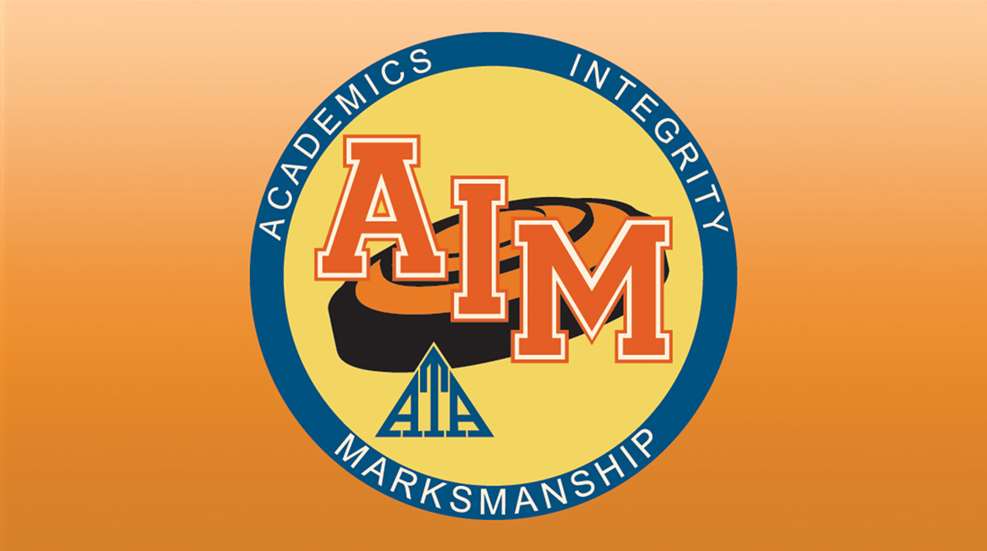 This year at the AIM Grand National Youth Championships, nearly 30 scholarships were awarded by the Amateur Trapshooting Association (ATA) totaling $80,000 in funds distributed. AIM, which is an acronym for "Academics, Integrity, Marksmanship" is the official youth program of the ATA. AIM's purpose is to provide a safe and positive experience with firearms for elementary school through college aged shooters. Good sportsmanship and personal responsibility are gained through competition―all while making the shooting sports a lifelong activity.
Applicants can apply for as many of these different scholarships as they wish, however, they can only win one per year. In addition to scholarships, AIM awards are given to both individuals and teams. There are four age categories: Pre-Sub (age 11 and under), Sub-Junior (age 12-14), Junior (age 15-17), and Junior Gold (age 18-22). Additionally, at the AIM Grand Championships special awards are given out to teams that represent the following organizations: State Conservation, 4-H, FFA, Boy Scouts, and the American Legion.
Thanks to the Pat and Penny Ireland Memorial Scholarship Fund, AIM awarded 15 scholarships, five each for academics, integrity, and marksmanship. Each scholarship is worth $2,500. The 2017 winners were announced during the AIM awards ceremony.
Academics

Alyson Kinstner―Illinois
Katie Peterson―Nebraska
Cathryn Herman―Colorado
Christina Byrd―Indiana
Ryan Goke―Tennessee
Integrity

Mitchell McCarty―Arkansas
Chase Gehrke―Iowa
Nathaniel Newland―Maryland
Raymond Hughes―Maryland
Stephanie Kennedy―Maryland

Marksmanship

Casey Warren―Arkansas
Tom Browne―Missouri
Hunter Gehrke―Iowa
Griffin Black―Tennessee
Clay Shaw―Alabama
The National Rifle Association donated $5,000 to be given to four lucky Junior Gold shooters drawn from the participants in each of the singles, handicap, doubles and high all-around events. One $1,250 scholarship was awarded per participant, announced at the AIM awards ceremony at the conclusion of the AIM Grand Championships.
Singles: Spencer Roberts―Tennessee
Doubles: Noah White―Arkansas
Handicap: Ashton Huffstutlar―Oklahoma
HAA: Tyler Hetzel―Wisconsin
The Trapshooting Hall of Fame gives five $5,000 scholarships annually to graduating high school seniors or those registered for summer or fall collegiate classes that are ATA members. The winners were announced during the Grand American closing ceremony.
Weikum Scholarship: Brady Clawson―Montana
Krieghoff Scholarship: Sierra Wasserburger―Connecticut
HOF Scholarship: Hunter Secrest―Kansas
HOF Scholarship: Karlie Klas―Wisconsin
HOF Scholarship: Chrystal Moon―Minnesota
The shooting sports always needs more news media! The
Trap & Field
magazine journalism scholarship was created in this spirit of promoting AIM. This one is limited to AIM shooters planning or currently majoring in Journalism, English, New Media, or Communications. The winner was announced at the AIM awards ceremony.
Hope Richardson―Tennessee
To honor the memory of Christopher J. Vendel, memorial scholarships are awarded to New York State Aim shooters, as well as from the Eastern Zone. Each Christopher J. Vendel scholarship is worth $1,600. The winners were announced during the AIM awards ceremony.
Samantha Wagner―New York
Daniel Rex―Pennsylvania
The Association of College Unions International (ACUI) contributes scholarships to the AIM Grand Championships, this year $500 was awarded to Junior Lady Singles Champion Shelby Skaggs.
Learn more about the ATA's AIM program by going to
www.aim4ata.com
, or call 618-449-2224 or email
[email protected]
.