Since this is my first article with Shooting Sports USA (and hopefully not the last), I will start with Case's Shotgun Theorem Number 2—There is no such thing as having too much ammo. We shotgunners tend to go through a lot of ammunition and that is a good thing. No matter how many shotgun shells you may have stored at your ranch you are probably in the market for more, I know I am.

Maybe you have heard that Browning, maker of fine shotguns for decades has entered into the ammunition world. Here are a couple offerings for you to consider.

For those of us in the clay target world Browning offers BPT (Browning Performance Target) Shotshells. A combination of hard shot (alloying the lead shot with antimony) and a smooth hull make this an excellent choice for the shotgun range. Long ago it was understood in the shotgun world that round shot will fly truer and hold a better pattern. Hard shot will hold its shape and not become deformed during flight. Harder shot will also break targets better.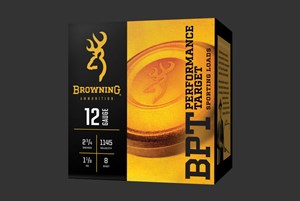 Browning wanted to come in somewhere in the middle on the price point on this ammo. These are not bargain basement shot shells but they are not the premium priced rounds either.

With less people reloading these days Browning accomplished this with a steel shell head that is brass plated. The brass plating allows for smooth feeding but the steel head would make it difficult to reload and Browning will recommend not reloading these shells. This shell targets those of us who want the best shot shell we can afford and are not concerned with reloading. MSRP for a box of 25 is $9.99 but you may see them on shelves anywhere from $7.99 up.

Browning has also introduced the BXD line of shotshells for hunting. Along with nickel plated shot for tighter down range patterns, the main feature of these shells is speed. The 12 gauge 2 3/4" inch shell with a 1 3/8 oz. shot load delivers 1485 muzzle velocity and that my friends is a screamer. This type of speed should allow for less lead when drawing on that rooster pheasant that flushed a bit too far out.

Learn more at www.browningammo.com.

About the Author
Larry Case has been a hunter, shooter, and outdoorsman for his entire life. He served for 36 years as a Conservation Officer and Natural Resources Police Officer in West Virginia retiring with the rank of Captain. He has too many hunting dogs, not enough shotguns, and a wife and two children who wish he would stop wearing camo year round. Upon retirement Larry went to the dark side and became an outdoor and gun writer. He admits an addiction to turkey and squirrel hunting but refuses any treatment. Some editors have claimed when deadline dates loom near he may disappear into the mountains and not be heard from for weeks. Several are glad of it.