by
posted on July 18, 2018
Support NRA Shooting Sports USA
DONATE
After a thrilling comeback, Jonathan Shue is once again the NRA National Precision Pistol Champion. Shue was able to overcome military, civilian and international shooters at the three-day tournament, held at Camp Perry in Port Clinton, OH. Additionally, Shue earned High Veteran and High Civilian honors.

At the end of the first day of shooting, Shue was down by 13 points in the .22 cal. matches—enough to cause worry. Subsequently, he delivered an excellent performance in rapid fire which saved his hopes for a repeat victory. Shue kept up the pace, winning the Centerfire Championship and he was at the top of the leaderboard after the conclusion of day two. By the final day of the match, 10 of the top shooters were separated by six points.

Shue ultimately won the championship with a score of 2625, out of a possible 2700 points. He made 132 perfect shots, hitting the X on the target at 25 and 50 yards. He beat the U.S. Army Marksmanship Unit's (AMU) top pistol shooter SFC Adam Sokolowski by two points.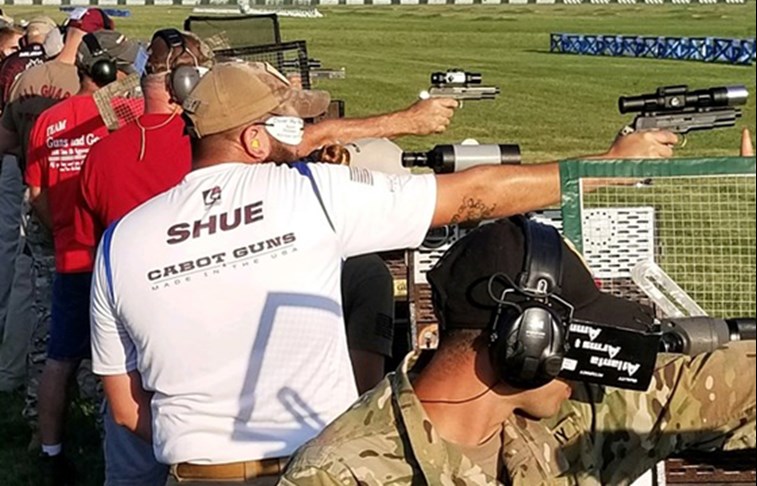 "This was like a good ole fashion Carolina comeback," Shue said, referencing the North Carolina Tar Heels basketball team and their legendary comebacks at the highest levels of collegiate competition.

He added, "[The] temperature and lighting were almost perfect, but there was a slight wind that was just enough to aggravate your process. This type of condition is difficult. You want to settle into your process, but that bit of excess movement throws you off your game. Fighting your heart rate, nerves, mayflies, and the AMU, you have to be mentally strong. That why I love this sport. It's a mental marathon, not a sprint."

Shue has quickly become a top contender in the sport of Precision Pistol, widely considered the most challenging of all the pistol sports. Shue, a former Marine, now competes as a civilian.

The 2018 NRA National Pistol Championships had 532 of the world's best pistol shooters in contention for various events, including the .22 cal. Championship, Centerfire Championship and the .45 Championship.

For this year's championship, Shue was using a limited-edition Jones Deluxe Bullseye 1911 from Cabot Guns. This is the fourth National Pistol Championship in six years that has been won using a 1911 manufactured by Cabot. Shue has fired 27,000 rounds through his 1911 and obviously his gun has not lost any accuracy.

Editor's note: The full results of the 2018 NRA National Precision Pistol Championships will be published in a future issue of the digital magazine.