by
posted on September 17, 2018
Support NRA Shooting Sports USA
DONATE
Well-known as Precision (Bullseye) Pistol's biggest stage, the 2018 NRA National Precision Pistol Championships were in July at Camp Perry, OH. This year, there were 532 shooters that attended from across the United States and worldwide.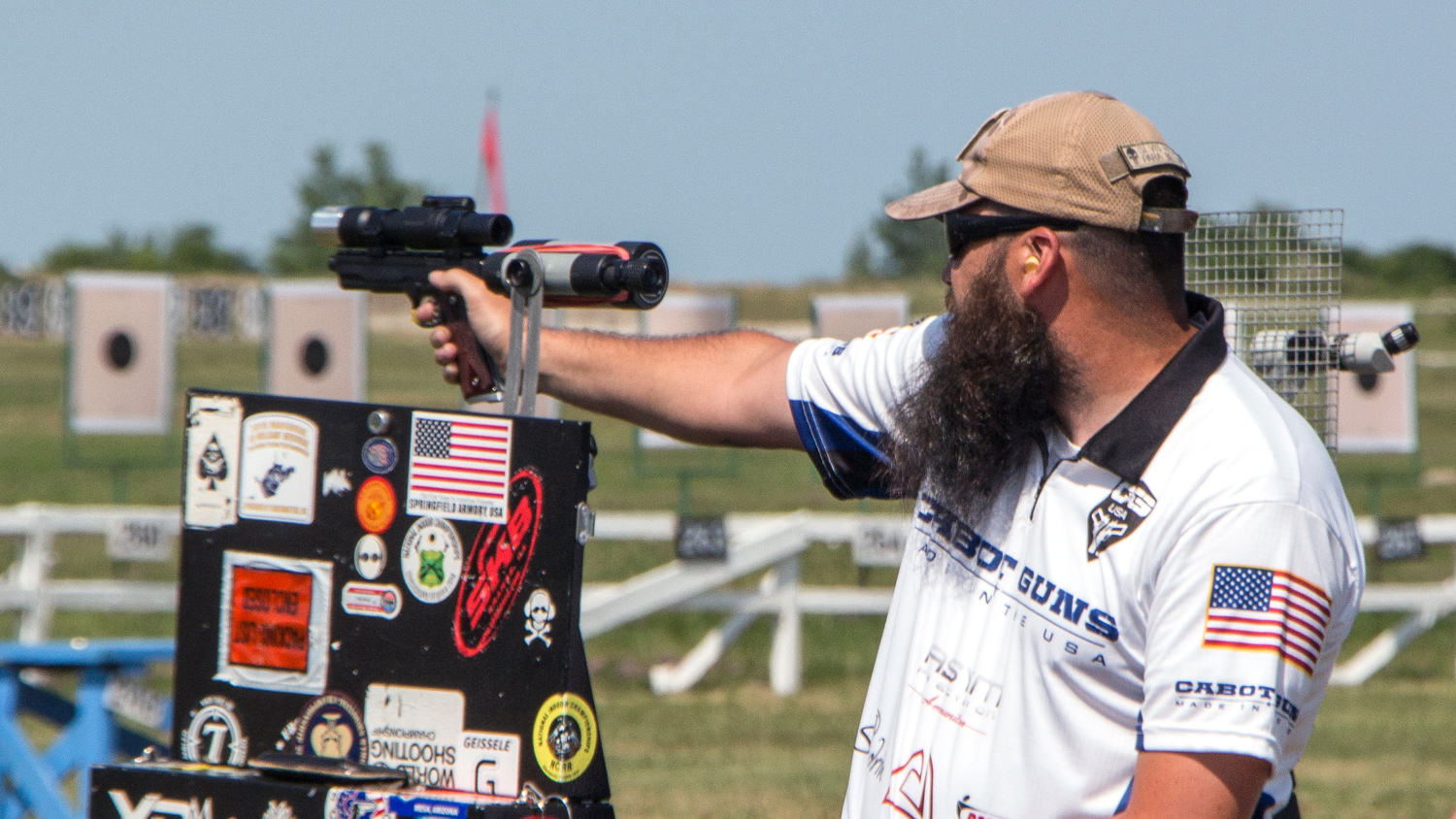 Winning his second consecutive NRA National Pistol Championship was
Jonathan Shue
(Mebane, NC). The Team Cabot Guns shooter shocked the bullseye world last year after taking first place at Camp Perry during NRA Pistol Nationals. Now the retired Marine is a two-time champion. Additionally, Shue netted High Veteran and High Civilian honors. For his centerfire and .45 gun, Shue was shooting a limited-edition Jones Deluxe Bullseye 1911 from Cabot Guns. Notably, this is the fourth NRA National Pistol Championship in six years that has been won with a 1911 manufactured by Cabot. Shue said that he fired about 27,000 rounds through his 1911 before the match. It does not seem all those cycles affected the accuracy of his gun.
Shue won the championship with a score of 2625-132X. He beat the U.S. Army Marksmanship Unit's (AMU) top pistol shooter
SFC Adam Sokolowski
(Midland, GA) by two points.
"This was like a good ole' fashion Carolina comeback," Shue said, referencing the University of North Carolina Tar Heels basketball team and their legendary comebacks at the highest levels of collegiate competition. He added, "[The] temperature and lighting were almost perfect, but there was a slight wind that was just enough to aggravate your process. This type of condition is difficult. You want to settle into your process, but that bit of excess movement throws you off your game. Fighting your heart rate, nerves, mayflies, and the AMU, you have to be mentally strong. That why I love this sport. It's a mental marathon, not a sprint."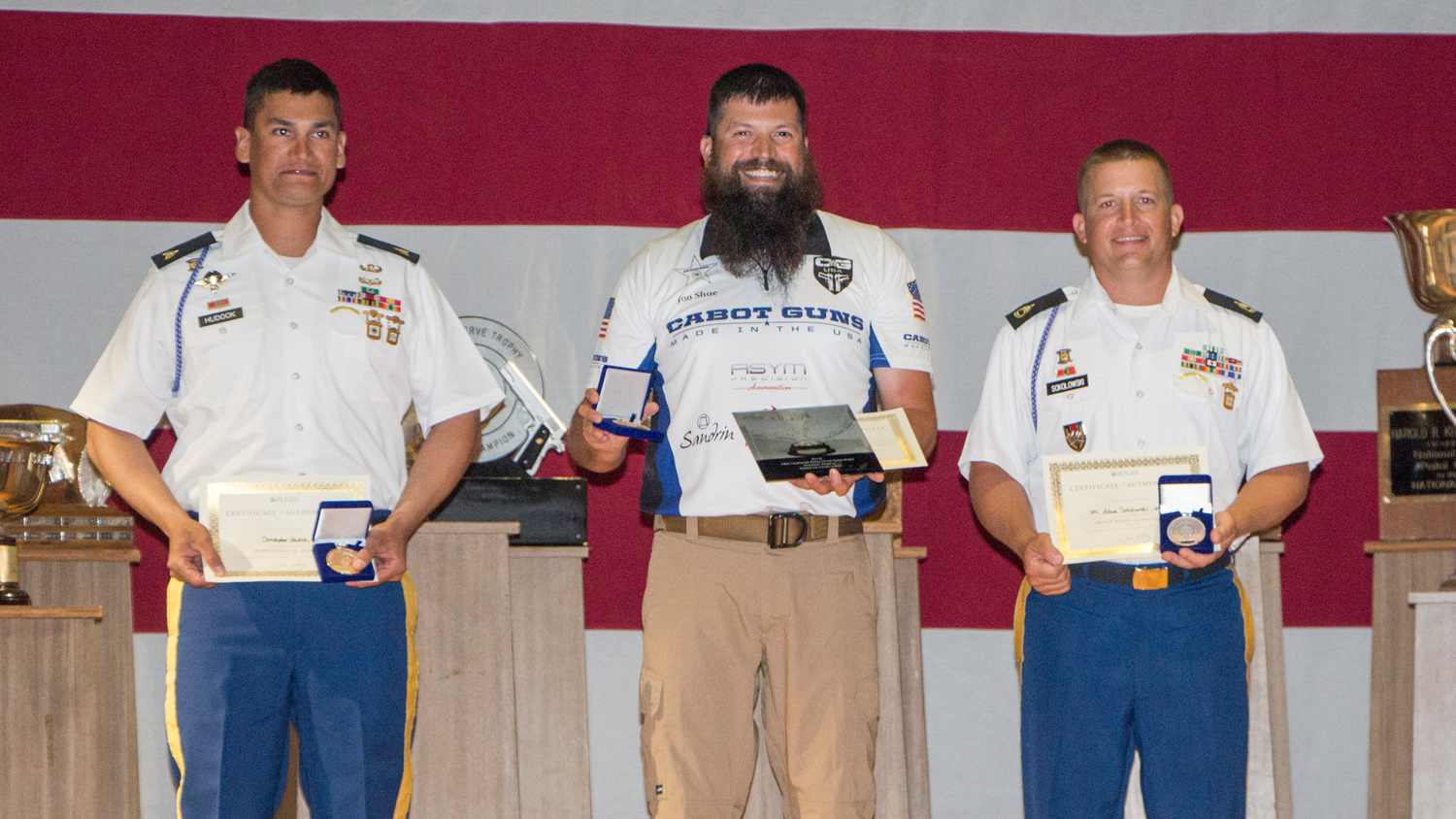 Regular
SSUSA
readers will remember when this year's NRA Pistol Championship runner-up, SFC Sokolowski, made history at the Bianchi Cup earlier in 2018 with his impressive victory. Sokolowski is the first shooter since Rob Leatham to have won all three major action pistol championships at Bianchi—Open (Bianchi Cup), Production and Metallic.
In third place at Camp Perry this year was Sokolowski's AMU teammate SGT Christopher Hudock (Fort Benning, GA), finishing with a score of 2620-113X.
.22 Cal. Championship
At the end of the first day of shooting, Shue was down by 13 points in the .22 Caliber Championship—enough to cause worry. Subsequently, he
delivered
an excellent performance in rapid fire. John Zurek (Alpine, AZ) became the 2018 .22 Cal. Champion with a score of 884-42X. Second place shooter Alan Barcon (Valley View, OH) finished the match with a score of 883-46X. In third place was Travis Jorgenson (Vergas, MN), only four Xs behind Barcon. Zurek, Barcon and Jorgenson, along with Shue, are all High Master precision pistol shooters.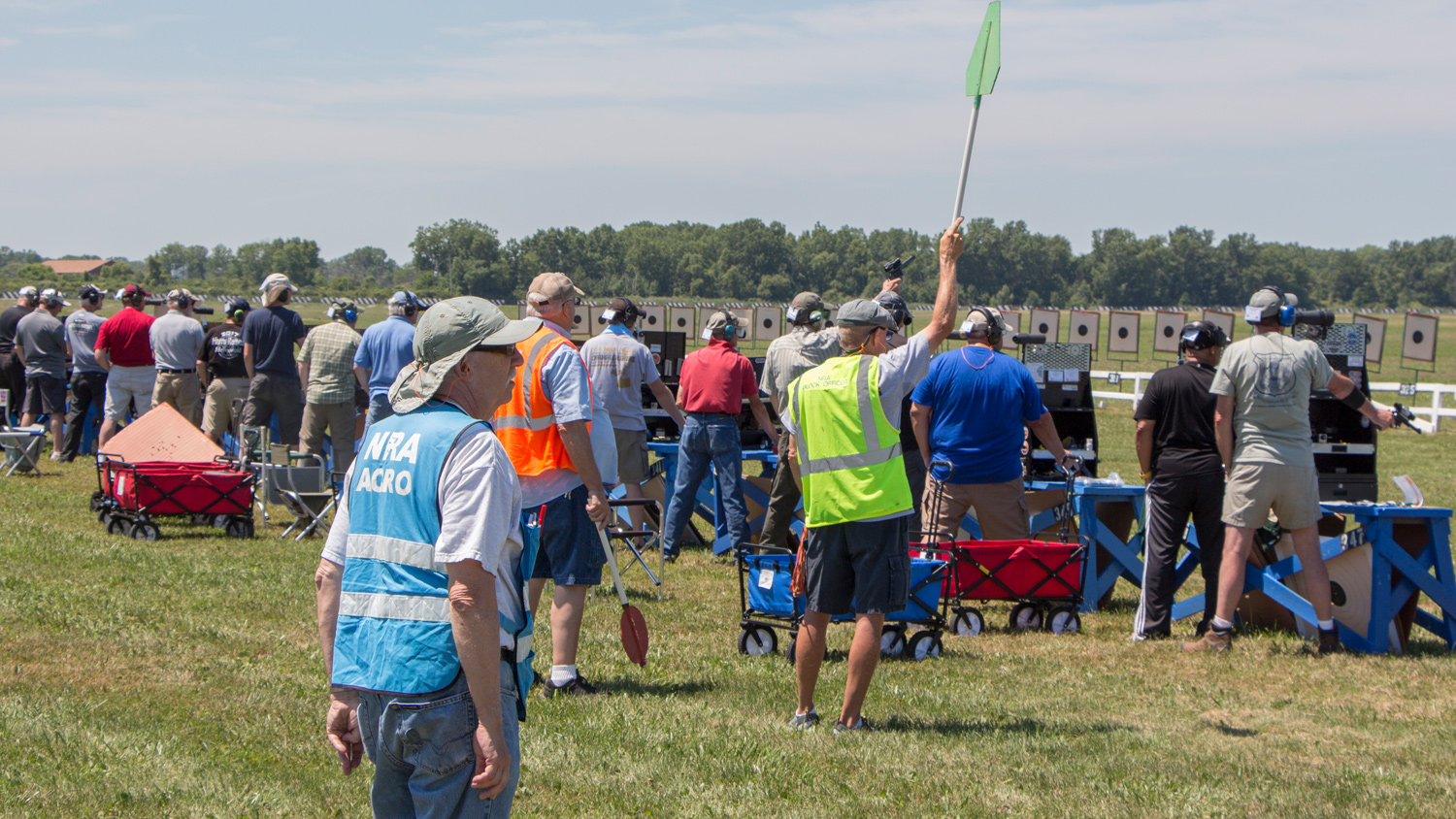 The .22 Caliber Championship High Woman was Kimberly Hobart-Fleming (New Philadelphia, OH), a Master class shooter who finished this year's match with a score of 874-36X. High Junior was Sharpshooter Heather Powers (West Falls, NY) who finished with 842-22X.
Centerfire Championship
The Cabot Centerfire Championship had 530 entries. A familiar name was at the top of the leaderboard at the end of the match. Jonathan Shue won the Centerfire Championship, edging out Christopher Hudock by 15 Xs, but missing a spot on the Mayleigh Cup International Postal Team.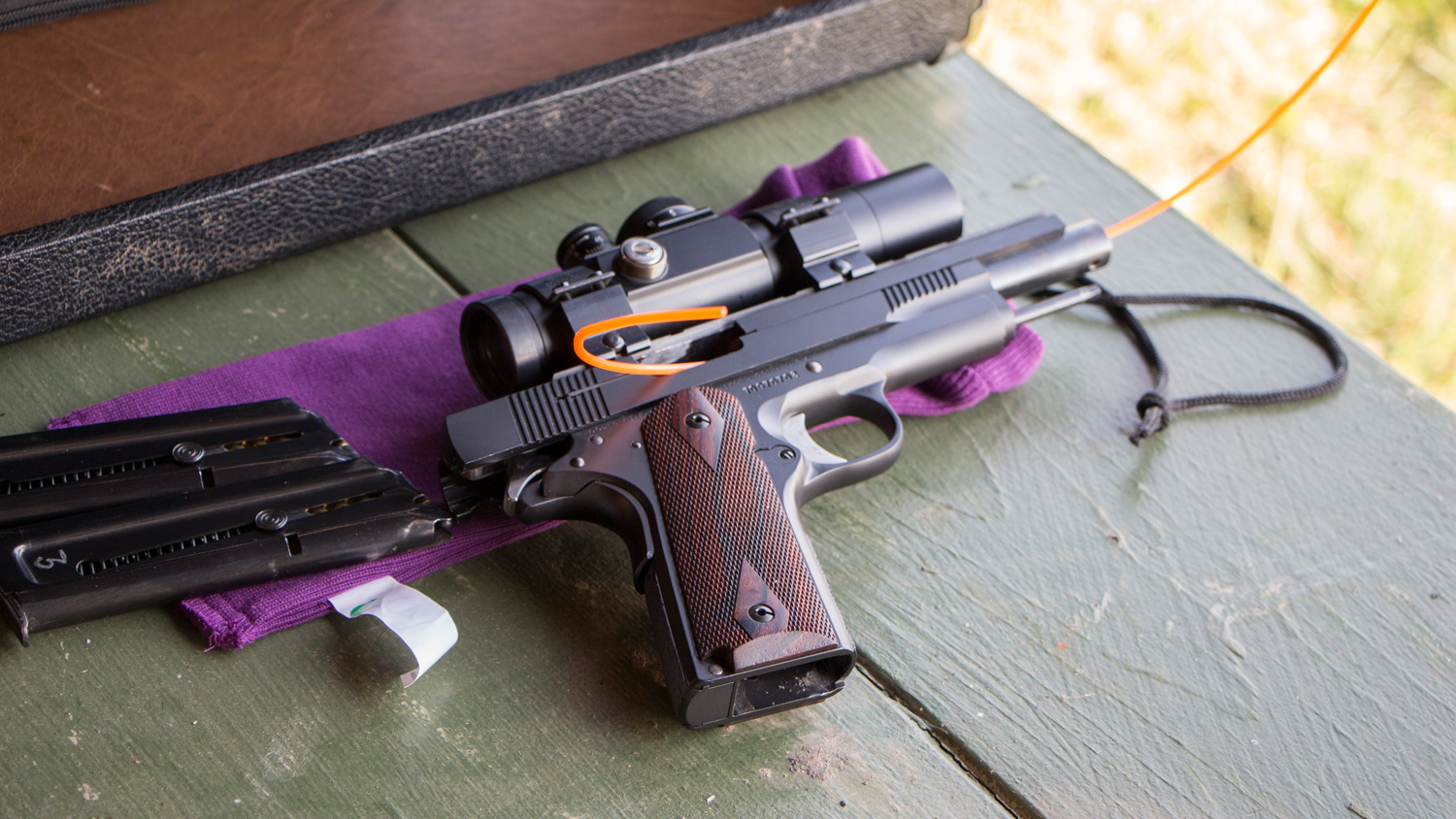 In second place was AMU shooter Christopher Hudock shooting 876-34X. Rounding out the top three was fellow AMU shooter SSG Greg Markowski (Columbus, GA) scoring 874-35X. All three shooters are High Masters. Shue's hopes for victory increased after winning the Centerfire Championship. He was at the top of the leaderboard by the end of day two.
Winning the Centerfire Championship High Woman award was Judy Tant (East Lansing, MI). Tant is a Master class shooter who finished with a score of 848-25X. Samuel Kwon (New York, NY) was High Junior with 818-16X. Kwon is an Expert class shooter.
U.S. Mayleigh Cup Team
The Mayleigh Cup team is an international team postal match, where U.S. shooters compete against other countries, such as Great Britain. The Mayleigh Cup team is comprised of high scoring competitors in the .22 Caliber Slow Fire Match, and the slow fire stage of the .22 Caliber National Match Course. The team consists of the top 10 shooters, plus two alternates. For the Mayleigh Cup postal match, the team shoots 30 slow fire shots at 50 meters.
David Lange
(Glen Rock, NJ) took the top Mayleigh Cup honors this year with a high score of 270.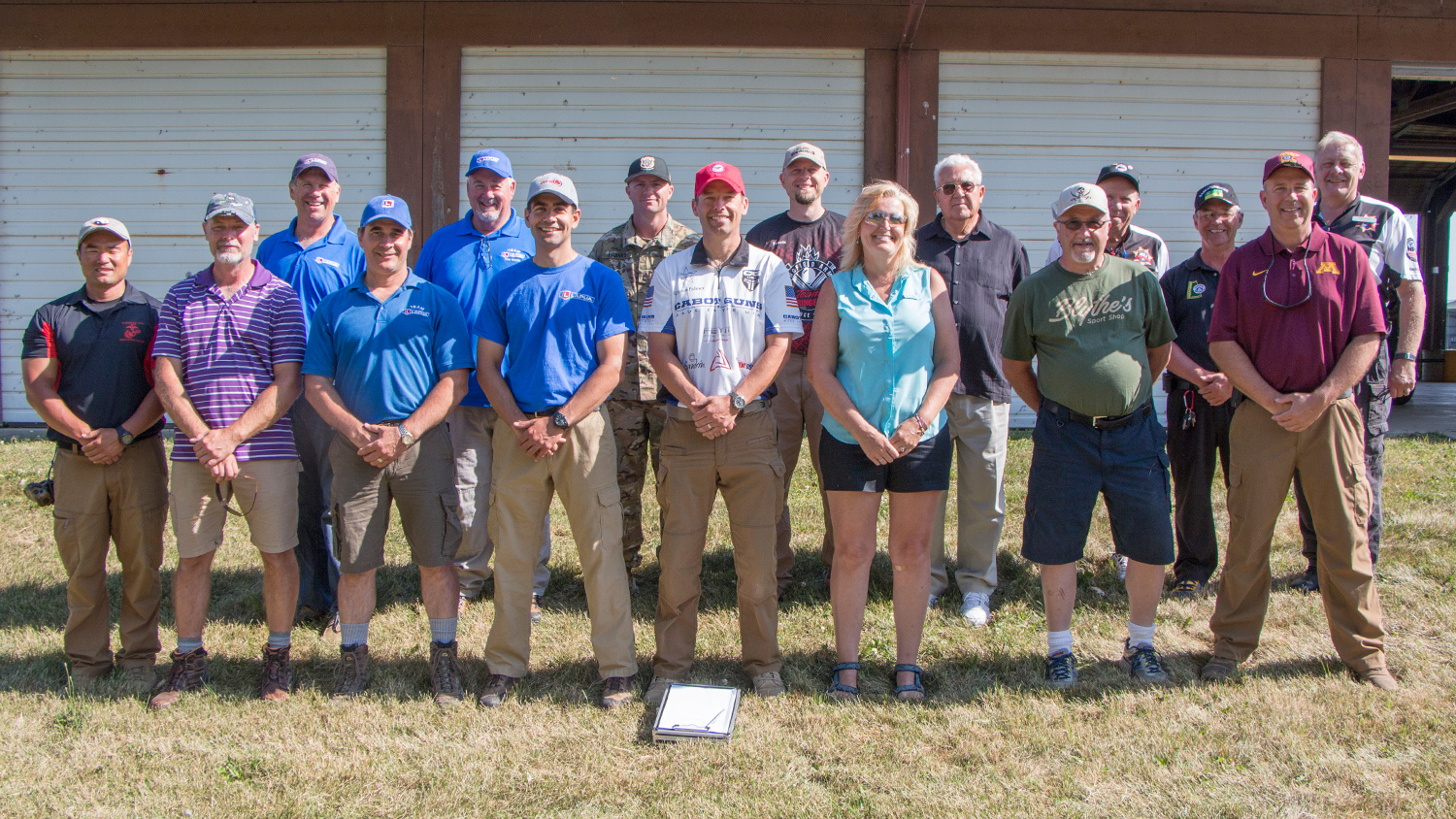 This year's Mayleigh Cup team members are:
Travis Jorgenson
Scott Beyer
Alan Barcon
John Zurek
William Palmer
Jordan Kramp
Patrick Franks
Jeff Ekblad
David Lange
Kimberly Hobart-Fleming
Philip Hemphill
Walter Douglas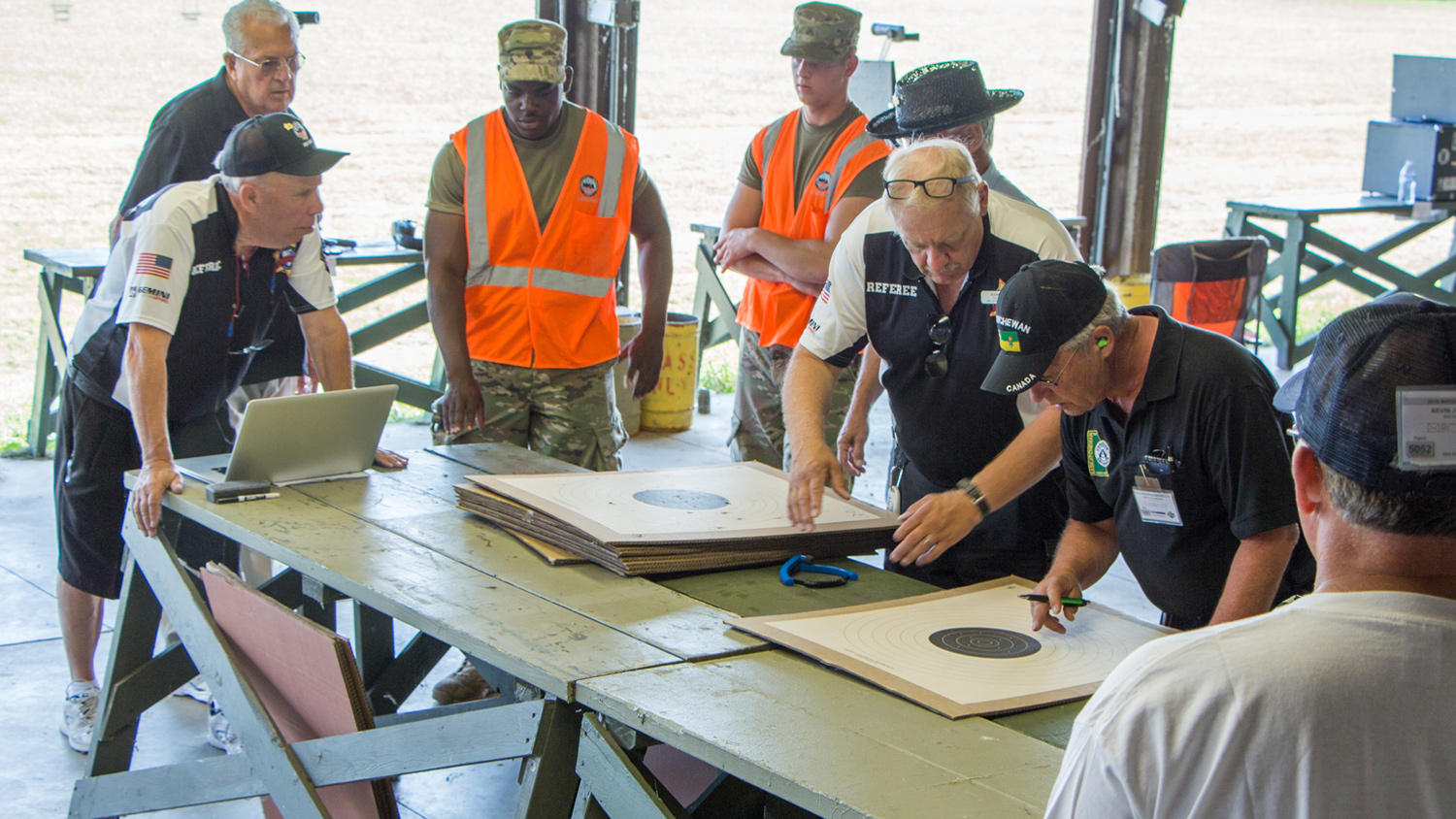 .45 Championship
By the final day of the match, the top 10 shooters were separated by six points. The AT Wall/Metalform .45 Championship was, big surprise, won by Jonathan Shue with 295-14X. A single X behind Shue was SFC Michael Gasser of the AMU, and in third place was SFC Sokolowski with 294-15X. All three, naturally, are High Master class shooters.
Distinguished Revolver and Harry Reeves Matches
Greg Markowski won the Distinguished Revolver Match with 286-7X. His score was a full five points ahead of runner-up Travis Jorgenson's score of 281-5X. Rounding out the top three in this match was David Lange scoring 278-7X.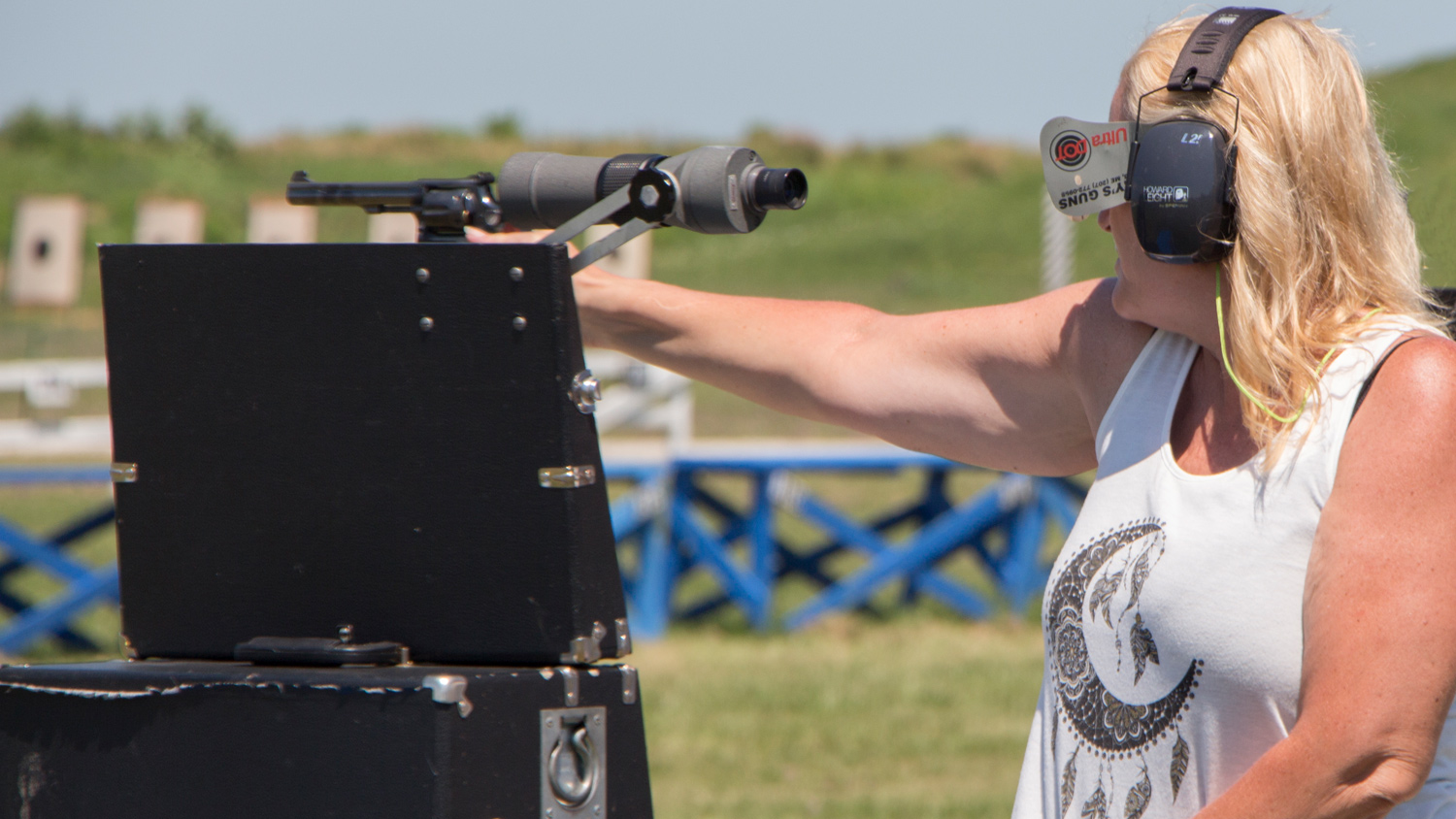 For the Harry Reeves Memorial Revolver Match, Kevin Vacura (Red Wing, MN) was the winner with 284-8X. U.S. Coast Guard Shooter Charles Petrotto (New London, CT) finished second with 282-8X, and in third place was Greg Abraham (Lake Crystal, MN) with a score of 276-4X.
4-Person and 2-Person Team Aggregates
Team Zero/Lapua was the 4-person team winner, receiving 'Coming Through the Rye' Trophy plaques and NRA gold medals. The team's combined score was 3485-150X. The team members were John Zurek, Philip Hemphill, David Lange, Paul Porter, Keith Sanderson, Melvin Makin (also coach), along with Team Captain Steve Reiter.
The High Junior 4-Person team was ORPA Juniors, with a score of 3045-48X. Team members were Mason Poole, Ethan Clark, Robert Delagrange, Tyler Knouff, Grace Praisler, with Team Captain/Coach Fred Totts.
For 2-Person teams, winning with a score of 1698-59X was Team Springfield Custom Shop. Team members were Shane Murphy (team captain) and Christopher Roberts. They had no coach.
The High Junior 2-Person team was New York Juniors, with 1594-28X. Coached by Richard Powers, the team members were Samuel Kwon, Heather Powers, who was also the team captain.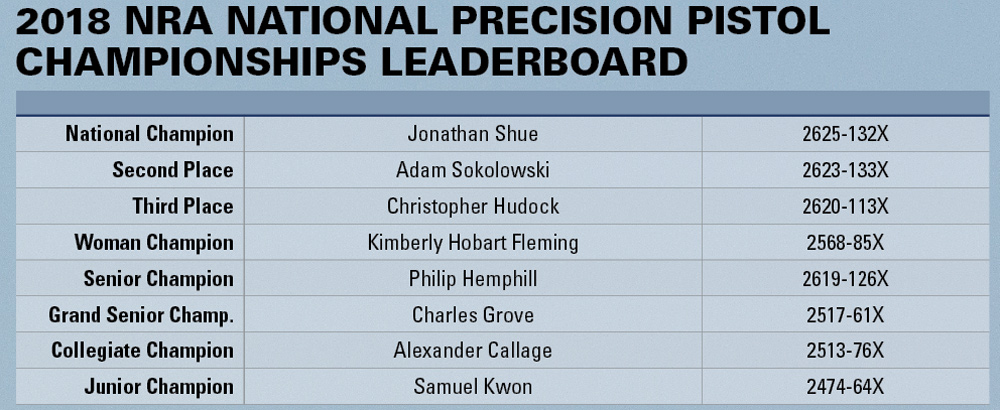 View the full results at competitor.nra.org/ChampionshipResults.aspx
Photos by Chip Lohman