by
posted on September 18, 2021
Support NRA Shooting Sports USA
DONATE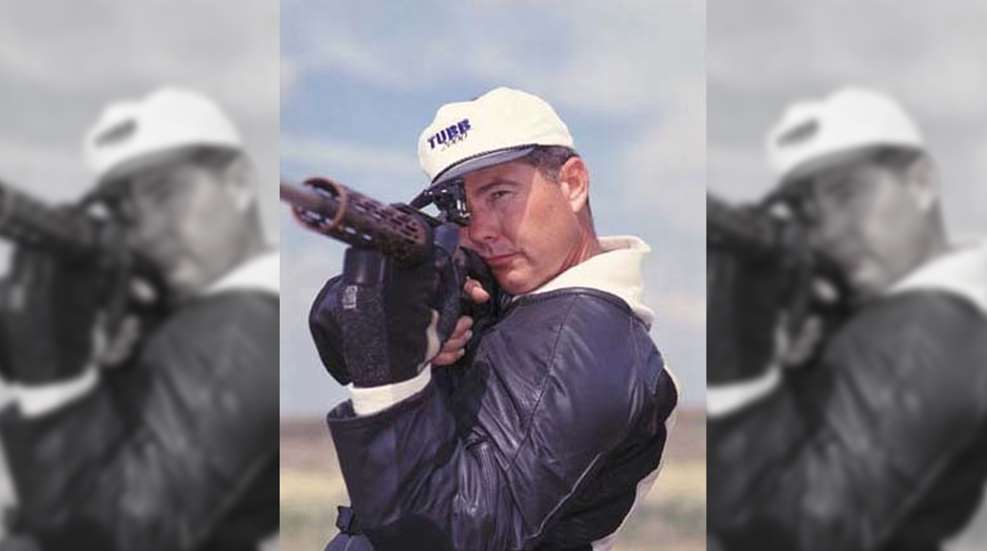 From the vault: Our account of how David Tubb won his ninth NRA High Power Rifle National Championship at Camp Perry, Ohio. Originally published in the November 2001 issue of Shooting Sports USA, the NRA's competitive shooting journal.
Tubb Closes In On Number 10
By Bryan Sheetz and Joseph B. Roberts, Jr.
The staccato reports of high power rifles alternated with the rhythmic lapping of Lake Erie against the beaches of Ohio's Camp Perry National Guard base in early August as more than 2,000 shooters competed in the 2001 NRA National High Power Rifle championships. As it always does, torrid competition at the nationals slowly sifted the best marksmen and women from the expansive field, while unusually warm temperatures baked spectators and competitors alike. While some shooters who watched their scores fall inversely to the temperature bowed out early, most hung in to the last shot.
When those final reports fell silent, a familiar figure stood atop the winner's platform for an unprecedented ninth time in his career since 1985: G. David Tubb of Canadian, Tex., beat all other High Power shooters with the score of 2380-112X in the 2400-point aggregate competition.
Hot on Tubb's heels were two service rifle shooters: the U.S. Army Marksmanship Unit's SFC Grant Singley, who came in second with 2371-109X, and the U.S. Marine Corps Rifle Team M/Sgt. Steve Wilson, who was third with 2371-80X.
On his way to victory, Tubb secured wins in two of three sub-aggregate trophy matches in the championship. His score of 797 points, including 41 tie-breaking Xs, on the 800-point course won him the Vandenberg Trophy. Two days later, while clinching his overall victory, Tubb won the Clarke Trophy Match with a score of 795-32X. His most serious challenger, Singley, of the AMU at Fort Benning, Ga., won the third major sub-aggregate, the Nevada Trophy with a score of 793-40X
"I think I have a 10th championship in me, yet," Tubb said afterward, "but there are lot of other shooters on the line who, on any given day or days, will shoot a better score than I do. Plus, I'm not getting any younger, and this is something of an endurance contest. No matter, though, I'll be gunning for number 10 in 2002."
This year's matches gave Tubb an opportunity to promote his highly sophisticated Tubb 2000 bi-camming bolt-action match rifle. His was chambered in the 6 mm X wildcat—a .243 Win. case held 0.130 inch short. The modular space gun can be adjusted to meet the needs of virtually any shooter with a stock that can be set to accommodate a variety of physiques. The Tubb 2000's sights, too, can be oriented off-center for ease of aiming. Even the barrel may be easily interchanged with those of other calibers.
Any advantage over service rifle shooters that Tubb and other space gun shooters may have enjoyed this year, however, may not be a factor when final scores are tallied at next year's competition. A recent decision on the part of the Armed Services promises to end a decades-old, self-imposed restriction against bolt-action-based match rifles in competition by its service shooters against the field at large. Several service shooters this year were seen testing AR-based space guns across the course, and one indicated that several AR-based team space guns had already been assembled but were not deemed ready for this year's competition.
Although several shooters were within a few points of Tubb going into the final matches on the fourth day of competition, none could muster the skills to match his when it came to judging the shifting winds that plagued the range to frustrate 600-yard shooting. Other concentration-breaking conditions included a rain that began as a light drizzle and turned into a full-blown downpour before subsiding to allow the sun back on Viale range. The extreme heat also played havoc with competitors by creating more than the usual mirage effect, which causes distant targets to appear optically distorted.
---
Read more:
The Legend Of David Tubb