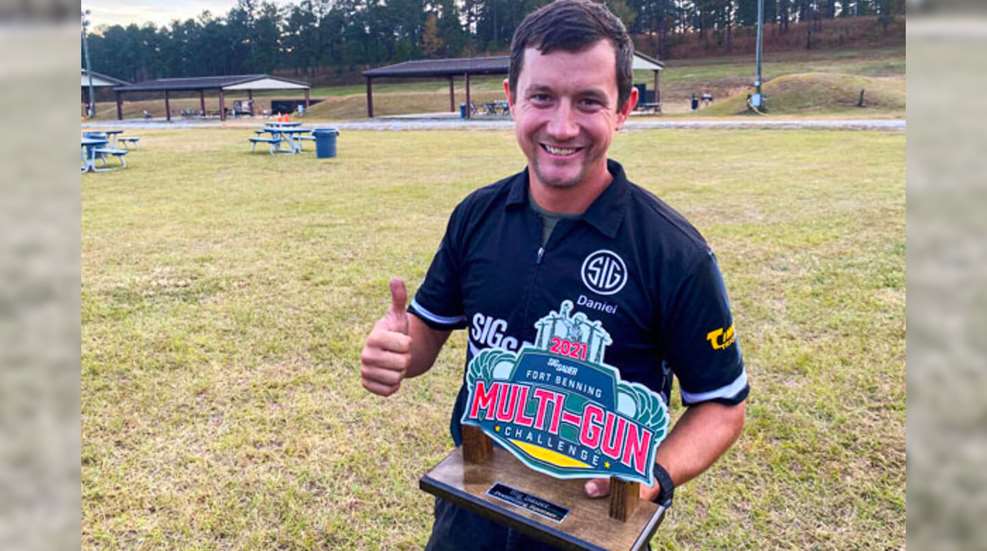 Daniel Horner of Team SIG successfully defended his Tactical Optics Championship title at the 2021 SIG Sauer Fort Benning Multi-Gun Nationals, held at Krilling Range at Fort Benning, Ga., November 18-21. His final score was 363.8069 match points.
To defend his title, Horner competed through nine stages against 148 competitors. The competition required three firearms (pistol, rifle and shotgun), and targets throughout the stages were placed at distances ranging from two to 400 yards.
For pistol competition, Horner used his P320 X-FIVE Legion equipped with iron sights and SIG 9 mm Match Elite Competition ammo. For long-range, Horner used his SIG Sauer DH3 M400 Competition rifle (soon to be commercially available) with a SIG Electro-Optics TANGO6T riflescope and .223 Rem. SIG Elite Match Competition ammunition, along with SIG's KILO10K-ABS HD range-finding binoculars.
He won three of the nine stages outright for the Tactical Optics division: Stage 3 "Tunnel Rat" (44.03), Stage 4 "Pistolero" (38.89) and Stage 8 "Cooper Tunnel" (59.14).
Here is what Horner had to say about the match.
"The Fort Benning Multi-Gun match is always my favorite of the season because I get to return to the AMU as a professional competitor and have my shooting skills, physical agility and mental mindset challenged. This year's field of competitors were hungry for the win, and it was a battle for first place right through to the last stage. In the pistol stages, the accuracy and reliability of my P320 X-FIVE Legion gave me the clear edge over the competition, and in the rifle stages my SIG system consisting of the rifle, optic and ammo provided me with the precision I needed for long-range targets."
Tom Taylor, the chief marketing officer and executive vice president of commercial sales for SIG Sauer, said:
"We are especially proud that for 2021, Team SIG's Daniel Horner, and former [Army Marksmanship Unit] Team Captain, returned to successfully defend his title as Tactical Optics Champion. This win provided him the perfect opportunity, and proving ground, to set the stage for the upcoming commercial launch of his DH3 M400 competition rifle which he has been thoughtfully refining feature by feature since he joined Team SIG."
See the full results of the 2021 SIG Sauer Fort Benning Multi-Gun Nationals at the Practiscore website. Learn more about SIG Sauer at sigsauer.com.
---
Read more:
Doug Koenig Wins PRS Bolt Gun Production Division Title