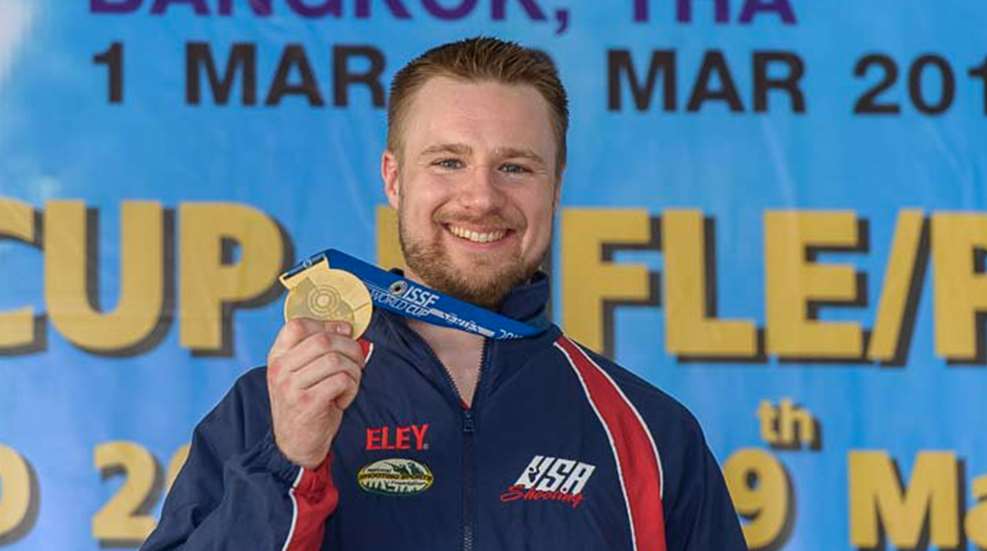 The International Shooting Sports Federation (ISSF) has reported that at the 2016 ISSF Rifle and Pistol World Cup in Bangkok, Thailand, 2012 Olympic bronze medalist and USA Shooting team member Matthew Emmons won the 50m 3 Positions final with a score of 458.6 points.

Ranked second in the world in this event, Emmons finished the Kneeling series in third place with 151.7 points, and then climbed up to second place after the Prone series with 307.8 points.

Competing against the 2010 Youth Olympic Games bronze medalist Serhiy Kulish of Ukraine through the Standing series, Emmons moved into the lead and gained a narrow lead of 1.7 points before the last shot. Kulish finished in second place with 456.8 points.

"You never know what's going to happen at the last shot, but I have been working on that," said Emmons. "As I get older and shoot more finals, I can never say that it gets easier. It's always challenging when you're standing up there, going for the medals. Luckily, recently I have been shooting a lot of good shots."

Emmons is now working on the road leading to Rio 2016. Emmons said, "Every cycle you learn what was good and what was bad. I wouldn't say there's anything particularly unique that I am doing to prepare for Rio. There's pressure on everyone going into the Olympics. I want to go there, and just be prepared and feel that I am in control of what I am doing. I never would say that I am going to go there to win, because at the highest level there are so many guys that are very good."

The championship has 330 athletes from 49 countries competing in the 10 Rifle and Pistol Olympic shooting events at the NSSAT Shooting Range in Bangkok.

The ISSF World Cup Series will now move on to Nicosia, Cyprus, where this year's first ISSF Shotgun World Cup will be held March 17-25.

Read the full story here.