From my experience, I've gotten a good idea of the stuff you need to have (beyond your gun, scope, rest and ammo, and eye and ear protection) to compete in F-Class. This list is mostly for the novice, as most of the items will be familiar to the experienced high power competitor.

Whatever size and type of ammo box you have, it should have a lid that won't open inadvertently, and it should also protect your carefully crafted cartridges even if dropped. I use MTM's 100-round plastic cases, with a ¼- to ½-inch-thick sheet of foam rubber in the space between the bullet tips and the ammo box lid to cushion the cartridges if the box is dropped on its top.

I'd recommend spending the extra money for a shooting mat that is waterproof. Mine is from Sinclair International, and has winglets that fold out to provide extra protection for my legs and feet. A small 6x9-foot plastic tarp might be put under your mat if the ground is a muddy mess.

You'll also need a spotting scope and tripod, both for zeroing and for spotting and scoring during a match. Some shooters (mostly experienced high power competitors) like to have a spotting scope next to them on the ground, so they can observe mirage at different distances. This latter use will require a short tripod, obtainable from any supplier catering to competitive shooters. While we're talking about optics, also carry some lens cleaner and lens-cleaning tissues. By the way, while you're scoring, you'll likely need a compact, folding chair or stool.

Since all F-Class matches are conducted under a time limit, a shooting timer is also essential. Yes the time allowances are generous—around 1½ minutes per shot—but don't forget that for each shot, you've got to wait for someone in the pits to pull the target down, spot it, score it, paste it and run it back up (unless you are lucky enough to be at a match with e-targets). Also, there will be times during a match when you will wait on a shot—often for what seems like a long time—because of wind conditions. All this can add up to a situation in which you have only two or three minutes to fire several shots, and a timer will help you keep track of that.

Team competition, in which two shooters have a total time limit to fire all their shots, one after the other, also requires a timer. True, you can use a wristwatch, but it's clumsy to look at while you're trying to shoot. I like Sinclair's countdown timer, which can be preset for the time duration of the match and will show at any point exactly how much time is left to fire your shots.

New F-Class shooters might also benefit from a cheat sheet of scope settings for each range at which firing will be conducted.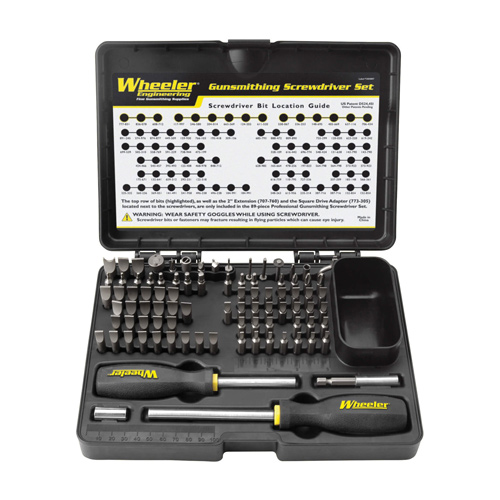 What else? Tools, especially a hex wrench or screwdriver bit for every critical screw on your gun, scope mounts, scope and tripod rest or bipod. Complete sets are available from Wheeler Engineering and Brownells. You might want additional tools if you plan more extensive repairs—for example, punches for drifting out trigger pins. Also good is a stiff cleaning rod, useful if you get something (like a bullet) stuck in the bore or chamber.

You should also take personal-care items, such as bug repellent, antiseptic cream, Band-Aids, sunscreen and moist hand wipes. If you need prescription glasses to shoot, bring an extra pair. A hat is useful on sunny days, while a lightweight rain suit will keep you somewhat less than soaking wet in the rain. Also, after a long day of shooting, you'll appreciate the cushioning afforded by a good elbow pad.

A scope sunshade is useful on sunny days, particularly if the sun shines into the scope during early morning or late afternoon relays. A long scope shade, or Sinclair's Barrel Mirage Shade, also helps counter mirage resulting from heat waves rising from the barrel.

Don't forget sport drinks, energy bars, fruit, etc., especially on a hot day when you might run the risk of dehydration.

Finally, you may need something to carry all this stuff. If you're lucky, you'll be able to park at or near each firing line. At some ranges, however, you'll have to park some distance away, and you'll be trundling your equipment around by hand as you go from one line to the next. Most experienced high power shooters have all kind of carts, wagons and so forth for this purpose. A noteworthy item of this type is Creedmoor's Range Cart, which is not only designed to carry your gun, mat and all your gear, but also can fold into any of several configurations, all the way down to a 30x17x8-inch size that can fit in a trunk or suitcase.