by
Chris Christian, Field Editor
posted on July 14, 2023
Support NRA Shooting Sports USA
DONATE
Introducing new shooters to action pistol competition can be made easier with the appropriate .22 Long Rifle "trainer" pistol. This is especially true for shooters who may not have reached the level of physical development that allows them to handle extended practice sessions with the increased recoil of centerfire handguns. Although the initial cost may seem an extravagance, that purchase price can often be recouped via the savings realized between rimfire ammunition and centerfire loads.
Additionally, while rimfire handguns are not legal in USPSA, IDPA or IPSC, they are legal in Steel Challenge and Metal Madness. In my opinion, the latter two are the best places to start a junior shooter. Movement is minimal, reloads on the clock are seldom needed and the shooters are closely supervised. That lets them quickly learn range safety procedures, range commands and squad mate responsibilities. When I was a certified IDPA Safety Officer, I would have been apprehensive about a new 12-year-old shooter running through a course of fire with a loaded gun. But as a Range Officer at Tier 1 Steel Challenge matches, I enjoy having new junior shooters on my squad.
However, the key word regarding a .22 trainer pistol is "appropriate." Not every .22 pistol will serve effectively. The trainer must mimic the centerfire pistol that will ultimately replace it. The same feel, controls, sights and most importantly, the ergonomics and grip angle. A .22 trainer that doesn't match the grip angle and controls of the intended centerfire is just another .22 pistol. And a less effective trainer. Not every manufacturer of competition pistols offers a compatible rimfire to match their centerfires. Here are four that do.
GLOCK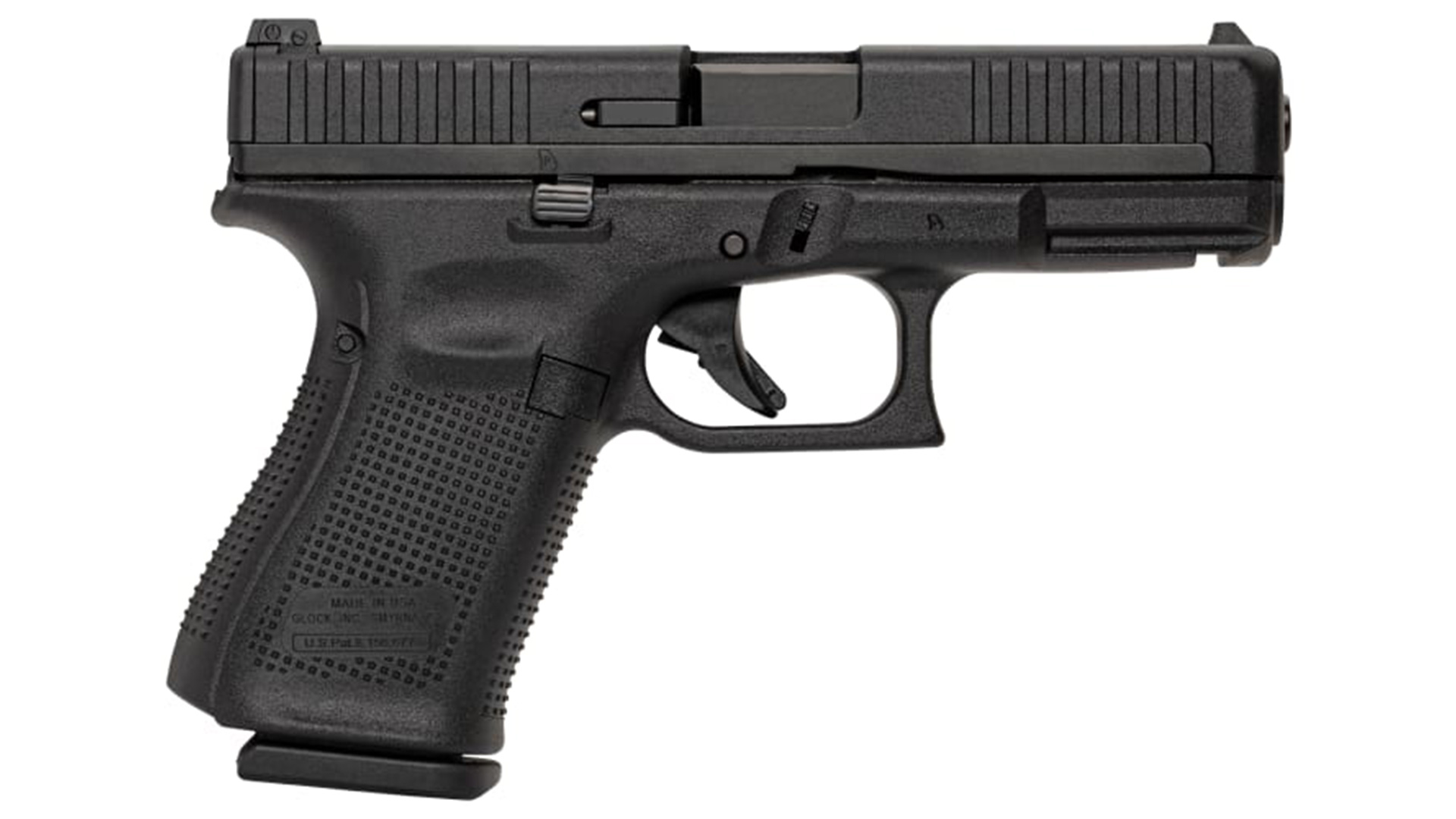 The various Glock 9 mm and .40 S&W models have earned a solid reputation in action pistol competition, and the Glock G44 Compact ($370, us.glock.com/en/pistols/g44) matches the grip angle, trigger and operating controls of the centerfire models. Chambered for .22 Long Rifle it weighs in at 12.63 ounces empty. Built on the same polymer frame it has a 4.02-inch barrel. Two interchangeable backstraps are supplied to allow hand fitting. The sights are the standard Glock three-dot pattern, and the rear sight is adjustable for windage and elevation. It uses 10-round magazines and two are included. Other than weight, caliber and recoil it's the same feel, and grip angle as the centerfire Glocks, and close in size to the popular Glock G19.
RUGER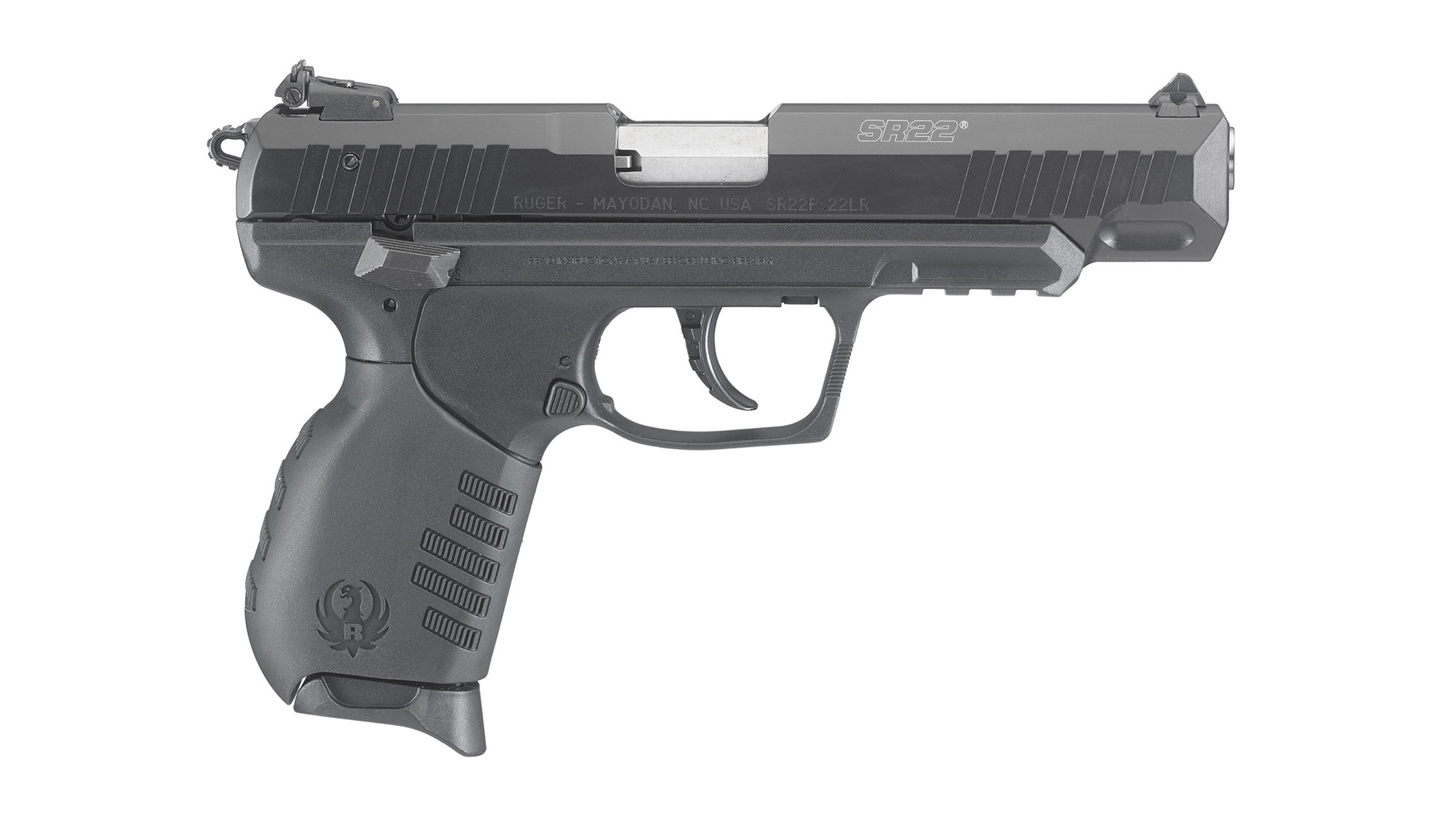 Ruger's 9 mm American Competition pistol ($689, ruger.com) is another popular choice. With a polymer frame, five-inch stainless barrel and slide it weighs 34.07 ounces. The striker-fired action provides a consistent trigger pull. Three interchangeable grip modules allow handfitting. Iron sights are a fiber-optic front mated with an adjustable rear. The slide is also drilled and tapped for reflex sight installation, and a Picatinny rail on the dust cover handles lights and lasers. Magazine capacity is 17 rounds and two mags are supplied.
Ruger's .22 Long Rifle SR22, model #3620 ($589, ruger.com) provides the same grip angle and ergonomics, with a slight difference in sights and trigger. The polymer-framed rimfire has a double-action/single-action trigger (first round double-action and subsequent shots single-action) and also allows single-action firing with ambidextrous thumb safety and de-cock controls, as well as ambidextrous slide and magazine release. Iron sights are three-dot white with an adjustable rear, but the SR22 is not optics ready.
With a 4½-inch barrel the SR22 weighs 18 ounces. Additionally, 10-round magazines are standard with two provided, along with two interchangeable backstraps for hand-fitting.
SMITH & WESSON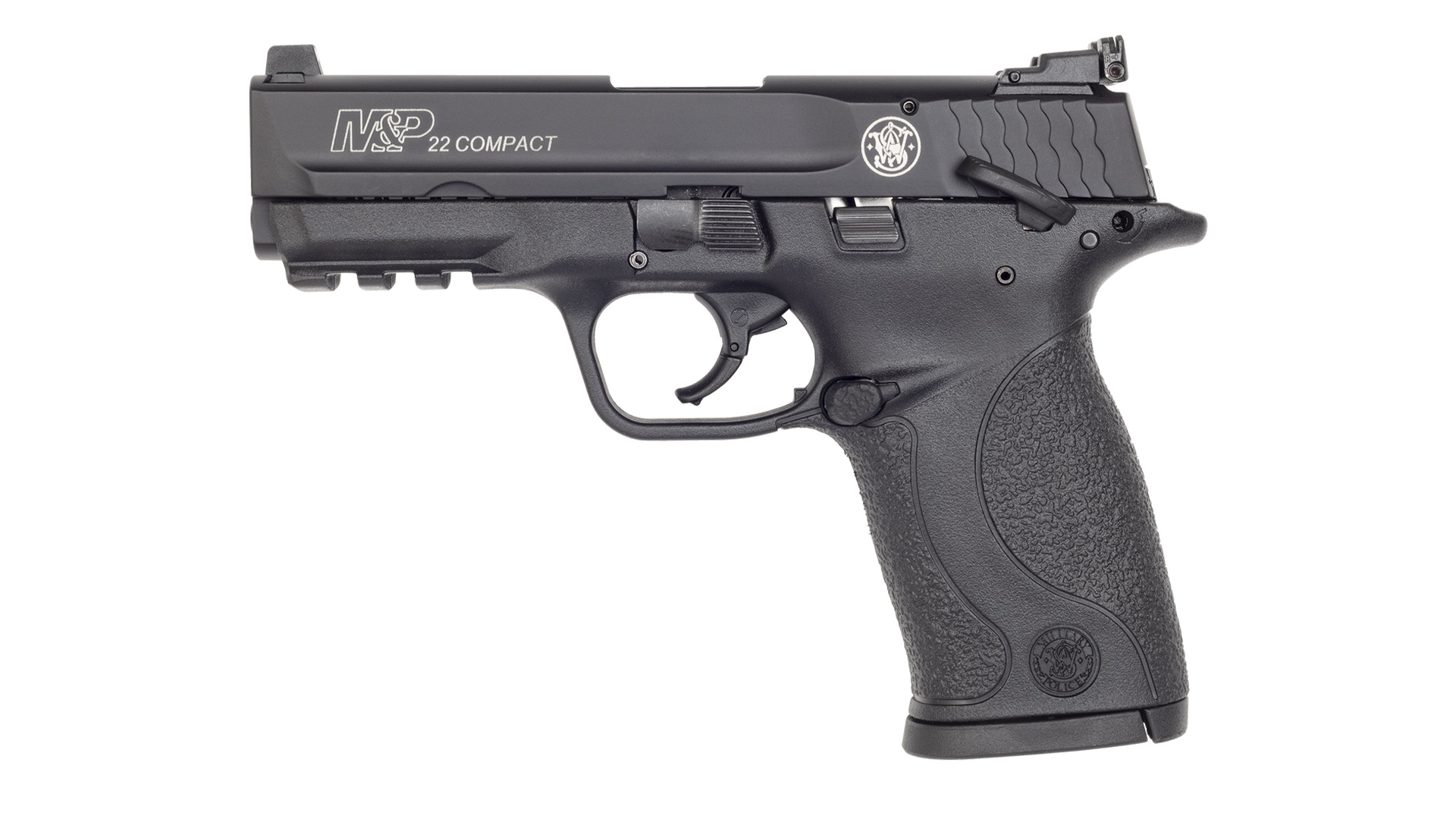 Since its 2005 introduction, the Smith & Wesson M&P has not only earned an enviable reputation in action pistol competition in 9 mm, .40 S&W and .45 ACP, but has evolved from the original polymer frame to a series that now includes metal frame models. Offering everything from iron sight packages to optics-ready models, with multiple barrel lengths, the M&P line is extensive. What hasn't changed is the grip angle, ergonomics and trigger.
The M&P 22 Compact ($417, smith-wesson.com) duplicates those features in a slightly scaled-down rimfire version. Chambered for .22 Long Rifle it features a black polymer frame, aluminum slide, 3.6-inch carbon steel barrel and 15.3-ounce weight. As for the trigger, it is pure M&P single-action with a manual thumb safety. Iron sights are the three-dot pattern with a fully-adjustable rear sight. Magazine capacity is 10 rounds, and two are included. Other than the weight difference—and recoil—it's little different than any other M&P pistol.
TAURUS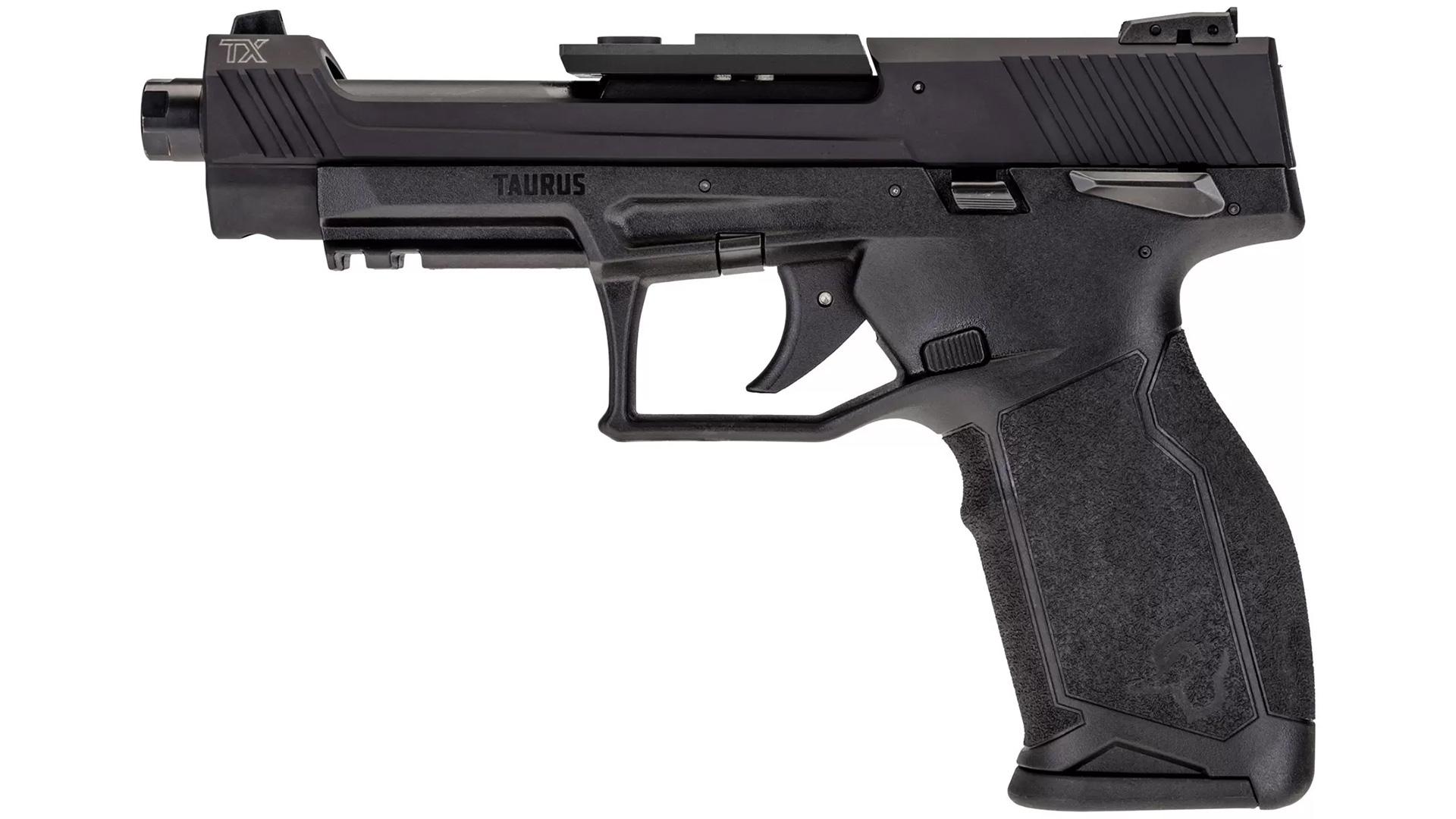 The previous manufacturers listed offer rimfire pistols that, while lighter in weight, nonetheless mimic the feel, controls and grip angle of the centerfire guns. Taurus took a different route and offers a rimfire that is virtually identical to its centerfire stablemate.
The .22 LR Taurus TX22 Competition ($539.99, taurususa.com) is built on a full-sized polymer frame with an aluminum slide and alloy steel barrel. The trigger is single-action only. Empty weight is 23 ounces. Iron sights are a three-white-dot pattern with an adjustable rear, and it also features an optics mount and Picatinny rail. The 5¼-inch barrel is threaded to accept comps. Magazines are 10 rounds and three are supplied.
The Taurus G3 Tactical ($589, taurususa.com) is built on the same full-sized polymer frame with Taurus' single-action-only trigger, a 4½-inch threaded barrel, alloy slide, stainless steel barrel and Picatinny rail. Magazines of 17 or 10 rounds are offered and two are supplied. The sights are drift adjustable and co-witness with reflex sights on the optics-ready slide. Empty weight is 25.8 ounces. That's close enough that I doubt a blindfolded shooter could tell the difference between the two.
Any .22 rimfire pistol is fun. But if it's intended to be a trainer, selecting the appropriate gun is important.