by
posted on July 29, 2017
Support NRA Shooting Sports USA
DONATE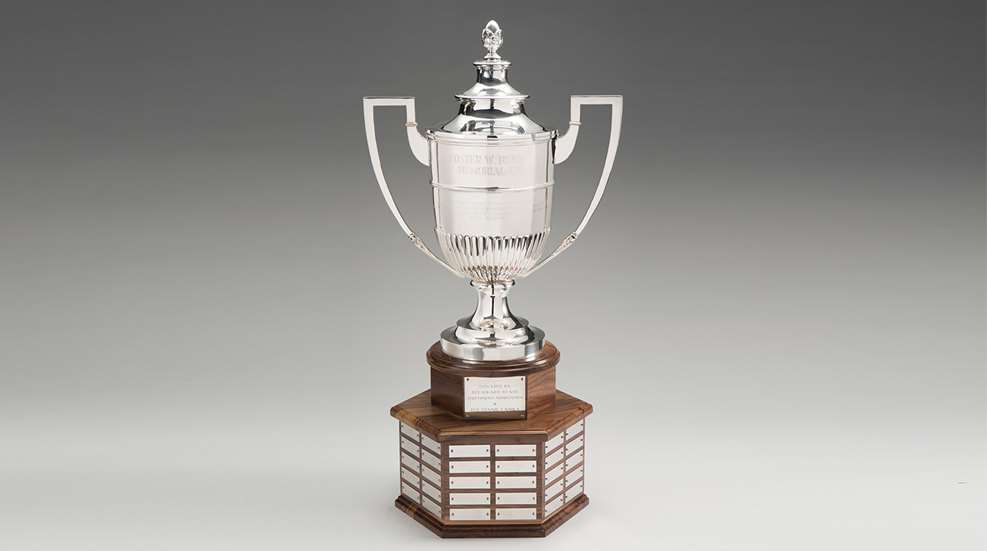 In 2014 the Rennie family and the Delaware State Sportsmen's Association (DSSA) presented to the NRA the Foster W. Rennie Memorial Cup, an antique English sterling silver cup, 20.25-inches high mounted on a Black Walnut wooden base approximately 11-inches high, to commemorate the life and achievements of Foster Rennie. Today, this trophy is awarded to the high collegiate competitor in the metallic sight phase of the NRA Conventional Smallbore Position Championships.

Foster Rennie (1929-2014) was one of the founders of the DSSA and was active in it until, late in life, his health curtailed participation. He was also an outstanding coach and mentor for beginning shooters—especially junior shooters. His reputation throughout the shooting world was high and unique; of him it was said "If you want to be an NCAA All-American and an NRA National Champion go to Foster Rennie—if he can't teach you, no one can." His teams, under the banner of DSSA or the DuPont Fish and Game's Blue Hen's Chicks were usually at or near the top in competition.

Rennie and the late George Alves (for whom the Alves Trophy is named) worked on and developed a shooter development program that taught several hundred junior shooters how to shoot, how to be productive citizens and―it must be remembered―how to perform on the range at the highest level.

He was trained as a chemical engineer at Clarkson University and worked for DuPont throughout his career and is a published author on the topics of filtration and crystallization. He was a Korean War veteran (earning the Bronze Star) and he was in the U.S. Army Reserve, eventually retiring as a Lieutenant Colonel.

The Rennies (Foster and his wife Ann) raised four children and, as you might expect, all four learned to shoot. The three Rennie boys all made All-American, all at different universities—the only family to achieve this unique distinction.

Rennie was a NRA Referee, certified firearms instructor, Camp Perry volunteer and additionally had the role of Chief Referee during the Smallbore phase of the National Matches.

The Rennie Trophy not only celebrates the contributions to the shooting sports of a remarkable man but also commemorates a class of contributor to our sport that is too often overlooked: the coach, the instructor, the mentor. Exactly what characterizes an outstanding coach or mentor is hard to define but the qualities of "being there" for the shooter, for taking the beginner through the confusing acquisition of equipment, for encouraging the shooters and sometimes saying an appropriate word of inspiration ("You can do better") are all part of it. Foster Rennie had these qualities, these gifts, and they were an integral part of his success. We need more people like Foster Rennie in our sport.