by
posted on August 29, 2019
Support NRA Shooting Sports USA
DONATE
This year's NRA National Smallbore Rifle Championships not only brought shooters from all over the country to compete at the Wa Ke' De rifle range in Bristol, IN, but it also brought promise to the shooting-sports community itself. Young shooters attend the NRA National Smallbore Championships for many reasons, such as being scouted for a collegiate team, the chance to win titles and to have fun. One team in particular dominated the 2019 contest—the Texas State Rifle Association (TSRA). Comprised of four young ladies, they are fierce and dedicated to their sport. They are the future of the shooting sports.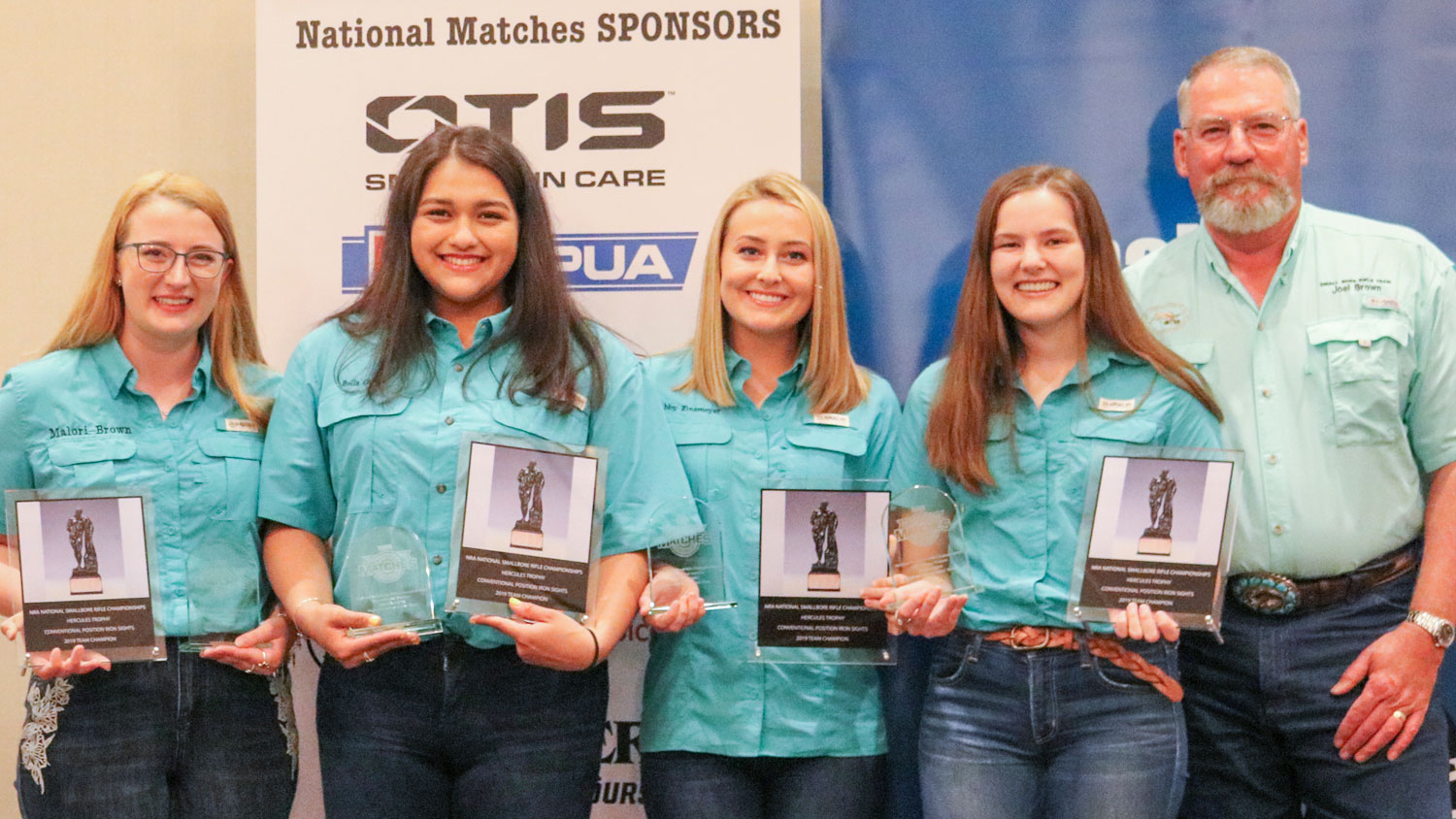 Each of these teenage girls—Abigail Zinsmeyer, M'Leah Lambdin, Bella Gamez and Team Captain Malori Brown—has their own story about their start in competitive shooting, but one thing is for sure, they are unstoppable. The team, coached by Joel Brown, did phenomenal in Bristol this year, winning the Metric 3-P Iron Sights team match, the overall team aggregate for Metric 3-P, the Conventional 3-P Iron Sights team match, the Whistler Boy, the Conventional 3-P Any Sights team match and the overall aggregate for Conventional 3-P teams.
All four young women gave 100 percent, which is how each arrived at the lofty summit they're at now.
Castroville, TX, team member Abigail Zinsmeyer began shooting in 4th grade through the 4-H program. Influenced by her dad who was active in the shooting sports, she discovered a liking for it and shot at various NRA junior rifle camps as well as teams in Texas, where she became friends with Lambdin, Gamez and Brown. She trains in smallbore between 3 to 5 days a week along with air rifle at her home outdoor range that she built (with help from dad) in order for her to practice. Her rifle is a Feinwerkbau 2700 Light and she uses Eley tenex ammunition. Zinsmeyer's gear includes a Hitex suit, Sauer shooting boots and a Gehmann shooting glove. Additionally, she uses a synthetic sling which she finds doesn't stretch over time. Her offhand stand and kneeling roll are Champion's Choice and she uses a Tec-Hro monocle instead of shooting glasses for her vision correction.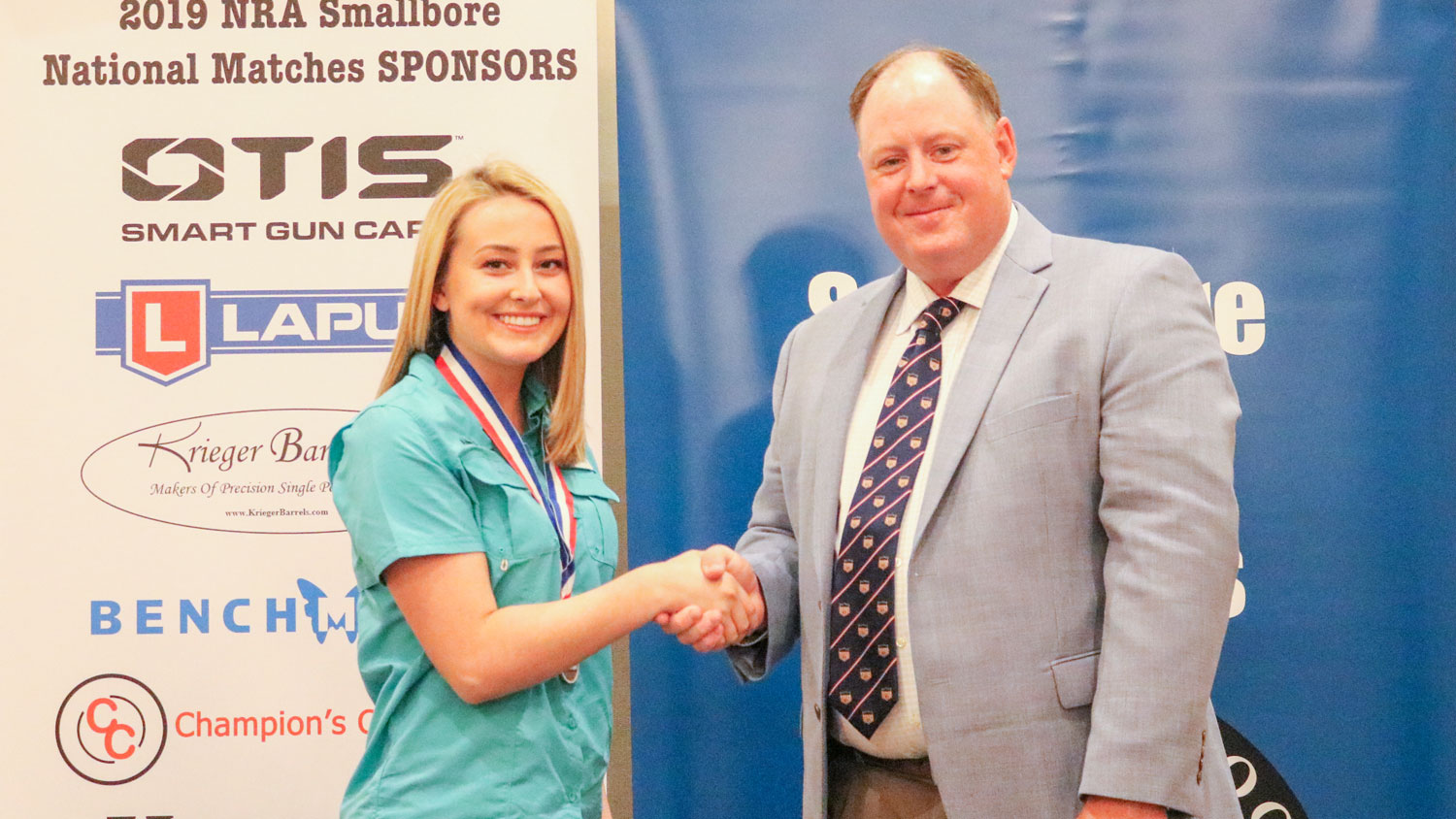 This fall, Zinsmeyer will be a senior in high school and her plans after graduation include shooting for an NCAA team with the ultimate goal of helping her collegiate team win an NCAA rifle championship. She loves the shooting sports—especially the friendships she's developed through them.
Team member M'Leah Lambdin, from Granbury, TX, started shooting with her grandpa just for fun when she was 11 years old. She joined 4-H and developed an interest in competitive shooting. She found the TSRA team when they were looking for new members a few years back. Even though she was the youngest individual at tryouts, she showed promise and was invited to join the team. She quickly developed a friendship with Brown and her family. Being on the team is a huge time commitment, but it's one that she feels pays off with the memories she has made and the support she receives from her teammates. Lambdin shoots a Walther KK500 and uses Lapua X-act ammunition. As a rising senior, her plans after high school include shooting on an NCAA rifle team and pursuing a Mathematics degree.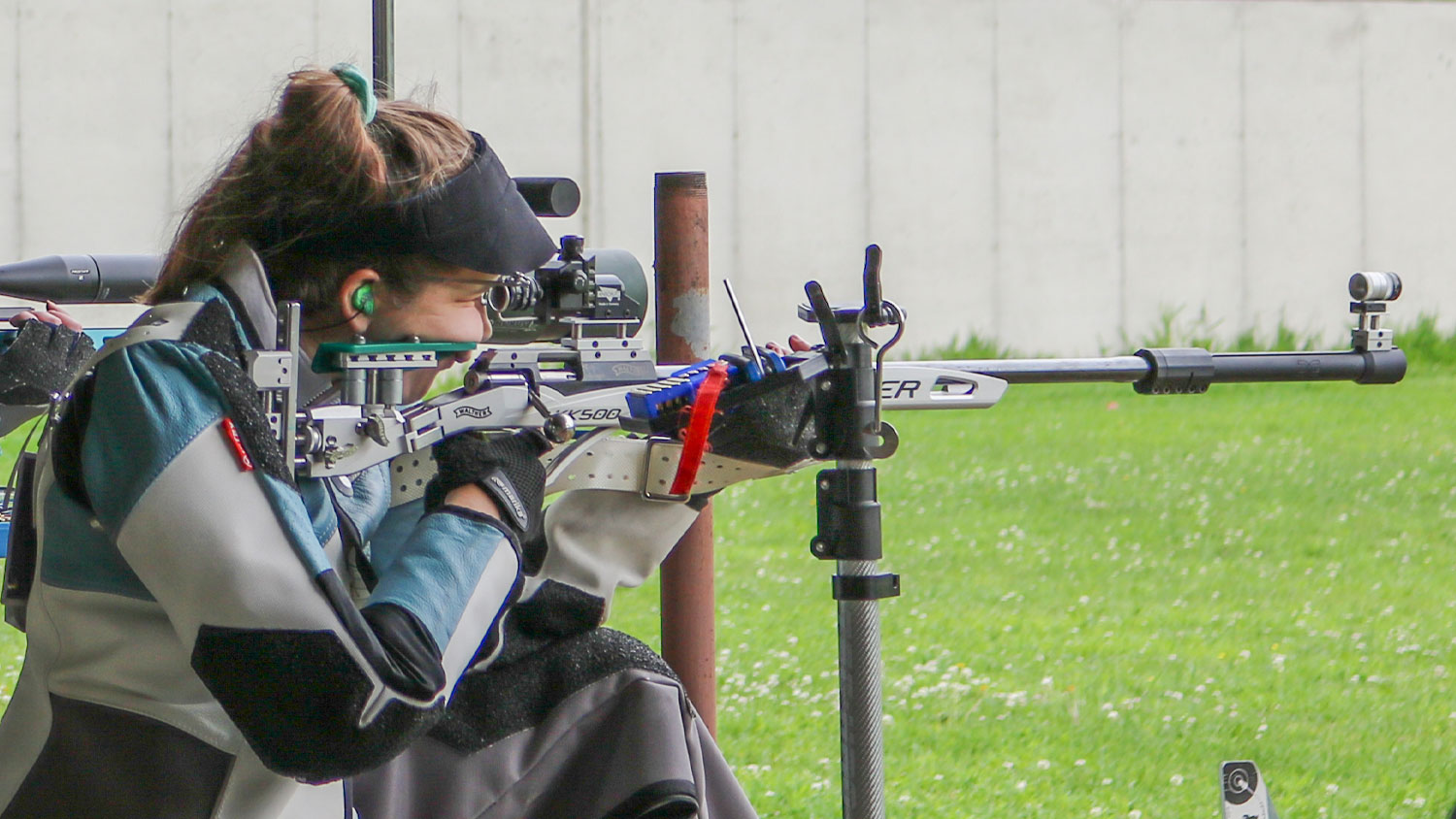 Lambdin always looks forward to the NRA National Smallbore Rifle Championships each year and has met so many people that have become her mentors and helped her on her journey. Their advice is what keeps her doing her best and striving to be better than she was before.
The newest team member for the TSRA is Bella Gamez from San Antonio, TX. She first became interested in shooting when she was a freshman in high school. Now a rising senior, she has been shooting on various teams, including her school team where she is the captain, for the past 3 years. This was the first year she competed at the NRA Smallbore Nationals with TSRA. Gamez practices 2 to 3 times a week, and her rifles are a Walther KK300 for smallbore and an Anschütz 9015 for air.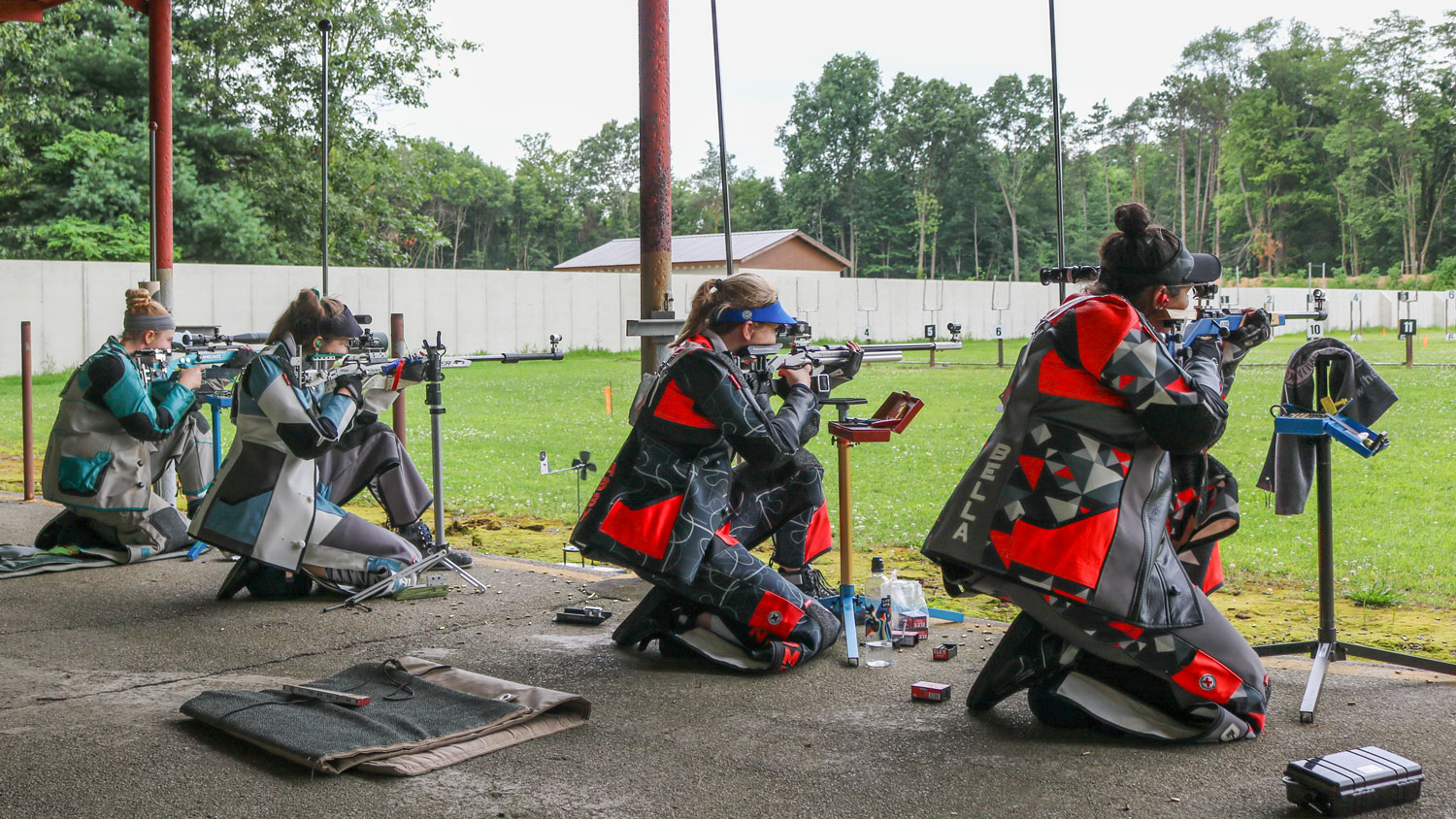 Upon graduation next year, her goal is to shoot for an NCAA rifle team, but beyond that, Gamez says that she is leaving the door open to whatever comes her way. As for now, academics come first, followed by shooting so she can make her dreams a reality.
Last, but certainly not least is Team Captain Malori Brown. Firearms and shooting came at an early age for Brown with the influence of her dad. Part of a local gun club, he saw an advertisement for a junior shooting competition when Brown was 11 years old. Not entirely enthusiastic about competing, Brown attended anyways in order to please her dad. However, to her surprise she placed second at the match and at that point, there was no turning back. For a rifle, Brown uses a 5430 Anschütz customized in turquoise and she shoots Eley tenex ammunition. Her gear consists of a customized turquoise Sauer shooting jacket and trousers, Sauer boots and an Anschütz turquoise sling. If you can't tell, turquoise is her favorite color and has become her trademark in the shooting community so much so that her parents call themselves "Team Turquoise."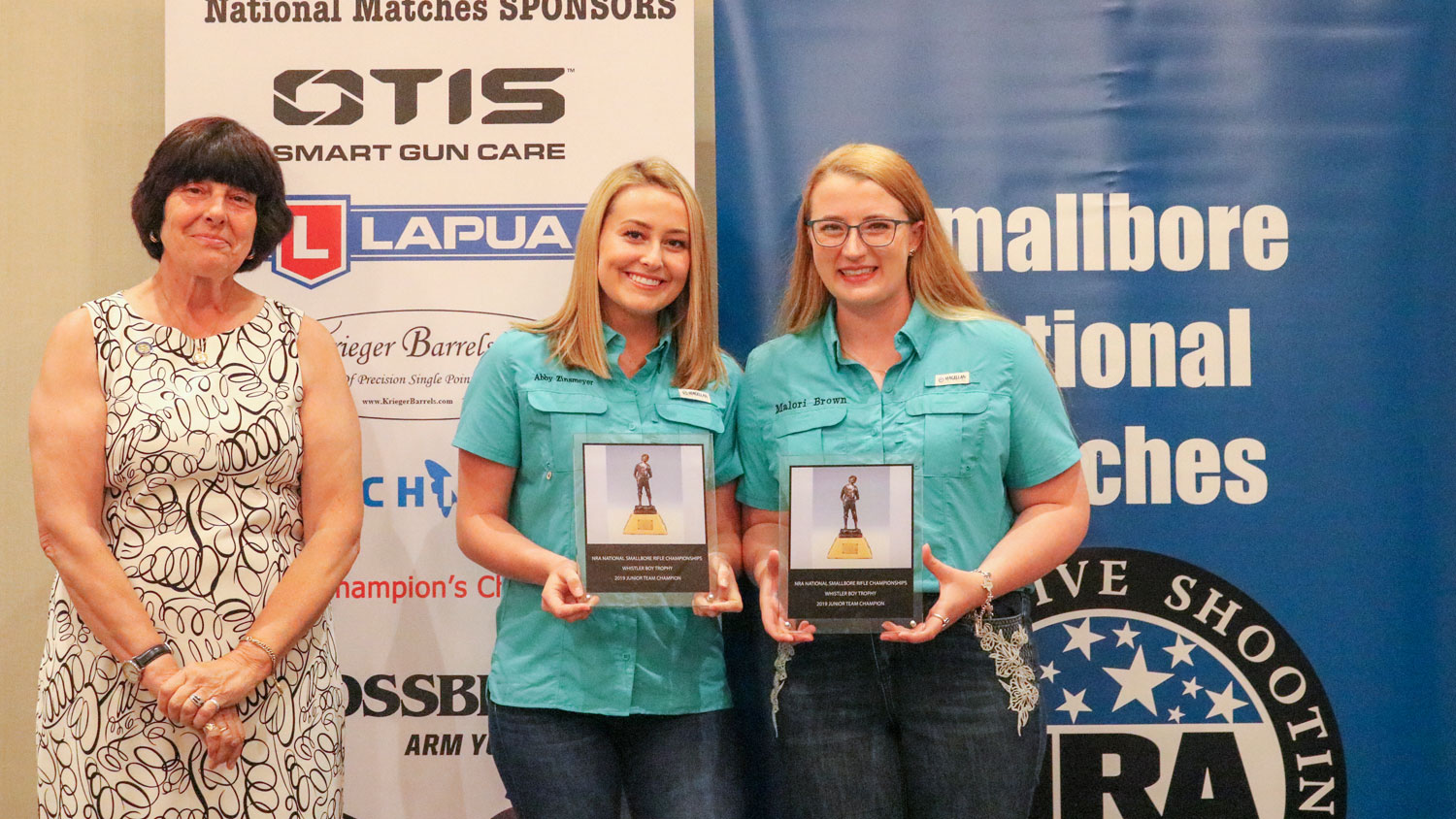 She trains with her equipment daily for about an hour and a half to three hours—depending on her schoolwork. Now a high school graduate, Brown is a freshman at West Virginia University as an NCAA rifle scholarship athlete and School of Medicine Honors student. Undoubtedly, we'll see Ms. Brown prevail in all her future endeavors.
Overall, these young ladies exemplify girl power as they were the first Junior team at the NRA Matches to win all team events in the 3-P Nationals. Dedication and perseverance are definitely qualities these teenage girls have with each bringing their own special personality quirks to the table. A lot of time and sacrifice went into competing as a team at the 2019 NRA Smallbore Nationals, and they certainly upped their game for the 100th anniversary. Traveling all the way from Texas, these girls mean competitive shooting business, and by exercising these qualities at such a young age they set an example for not only themselves—but for the entire shooting sports community.
---
See more:
Malori Brown Wins 2019 Smallbore Iron Man Award