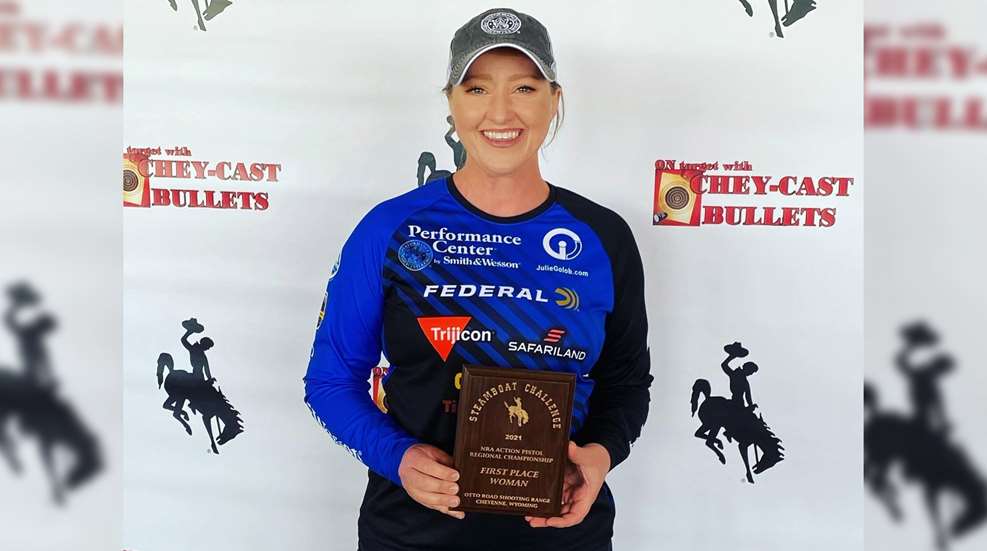 Safariland CADRE member Julie Golob won back-to-back action pistol titles at the 2021 NRA Steamboat Challenge Action Pistol Regional and Wyoming State Championships held at the Otto Road Shooting Range in Cheyenne, Wyo., on August 21-22.
The weekend kicked off with the Steamboat Challenge Regional, which included the classic action pistol stages: Moving Target, Barricade, Falling Plates and the Practical Event. Golob secured a first-place finish among women and fourth in Open with a score of 1885-140X. Additionally, Golob took the overall stage win for the Barricade Event with a perfect 480 score.
After the regional championships were crowned, the Wyoming State Championship repeated two courses, Moving Target and Falling Plates, and the two remining courses were selected at random. In Golob's case, International Rapid Fire and Modified Barricade were drawn, adding a twist and excitement with no previous opportunity to shoot either course.
With score of 1661-120X, Golob was named the Ladies Wyoming State Champion, while earning a third-place finish in Open division and also garnering the High Military Veteran award. And despite it being a first-time run, Golob tied for first place with fellow High Master Mark Itzstein for top honors on the Modified Barricade.
For both competitions, Golob was outfitted with the same guns and gear. Her setup includes a custom Smith & Wesson 9 mm 1911 with Trijicon MRO optic, custom loaded Federal Premium ammunition and Caldwell safety gear. Golob gave praise to her Safariland ELS Rig.
"I use the Safariland ELS system with a 776 magnetic pouch to conveniently store all my mags in Action Pistol. I also like to keep a spare 771 pouch with me. It's designed to give a fast and efficient reload and it came in handy for the Modified Barricade."
See the full results of the two matches at the Practiscore website. Learn more about Safariland here. And be sure to visit Julie Golob's website.
---
Read more:
Julie Golob: Competitive Shooting in the Instagram Generation