The United States Practical Shooting Association (USPSA) owns and operates the action shooting sport of USPSA as well as Steel Challenge. Each offers a different style of shooting and caters to a different audience, albeit with some crossover competitors. USPSA has eight divisions, while Steel Challenge boasts 13 divisions, each with unique equipment rules to differentiate competitors.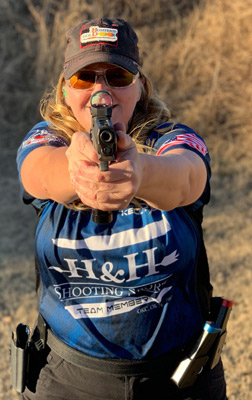 In the spring of 2018, it became a badge of honor to be classified in all of the 13 divisions of Steel Challenge. This achievement is affectionately named Club 13. The excitement is centered around experiencing the sport through a different set of equipment. This caused a revival of interest in divisions not commonly participated in, such as in revolver. There is something about driving a wheelgun that brings us back to childhood, where we played cops and robbers with shiny guns igniting red caps. It did not take long before being classified in all eight divisions of USPSA—Club 8—fostered a desire for crossover competitors to join Club 21, to become classified in all of the USPSA and Steel Challenge divisions. This is where our story begins with Kelly Brown, the 15th person—and first woman—to join Club 21.
Please share a little bit about yourself. Where are you from, married, children and something other than shooting you like to do in your free time?
My family and I are from the Oklahoma City area. I have a son who will graduate high school in May. Outside of shooting, I enjoy watching my kiddo race ATVs and spending time with family and friends. I also enjoy the downtime of watching TV such as Yellowstone or western movies.
When did you first start shooting? How about competitively? Tell us about how you got started.
When I was little, my Dad was an avid shotgun hunter. He would let me help reload the shotgun shells, although I am not sure if I was the best helper. I have fond memories of those days, but I did not grow up around any handguns. During college, I attended a self-defense course for concealed carry. I fired a pistol for the first time.
The NRA's Women on Target event was most impactful at the time. I was able to try everything in one day, even a .50-cal. rifle!

Back then, I was too inexperienced and decided I did not have enough knowledge to carry a firearm. Fast forward several years, in an attempted mugging at the mall, a guy tried to take my phone. It was at this point I decided I needed to move forward with getting the concealed carry license and a firearm for self-protection. It gave me a sense of control. I was protecting myself even though I didn't have any real experience or training. A couple years later, I attended events by A Girl and A Gun and the NRA's annual Women on Target. The NRA's Women on Target event was the most impactful at the time. I was able to try everything in one day, even a .50-cal. rifle! I wanted to know more and to seek out training.
I was fortunate to find quality groups within my area such as Oklahoma Shooting Skills and the Defensive Shooting Academy. Learning how to handle a pistol wasn't enough, I wanted to learn more about all of it—rifle, shotgun, low light and tactical. In going through the courses, I met people who trained in everything and even competed—USPSA, Steel Challenge, 3-gun and 5-stand. I attended a couple matches. I was nervous and overwhelmed. I don't even remember my first outdoor USPSA match save a video from it. I am thankful for the shooters who took a moment to make sure I was okay or if I needed any help. Those folks are still heroes in my eyes and what the sport is all about. I could not believe how much fun it was and how I had not heard about competitive shooting before.
Shortly after getting started, I lost my Mom to cancer. My thoughts and heart were elsewhere. I didn't think about shooting for a long time. It wasn't until the local club was having a special match that I thought of trying to shoot again. It was so much fun. The next season, 2017, I signed up for a few more matches but still had no clue what I was doing. In the beginning, I shot mostly Limited in USPSA. The rules for the gun and gear were easier to figure out. In 2018, I jumped in with both feet and switched to Open division. This meant I had to start reloading my own ammunition. It was a wild ride, a friend told me it was a reckless move, "like turning a 16-year-old loose with a Ferrari." I didn't know much, but I was willing to learn as quickly as I could process the information.
There are many new experiences, such as shooting my first major match and attending regular monthly matches in USPSA and Steel Challenge. I became an Range Officer. I should have done this in the beginning to better understand the rules. I worked a major match. I learned countless lessons during this season. The next year, I was selected to join Max Michel's training academy, Team Max. This was a game changer. I had no idea how much more there was to learn to become a better competitor. It has taken me a while to catch up on foundational skills and build more confidence. I am grateful for the coaching. I switched from Open to Carry Optics so I could concentrate more on shooting instead of extensive gear maintenance required for Open. Through the COVID-19 pandemic, I've continued to shoot more matches outside of Oklahoma to experience various stage styles and reach new goals, like Club 21.
What is it about the shooting sports that keeps you coming back?
The shooting sports are a happy place for me. It's a way to relieve stress, build confidence, meet people, travel to new places and do things I never thought I would have the courage to do. A practice session at the range can melt away all the problems of the world. A match where I achieve a particular goal as a competitor is such a thrill. I've also learned there are ways for me to give back to the shooting sports. I've attended the Range Master Development course and various NRA courses. These courses provided a foundation for me to help shooters who are just getting started, either privately or at a match. This is rewarding for me since I get to share my enthusiasm of shooting sports and urge others to get involved.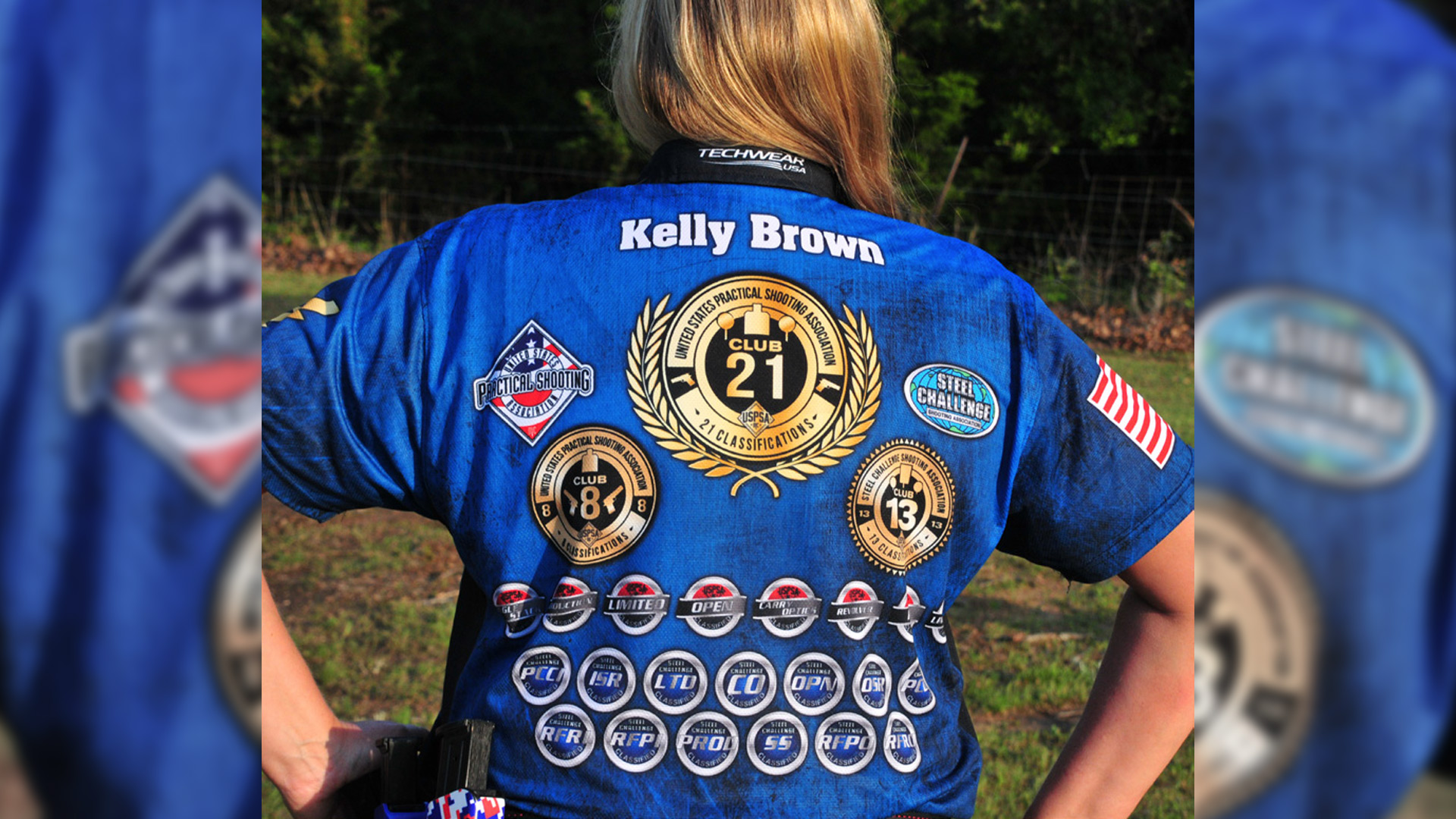 What has been the most significant accomplishment in your shooting career?
Developing the confidence to do hard things that don't come natural or gained through a lifetime of experience. I now know I'm capable of packing my gear and traveling with firearms without having someone hold my hand. I like to travel with friends, but it is pretty liberating since I realized I can do it on my own. This was especially helpful in the pursuit of Club 21.
Were you a member of Club 13 or Club 8 first?
I made Club 13 one week before completing Club 8. When I started this journey in November 2020, I needed classifications in nine of the 13 Steel Challenge divisions, and four of the eight USPSA divisions to achieve this goal.
When did you decide Club 21 was a goal you wanted to achieve?
I noticed the USPSA announcement regarding badges in September of 2020. I saw a social media post about Club 13 and Club 8 in early October. At that time, I was focused on Factory Gun Nationals but thought it might be fun to try to get all of the classifications in the off-season. At the beginning of November, I saw the Club 21 badge for the first time on someone else's social media page. I looked up all the badging information and knew I had to do this. I noticed there were no ladies on the list. I started to figure out what gear I had and which combinations I could shoot together to make it easier. I wanted to be the first lady, the first person from Oklahoma and one of the first 15 in Club 21.
Do you have all of the gear to participate in all 13 divisions of Steel Challenge or did you have to borrow some equipment?
In November, I pulled out all my gear to see what I had to work with. I had to match what I had with the USPSA and Steel Challenge division specifications. Some swapping optics and irons was necessary. For Single Stack, all I had was a gun I had used as a carry gun. Thankfully, a good friend loaned me a holster, magazines, and magazine pouches. Also, I did not own a revolver that would work, so I borrowed a Smith & Wesson 929. I think I have fallen in love with this gun. I am thankful I had a couple of people in my corner like Mike Foley and Max Michel, who helped me with gear and suggestions about how to shoot different divisions. One key piece of gear was a constant in all 21 divisions—my Hunters HD Gold eyewear.
What were the major obstacles you had to overcome to achieve this historic accomplishment?
Trying to source specific ammunition during a shortage and the challenge of shooting divisions I had never shot. There were a times I was on the phone the night before a match trying to figure out a gear or cleaning up a gun I hadn't shot in years.
What is your favorite division and discipline to compete in and why?
I love to shoot Open. I mean, who doesn't like to go fast?! When it's good, it's really good, but if something goes wrong or breaks, it's not usually an easy fix. Ammunition and the gun need to be compatible, so this requires a little more attention and patience. I have a newfound love for revolver. I am working to get my very own wheel gun. I've always enjoyed watching the revolver shooters. I've moved squads just to see a proficient revolver shooter run USPSA stages all day. I also learned a lot of trigger discipline pulling a heavier trigger. Carry Optics is where I have learned the most about playing the game. I've developed more skills and gained confidence as an overall competitive shooter in this division. If talking about achieving goals, I would have to say Carry Optics is my winner.
In USPSA, it's about working within my abilities and having a better stage plan while still getting my hits.

Favorite discipline? That's tougher to answer. In Steel Challenge, I feel like I'm racing myself for a better draw, target acquisition and transitions. In USPSA, it's about working within my abilities and having a better stage plan while still getting my hits. I don't prefer one over the other. Locally, USPSA matches are more prominent, so I tend to shoot them more.
How do we get more ladies and juniors involved in the shooting sports?
To get more ladies and juniors involved in shooting sports, you have to get more people involved. A sport that does not continue to evolve and recruit new participants will die through natural attrition. I have been told by ladies and juniors it seems intimidating to start shooting sports when you don't know anything about them. One way to get more involvement could be local USPSA and SCSA clubs to hold events coordinated with groups, such as NRA, A Girls And A Gun or 4-H programs. Another way is to encourage those individuals to become better competitors and squad mates. They can take an RO course to get a better grasp on the rules and learn a few tricks they have not thought of yet. They can help set up a match, which gives a preview of the stages with different angles and options. Encourage them to be part of the squad and do their part in helping to reset and paste.
What's your next goal?
I have several goals: To have enough ammo to shoot the season I want. To have my own revolver to shoot Steel Challenge, USPSA or other sports. To go to Nationals and shoot within my classification and have a perfect match with no deltas, misses or procedurals. And, to attend a CRO course, so I can learn more about stage design.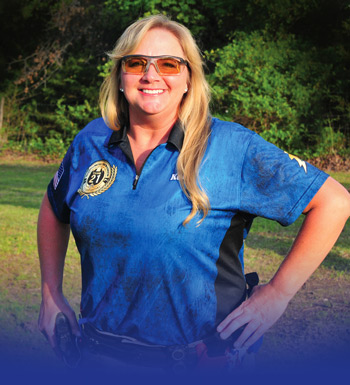 Anything you would like to discuss I have not asked about?
I would encourage anyone who has not volunteered to work a major match to do so. All match complaints by people who have not worked a major match are discounted since they have never walked in those Match Director or RO shoes. It's harder to put on those matches than most can imagine. Be part of the solution to make things better.
Special congratulations to Kelly Brown in becoming the First Lady of Club 21! After my conversation with her, I am inspired to do my duty and introduce a new person to shooting. There are people all around us waiting to be introduced to a lifelong passion of shooting sports. Who knows, they may find their true passion, set their own goals and be the first at what they do.
—SF
Article from the May/June 2021 issue of USPSA's magazine.
---
Read more:
Max Michel And The SIG Sauer P320MAX