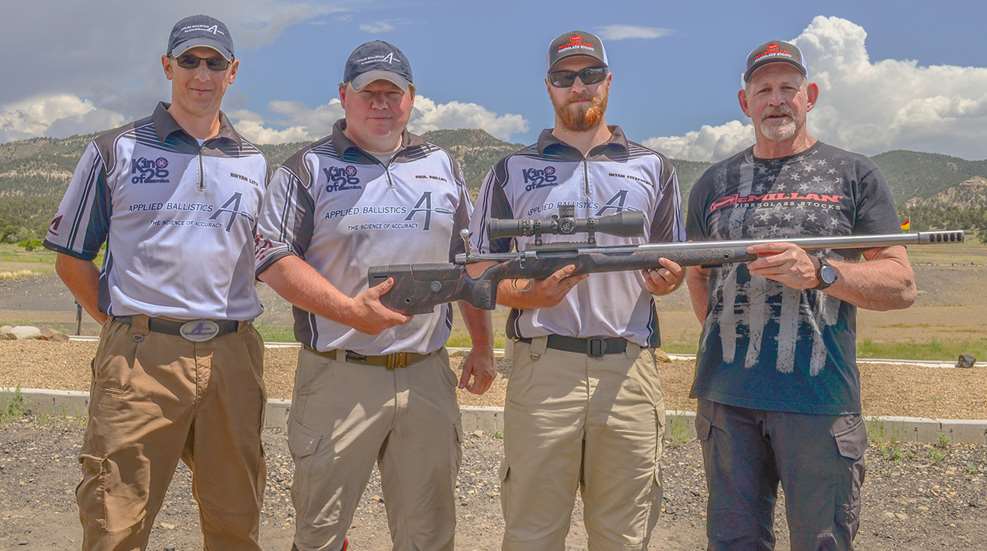 Above: Mitchell Fitzpatrick of Team Applied Ballistics (third from left) won the match using a self-built .375 Lethal Precision Arms rifle with McMillan A5 SuperMag stock and prototype solid 400-grain Berger Bullets.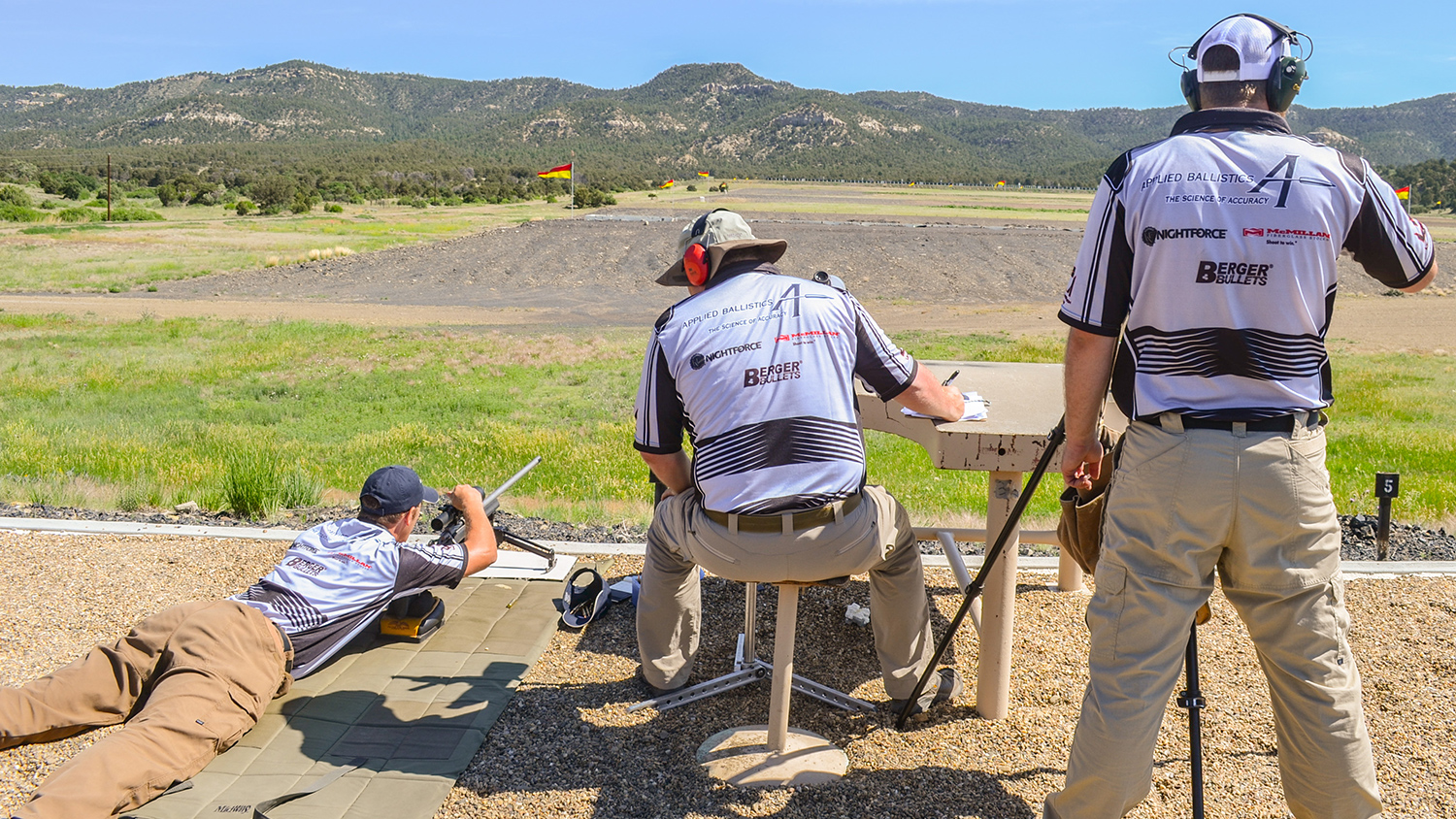 When shooting long-range as part of a team in real world conditions, all components need to come together—the rifle, bullets, optics, ballistics program, bipod and team members—and work seamlessly. In this unforgiving world resides The King of 2 Miles (KO2M). Last summer, the KO2M competition was held at the NRA Whittington Center in Raton, NM, as a two-day extreme long-range (ELR) match. This is a team event—prone rifle shooting with a bipod at distances up to two miles. Teams consist of one shooter and up to two wind coaches/spotters helping.

Team Applied Ballistics dominated the KO2M match, finishing with three of the top four spots, including first and second place.

Winning first place was Mitchell Fitzpatrick, along with teammate Paul Phillips as wind coach. Fitzpatrick was using a self-built .375 Lethal Magnum, Lethal Precision Arms rifle with McMillan A5 SuperMag stock, Rock Creek barrel, NightForce ATACR MOA scope, Phoenix Precision Bipod and LPA muzzle brake—firing prototype solid 400-grain Berger Bullets. Fitzpatrick finished with an outstanding score of 65479.

Mitchell expressed gratitude to his Team Applied Ballistics teammates.

"We had the best ballistic solutions possible thanks to the work done at Applied Ballistics LLC by the one and only Bryan Litz. Bryan is also a world-class wind coach and world champion shooter. Paul Phillips, also a world class wind coach, champion shooter, and just an all-around class act, was invaluable to making the wind calls needed to win this match."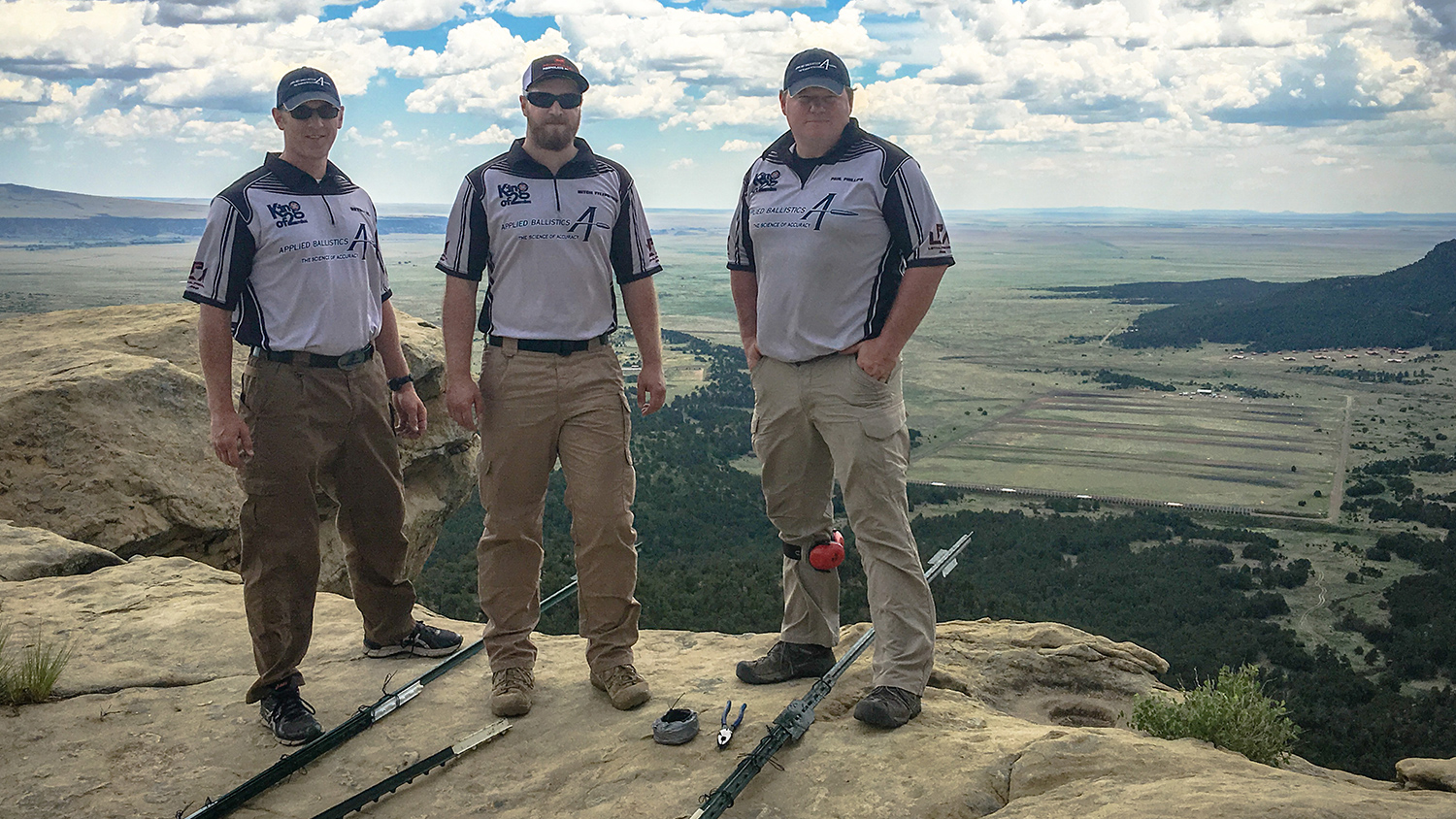 Bryan Litz, one of the best long-range shooters in the world, finished in second place. Paul Phillips again performed as wind coach. Using a .338 Edge with the Berger 300-grain hybrid bullet, Litz finished the match with a score of 57239. Despite being a smaller caliber (compared to the .375 cal., .416 cal., and .50 cal.), the .338 cal. 300-grain Berger Hybrid proved to be a great choice—notably, it was the only .338 cal. in the finals.

Paul Phillips, shooting Bryan Litz's rifle, placed fourth with a score of 39063. Says Phillips:

"We made first round hits at 1454, 1556, 1724, 2011 and 2477 yards (1.4 miles). This was done during windy conditions at a competition, on command, in front of over 100 witnesses. We didn't wait until it was dead calm or optimum conditions."

In third place was Durvin Wick, using a Barrett M99 chambered in .416 Barrett, using Cutting Edge Bullet's new 472-grain MTAC V16.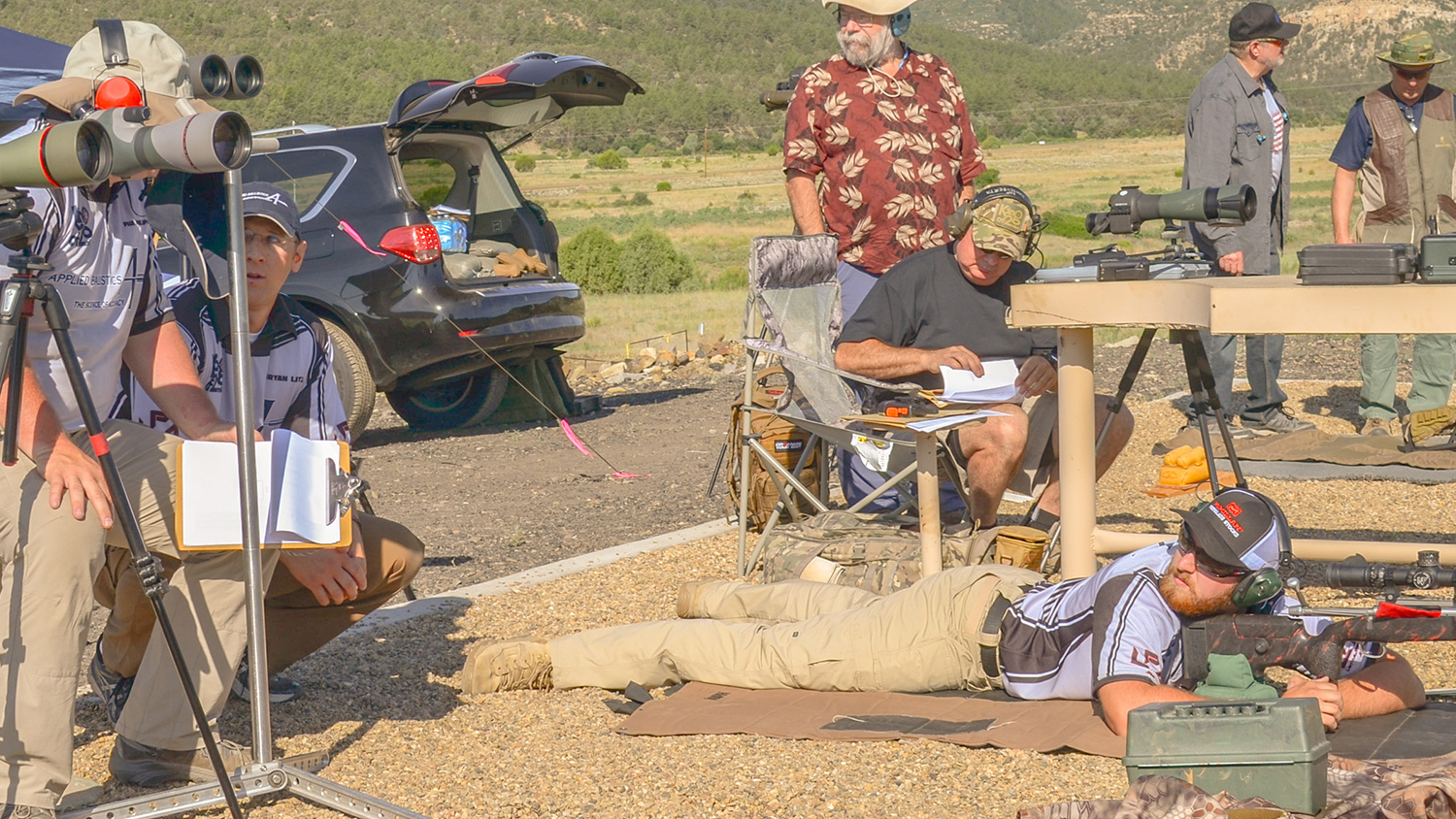 All three Applied Ballistics team members had hits at 2011 yards, and two out of three scored first-round hits at 2477 yards. Ballistic prediction technology is undoubtedly advancing, but there is still progress to be made—there were no hits on the "two-mile" (3375-yard) target. About Team Applied Ballistics and their ELR shooting success, Bryan Litz said:

"The Applied Ballistics ELR team was formed to explore the limits of long-range shooting. What does it take to make first round hits at ranges past a mile? Here are some key elements of our approach.

One element often overlooked is the accuracy of your fire solution. Through much of 'normal' long range shooting (up to 1000 yards), it's relatively easy to get a fire solution that's accurate enough to hit targets. At ELR the subtleties become decisive and it becomes critical that your ballistic software is highly accurate; that's where we're focused.

To win a match like KO2M, another important element that was perhaps undervalued by other competitors is the team aspect of our approach. The AB ELR team is comprised of shooters from the U.S. Rifle Team and we're all familiar with each other and our SOP's. In a timed match, with the pressure on, we are comfortable and able to function as a team to everyone's greatest potential.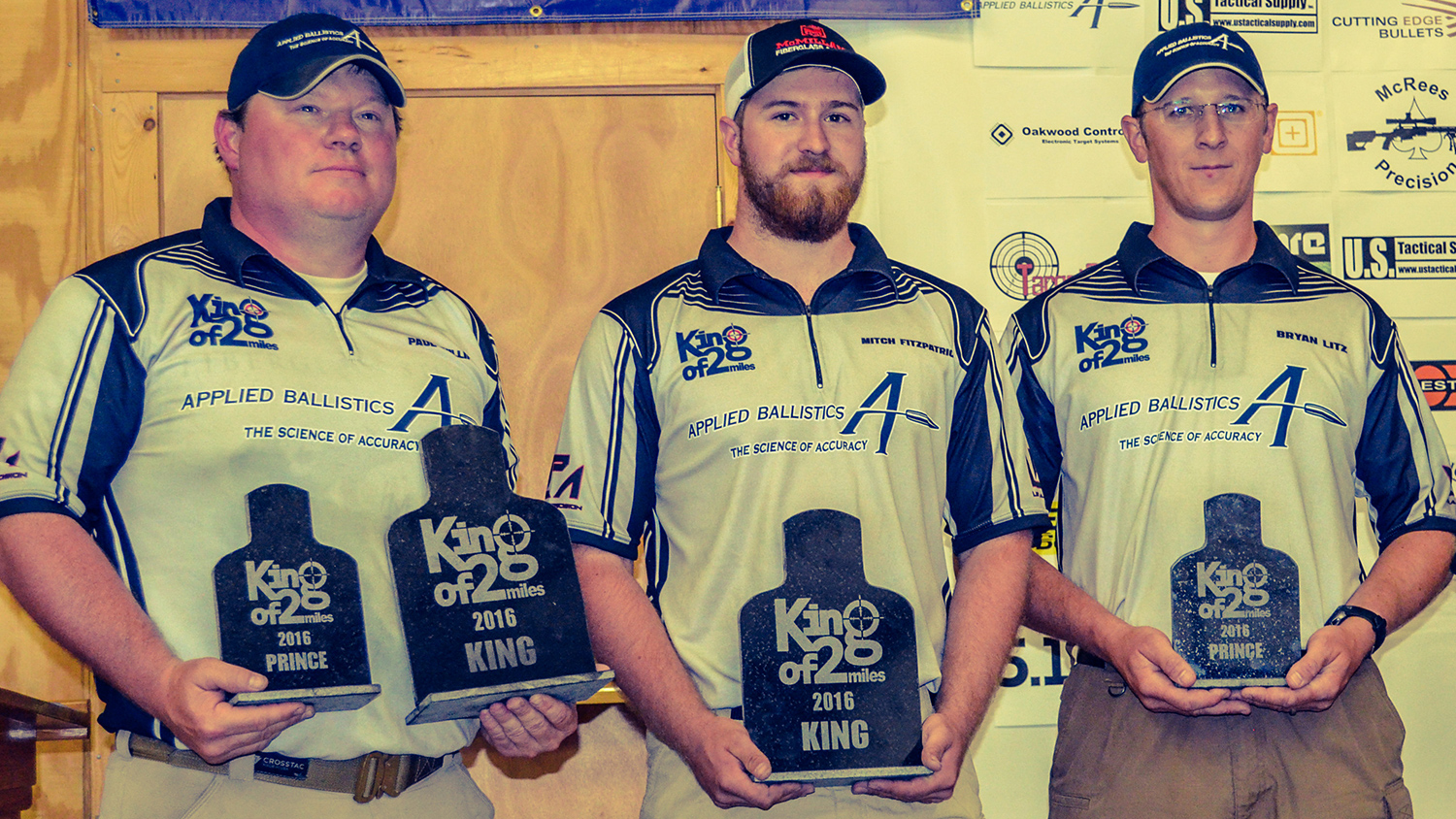 Finally, equipment has to be right. This is the most obvious element of importance to ELR but the challenge is knowing what the right equipment is. There's a lot of marketing hype and misinformation out there about what works for ELR, it can be difficult to make intelligent choices on your rifle, bullet, and optics. Thru knowledge of science and quality suppliers (Berger Bullets, NightForce optics, McMillan stocks, Lethal Precision Arms, and Applied Ballistics), our team went to the line with the best tools for the job, and the knowledge to execute."

The scientific approach with superior equipment is a winning formula. Phillips added, "This proves that all the equipment we are using including technology works very well. Applied ballistics (the science of accuracy) helped us find our targets on our first attempts. Superior equipment, science of accuracy, wind reading skills and team work helped us win this event."