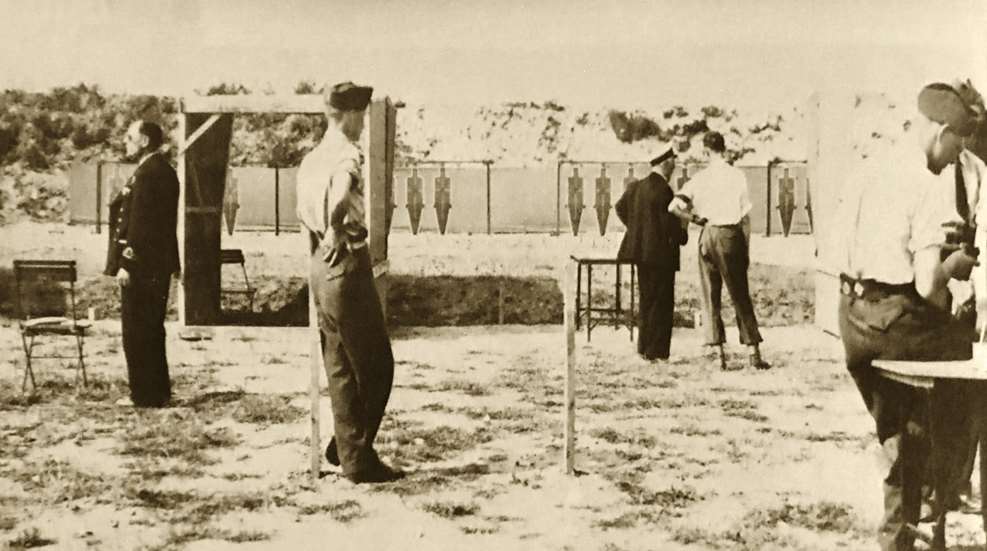 The below is an excerpt from the 1978 book, Olympic Shooting, written by Col. Jim Crossman and published by the NRA. Read Part 1.
1948—London: The Cookie Does Not Crumble (Part 2)
By Colonel Jim Crossman
When the returns were all in, it was decided to send shooters to all four events. As had been the case since 1924, there were no events for shooting teams and individual entry was limited. Where entry for individual events had been as high as 12 per country in some past years, it was now down to three per event with no alternates permitted.
Following a series of preliminary tryouts at locations all over the country, selected shooters were invited to Quantico for the final tryouts, selection of the squad and almost immediate departure for England. All the eligibles were told that they would not be permitted to go home if they were selected, so a lot of shooters had the thrill of packing for a trip to the Olympics, even if they sadly did have to unpack a few days later.
A shooter was permitted to try out in one event only, in contrast to some years past when a competitor could try in several events and when many of our shooters competed in several Olympic events. After two days of shooting, Dr. E.O. Swanson, Frank Parsons and Arthur Jackson were selected for the free rifle team. Swanson, then NRA president, was new to Olympic shooting, but he had extensive experience in international-type shooting on other U.S. teams. Parsons also had international experience, having shot with Swanson in the UIT World Championships at Antwerp in 1930. Jackson had done much position shooting, but had not traveled overseas with a U.S. shooting team before.
John Layton, of the Washington, D.C., Police Department, and later Chief of the Department, in four times over the rapid-fire pistol course got all hits and ended with the high score. Also with 240 hits was Philip Roettinger, a tall, lanky Marine reserve officer. Right behind him with 239 hits was Frank R. Chow, a gunsmith from San Francisco.
The American shooters were generally happy to see that the Olympic rapid-fire course was now based on the UIT match and they felt it was better than the old fire of defense match, with its great emphasis on speed. The new course used only five silhouette targets and the competitor fired only five shots per string. He fired two strings in eight seconds each, two in six seconds each and two in four seconds each, starting with his arm pointing down when the targets appeared. Although five shots in four seconds is middling fast, it was considerably better than the old stage of six shots in two seconds.
While making all hits was still the object of the exercise, accuracy began to play a part. All those tied with equal hits were ranked according to the numerical score obtained and people now began to shoot for 10s rather than just trying to hit the target. With the longer time limit, it was necessary to make a lot of 10s, since someone else was quite likely to have the same number of hits. 
The free pistol event had changed little over the years, and places on the team were won by Quentin Brooks, a hot-shooting young medical student; Walter Walsh, with a long record of rifle and pistol wins; and Huelet Benner, then the U.S. National Pistol Champion. The shoot for the smallbore rifle squad was a cliffhanger all the way, with Walter Tomsen's 2391 sneaking in just ahead of three scores of 2390. Arthur Cook beat Vaughn Cail in the X-count, 166 to 165, for the second position on the team.
This business of the "X" is something that has not come up before, but it is going to be important from now on.

This business of the "X" is something that has not come up before, but it is going to be important from now on. It all started back in the 1920s with high power rifle shooters. Since modern U.S. rifle shooting started out to improve National Guard and regular Army shooting, the military targets were used. With the development of good shots and good equipment, the targets became outmoded and many matches were mere endurance contests—like 101 bullseyes at 600 yards. To settle ties, an inner ring was put in the big black five-ring. This ring was called the "V" and was not a regular scoring ring, only coming into play when the numerical score was tied. This unfortunate choice did permit breaking ties, but it did not always give the award to the best shot: a score of 100 with no Vs—no shots in the inner circle—ranked ahead of a score of 99 with 19 Vs. Nevertheless, this scheme was used for many years on American high power rifle targets and was carried over to smallbore targets, including the UIT 50-meter target for a while.
Eugene Hicker, the Team Adjutant, was an experienced rifle shooter, but he had no Olympic background. However, Karl Frederick, Olympic gold medalist in 1920, had been appointed the team captain.
The final squad included:
1948 U.S. Shooting Team
Karl T. Frederick, Captain and Manager, New York, N.Y.
Lt. Col. Eugene S. Hicker, USA, Adjutant, Elmonte, Calif.

Free Rifle
Lt. Col. Emmet O. Swanson, USMCR, Minneapolis, Minn.
Frank T. Parsons, Jr., Chevy Chase, Md.
Arthur C. Jackson, Brooklyn, N.Y.

.22 Cal. Rifle
Walter Tomsen, Flushing, N.Y.
Harry V. Cail, New Haven, Conn.
Arthur E. Cook, Washington, D.C.

Target Pistol
Quentin T. Brooks, Berkeley, Calif.
Lt. Col. Walter R. Walsh, USMC, Arlington, Va.
T/Sgt. Huelet L. Benner, USA, Ft. Knox, Ky.

Automatic Pistol
John B. Layton, Takoma Park, Md.
Maj. Philip E. Roettinger, USMCR, Wyoming, Ohio
Frank R. Chow, San Francisco, Calif.

Read the final installment of our retrospective on shooting events at the London 1948 Olympic Games.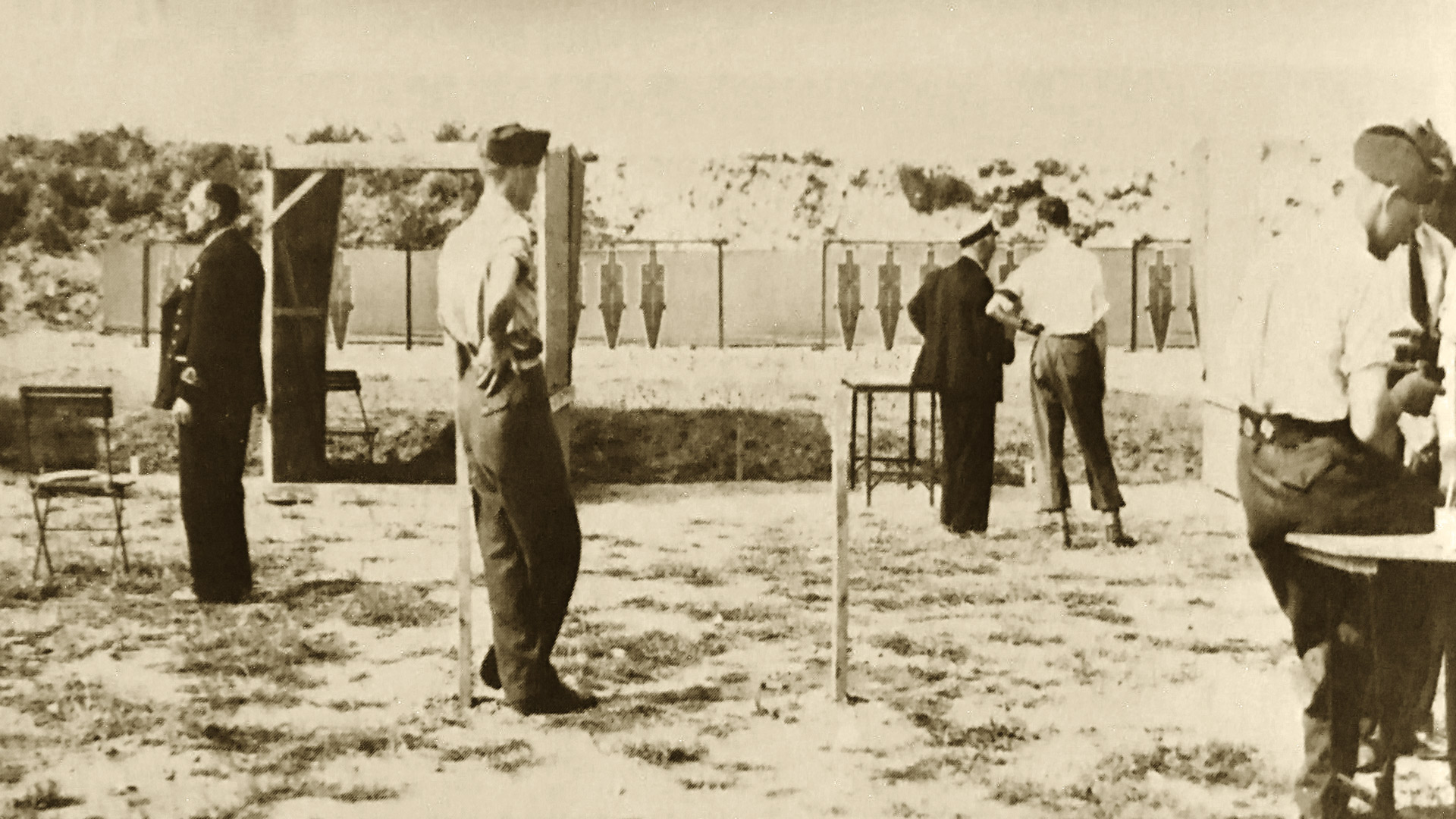 Photo: The rapid-fire pistol event was fired on this improvised range during the London 1948 Olympics. Photo from the NRA Archives.
---
Read more:
Tin Cans and The National Matches—1921