by
posted on January 4, 2019
Support NRA Shooting Sports USA
DONATE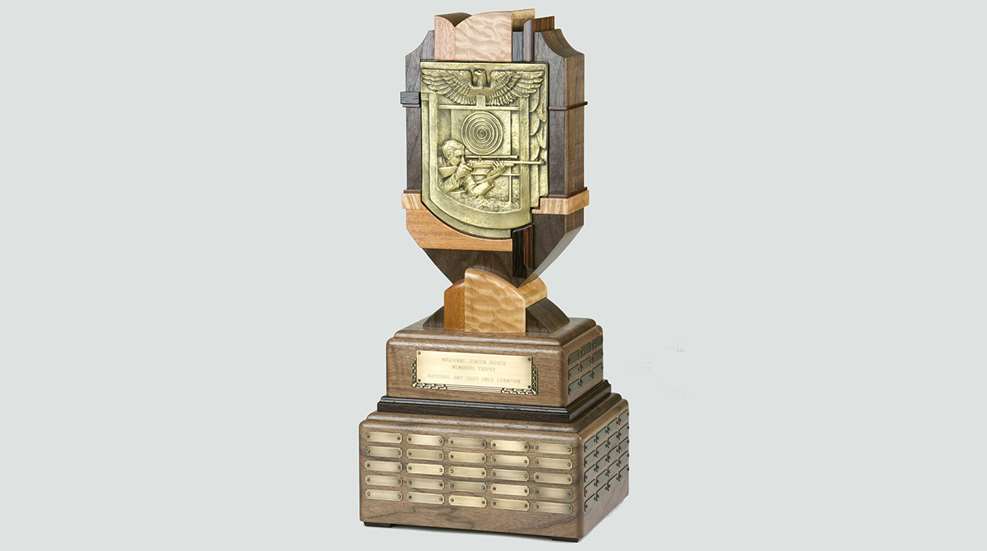 Since its inception in 2008, the Driver Trophy has been awarded to the High Any Sight Only competitor in the NRA National Smallbore Rifle Conventional Prone Championship. Beginning in 2019, the Driver Trophy will be presented to the winner of the Grand Aggregate in the NRA National F-Class Smallbore Championship.

Honoring a distinguished shooting career
On the final day of the any sight phase of the 1993 NRA Smallbore Rifle Outdoor Prone Championship, Marianne Driver, the 80-year old Grande Dame of U.S. prone shooting, lay down for the first stage of the any sight 50-yard match. A few minutes earlier she had quietly confided to Patti Clark that her next 20 record shots would be the last she would fire in a shooting career that stretched back to the 1930s. She reminisced how she and her shooting friend Patricia Burkhalter, now long gone, had kidded each other that they would compete until they were 80. They even acted out how they might look on that far distant day―toothless and supported by canes―as they asked some young junior to help them hang their targets.

Mrs. Driver had, all too soon, reached that magical age of 80. Keeping her promise to Burkhalter, she unclipped her last target. In what can only be described as a storybook ending, Mrs. Driver fired a 200x200, a nice high point on which to end a career.

As she was handing in her final target, Clark intervened. The target was taken back to the Assembly area where a crowd of well-wishers and longtime friends signed their signatures with appropriate good wishes to the tag board. Framed, it hung in her home as witness to the good times and friends she had encountered over a half-century in the sport of prone smallbore rifle shooting.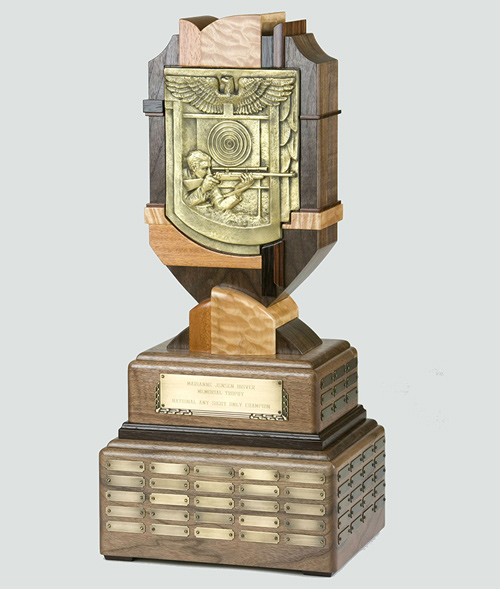 Upon her passing, her daughters Lenore Lemanski and Bobbi Vitito, great prone shooters in their own right, donated the Marianne Jensen Driver Memorial Trophy to award at the NRA National Smallbore Rifle Prone Championship. It features a brass relief plaque from the 1930s, with the image of a smallbore prone shooter, along with various exotic woods. The trophy and base are made by combining Black Walnut, Mahogany, Western Big Leaf Maple, Rosewood and Wenge―along with engraving plates.

Through this trophy, Lemanski and Vitito recognized their mother's many accomplishments: two National Women's Any Sight Championships; participation on the Randle International Smallbore Prone Team as firing member, team captain, and team coach over a 40-year span; supporting NRA women's issues, founding the Stinkniks Rifle Club; and coaching and mentoring countless other shooters. She was inducted into the Allen Park Sports Hall of Fame and was presented with the NRA Sybil Ludington Freedom Award in 1991. One of Mrs. Driver's shooting coats, adorned with many Randle Brassards and the Stinknik Skunk brassard, hangs in the NRA National Firearms Museum as a further tribute to this shooting icon.

Both Lemanski and Vitito approve of the Driver Trophy reassignment. Vitito says, "It matches our original goal of trying to keep competitive shooters in the game and enjoying the opportunity to shoot shoulder-to-shoulder at the national level. Lenore and I are happy that F-Class competition has become an even more viable way to further the goal of keeping shooters in the game and attending matches with their longtime friends, as well as meeting new members of the shooting family."

See the results of the inaugural NRA National F-Class Smallbore Rifle Championship, held last summer in Indiana.