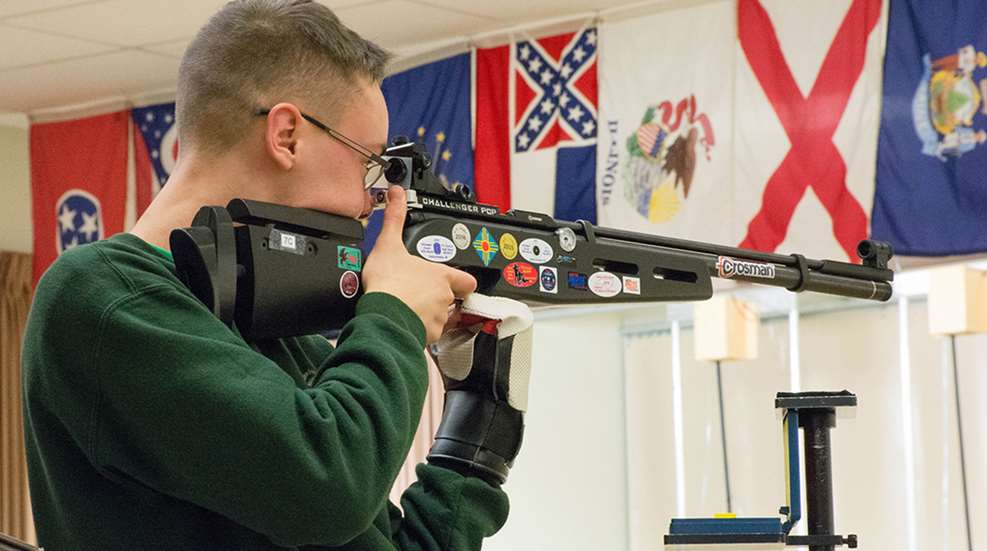 Above: Levi Carlson of Nation Ford High School in South Carolina, gave an outstanding performance on Day 1 of competition and set a new National Record for the Standing position. His teammates also produced incredible scores to lead the team to a new Marine Corps and Overall National Record for a four-person sporter 3x20 score.
During the CMP Three Position (3-P) Regional Championship, Levi Carlson, 17, of Nation Ford High School in South Carolina, set a new Marine Corp sporter National Record for the standing position on the opening day of competition, with a score of 189-6X—narrowly breaking the previous record of 188-6X. His team members of Nation Ford also had tremendous showings during the match, recording a Marine Corp and Overall National Record for a four-person sporter team 3x20 score of 2234-85X.
Also making the record books with the collaborated efforts of talented team members was Hardcore 4 from Georgia (who finished first, second and third in the finals at the Regional event in Alabama), as they broke a National Record for a Junior Club and Overall National Record for a four-person precision team 3x20 score with 2358-165X.
The championship is a 3x20 air rifle event where competitors fire 20 record shots from three positions: prone, standing and kneeling. School-aged marksmen involved in 4-H, Scouts, American Legion, club or JROTC air rifle programs all participate in the match.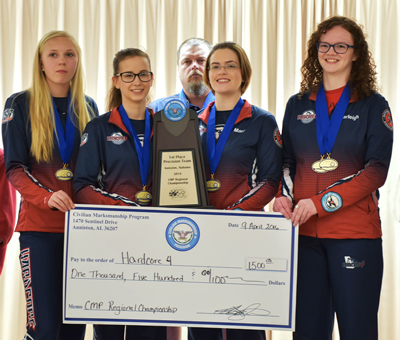 In the overall individual competition, Emma Thompson, 15, of Freeport Black, IL, was the overall sporter competitor, with a score of 1220.7. She led second place finisher, Brian Hampton, 18, of Charlotte Rifle and Pistol Junior Program in North Carolina, by nearly 10 points with her impressive performance. Hampton, who was last year's sporter Regional champion, fired an aggregate score of 1212.7 over the weekend. Landing in the third place position was Baylee Boone, 17, of R-S Central High School MCJROTC, also in North Carolina, with a score of 1207.5.
Sarah Osborn, 17, of the Patriot Shooting Club of Virginia, fired a score of 1288.5 to claim the overall spot in the precision match—recording perfect scores of 200 in the prone position both days of competition. Following closely at the heels of Osborn in second was Kristen Hemphill, 16, of Texas Hill County Shooting Club, with a score of 1286.8. Sabrina Keenan, 18, of Walla Walla High School JROTC in Washington, rounded out the Top 3 with her score of 1282.1 for third.
The CMP Regional Championships were held in Sandy, UT, Camp Perry, OH, and Anniston, AL, in March and April. Leading scorers of all three locations combined (approximately 310 athletes from each air rifle class) will be invited to compete at the CMP 3-P National Championship in June at Camp Perry.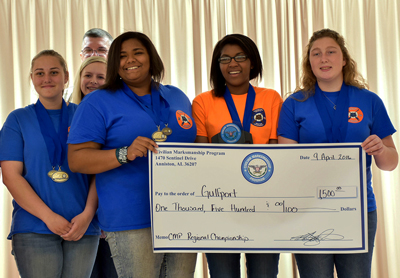 To reward the hard work of dedicated junior athletes and coaches, the CMP administers monetary donations towards winning teams of the Regional events ($1,500 for first, $1,200 for second and $800 for third), with additional funds for teams and individuals that continue on to the National level. Scholarship checks for $1,000 are also available for the Top 3 highest-scoring senior athletes in both the sporter and precision classes at the National competition.
A full list of results can be found on the CMP
Competition tracker page
.