The new Vortex Defender-CCW Micro Red Dot released in March is an entirely new red-dot optic built from the ground up for Vortex. The Defender is a micro-sized red dot built for modern everyday carry firearms. This new slide-mounted electronic red dot sight is meant for slimmer width EDC-style guns, and direct mounts to plates or slides with the Shield RMS/RMSc footprint. While the footprint might be small, this optic is packed with features.
There was a lot of time spent on building a new red dot to stand up to the punishment it can take on handguns. I was able to see a few of the prototypes last year at Vortex, as well as the series of tests and abuse they were subjected to in order to "battle harden" these new optics. There were more than a dozen design iterations as the durability testing took place. Red dots die due to the reciprocation mass sight picture. The new Defender is offered in 3- or 6-MOA dot sizes. There are different coatings used by manufacturers on their optics, such as a blue lens coating. This is used to help reflect the red emitter better, extending battery life. The glass on the Defender has less of the blue hue to it, but makes the window much clearer to see through with less starburst effect. Combine this with a better quality emitter, and you get a much cleaner and rounder red dot. The glass is designed to withstand a wide range of temperatures to keep it from fogging up.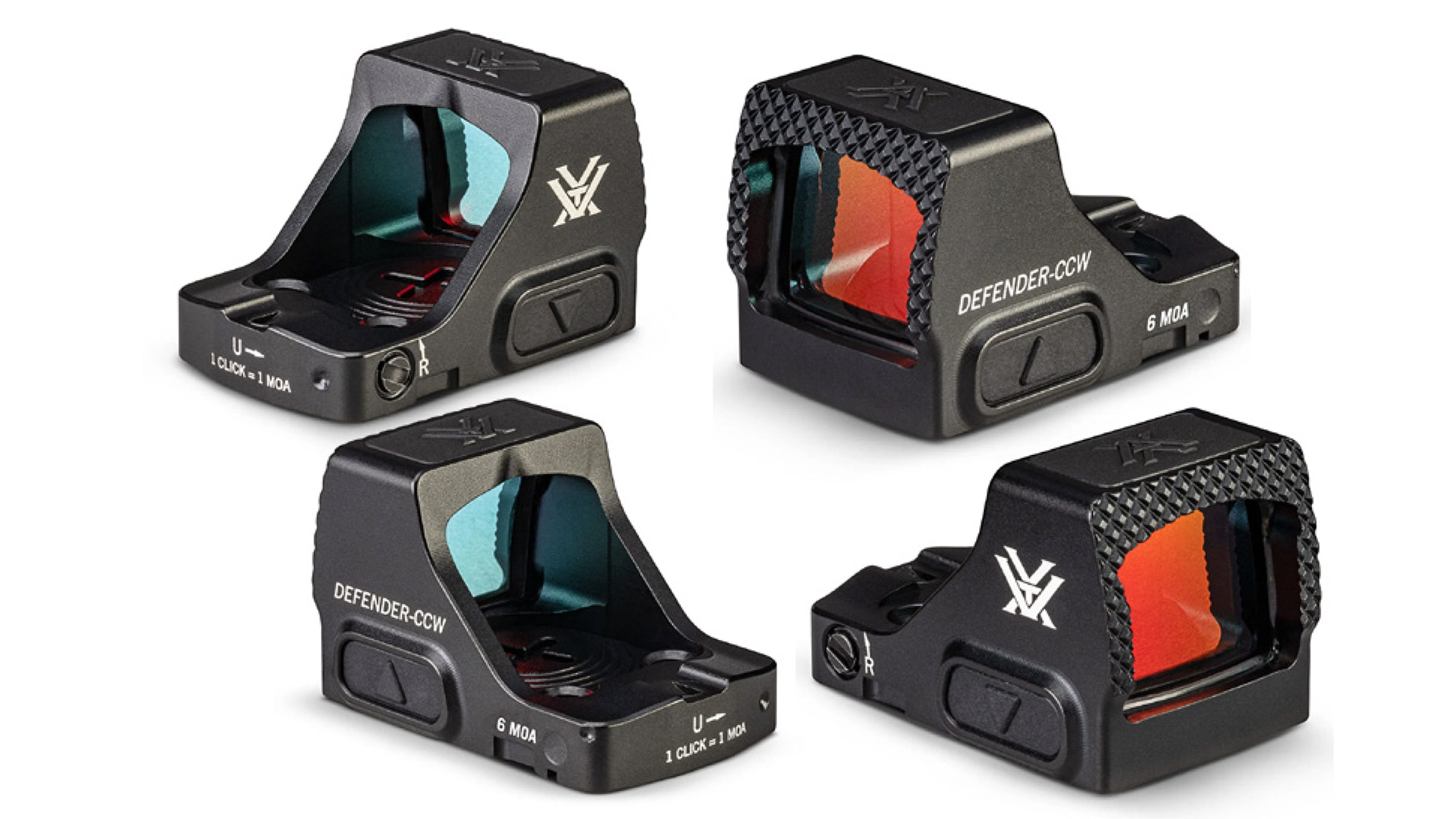 The front-facing part of the optic is texturized, something Vortex refers to as Fast Rack texturing, designed to facilitate the racking of the slide off of any surface. On the top of the housing is the Shock Shield, a polymer insert designed to absorb shock to the 7075 aluminum body of the red dot. The body is a single piece chassis which keeps it compact and lightweight at 0.95 ounce. There were several different materials used in testing in order to find one that met the criteria Vortex was looking for. The 7075 aluminum gave them better impact characteristics. Vortex would drop test the Defender mounted to a Glock G19 from six feet onto concrete. They continued testing this over and over until they found the right combination of materials and design they wanted. There have been several online torture tests, like MrGunsnGear dropping from six feet onto a steel plate multiple times, with no loss of zero or damage.
Vortex uses effective recoil testing as well as the drop testing for durability. This is to test the entire electronics and mechanical design. They have also had samples out to people for extended testing that have had over 40,000 rounds of live fire on them, that are still in use and going strong.
A top-loading battery tray is also a welcomed feature on this new red dot; no more having to unmount and remount plus zero your red dot when changing batteries. The batteries are CR1632, and the electronics were designed to be able to have almost all brands fit with a good contact. Vortex has used O-rings to prevent moisture, dust and debris from penetrating the optic. The Defender is IPX7 rated, which means that you can submerge the optic at one meter for up to 30 minutes. I did not test this out, but have seen other articles where the optics have been left in water overnight with no issues.
The new Defender is motion-activated, with a 14-hour auto shutoff to save battery life, which is actually rated at 9,500 hours, or one year. Something to consider with a carry gun is that with the 14-hour shutoff after no motion, your dot will essentially be on while carrying it. With the top load, it is easy to swap out batteries. I am changing batteries in competition guns every few months, and would do the same on a carry gun red dot. Changing the battery is also easy with the supplied tool.
The Defender has eight brightness settings and two night vision settings. The controls are an up button and a down button on opposite sides of the optic. They have positive clicks when adjusting the brightness of the red dot. You can leave the optic in motion activation, or you can lock the optic on your preferred settings. The elevation and windage controls are also easy to manipulate and are one-MOA adjustments. The supplied battery door tool also doubles as the adjustment tool (and the tool for the mounting screws, so don't lose this tool).
Vortex ships the new Defender with six different sets of mounting screws that cover just about every popular type of firearm. In addition, each bag contains two sets of screws. Along with the handy tool, there is also a shim plate if needed. The Defender is available now with a MSRP of $349.99, but I have seen these on sale for much less. Go to vortexoptics.com.
Article from the May/June 2023 issue of USPSA's magazine.