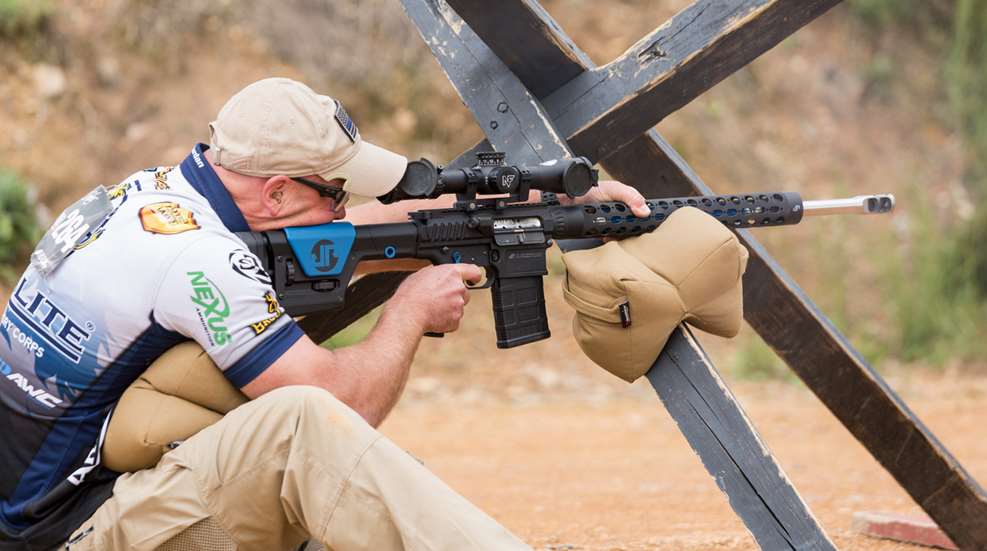 Above: The DMR stage at the 2018 NRA World Shooting Championship. The gear: JP Enterprises LRP-07 Long-Range Precision Rifle, Nightforce ATACR 4-16x42 mm scope, Armageddon Gear bag and Federal Gold Medal 6.5mm Creedmoor 140-grain Sierra MatchKing ammo.
Entering its sixth year, the 2019 NRA DMR Championship should prove to be a memorable event. With 20 action-packed stages, the two-day, gas gun-only match is the weekend of June 15-16 at Peacemaker National Training Center in Glengary, WV.
This is a fine example of multiple organizations coming together to provide a quality match experience for competitive shooters. The championship will be managed by NRA Competitive Shooting staff, with the scoring governed by PRS (Precision Rifle Series) gas gun division
rules
. Plus, there will be additional support from both Peacemaker and PRS staff.
As a DMR Championship, this match will have precision rifle targets for shooters to engage at out to 800 yards. The 20 different stages will utilize Peacemaker's rugged terrain as well as using the many shooting bays available. All stages should prove to be challenging. As described on the
NRA DMR Championship website
, "Shooters will be tested on marksmanship as well as their ability to overcome physical and mental stress."
Shooters are divided into three divisions:
Open: Rifles will not exceed a caliber of .30 or a velocity of 3200 fps.
Tactical Light: Restricted to 5.56 NATO/.223 Rem. calibers only. Bullet weight cannot exceed 77 grains and muzzle velocity cannot exceed 3000 fps.
Tactical Heavy: Restricted to 7.62 NATO/.308 Win. calibers only. Bullet weight cannot exceed 178 grains and muzzle velocity cannot exceed 2800 fps.
Competitors in either of the Tactical divisions will shoot the exact same course-of-fire as those in Open division.
Although target distances will be provided, shooters are allowed to use laser rangefinders.
Match sponsors include the NRA and renowned optics manufacturer
Zeiss
. Additionally, steel target maker
Custom Metal Products
(a.k.a. the "other CMP") is sponsoring this year's DMR championship.
Here's the best part, this match is affordably priced at only $155. You won't find too many two-day shooting extravaganzas out there these days with that kind of financial accessibility. And if you are a member of PNTC you can save $10 on match fees.
Interested in attending? Act fast, because with a 120-competitor limit the 2019 NRA DMR Championship will surely fill up fast. The match will start promptly at 7:00 a.m. on Saturday, June 15 with a mandatory safety briefing on the 1000-yard line at Peacemaker's Patriot Range.
You can register now via Practiscore at this link: 
practiscore.com/2019-nra-dmr-championship/register
.