Nine-Line Apparel is a company that describes itself as a lifestyle brand that's "determined to ensure the survival of liberty and true American values." An even better way to describe Nine-Line is the best source for clothing that reflects the Second Amendment and outdoor lifestyle, boasting an enormous catalog of attractive clothing and accessories that has something for the entire family.
Not only that, Nine-Line made a big splash earlier this year when they partnered with Mossy Oak to produce specially-designed apparel with the wildly popular Overwatch camouflage pattern. Mossy Oak Overwatch is the official camouflage of the NRA.
With an aim to bring unity to a country where politics can often divide, there are several options from Nine-Line that will not only have you looking good—but also send the clear message that you support all Americans, especially members of the military, first responders and law enforcement as patriots under the stars and stripes.
Here are our five favorite items from Nine-Line Apparel.
NRA Overwatch American T-Shirts
The NRA Overwatch "America" T-shirts come in men's and boyfriend-fit versions for women. With a striking design that marries the American flag with the state-of-the-art Mossy Oak Overwatch pattern, all the incredible details are on full display with this black short-sleeve tee. (For a short history of how NRA and Mossy Oak joined forces to create the Overwatch pattern, read this article.)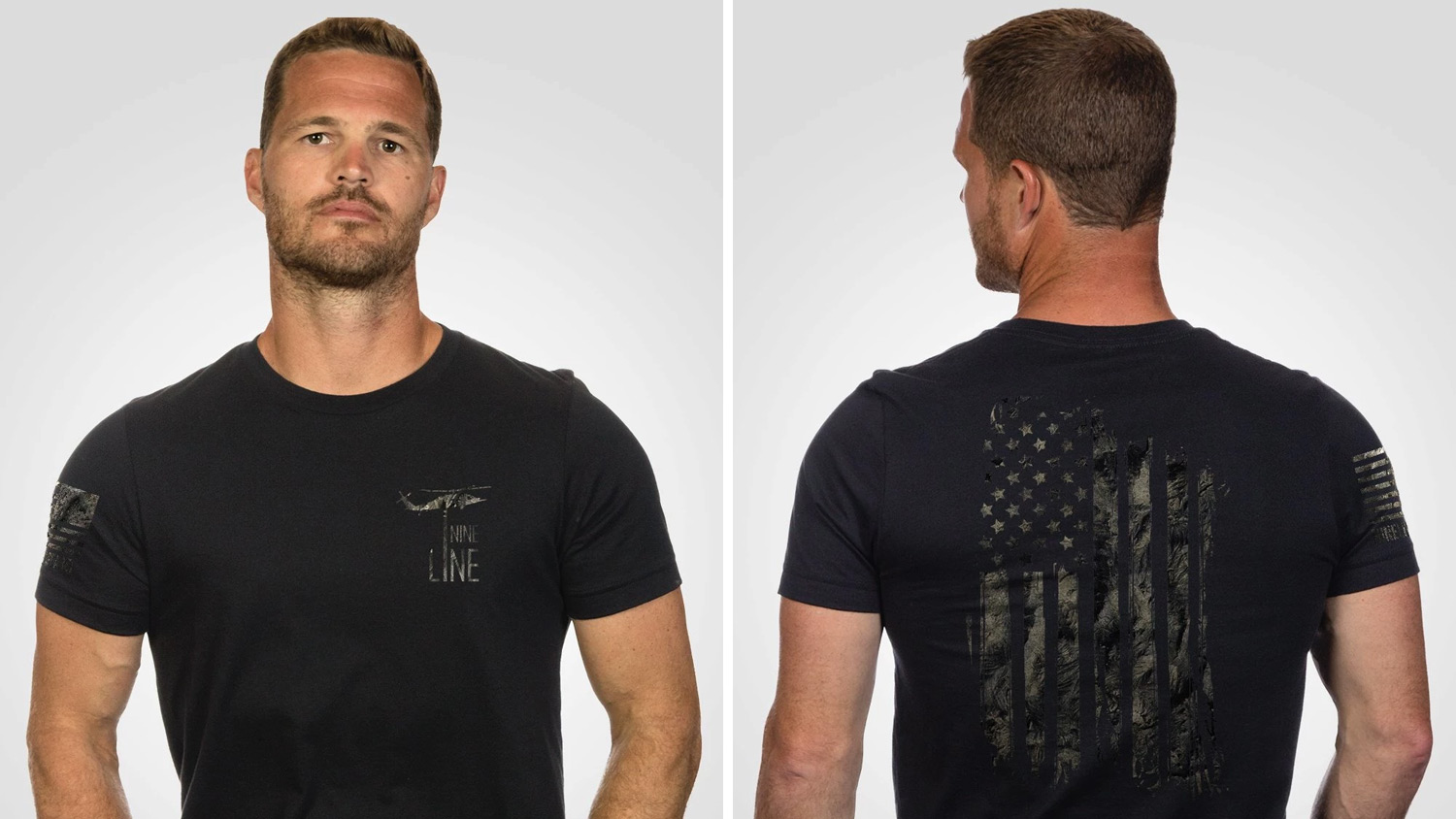 If you want to support the NRA, first responders and our men and women in uniform, all while looking great at the same time, this is the T-shirt for you. Also makes a great gift with perfect timing for the holiday season. Men's and boyfriend-fit styles both MSRP at $26.99.
Dog Bandannas and Collars
A dilemma faced by all outdoor enthusiast dog lovers is the serious lack of Second Amendment themed items for the special canine in their life. Well, you can look no further than Nine-Line to outfit your dog in style, with apparel like the Drop Line bandanna, which comes in six colors and patterns. Make your pooch the envy of the dog park with this 27- x 27-inch, machine-washable bandanna that will fit just about any breed. What's more is Nine-Line also offers a soft, durable dog collar emblazoned with America's rifle—the AR-15.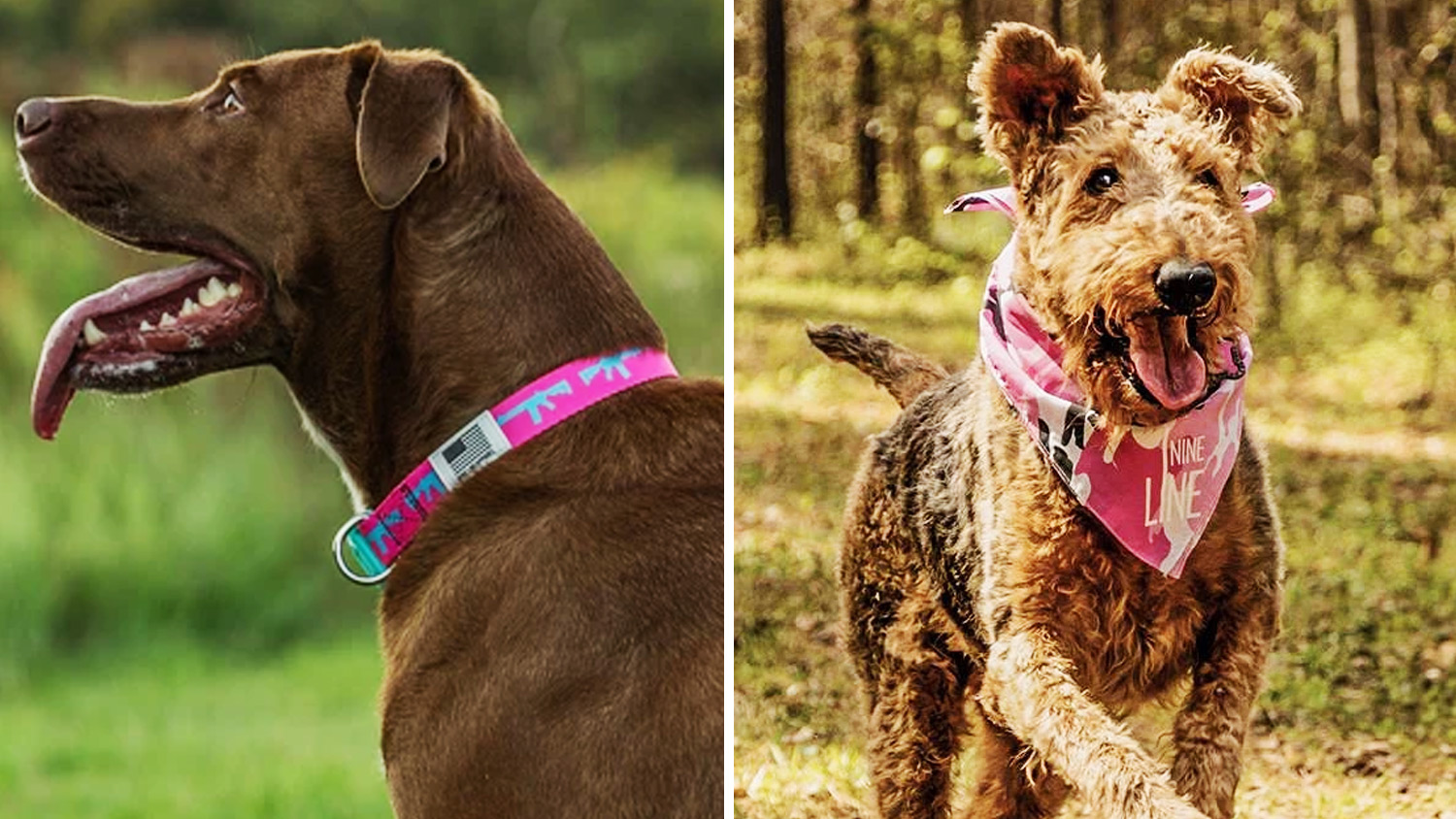 The AR dog collar comes in three sizes and two colors, and sports a Nine-Line American flag patch made of rubber. Show that you and your dog support first responders and the patriotic way of life with these cool products. Drop Line Bandanna, $9.99; AR dog collar, $19.99 to $21.99 depending on size.
Gunn Club Stay In Your Lane Halter Tank
Many of Nine-Line's best designs are limited-time specials, and this halter tank for the ladies is no different. If you want to put on display your attitude, commitment and knowledge of guns and the Second Amendment, this is one piece of clothing that's meant for you. But be aware, if this tank top appeals to you, be sure to hurry—this piece of clothing is only around for a short time, ceasing to be available for ordering on October 7. For those that get their order placed in time, the clothing will ship out Friday, October 11.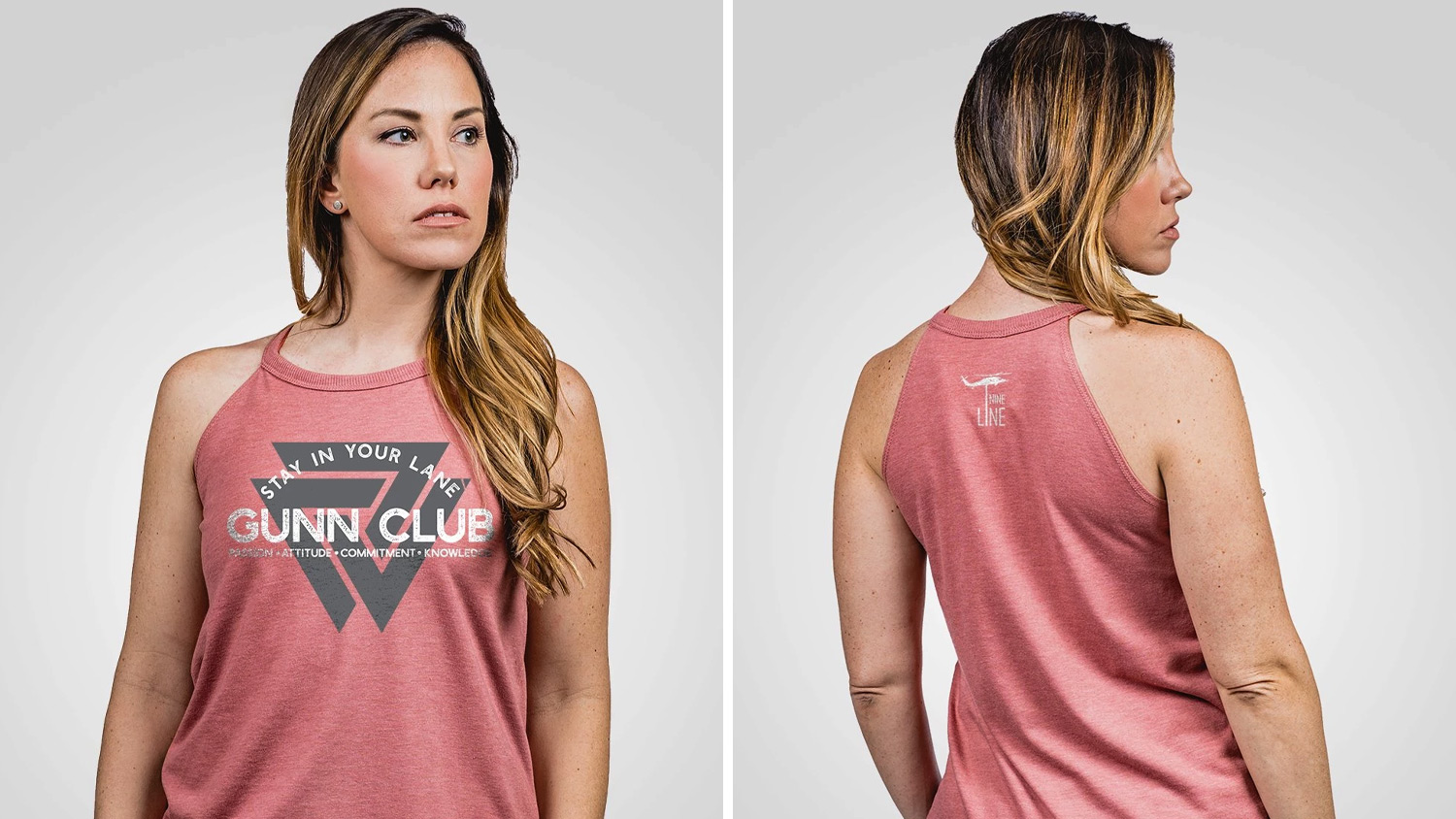 Two colors are available for the Stay In Your Lane halter tank top, charcoal and mauve. MSRP: $24.99.
Everyday Carry Pack
Nine-Line says their EDC backpack "merges the best of tactical preparedness and ease of access with everyday necessity." We say mission accomplished, because this rugged pack has a 26-liter capacity along with plenty of pockets. The main compartment is large enough to easily fit a standard 15-inch laptop, and two side pouches allow for extra storage.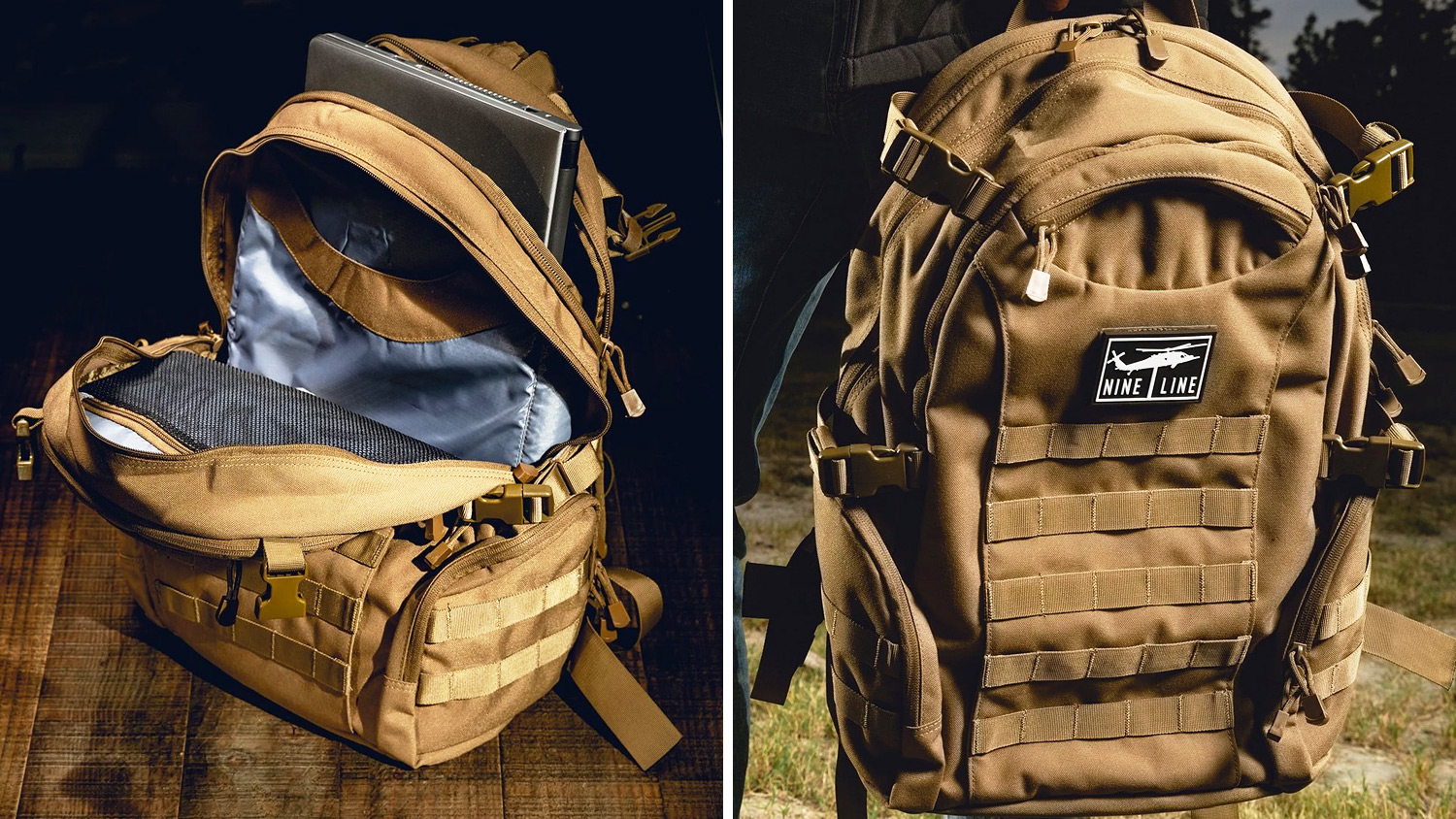 Our favorite feature is the small exterior pocket that's padded and lined with scratch-resistant material, so it's a handy place to put your smartphone or glasses without having to worry about scuffing them up. Nine-Line's universal hook-and-loop holster is included. The EDC pack comes in two colors, black and coyote. MSRP: $99.99.
Victory Molten Metal Sign
The perfect addition to any man-cave or den, the Victory molten metal sign features a stylized representation of the Betsy Ross U.S. flag, an iconic emblem of the American Revolutionary War era and the early United States. The Betsy Ross flag has 13 stars that signify the original 13 colonies.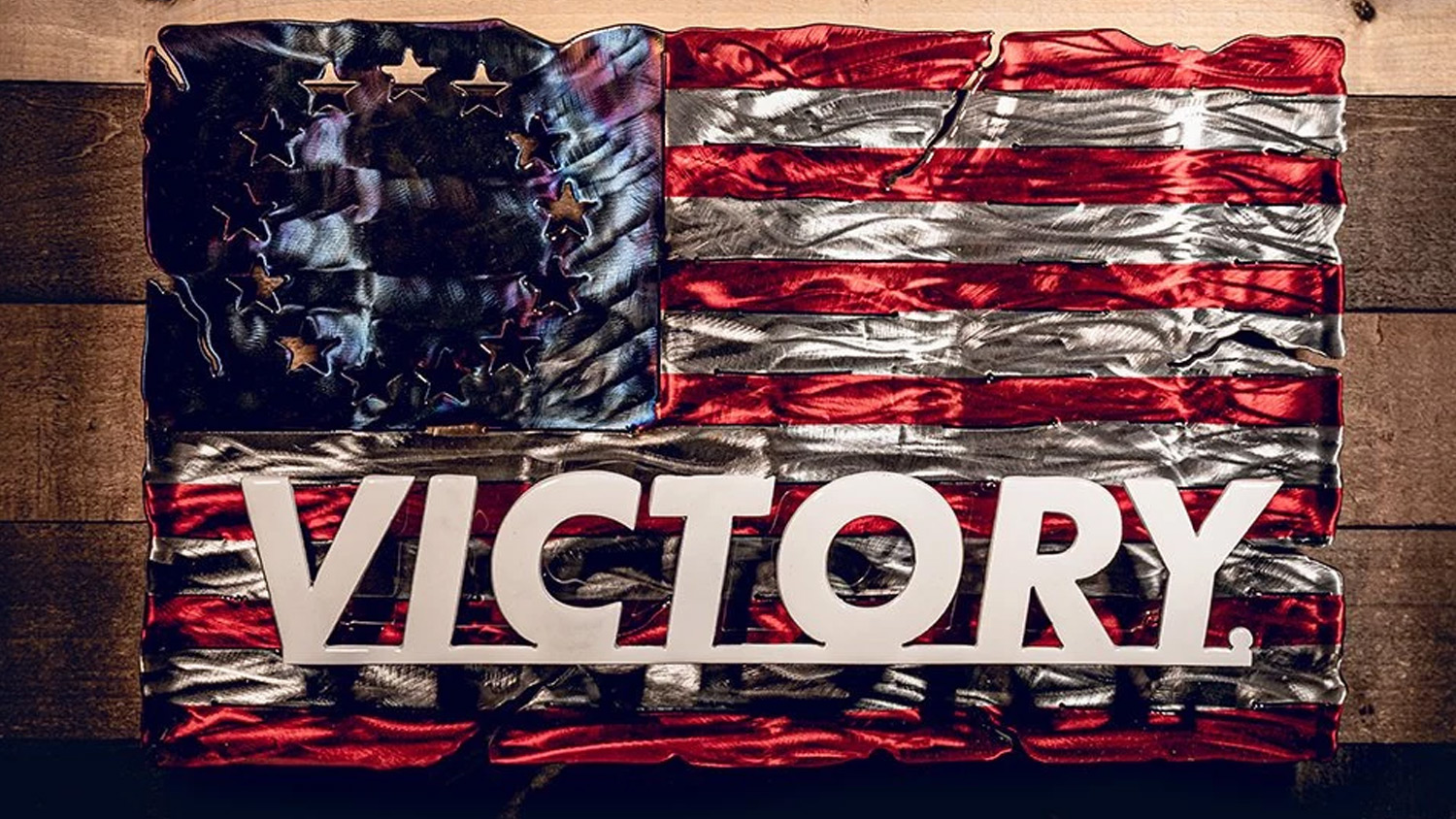 Made from hand-polished ⅛-inch steel plate, a special epoxy resin finish protects and preserves the metal. Nine-Line describes it as having a "floating 3-D hanging appearance." Additionally, it's ready to mount with hanging hardware already welded on. The Victory molten metal sign has the following dimensions: 30 inches wide x 15 inches high x 2 inches deep. MSRP: $275.
---
See more:
5 Nine-Line T-Shirts to Showcase Your Family's Second Amendment Pride