by
Chris Christian, Field Editor
posted on June 24, 2022
Support NRA Shooting Sports USA
DONATE
There's more than one way to trash the score on a Steel Challenge string. But the most common—and the most easily avoidable—is missing the first plate.
A first plate miss wastes much of the time the shooter took (on the clock) to get there and trigger the shot. Even if the shooter immediately recognizes the miss and makes a fast pick-up hit, it can stretch a potential 2.5-second run to more than three seconds. If the shooter doesn't immediately detect the miss, and then has to swing back through nine to 14 yards of target spread to nail that plate before the Stop Plate, scores can get ugly.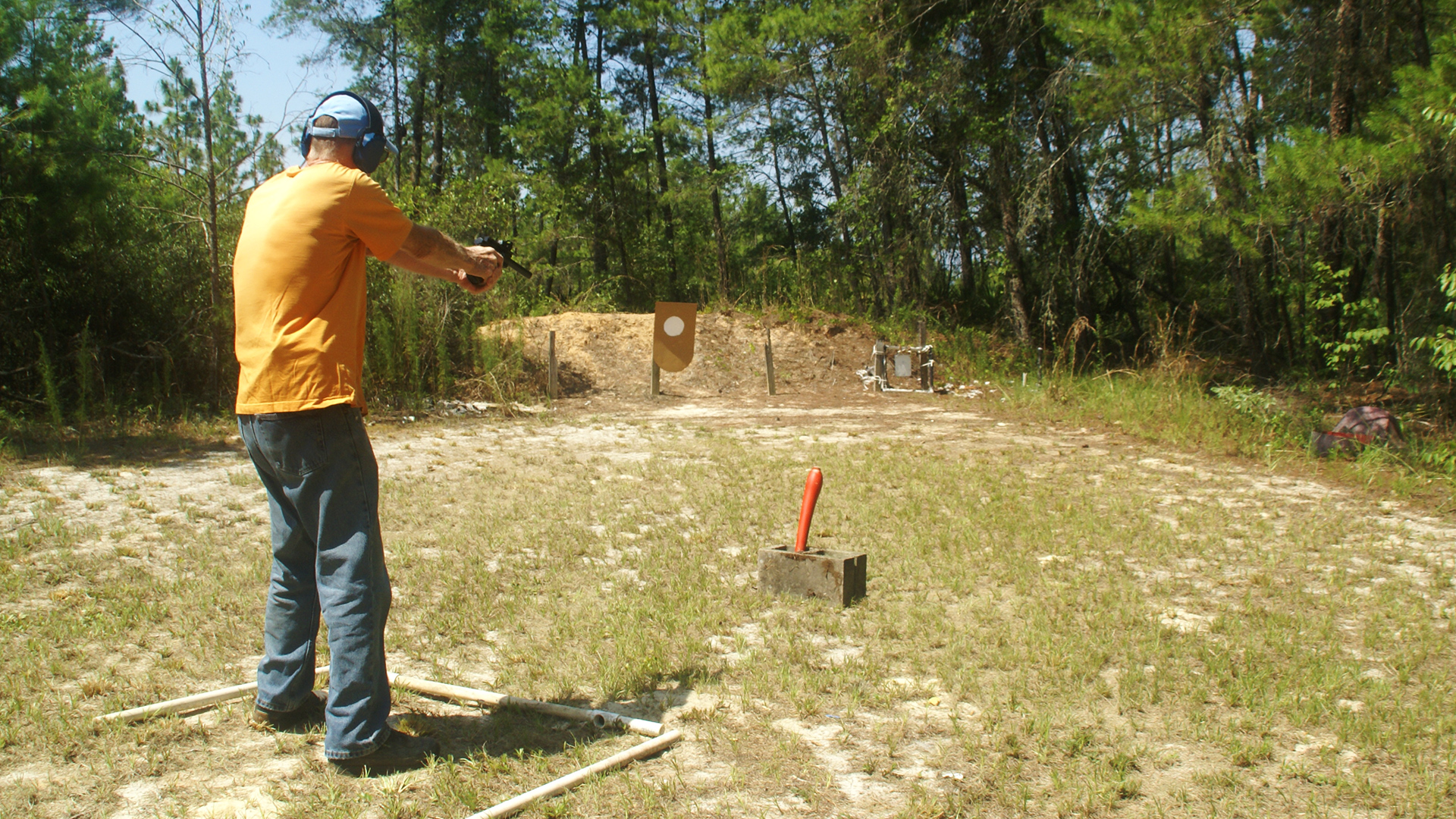 Worse still, a miss on the first plate can disrupt a shooter's smooth rhythm through the remaining four plates. It becomes an "Oh darn!" moment that breaks concentration, requires a quick re-focus, and adversely affects the smooth and rapid application of accuracy that's required to excel when scores are measured in 0.01-second increments.
Mastering that first plate hit is one of the quickest ways to improve Steel Challenge scores. It's simple to do, and doesn't require fancy range facilities.
Some Steel Challenge stages are best shot right-to-left, while others are left-to-right. In either case the first plate will be set at an angle quartering away—either right or left—from to shooter in the box. The most effective practice is to place a shooting position with the cone or sign 10 feet down range from it. Then set a target at 15 yards and at a 30-degree angle to the right or left of the shooting position. Moving the shooting box angle allows right- and left-angle practice on one target.
A metal plate isn't the best choice. It doesn't show where shots missed. A white paper circle on a cardboard target backing, or a white cut-out target is a better choice. It matches the size of the smallest round plate, and will not only show hits, but where a shooter missed. Misses can teach as much (or more) than the hits. A timer set on delay is a major asset, since the BEEP is an integral part of the first shot process. The target should be set with the top of the circle at five feet to conform to match target height settings.
Center-fire handgunners begin from a holstered start and have the option of turning their torso slightly to position on the first plate. Those shooting rimfire rifles and handguns, along with pistol caliber carbines, lack that luxury. They start at the Low Ready with the muzzle pointing at a cone 10 feet directly down range, which leaves the first target at an extreme upward angle to the shooter.
It may sound odd to practice just one plate. But nailing that first plate quickly makes the rest of the targets easier. It's key to improving scores.