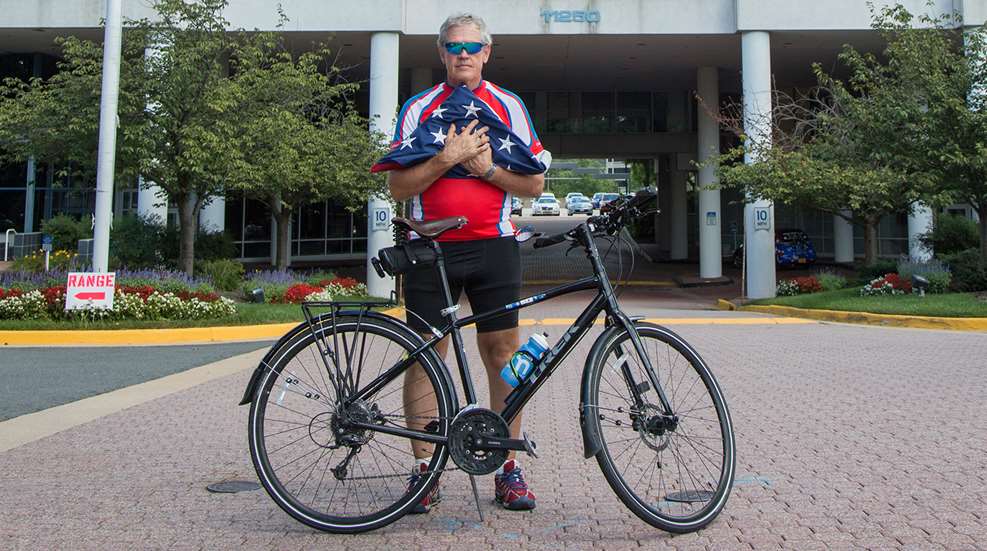 Earlier this month, retired Air Force fighter pilot Col. Gary West began the Patriot Honor Ride, a 2500 mile bike ride from Lubec, ME, to Key West, FL. The ride is supported by Folds of Honor, a veterans' organization that provides educational scholarships to the military families of fallen and disabled service members.

During the bike ride through 15 states and D.C., Col. West is honoring 16 heroes and their families by raising and folding 16 U.S. flags. The flags have been flown at significant locations such as the USS Constitution in Boston, MA, Ft. McHenry in Baltimore, MD, and Independence Hall in Philadelphia, PA.

While visiting the Massachusetts State House in Boston, an aide took Col. West and his entourage to the Governor's office to honor one of the flags he is carrying on the ride. The aide, a former Marine that served two tours in Afghanistan, gave Col. West a special bracelet etched with the names of five of the aide's fallen comrades.

Says West: "All we were planning to do was honor the flag in the Governor's office. I asked an aide we met to help us fold the flag. It was a very emotional experience, and I didn't know until then that the aide was a Marine who had served in Afghanistan. He gave me this bracelet [raises his wrist], engraved with the names of five friends that did not make it back and said—'This has got to go with you.' It hasn't left my wrist since Boston! When the ride is done, I will send the bracelet back to him with details about everywhere it has been with me."

While biking through the Washington, D.C. area, Col. West stopped by NRA headquarters to meet with supporters.

"We are having some incredible experiences," said Col. West. "Today in D.C. we met with disabled veteran LtCol. Connie Rosser. What a wonderful and meaningful meeting. Her daughter is a Folds of Honor Higher Education scholarship recipient. She was so appreciative and thankful for what we are doing, as are all the other honor families that we have met."

Additionally, Col. West has scheduled the Patriot Honor Ride to finish in Key West on October 1, which also happens to be his 60th birthday. Quite the fitting end to a truly remarkable bike ride.

You can learn more or make a donation at www.Patriothonorride.com.