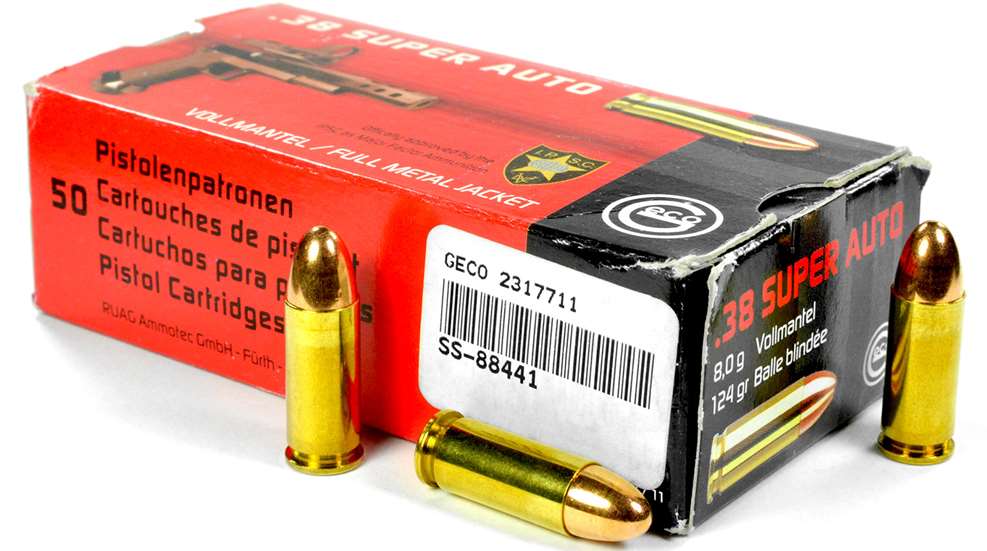 People who shoot .38 Super Automatic pistols tend to be very fond of, and loyal to, the cartridge. They have every right to be. It is well known for its power which exceeds even 9mm Luger +P loads.

In spite of the .38 Super's inherent power potential, not all factory ammunition is loaded to its full potential. Factory rounds that use the archetypal 130 grain bullets generally clock around 1200 to 1240 fps from a 5" barrel, and some are slower than this. Some of the small ammunition manufacturers, sometimes known as "boutique" companies, load the .38 Super closer to its full potential, with 124 grain bullets moving along at around 1350 fps.

But the boutique ammunition can get pricey as costs run close to $1 per round or more. Granted, this is premium ammunition, as most are loaded with jacketed hollow point bullets, but it discourages buying very much with the intention of using it for practice.

Fortunately, there is another load out there for folks who want high performance .38 Super ammunition at an affordable price. Geco loads a 124 grain FMJ bullet to an advertised velocity of 1411 fps, and the good news is that it is not very expensive. A 50 round box can be had for $20 or less. That puts the cost per round at about 40¢ or less.

The Geco ammunition, catalog number 2317711, is designed for IPSC competition, so it must meet a minimum power level. A 124 grain bullet must travel at least 1290 fps to meet a 160 power factor for ISPC, and at least 1331 fps to meet a 165 power factor for USPSA in order to be eligible for Major scoring in Open Division. 

Two bullets were pulled. They weighed an average of 122.9 grains. The powder charge weighed an average of 8.9 grains. That would provide plenty of gas for a compensator.

Accuracy was tested in a Colt Series 80 Government Model at 25 yards with the gun mounted in a Ransom Rest. Five consecutive 5-shot groups were fired. Velocity was recorded from a Shooting Chrony chronograph at about 10 feet.

The Geco ammunition clocked at 1376 fps from my 5" Colt barrel. That produces a 169 power factor (calculated for a 123 grain bullet). The average 5-shot group size was 2.2". The smallest group was 0.87".



My Colt pistol does not have a fully supported chamber since it has a 2-piece feed ramp. Chamber support is good, but some brands of high performance ammunition have sometimes produced excess bulging in the unsupported region. Four of 23 recovered brass had a small amount of excess bulging in the unsupported region near the case head. The remaining brass did not. Shooters with unsupported chambers should watch closely for evidence of excess case bulge, and if present, should discontinue use of any ammunition that does this. This ammunition would be perfectly safe in any chamber that offers full support, such as most ramped barrels.

The Geco .38 Super ammunition proved to be powerful and accurate. It can be used for a variety of purposes: a full powered load that lives up to the potential of the .38 Super, practical shooting competition—and an inexpensive practice round with recoil in the same range as more expensive self-defense ammunition.

Photo by the author.