Jon Shue stands in front of his vintage Volkswagen Pickup. It's end of the first string on the last day of the 2021 NRA Precision Pistol National Championships at Camp Atterbury, and we're in the parking lot discussing his successful summer as the competition winds down. Shue has much to be happy about—his gallant runner-up finish at the NRA Pistol Nationals was hot on the heels of his 2021 Ohio Triple Crown Challenge victory. Overall, he seems pleased with the state of things.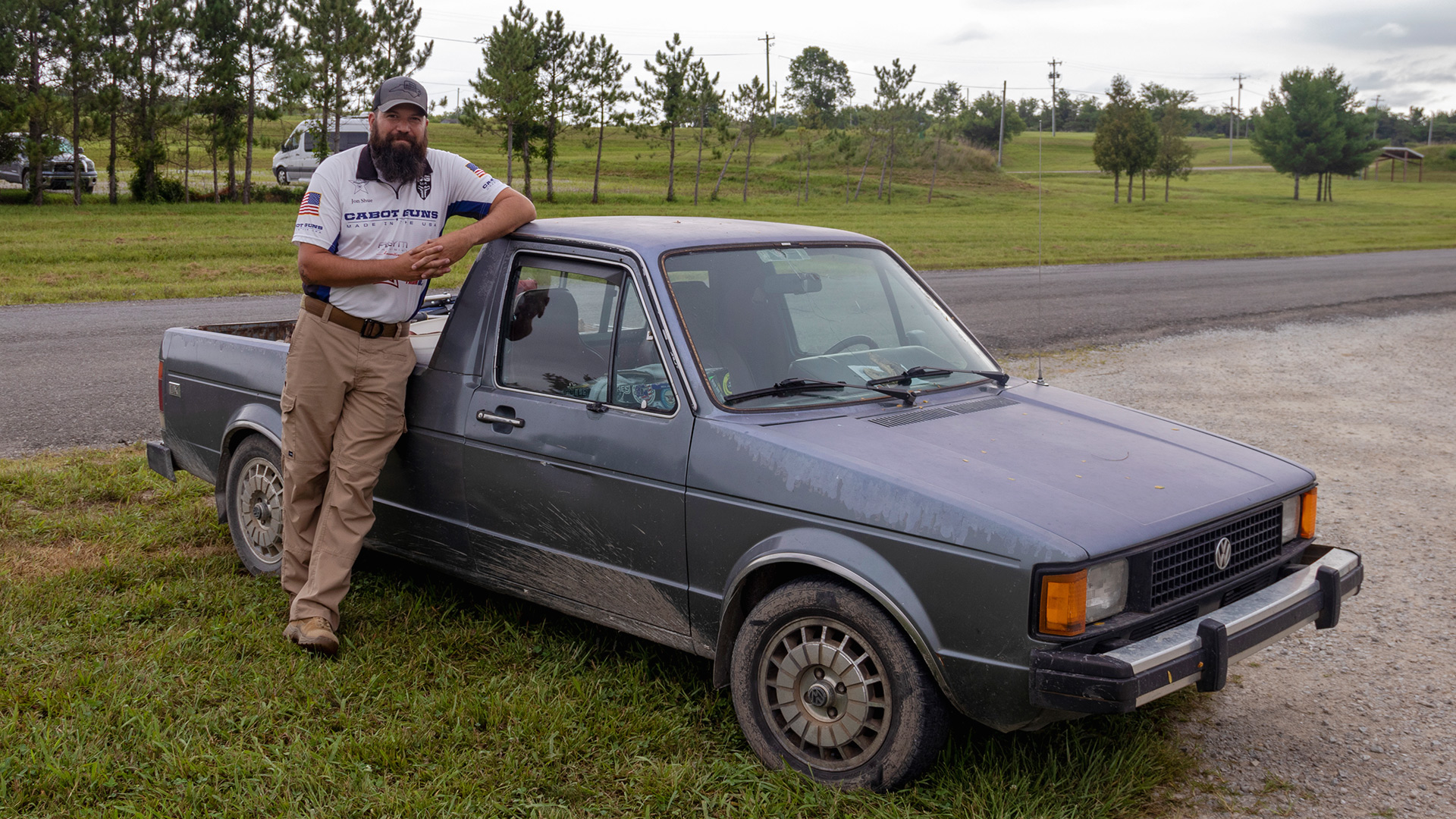 A former Marine Corps marksmanship coach and instructor, Shue is currently based in Liberty, N.C., and owns Blackmass Custom, a machine shop which mostly builds custom 1911 pistols. Big wins at the 2017 and 2018 NRA Precision Pistol Championships, plus at a slew of other bullseye matches over the past few years, has kept up demand for his work.
If there is a competitive pistol shooter right now that's analogous to a rock star, it's Shue. Not only does he have one of the most epic beards in all of pistoldom, he can clean an NRA B-6 pistol target at 50 yards with his red-dot-equipped pistol and make it look easy. Most importantly, his thoughts on precision pistol shooting are second to none. Let's start with his gear.
Guns and Ammo
For .22-cal. at Camp Atterbury, Shue was shooting a Nelson conversion on a lower that he built. For center-fire and .45 ACP, he has a Cabot bullseye gun. "I redid it last year and put in a new bushing. It's got about 31,000 rounds on it and still holds an inch-and-three-quarters," he says. "One of the reasons I really like Cabot is they are on that precipice of form and function, machine and artist. They have a lot of money to invest in quality stuff, such as Damascus steel, too. A big reason that I won in 2017 and 2018 at the National Matches is because of how accurate my Cabot pistol is at 50 yards."

Moving on to ammunition, for Atterbury and other national competitions, he uses Asym Precision ammo for long line, but he also does his own loading. "For the nationals, I shoot the box ammo. If I can win with that, then I can win with my own reloads. If something does happen with the box ammo, I can say 'Hey, something went wrong in this process' to my sponsor."
With reloads for 50-yard bullseye, he uses once-fired or virgin Starline brass, 4.2 grains of Vihtavouri N310 powder and Winchester primers. "They're a little bit softer than the Federal primers, so if you do have a light striker and it's not seated, you have a little bit of cushion area on it." As for the short line, Shue's loads incorporate the same brass and primers, along with Brazos 200-grain bullets and four grains of Titegroup powder. He elaborated on how load testing is important for competition.
"Steve Huff of Accuracy X has a quote I like, 'If you're not testin, you're just guessin.' For 50 yards, you need to find out what shoots best in your gun. When I build guns for my business, I test everything. You may be surprised at the performance of what you think will shoot well. When it runs on gunpowder, all bets are off."
Shue says that testing is not as critical for the short line in bullseye. "At 25 yards, it doesn't make much difference. It's really about what's most consistent, reliable and, these days, what's available."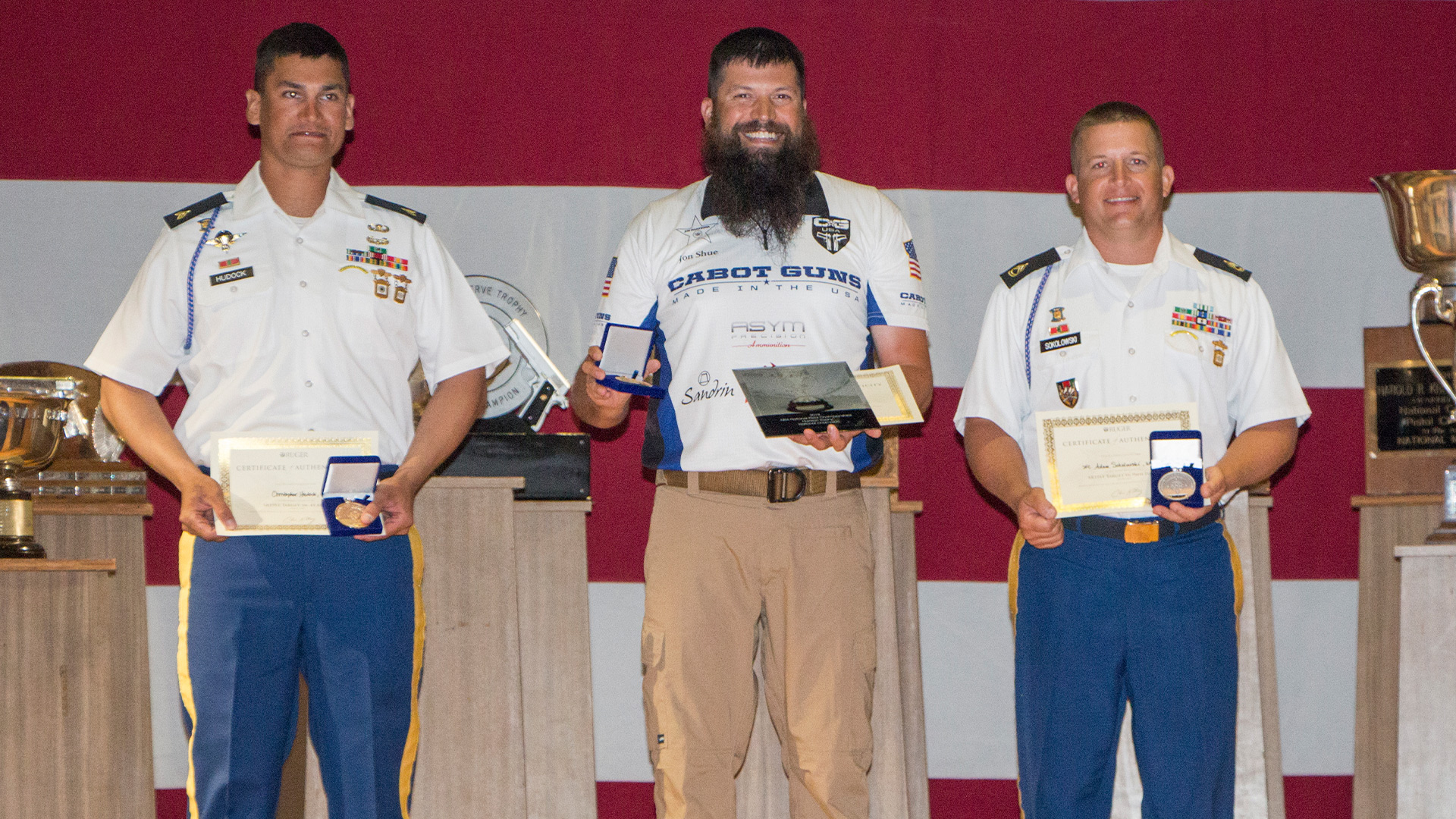 Optics
Shue primarily runs Aimpoint red dots on his pistols after experiencing parallax issues and quality-control problems with other brands. "You can pick up an Aimpoint, and it just works, plus they are rugged," he says. "There weren't that many Aimpoint users in the bullseye community back in the day, but now more people consider the clarity of the glass and the quality of the diode. If those two things aren't great, you're going to have errant shots because you are perceiving the dot differently. You will have 2- to 4-MOA shifts because of bad glass or electronics."
He uses an Aimpoint rifle optic on his .22 LR conversion, preferring the increased distance between the front lens and the diode (optical sight radius). "I have the 9000L on my rimfire conversion, which has about a six-inch optical radius. While it adds a little more weight, with a long sight radius on your optic, it's easier to call your shots and it also lowers movement."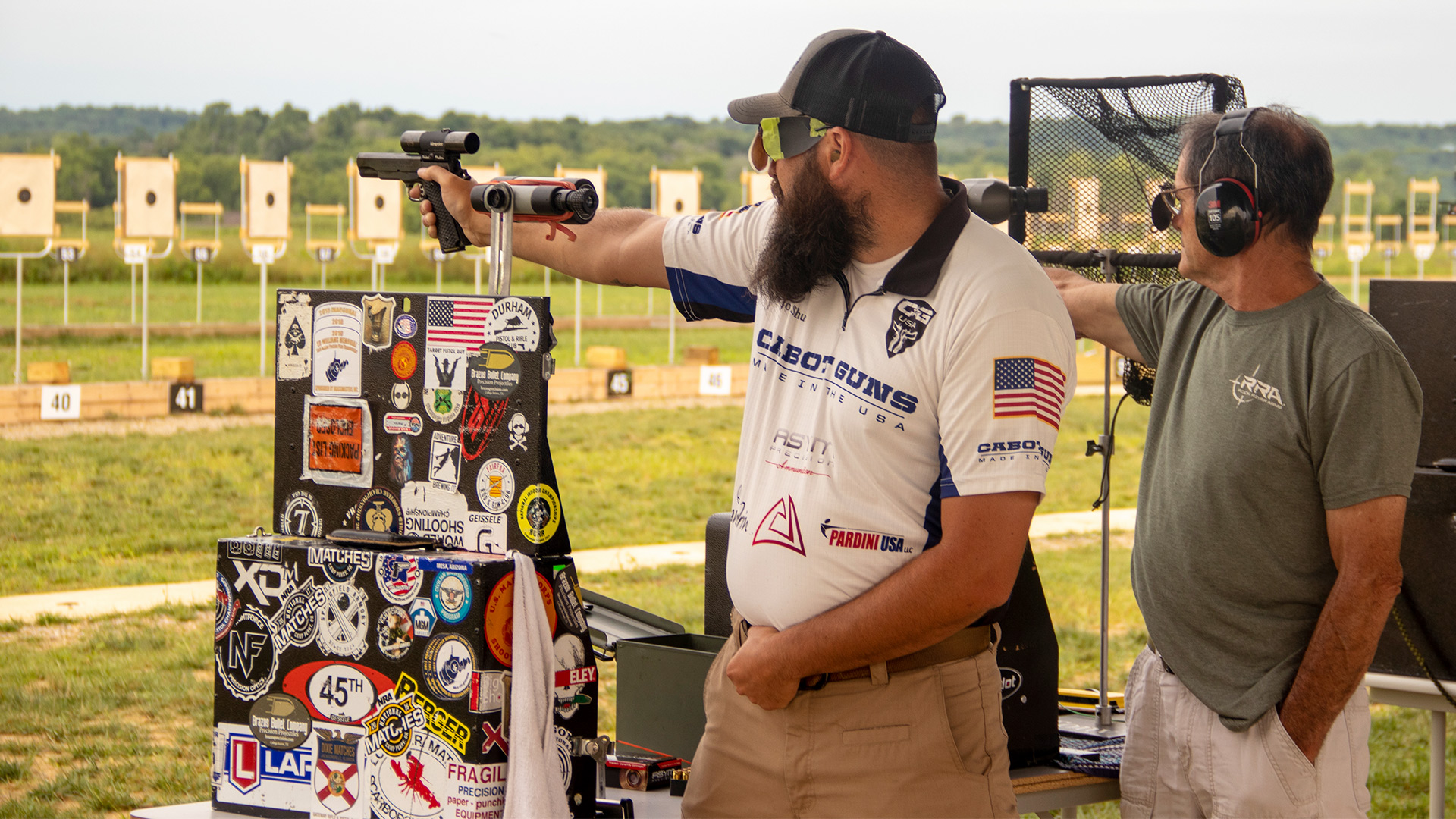 Interestingly enough, Shue uses an Aimpoint micro red-dot on his Cabot center-fire pistol. But he does not recommend this to inexperienced red-dot users in competition. "I can call shots better on my 9000L than the micro. The micro has great clarity and quality glass, but since it has a shorter sight radius, when you've made a mistake on the micro, you will know quickly. If you don't have that many rounds through a micro, you'll probably get frustrated when first using it."
In addition to Aimpoint glass, Shue shared his positive view of Holosun micro red-dots. "The Holosun 510c glass clarity is not as good, but as far as ruggedness, it's on par with Aimpoint, at one-third of the price."
Camp Atterbury Range
When I ask Shue what he thought of this year's matches at Camp Atterbury and the new 200-point covered range, he said it was well run for the first year. He was also pretty open to sharing his opinion on how the NRA conducted its first Precision Pistol Nationals at the Indiana National Guard training facility. Shue is optimistic about the future of the NRA National Matches, and recognizes its place in the pantheon of bullseye pistol championships.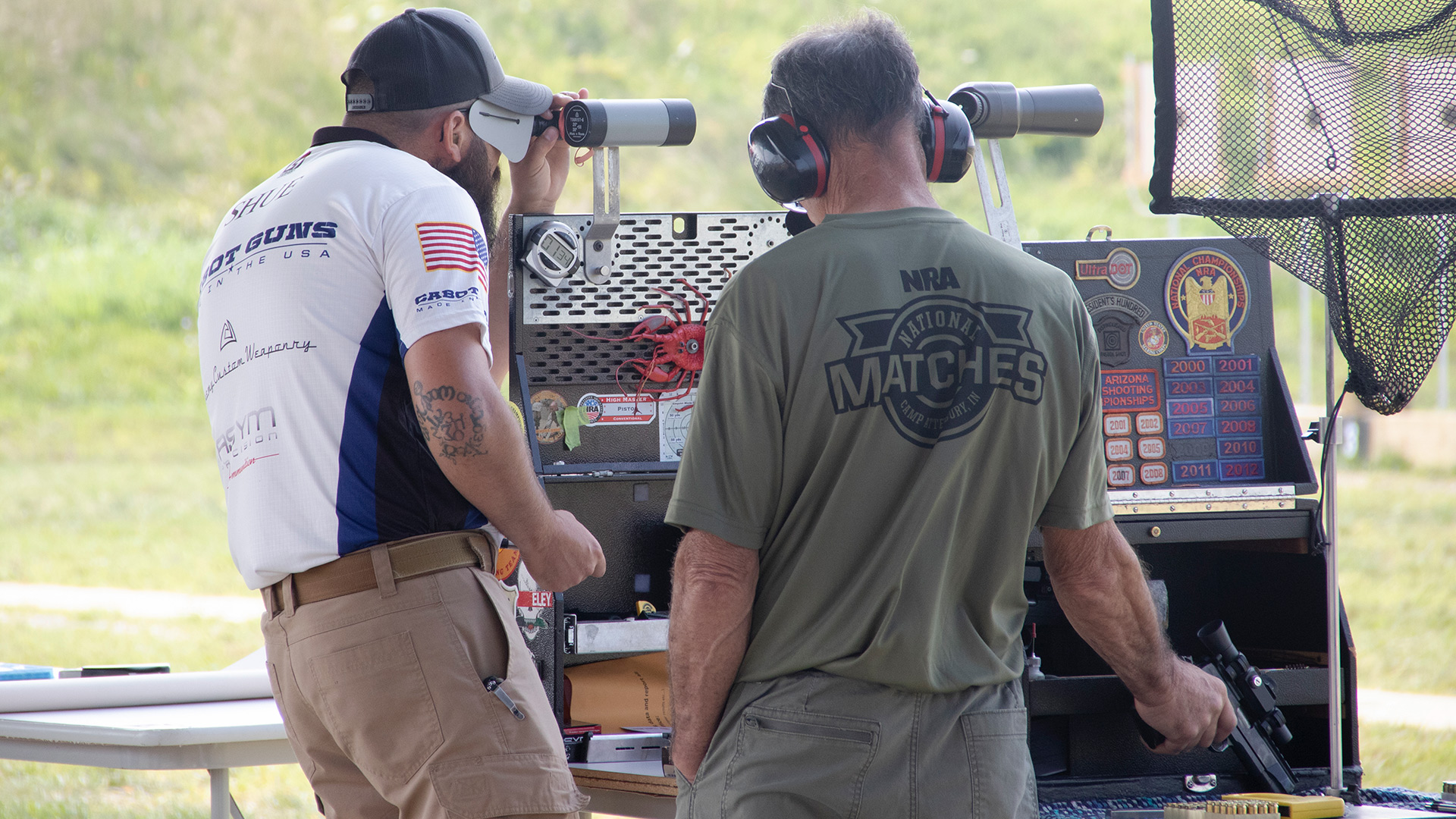 "I know that Camp Atterbury can't be another Perry, because Camp Perry is very unique, but we can try to get it really close," he says. "The new [Camp Atterbury] range, the cover on it is nice, but it could use a little improvement. As far as I'm concerned, the NRA Championships this year were really good. Eventually, there should be 300 target points at the range. I would like to see some more support here, as far as the AMU truck or the Marine Corps truck or the Guard(s) truck, for gunsmithing. That's why a lot of people attend—they save their guns all year long to come up here to get them fixed."
I talked to Shue after the competitors' meeting, where he aired his grievances with match officials. He does, however, acknowledge that the NRA was largely successful in its first year conducting a major pistol championship at Camp Atterbury.
"New venue, new state, new everything—the NRA had a tough job in building the match from the ground up. Everyone that came here knows that. But at the same time, during the practice sessions, not every competitor was afforded the same opportunities. That needs to be fixed. Bottom line is that given the circumstances, the match was very well run by the NRA."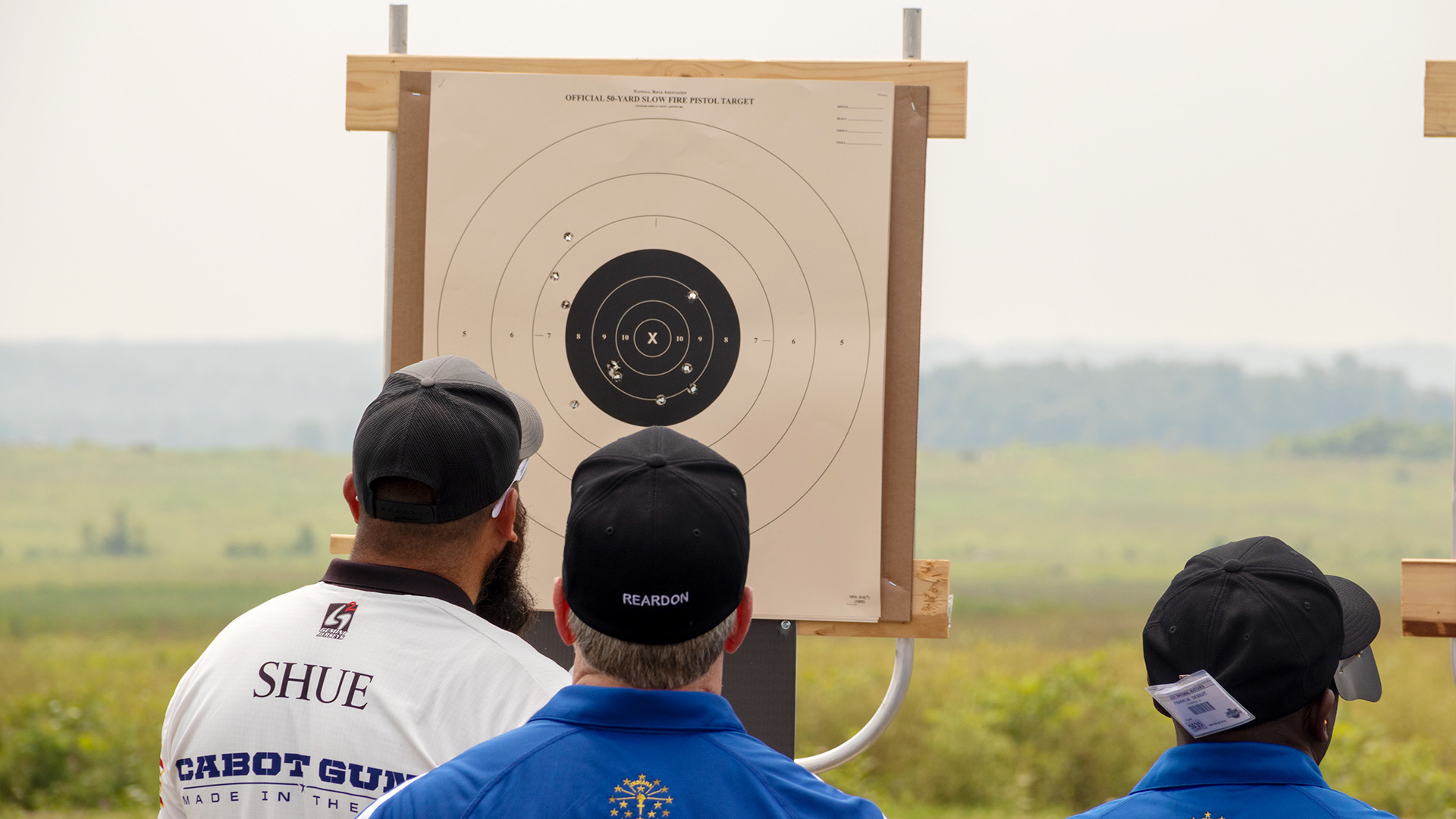 Ohio Triple Crown
Shue tells me that the 2021 Ohio Triple Crown Challenge "was a marathon." An aggregate match with scores drawn from the CMP Pistol Nationals, Canton McKinley Club Pistol Regional and the Cardinal Center 4-Gun Match, Shue's top-tier performances at each earned him the top spot. All three matches were conducted at ranges located within a 110-mile radius in Ohio. The format is similar to action pistol's Triple Cup Challenge that debuted a few years ago as a way to boost participation at the Bianchi Cup and other regionals.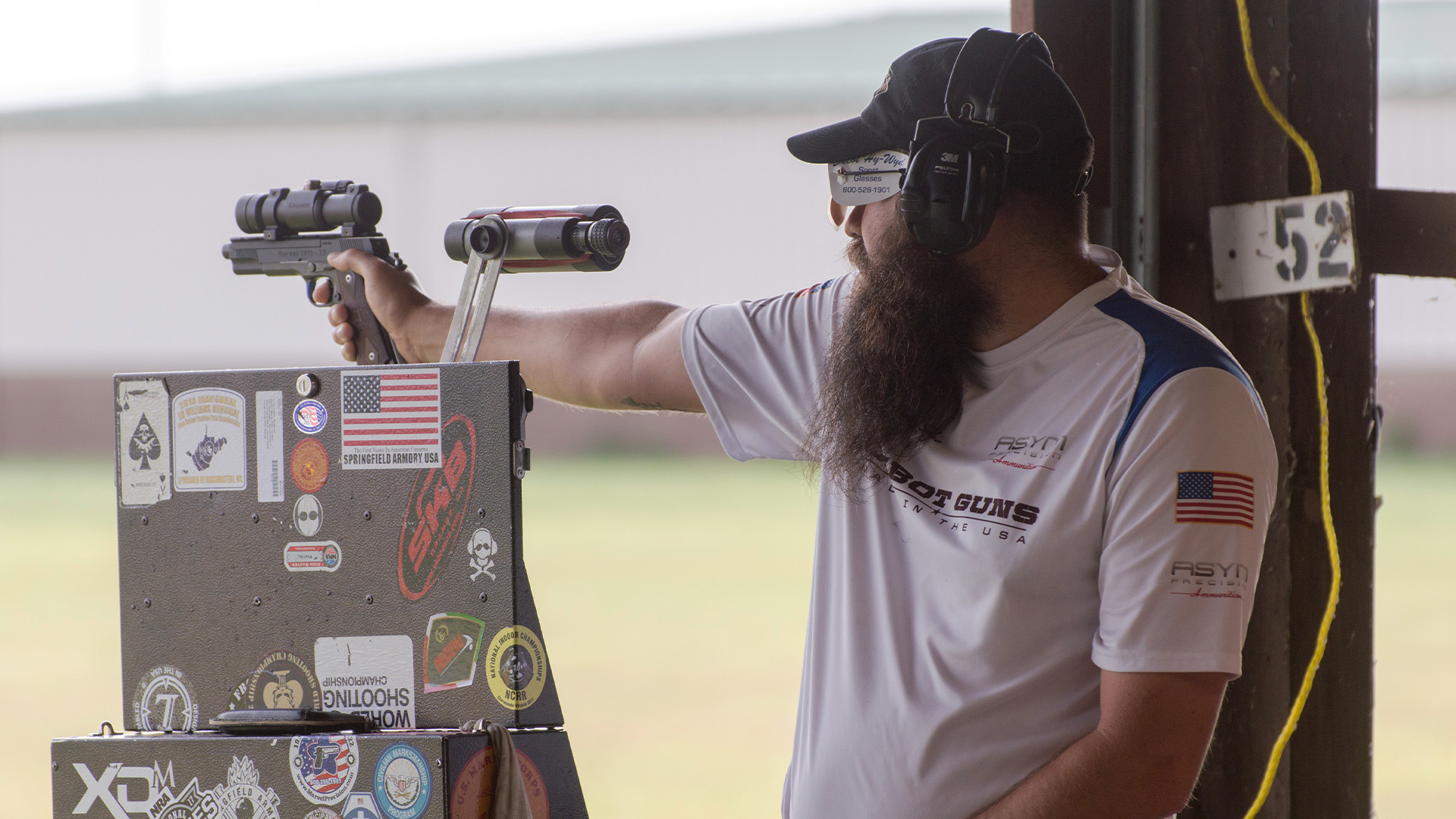 For bullseye pistol competitors, the Triple Crown Challenge, along with an expanded NRA prize purse this summer, have given a financial injection to a sport that doesn't typically offer much in the way of monetary awards. "This is the first year that I can think of that I've broken even in competition, which is extremely rare," Shue says. "I think that is very good for the sport."
I asked him which national-level venue he enjoyed the most out of the matches he attended this summer. As you may expect, the answer was Camp Perry, but Shue did seem impressed with one aspect of Camp Atterbury. "The [Camp Atterbury] range is probably better made than some ranges, such as the Cardinal Center, which is a really nice range. Every range has its advantages and disadvantages."
Competition isn't all that Shue has on his plate these days. A mechanical engineer and custom gunsmith, his machining business receives enough work to keep him busy throughout the year with pistol work and building parts for racing teams. Additionally, he collaborates with Deep River Customs to conduct 1911 build classes. I ask if he plans to expand, but Shue seems quite content with things as they are.
"Right now, I have enough work," Shue says. "I want to have my business model where I'm not building too many guns a year. I want to stay with what I want to do."
---
Read more: 
The First Action Shooting Matches