by
Chris Christian, Field Editor
posted on September 12, 2016
Support NRA Shooting Sports USA
DONATE
Every shooter needs hearing protection. OSHA has determined that just a one day exposure to noise levels above 85 dB can result in some level of permanent hearing loss. And this hearing loss is irreversible. A day spent at any shooting event can easily exceed that. Subsequent days only worsen the problem, since even the 'quietest' firearm will crank out over 105 dB and most fall into the 140 to 190 dB range.

That dB level can be attenuated with solid ear plugs that block virtually all noise. The drawback is that many competitive shooters also need to be able to hear normal conversation and range commands. That can easily be accomplished with digital active ear muffs. Unfortunately, not all shooters can effectively use them.

The ProSounds H2P are "in-the-ear" digital devices that provide the same hearing enhancement and dB noise attenuation of active digital ear muffs; yet they fit like common ear plugs. This allows for a proper cheek weld with any long gun.

The H2P kit consists of clearly marked right and left ear devices. A rotary switch on each allows volume control from off to full. Each unit requires one commonly-available 10A ZINC AIR hearing aid battery (six are included), and ProSounds claims 140 hours of use per battery.

The interchangeable tips slip easily on and off the device's inner ear post. The white soft plastic tips are stated to provide enhanced hearing but minimal high dB noise protection. My tests show that to be accurate. They did enhance hearing (according to the tests detailed below) but I couldn't tell much difference between the report of .22LR high speed rounds fired from a pistol with, or without, the devices in place. The foam plugs were a different story.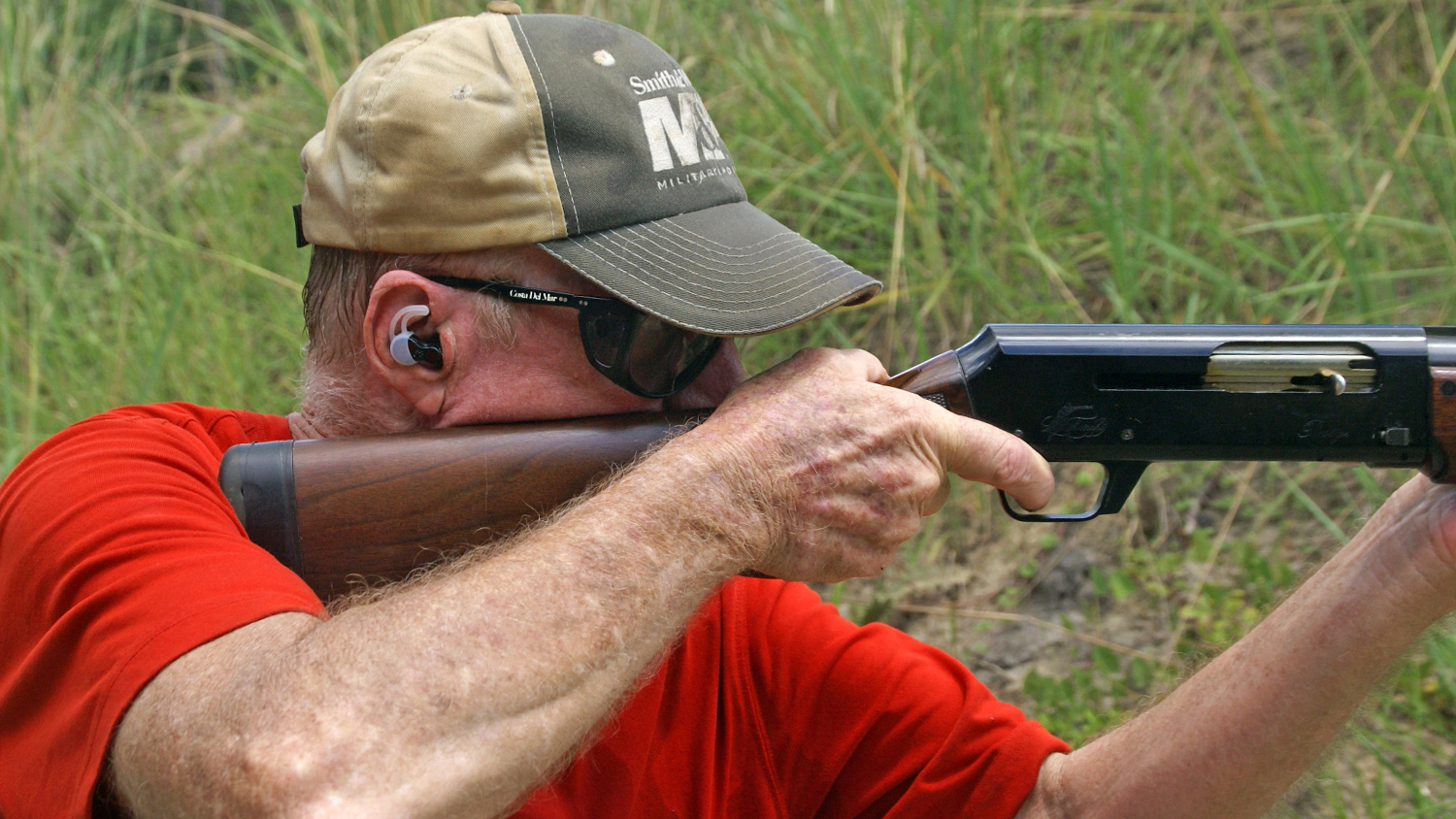 There are two different sizes to allow for different ear shapes. The narrow model fits best for me. As far as hearing enhancement goes (lacking sophisticated audio measuring equipment), I resorted to "kitchen table tests". I turned the Bose Wave radio in my office to a volume level that let me barely hear it (with bare ears) when I stepped into another room. From there I alternated between two different sets of active electronic muffs that I have shot in handgun competition for years, and the H2P device. I couldn't tell any real difference.

The next test was on my range and I used pistols in .22LR, 9mm, along with a 5.56mm AR-15 rifle. I fired multiple rounds from the different firearms while rotating between the muffs and the H2P.  There was no discernible difference in the sound signature of the different rounds between the electronic muffs and the H2P.

When properly installed the H2P provided the same level of enhanced hearing and high dB attenuation that the muffs did. I also seemed to experience less wind noise with the H2P.

It does take a bit of time to get the plugs (and in my case the supplied extenders) firmly into the proper position. The logical question is "Will they stay there under normal range movement and gun recoil?" To find out I headed to the clay target ranges.

Like many shooters, I can't get a good cheek weld on a shotgun (or a full-stocked rifle) with ear muffs. Years ago I had a custom set of fitted silicone earplugs made up at an NRA Show for long gun use. They have no hearing enhancement but do block gun fire. The H2P was a much better solution. There were no issues with coming loose during multiple 12-gauge rounds of Trap and Skeet, and they seemed to reduce the noise as well as my silicone plugs while simultaneously allowing for normal conversation.

There was also an unexpected bonus on the Sporting Clays courses. The audio enhancement allowed me to hear the release of hidden traps where a delay was incorporated between the target call and the release. That didn't happen with my regular plugs and it improved my response and score!

MSRP—$499. For shooters who require safe dB attenuation combined with enhanced hearing, they are a very effective tool.