Support NRA Shooting Sports USA
DONATE
Although Taurus is best-known for personal defense handguns, recent years have seen the company enter the competition market. This was primarily with rimfire pistols, but the newly introduced 9 mm G3 Tactical is worth a look.
The striker-fired Taurus G3 Tactical ($589.99, taurususa.com) is built on the full-size G3 polymer frame with an alloy steel slide, and a 4½-inch, 1:10-inch twist, stainless-steel barrel with Taurus's DLC (diamond-like carbon) coating.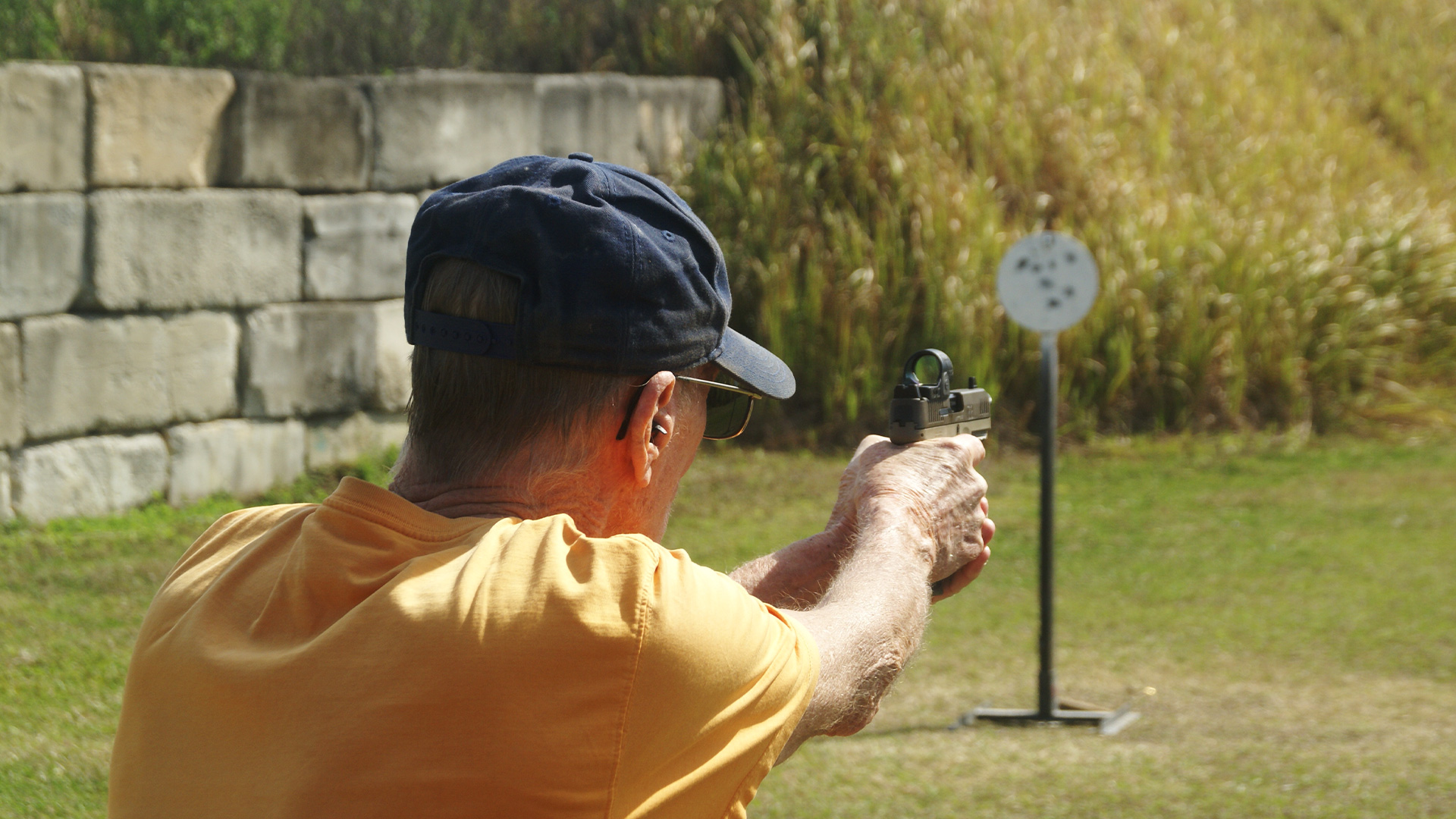 The frame is finished in Patriot Brown Tan and sports a Picatinny rail on the dust cover. Additionally, the barrel is threaded 1/2x28 for suppressors and compensators.
Operating controls consist of a left-side slide release and magazine release, with no manual safety. The trigger has a trigger bar safety, and also a second-strike capability that resets the striker to hit the primer again. A loaded chamber indicator is also present.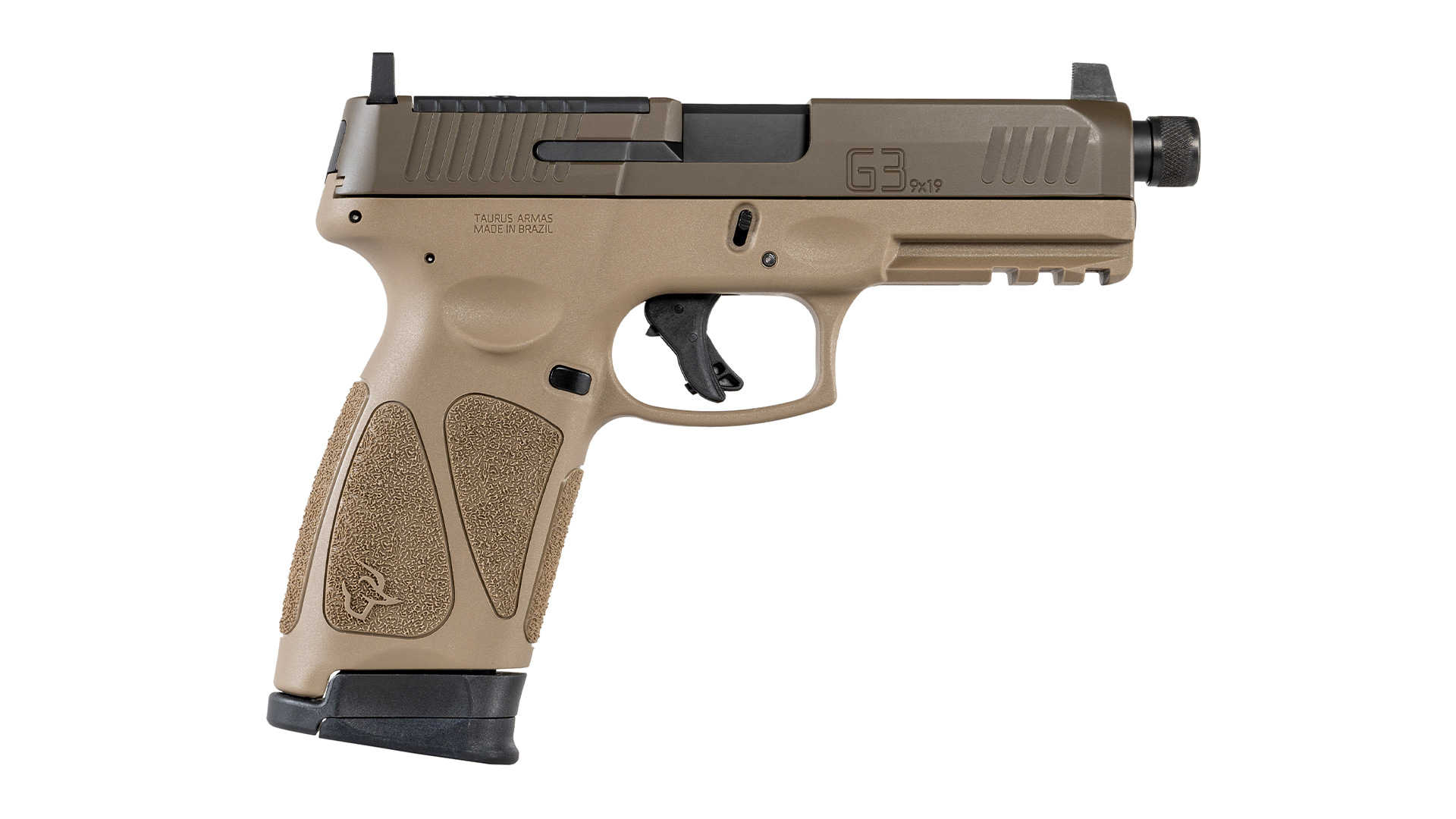 Sights are black fixed suppressor-height and the rear is drift adjustable for windage. The G3 Tactical is also equipped with Taurus's T.O.R.O. system (Taurus Optic Ready Option). A removable cover plate on the rear of the slide allows one of four clearly numbered plates to be slipped in to install a slide-mounted reflex sight. Plate one fits Docter, Venom and Burris FastFire optics, and plate two fits the Trijicon RMR lineup and Holosun 407c and 507c models. Plate three fits the C-More STS2, and plate four is for Leupold's DeltaPoint Pro.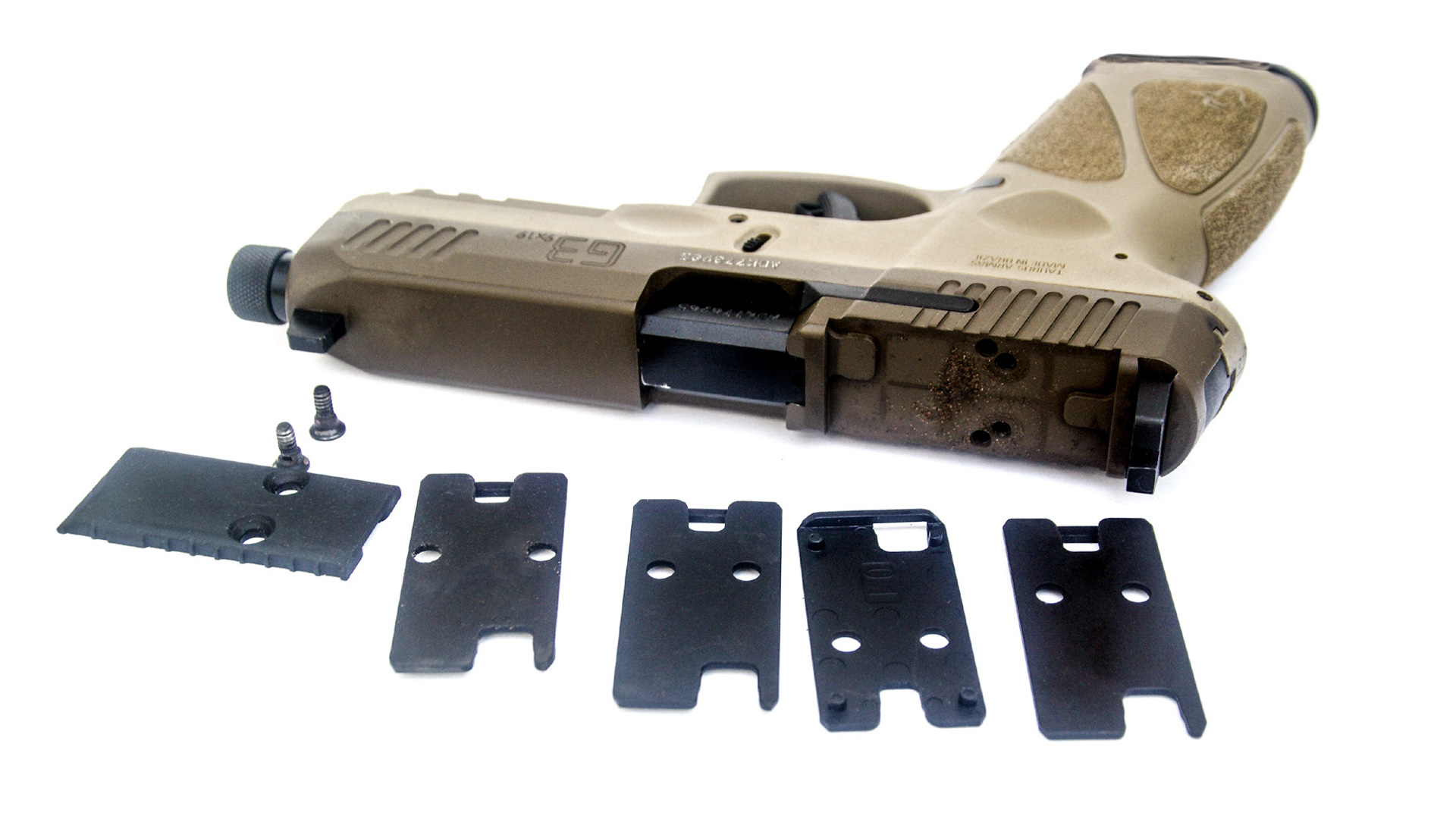 The G3 Tactical ships in a padded soft case with the ubiquitous cable trigger lock, two 17-round magazines, four optic mounting plates, chamber flag and a second recoil spring assembly, which the owner's manual notes may provide better performance if a suppressor is installed.
ON THE RANGE
After taking the Taurus G3 Tactical out of the box, my first step was to perform a quick field strip and lube. Field stripping is quick and simple: rack the slide to the rear to assure the chamber is empty and cock the gun, let the slide go forward and then retract it about 1⁄8-inch, depress the side take down levers, pull the trigger and slide the upper unit off the frame. Reassembly is even quicker—simply slide the upper unit onto the frame and rack it to the rear.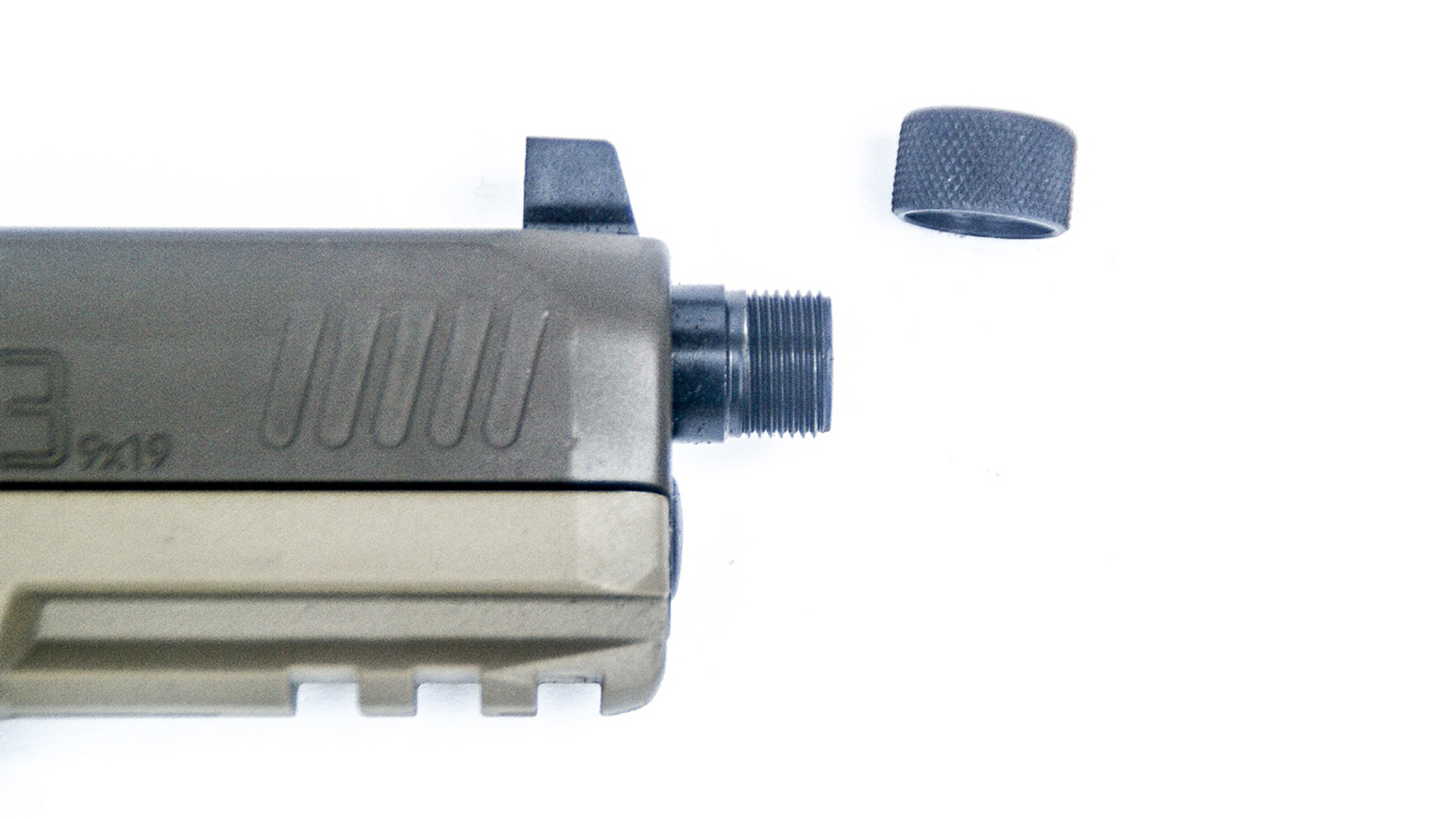 Although I attempted to measure trigger pull, an accurate measurement proved elusive for my digital trigger gauge. The trigger has a trigger bar safety and once depressed there is about ½-inch of light slack take-up before hitting a firm break point. From that point, it had just a hint of creep and a crisp break. While the take-up slack had frustrated my gauge, my trigger finger "gauge" suggested a final pull in the 4½- to five-pound range, which is standard on factory guns of this type.
I wanted to check the point of impact (POI) with the iron sights, and magazine function, so I grabbed some Remington 115-grain full-metal jacket rounds and headed to my backyard range. The sights are plain black suppressor height and quite bold. From a sandbag rest at 25 yards, a five-round group showed the POI was about 1½-inches low and four-inches left. The rear sight is drift adjustable and a few taps with a center punch zeroed the windage.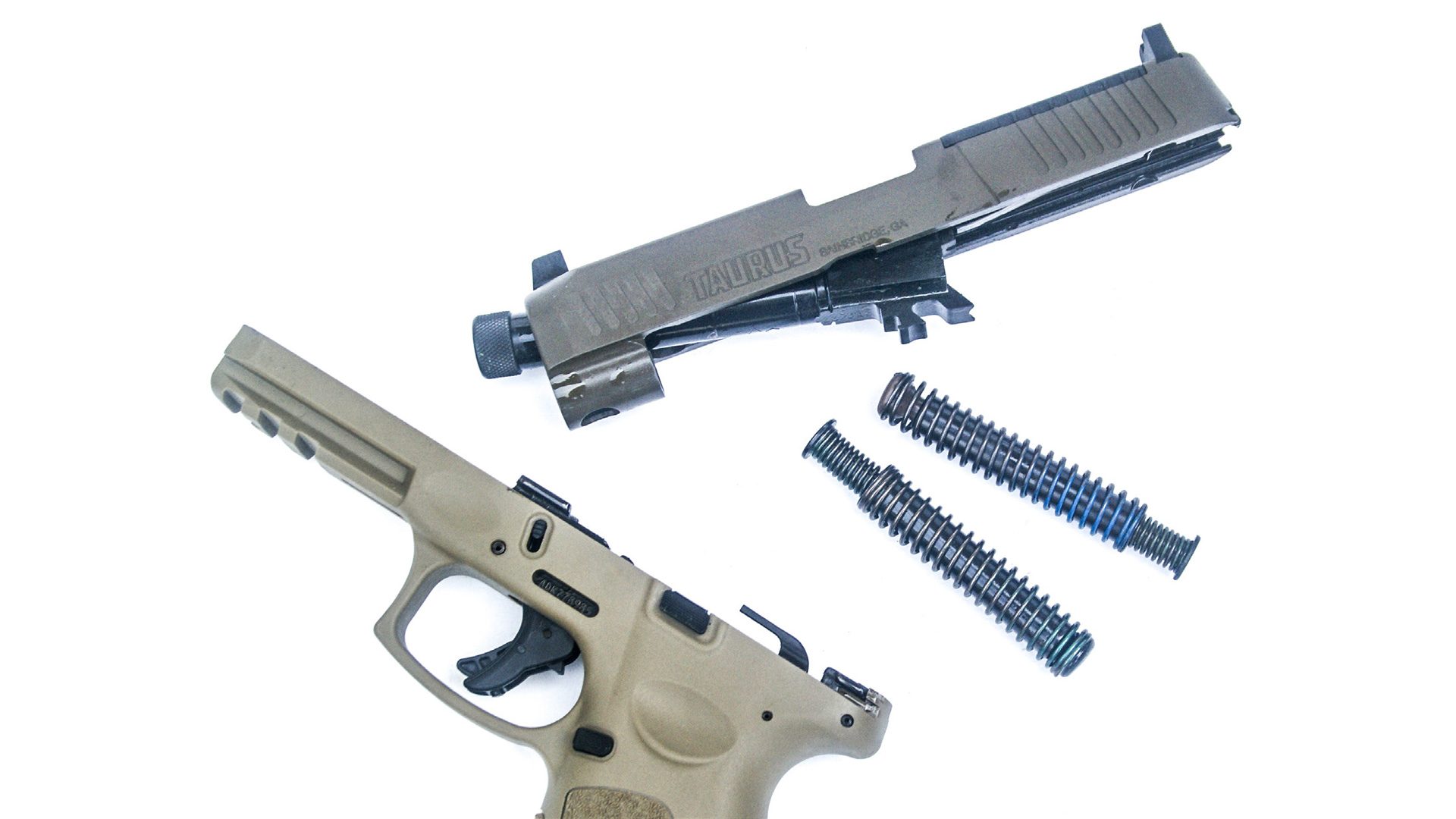 Transition drills from the holster to get the feel of the gun were next, but a check of my holster collection failed to reveal one that held the gun in a competition-legal manner. Instead, I ran about 50 rounds from the low ready. The grip stippling is aggressive and provided a firm non-slip grip. The lengthy trigger take-up was a bit of a factor initially, but I then decided to treat it like a Glock trigger and just mash right through it to the break point. That worked and the transition ran smoothly. Both magazines functioned perfectly and loaded to full 17-round capacity easily. There were no malfunctions.
With that that initial shooting done, I installed a Trijicon five-MOA SRO reflex sight. The plates were clearly marked, easy to find, and plate two slipped quickly into position. As the instructions noted, I used the Trijicon mounting screws and they fit perfectly. The installation took less than a minute.
Although I only had about 60 rounds through the gun, I decided to do the accuracy tests. To check multiple bullet weights, I selected the aforementioned Remington 115-grain full-metal jacket load, plus Lapua's 123-grain FMJ, Federal's 130-grain Syntech PCC (which I've found to be an excellent performer in 9 mm handguns) and Federal's 147-grain FMJ flat point. The tests ran smoothly, without malfunctions, and both magazines were used. The accompanying chart shows adequate accuracy with the exception of the 147-grain. I was surprised at those groups, because that load has been an excellent performer in every gun I've used it in, and this box was from that same lot. Taurus states the gun has a 1:10-inch twist barrel which normally works well with heavier bullet weights. I can't explain it, other than some guns just don't like certain loads.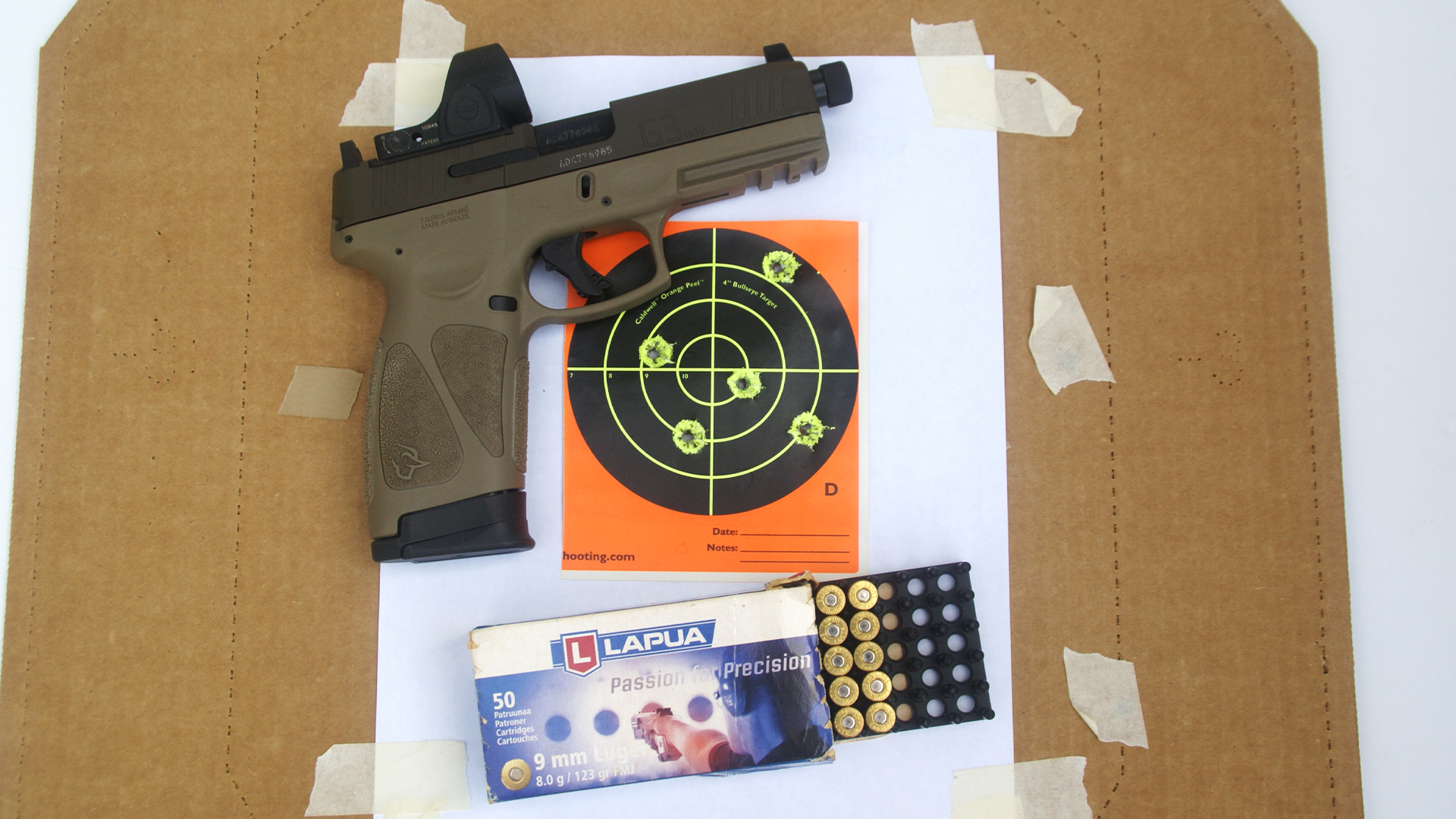 The final load tested was my Steel Challenge "Mouse Puff" load. This is a coated lead 124-grain DG Bullet at a 114 Power Factor (PF). I've tried this load in a number of guns and few would handle it. My Smith & Wesson C.O.R.E. pistol will, but only if the gun is scrupulously cleaned and lubed before a Steel Challenge match. I loaded three and fired them into my berm. All three failed to eject, showing insufficient power. Next, I stripped the gun, installed the suppressor recoil spring and tried three again. These were perfect, with ejection more than three feet to the right and 30-degrees rear, which meant that I could probably drop the powder charge, maybe to the 110 PF level. Recoil was on par with a high-speed .22 Long Rifle cartridge fired from a lightweight pistol. Accuracy testing followed, and the POI didn't shift from that of the factory loads with the standard (blue marked) recoil spring.
I found that rather intriguing. I could envision running an IDPA or USPSA match with the standard spring and 125 PF loads, and then swapping recoil springs and running a Steel Challenge match (where there is no PF) with a much lighter recoiling load. Same gun, just different spring and load. That could be fun.
Usually I include a match with my gun tests, but without a legal holster that wasn't doable. Instead, I took the gun to my club's Steel Challenge practice day and ran it from the low ready. Leaving the suppressor spring in place, I used the "Mouse Puff" load, and the gun purred right along. By the end of that session, there were about 500 rounds through the gun. The only malfunctions were the three original failed ejections when trying the 114 PF load with the full-power spring.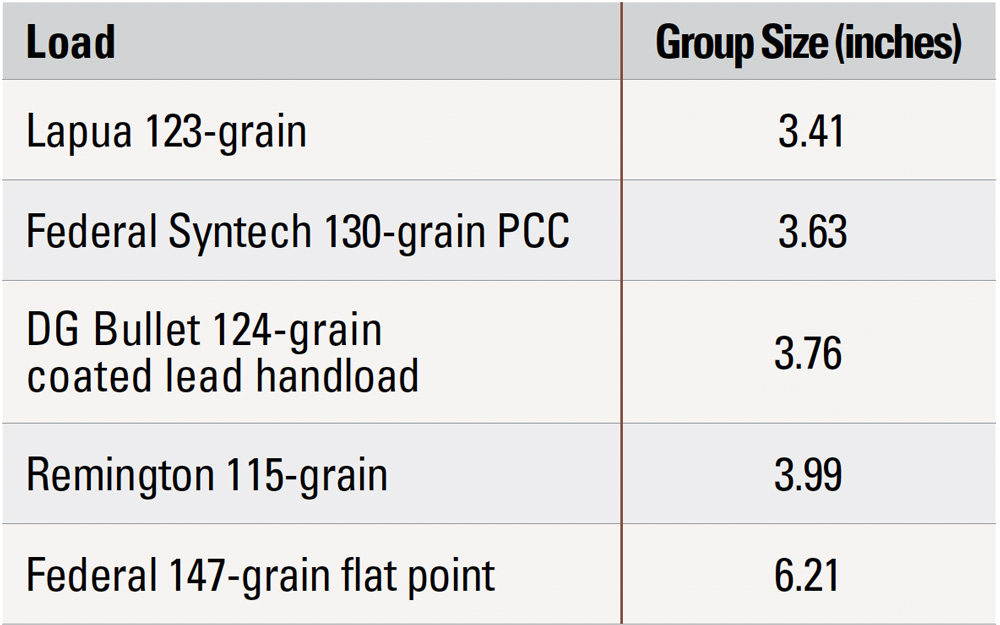 The Taurus G3 Tactical was totally reliable, and the accuracy was adequate with most of the loads. The dual recoil springs create an interesting option. It's also worth noting that the Taurus TX22 .22 Long Rifle Competition pistol ($533.33, review here) is virtually identical to the G3 Tactical in frame, grip and controls, except for about three ounces of weight—providing an almost mirror image rimfire trainer. As well as a companion rimfire gun. There are a lot of competitive possibilities there.