by
Chris Christian, Field Editor
posted on November 2, 2022
Support NRA Shooting Sports USA
DONATE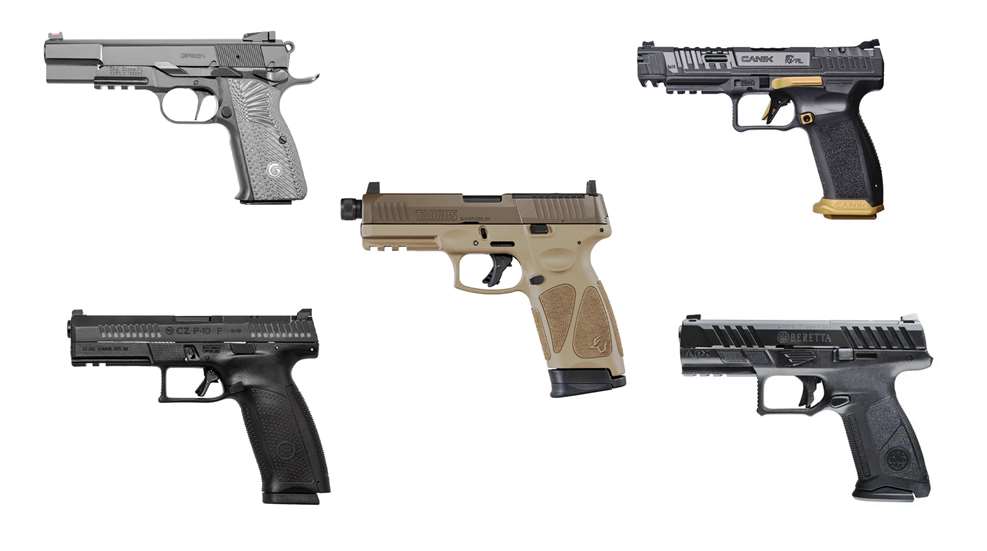 Action pistol competition is not the most inexpensive sport. But it also doesn't have to be the most expensive. Although there are plenty of handguns out there with multiple thousand dollar price tags, they don't guarantee a win. It's still up to the shooter to perform well. All that's needed is a reliable handgun with enough accuracy for the target presentations.
Here are five handguns that fit those requirements—without breaking the bank. (They are listed from low to high MSRP.)
Beretta APX A1 Full Size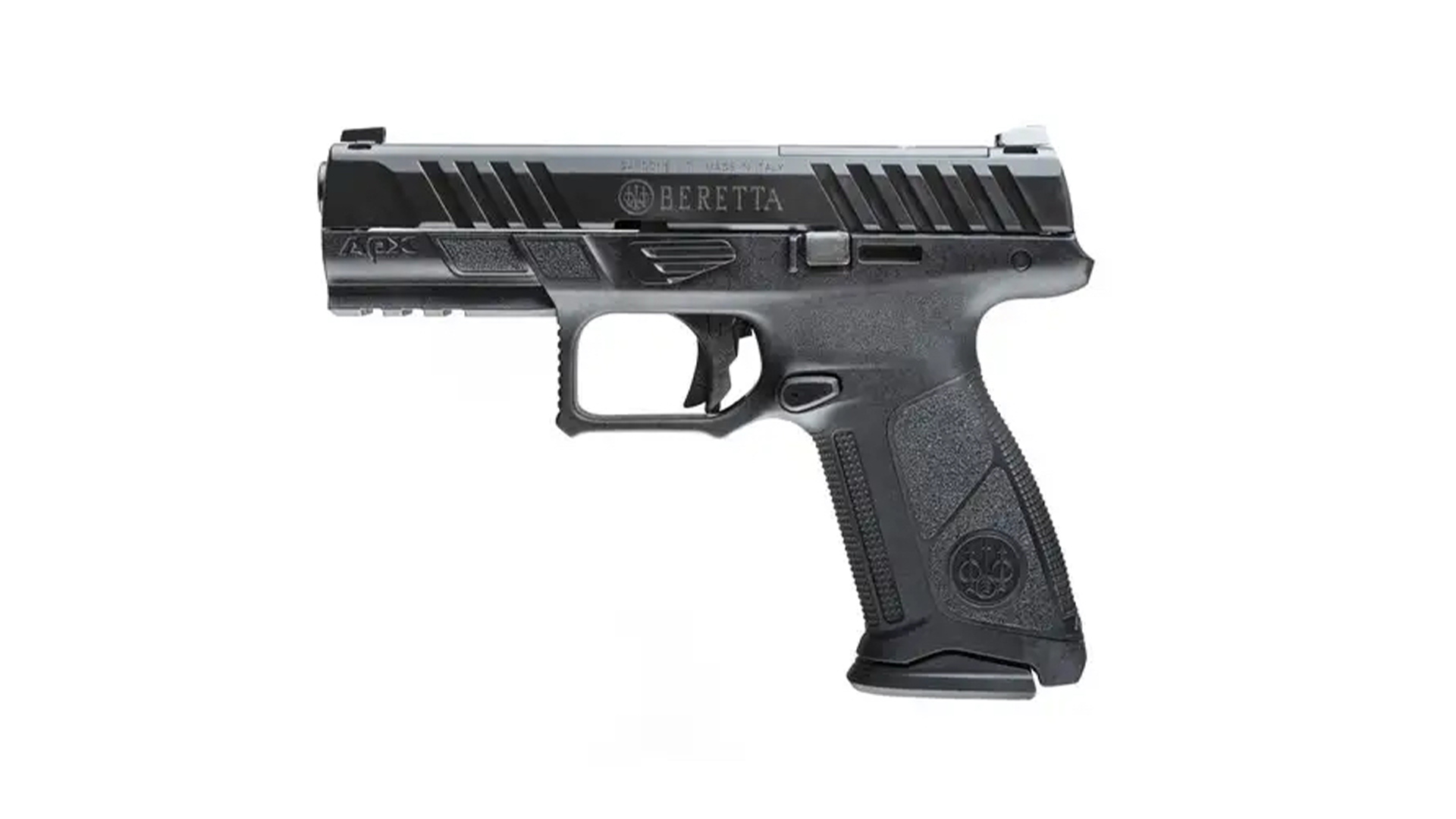 Introduced a few years ago, Beretta's APX line of polymer-framed handguns was initially designed for compact personal protection. However, that lineup has grown and the latest model—the Beretta APX A1 Full Size ($529, beretta.com)—is definitely of interest to action pistol shooters.
Built on the APX polymer frame and striker-fired operating action with a trigger bar safety, the 9 mm A1 Full Size offers improved ergonomics, including three interchangeable backstraps for hand fitting, a more undercut trigger guard, aggressive stippling on the side panels and front strap, and more aggressive serrations on the front and rear slide. There are also ambidextrous slide and magazine releases that make the APX A1 Full Size southpaw-friendly. Magazines are available in 10-, 15- and 17-round capacities.
As for the barrel length, it is 4.5 inches. The Beretta APX A1 Full Size 9 mm has a maximum width of 1.31 inches and is 5.6 inches tall, overall length of 7.5 inches and empty weight of 29 ounces.
Sights consist of a plain black rear sight that is drift adjustable for windage, along with a tritium insert in the front blade. Here's the big difference between the A1 and the other Beretta APX models—the slide is cut to accept mounting plates (available from Beretta) that can accommodate a wide range of reflex sights. With the option to shoot in Iron Sight or Carry Optics divisions, the Beretta APX A1 Full Size 9 mm has plenty of versatility for a gun in this price range. (Read the Shooting Illustrated review of the Beretta APX A1 Full Size.)
CZ P-10 F Optics-Ready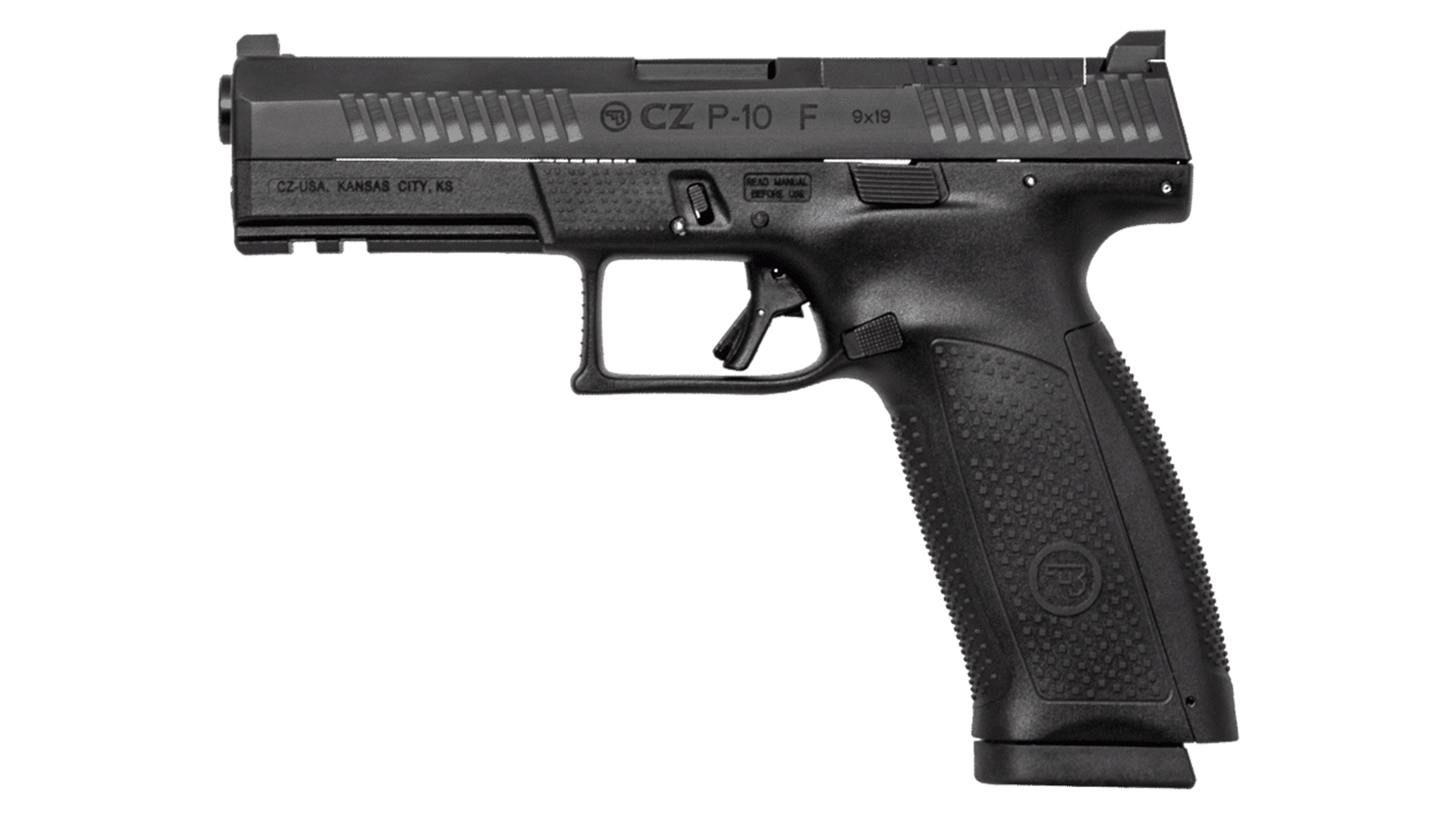 CZ's steel-frame handguns have earned an enviable reputation among competitive shooters. But its foray into the contemporary world of striker-fired, polymer-framed models—namely the CZ P-07, P-09 and P-10 pistols—has also been well-received. Adding to that line is the CZ-USA P-10 F Optics-Ready 9 mm ($569, cz-usa.com).
Identical in specifications to the P-10 F, the striker-fired Optics-Ready sports a 4.25-inch steel barrel, with a width of 1.26 inches, overall length of eight inches and an empty weight of 28.02 ounces. The trigger has a trigger bar safety, with a pull weight set from 4.5 to five pounds. A Picatinny rail rides on the dust cover for lights or lasers, and three interchangeable backstraps allow for hand-fitting. A reversible magazine release makes it friendly for lefties. The iron sights are fixed in a luminescent three-dot pattern. Magazines are available in 19-round capacity (for the Free States) and 10-rounds (for the Compliant States).
The only real difference between the two models is that the Optics-Ready model has the slide cut to accept reflex sight mounting plates. A blank plate to cover the cut is included, and CZ tells me that they have mounting plates for Trijicon RMR and Docter footprints available. Additional footprint plates are currently being developed by the CZ Custom Shop and Cajun Gun Works, and expected to be ready soon.
Taurus G3 Tactical T.O.R.O.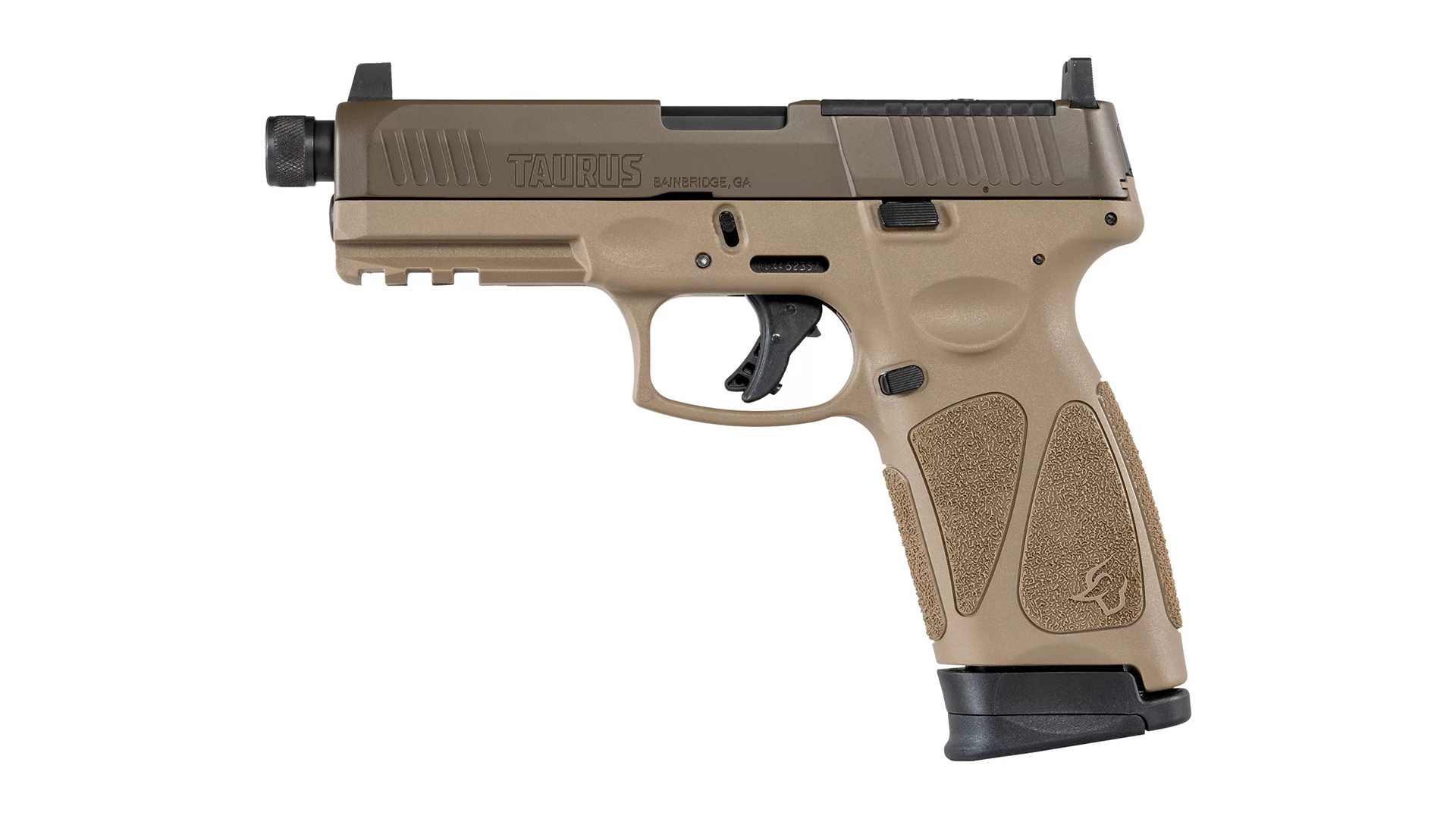 Taurus continues the evolution of their popular G3 with the introduction of the 9 mm G3 Tactical T.O.R.O. ($589, taurususa.com).
Built on a polymer frame, the Taurus G3 Tactical T.O.R.O. has a striker-fired action with a flat-faced trigger and trigger safety bar, and provides a second strike capability. The trigger is a two-stage design, which Taurus notes is set to a 4.5- to five-pound pull. The stainless steel barrel is 4.5-inches long, and threaded for 1/2x28 mm. A loaded chamber indicator is also present; additionally, there is no manual safety other than the trigger bar.
T.O.R.O. stands for Taurus Optical Ready Option. As such, the slide is cut for reflex sight mounting plates. Four plates are included that allow the mounting of nearly all popular reflex sight models. The plain black, drift-adjustable iron sights are designed to co-index with them.
Finished in a two-toned brown with a Cerakote coating, a Picatinny rail rides the dust cover to allow mounting lights or lasers. The empty weight of the Taurus G3 Tactical T.O.R.O. is 25.8 ounces, with width at 1.20 inches, overall length of 7.76 inches and a height of 5.38 inches. Magazines with 17- and 10-round capacities are available. Two magazines of the customer's choice are shipped with the gun.
Canik SFx Rival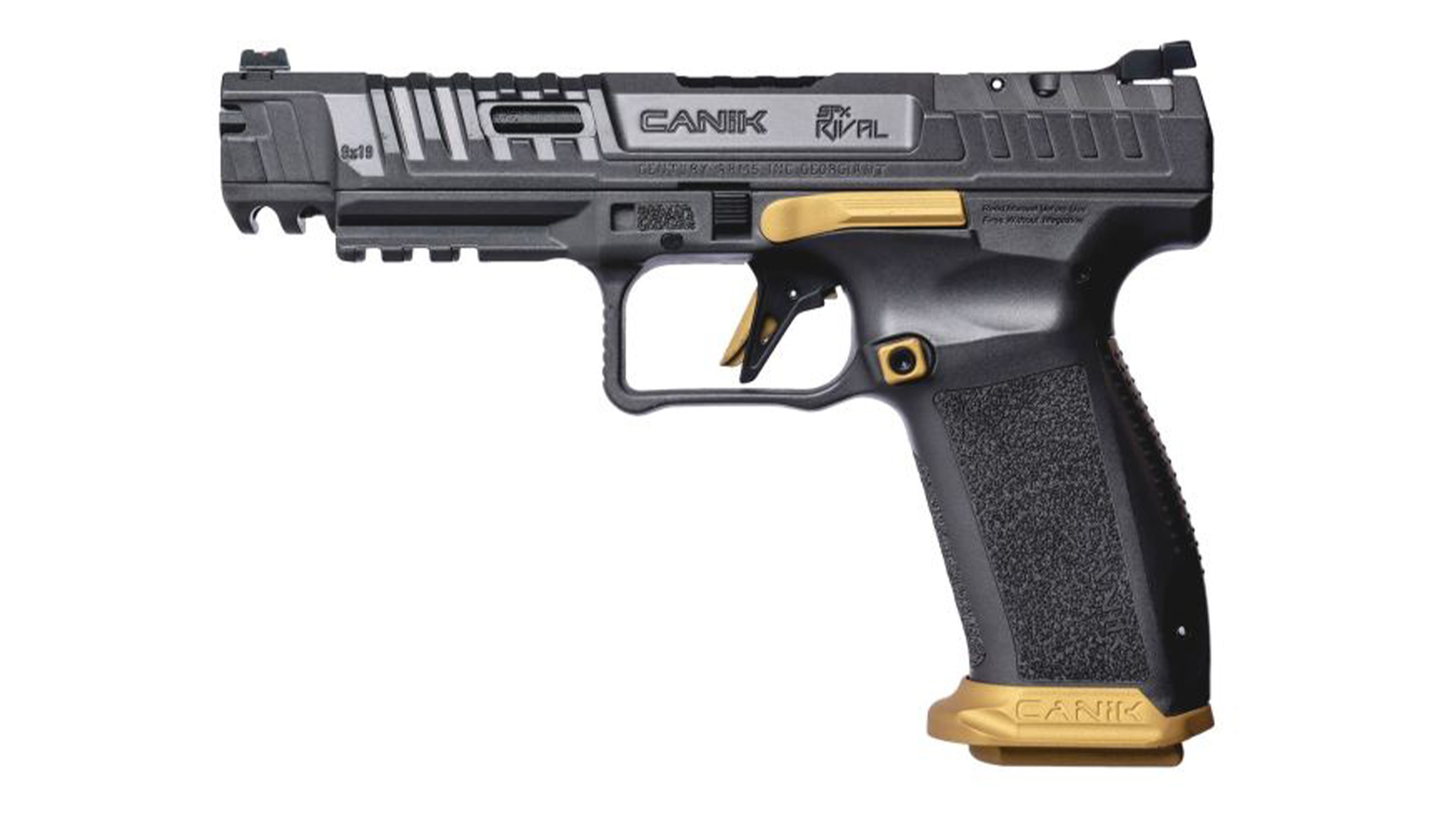 Handguns that can run with iron sights and then easily shift to optical sights have become an increasingly popular option for competitive shooters. Century Arms imports the Turkish-made Canik SFx Rival ($679.99, canikusa.com) as their latest offering in that genre. Two models are available in the SFx Rival line. The SFx Rival features gold accent trim for those who enjoy such embellishments, while the SFx Rival Darkside is finished in a more business-like plain black.
Cosmetics aside, the operating actions are the same. This is a polymer-framed, striker-fired semi-automatic chambered for 9 mm that sports a five-inch steel barrel and slide. The flat-faced trigger features the ubiquitous trigger safety bar. An ambidextrous slide release and a reversible magazine release make it quite suitable for southpaw shooters. Three interchangeable backstraps are included to allow a degree of hand fitting (different sized backstraps is a welcome trend from pistolmakers). Additionally, an external mag well is present to aid in rapid reloads.
Iron sights consist of a fiber-optic front and an adjustable rear with a plain black blade. If a reflex sight is desired, the gun is cut for it. Four mounting plates are included for easy installation of popular reflex sights. Additional iron sight options are available, including a set that will co-index with a reflex sight. Plus, a Picatinny rail is on the dust cover for lights and lasers.
With an empty weight of 29.5 ounces, overall length of 8.1 inches, a 5.7-inch height and a slender 1.41-inch grip width, the Canik SFx Rival is in line with other contemporary handguns. Magazines with 18- and 10-round capacities are available. (Read Frank Melloni's review of the Canik SFx Rival.)
EAA Girsan MC P35 Match Ops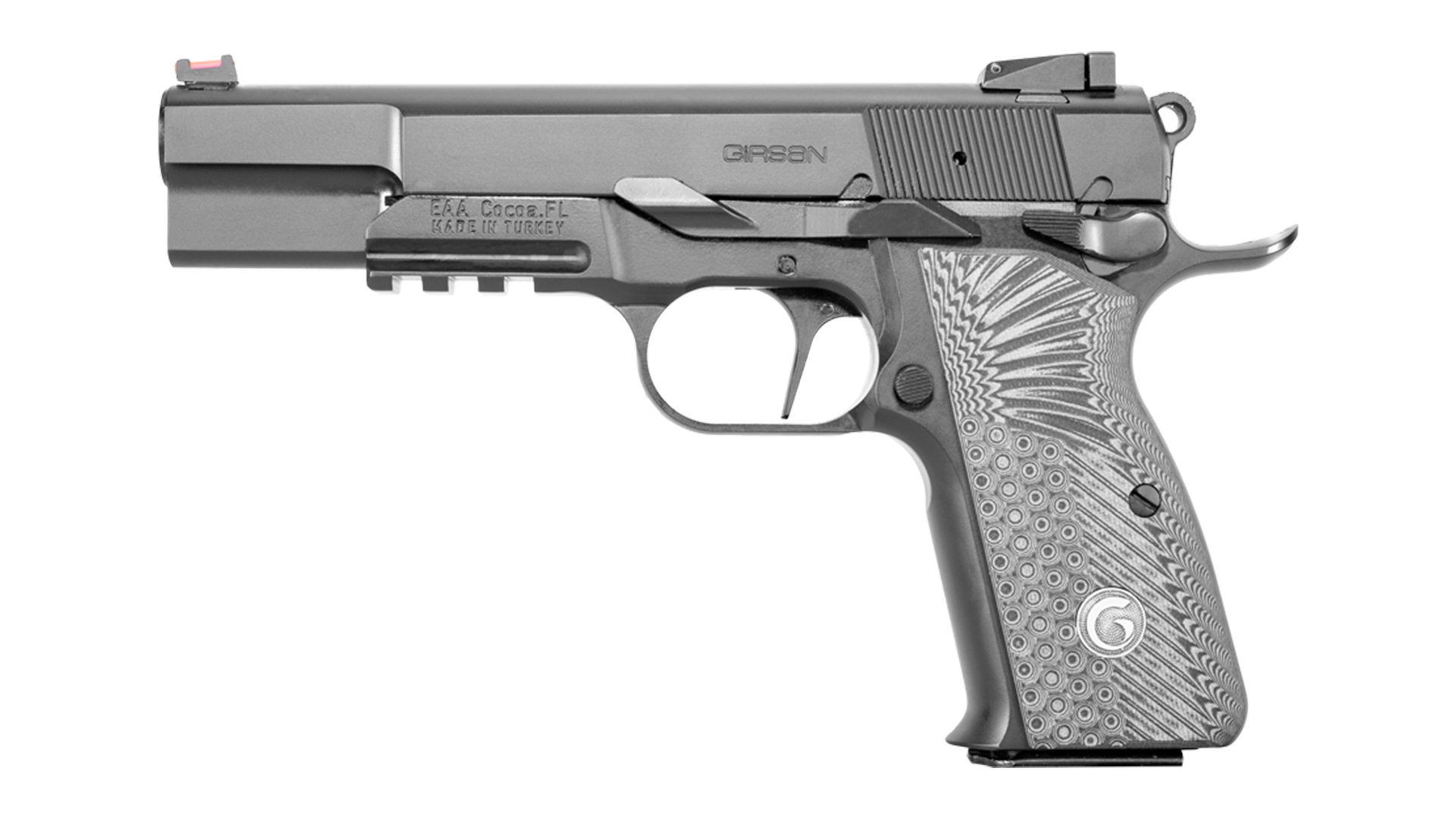 John Browning has been called America's greatest small arms designer, and while many remember him for his classic 1911 pistol, there are those who consider his last handgun—the P-35 Browning Hi-Power—to be his crowning achievement. The P-35 dispensed with some of encumbrances of the 1911, like the barrel bushing, swinging barrel link, two-piece feed ramp and grip safety. What resulted was short-recoil, single-action handgun chambered in 9 mm with a 13-round magazine capacity. The P-35 Browning Hi-Power went on to be adopted by the military forces of more than 50 countries; far more than the 1911 pistol.
Modern production waxed and waned, with prices climbing. But the 9 mm Turkish-made Girsan MC P35 Match Ops ($699, eaacorp.com), imported by European American Armory, is an economical option with some improvements over the original.
Built with all-steel construction, with an empty weight of 28.8 ounces, the MC P35 Match Ops features a 4.87-inch barrel with an overall length of 7.75 inches. Finished in blue and black, a lower rail sits on the dust cover for lights or lasers. A classic rowel hammer aids thumb-cocking. Sights consist of a fiber-optic front and a fully adjustable black rear.
G-10 grips adorn the side panels, with an extended beavertail to help lock the gun into the firing hand. An external extractor aids in getting the fired cases out of the gun. Operating controls consist of ambidextrous thumb safeties and a straight trigger. Lastly, magazine capacity is increased to 15 rounds.
For those who favor a classic single-action handgun, the operating action and gun specifications make it a viable choice for USPSA and Steel Challenge Limited divisions, as well as IDPA Enhanced Service Pistol (ESP).
Be sure to read our previous list of great action pistols priced less than $700 that was published back in 2017.